Movers and Shakers: Who Will Make the Most Noise at the NFL Draft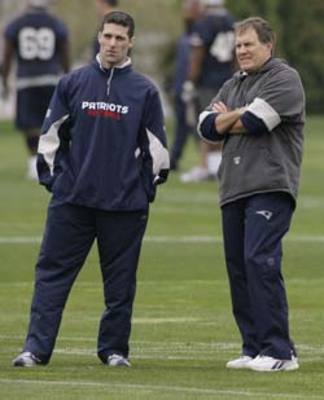 The 2010 NFL Draft is considered one of the deepest drafts in memory and a handful of "can't miss" prospects headline this year's class.
Teams have almost been treating this draft as NBA teams have been with upcoming free agency. Teams have been stockpiling picks in hope of rebuilding their franchise quicker or grabbing a prospect for, down the road.
This slideshow has the teams with a.) the most draft picks and b.) the teams that figure to move around in the first round. These teams figure to be the movers and shakers of this years draft.
New England Patriots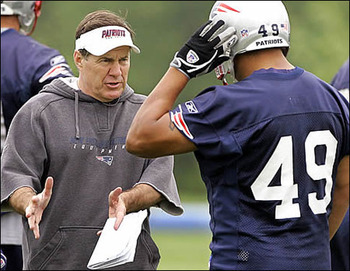 Draft Picks: 12-1.22, 2.12 (from JAX), 2.15 (from TEN), 2.21, 4.21, 6.21, 6.36 (Comp.), 7.22, 7.24 (from PHI), 7.40 (Comp.), 7.41 (Comp.), 7.43 (Comp.)
The Patriots have made a trade in seven of the ten drafts Belichick has been apart of. In last years draft alone he traded ten total picks. They have plenty of firepower as they have four picks in the top 53.
Look for them to again address defense in the first round, but if there isn't a player they like look for them to move back as usual to secure future picks, remember he traded down in the first round twice last year. Also they have the Raiders 2011 first round pick to work with.
Cleveland Browns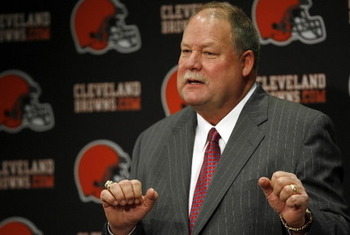 Draft Picks: 10-1.7, 2.6, 3.7, 3.21 (from OAK via NE), 3.28 (from NYJ), 5.3 (from TB), 5.15 (from DET via DEN), 5.29 (from NYJ), 6.8, 6.17 (from CAR)
Mike Holmgrem is bent on improving this franchise with this draft, his first as a president of a team. He has four fifth round picks as well as three third rounders to work with.
Rumors have them trading back if there guy is available at seven, but they could also work a trade with possibly the Chiefs at No. 5, which are rumored to be shopping the pick. Either way he will either draft a prospect that fills an immediate need for like the Patriots stockpile pick for the later rounds.
Pittsburgh Steelers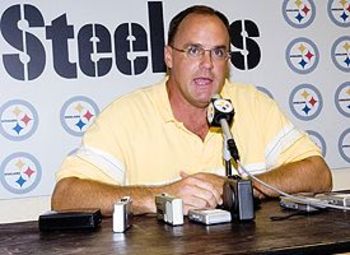 Draft Picks: 11-1.18, 2.20, 3.18, 4.18, 5.20, 5.24 (from NYJ via PHI), 5.33 (Comp.), 5.35 (Comp.), 6.19, 7.18, 7.35 (Comp.)
Will they keep Big Ben or will they trade Big Ben, the latter is highly unlikely. The team has four fifth round picks and could trade up or down as they have a selection in the second and third round too.
They could also accommodate a team looking to get into the second or third. They have needs at G, OT, CB, and DE. If their guy starts to slip look for them to make a move.
Philadelphia Eagles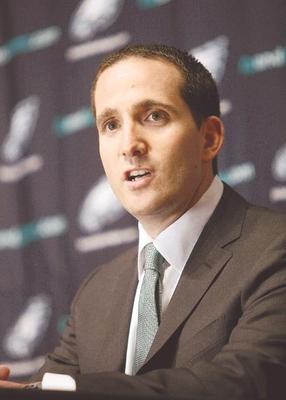 Draft Picks: 11-1.24, 2.5 (from WAS), 2.23, 3.6 (from SEA), 3.23, 4.7 (from CLE), 4.23, 6.31 (from IND), 7.36 (Comp.), 7.37 (Comp.)
The Eagles have two picks in the second, third, and fourth round picks. This franchise is one of the best in drafting impact players. They are another team that is looking for a safety and may make a move for Berry or Thomas, the latter being more likely. They can always trade down for future picks if Reid sees a player he likes after Day One.
Miami Dolphins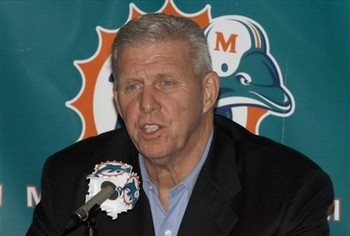 Draft Picks: 10-1.12, 3.9, 4.12, 5.14 (from SF), 6.4 (from KC), 6.5 (from WAS), 6.10, 7.5 (from KC), 7.12, 7.45 (Comp.)
They basically "drafted" Marshall with their second round pick this year. A majority of their picks are in the sixth and seventh rounds but if the Big Tuna has a player on his radar he will do that he can to try and grab them.
St. Louis Rams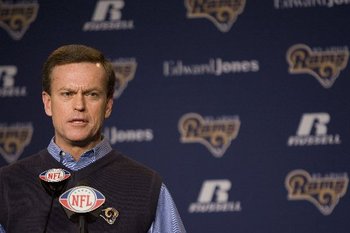 Draft Picks: 10-1.1, 2.1, 3.1, 4.1, 5.1, 5.32 (from PHI via NO), 6.1, 7.1, 7.19 (from ATL), 7.47 (Comp.)
Hold the biggest pick in the draft with the No. 1 selection. Bradford seems to be their man but if they change their mind they can offer that for picks and players allowing them more ammunition go after the players they want. Could see some calls for No. 33 overall if a team wants to move up and select McCoy or Tebow early in the second round.
Tampa Bay Buccaneers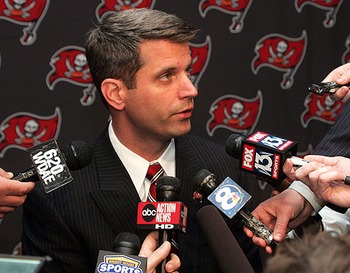 Draft Picks: 11- 1.3, 2.3, 2.10 (from CHI), 3.3, 4.3, 5.22 (from NE), 6.3, 7.3, 7.10 (from JAX), 7.25 (from BAL), 7.46 (Comp.)
Tampa Bay needs improvement all around the field. They are in a prime spot to select whichever player St. Louis and Detroit pass on which could leave them with Suh, McCoy, or Berry.
With two second rounders they could try and move back into the second round for a chance at Dez Bryant. Maybe a trade with Jacksonville would be in order as they would love not to pay a first rounder and have extra picks for a chance at Tebow.
Seattle Seahawks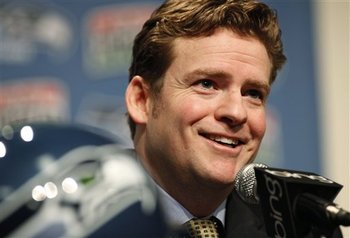 Draft Picks: 9-1.6, 1.14 (from DEN), 2.28 (from SD), 4.6, 4.29 (from PHI via NYJ), 5.2 (from DET), 5.8, 6.7, 7.38 (Comp.)
One of the two teams with two high first rounders. Expected to keep their No. 6 overall and try to get an OT to replace Walter Jones. With their second pick they can keep it, try to use it to move up, of try and trade down if Carroll wants to select former USC players Taylor Mays or Everson Griffen.
Washington Redskins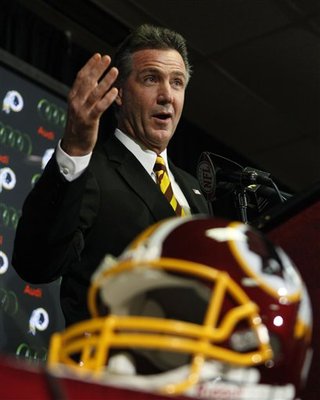 Draft Picks: 4- 1.4, 4.5, 5.4, 7.4
Not expected to be big players in the draft after acquiring McNabb, but they still have some attractive pieces. The No. 4 overall selection and Jason Campbell might entice a team to trade with the Redskins who are looking to rebuild under Shanahan.
Jacksonville Jaguars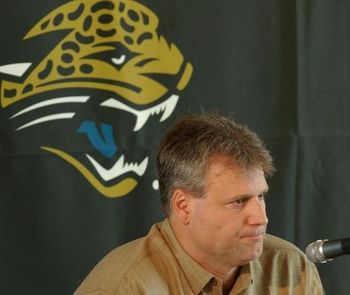 Draft Picks: 6-1.10, 3.10, 4.10, 5.12, 6.11, 6.34 (Comp.)
The Jaguars are exploring ways to save some money and move down in the draft. They hold the No. 10 overall selection and are expected to go defensive again, they may surprise us and draft Dez Bryant or trade with a team who is looking to draft Bryant. May also move down to select Tebow at the end of round one or early in round two.
Kansas City Chiefs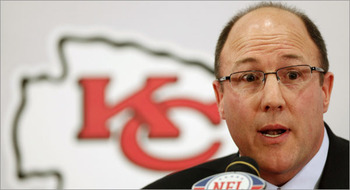 Draft Picks: 8-1.5, 2.4, 2.18 (from ATL), 3.4, 4.4, 5.5, 5.11 (from MIA), 5.13 (from CAR)
This team may have gained the most by the Rams looking into drafting Bradford and the Redskins trading for McNabb. Berry will most likely be sitting there when they are on the clock. They could move down but this is highly unlikely. They do have some ammunition to work with as they have two second round selections as well as high third and fourth rounders.
San Francisco 49ers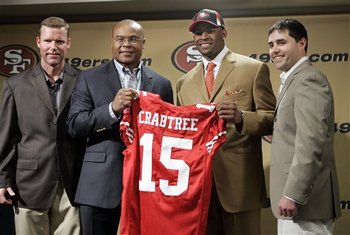 Draft Picks: 8- 1.13, 1.17 (from CAR), 2.17, 3.15, 4.15, 6.13, 6.37 (Comp.), 7.17
The second team with two first rounders is the 49ers. They are in a position to grab two players who could make an impact. Joe Haden, CJ Spiller, Derrick Morgan, and Rolondo McClain could all be their pick.
They could also play partner for a team looking to grab one of these players, or set themselves up for future picks this year or next. They have pick in each of the first four rounds.
Keep Reading

New England Patriots: Like this team?