Heir to the Throne: 10 Guys Who May Have to Fill LeBron James' Shoes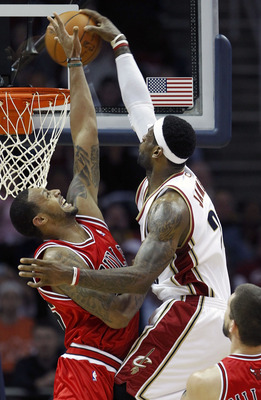 Now is not the most appropriate time to bring up this topic.
Especially after last night, when the King erupted for 40 points (on 16-for-23 shooting), eight rebounds, eight assists, two three's, two blocks, a steal, and countless "oh my God" plays that led the Cavs to a 112-102 win and a 2-0 series lead over Chicago.
But unfortunately, it's a topic that must be addressed at some point...even from a guy like me, who acts like a five-year-old when it comes to LeBron's offseason: "I'm covering my eyes and ears, I can't see or hear what you're saying, blah blah blah!"
But if...if...James decides to take his sublime talent elsewhere (and I don't think he will), it creates quite a gap to fill in Cleveland. Frankly, I'm not sure anyone in the league could appropriately fill it—no player out there means more to his organization and fanbase.
Another issue is the potential salary cap. Even if James opts out and doesn't return, the Cavs will still have about $48 million in salaries locked up next year, leaving room for maybe one max player before they go over the luxury tax.
But we'll ignore those issues for now, and just stick to 10 players who could come in and (try) to keep Cleveland relevant in the basketball world.
Let's get it crackin'...
Honorable Mention: Larry Hughes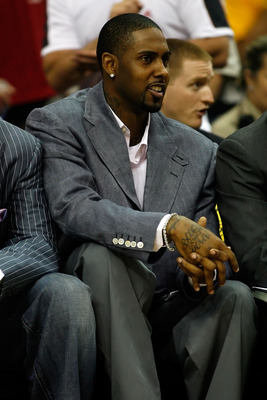 Kidding, Cavs fans! It's just a warning that a bad signing can cripple your franchise, even if you have like someone like LeBron James on board.
Thank God for Danny Ferry.
10. Ray Allen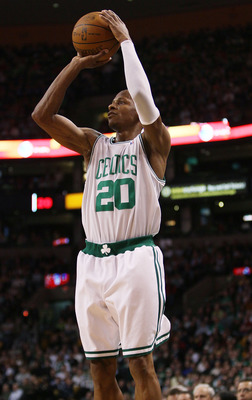 He's about to turn 35 and enter his 16th NBA season. It's hard to believe Ray Allen could be in a conversation about effective, productive free agent guards, but somehow he is.
His stats have slipped since arriving at Boston, but that's because less is asked of him there. He's still one of the two best in the NBA at coming off screens (along with Rip Hamilton) and hitting open jumpers.
In an offense with Antawn Jamison scoring on the block, and with Mo Williams able to spread the floor with his three-point shooting, Allen could be a welcome addition.
Obviously, the Cavs wouldn't make a major commitment to Allen. They wouldn't offer a max contract, meaning the added benefit of adding someone like Jesus Shuttleworth would be the fact that they still could have a few dollars left to pursue a cheaper option inside, like Udonis Haslem or Tyrus Thomas.
9. Rudy Gay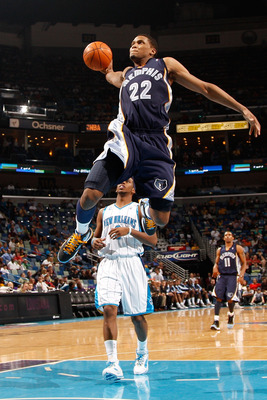 Hopefully this raises an eyebrow for you. I mean, how can a 23-year-old, 6'9" swingman who would seemingly fit perfectly into the King's role be placed so low on the list?
For one, Gay doesn't have the killer instinct you want in a premier player. Which is fine, but he's probably going to ask for max money.
If you're going to give a player that kind of contract, I'm in the camp that believes he should be able to be the best player on a championship team, not a fantastic second or third option who is simply overpaid (see: Iguodala, Andre).
Gay just hasn't dominated like you think he would. He's been a great bargain when he's made a little more than $3 million the past few years, but if he's making $13 million or $14 million, his 19 points, six rebounds, and two assists on 46.6 percent shooting per game just don't seem to cut it.
Still, he'd be a good addition for the Cavs because he fits the athletic swingman role to a tee. The Cavs would have to change styles a bit, but if they became an up-tempo team (a la '07-'08 Phoenix), they would have some strong pieces.
Mo Williams, Rudy Gay, Antawn Jamison, and Anderson Varejao getting out on the break and constantly moving would give a lot of teams in the East some trouble.
8. John Salmons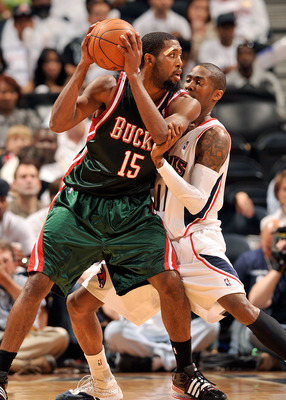 Salmons is one of the more underrated players in the Association, but it's going to be extremely difficult for GMs to gauge how much Salmons should be offered this offseason.
In the first half of the season with the Bulls, Salmons was an afterthought on offense (even though watching the Bulls/Cavs series, I can't help but think if the Bulls had another scorer like Salmons, they could give Cleveland a hell of a time). He averaged under 13 points on 42 percent shooting in 33 minutes.
Since the trade to Milwaukee, he's been rejuvenated, putting up nearly 20 points per game on 47 percent shooting, while improving his three-point percentage, free throw percentage, and assists in only four more minutes per game.
He fit exactly what the Bucks needed: an aggressive, physical two-guard who could score from the perimeter and with his back to the basket.
Granted, he is playing in a contract year. We've seen players who have struggled throughout their careers somehow put up gaudy numbers in a contract year to dupe a team into giving them a long-term deal (see: Foyle, Adonal or Thomas, Tim).
But Salmons' production in Milwaukee closely resembles what he did in Sacramento before he was traded to Chicago, meaning that the current John Salmons is a more accurate representation of what you can expect in the future than the early season John Salmons (if that makes sense).
With a lot of players demanding max money and so many free agents available, someone like Salmons could get lost in the shuffle, meaning he'd be a great bargain pickup for a team like the Cavs.
7. Marcus Camby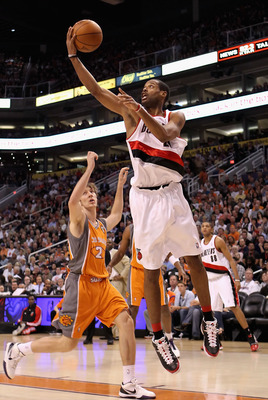 Tough call between Camby and No. 6 on this list, but Camby gets bumped a spot simply because of his age (35).
I'm still bitter that the Clippers refused to part with Camby at the trade deadline last year, keeping him stuck in a mediocre situation for another year before they finally dumped him this year for Steve Blake, Travis Outlaw, and a $100 gift card to In-N-Out Burger.
They couldn't have traded him to Cleveland last year for some expiring contracts and young talent? We couldn't have used him against Dwight Howard?
But I digress...I'm glad where things are now, so I can't really complain. Anyways, back to Camby. When you look at Marcus, ignore the stats. Ignore his field goal percentage and his rapidly decreasing points per game.
With Camby, you get a big who still moves relatively well despite his size, fading knees, and age. He's a great pick-and-roll defender; he can body up on centers down low and when he gets switched onto a guard, he can keep the smaller player in front of him long enough for help to arrive.
With Camby and Varejao, the Cavs would have two of the best pick-and-roll defenders in the league. This would allow the Cavs to play Jamison at SF, meaning they'd have a backcourt with no one shorter than 6'9". In today's NBA, that's a huge advantage.
Unfortunately, the Blazers are attempting to lock up Camby with a deal before free agency begins, so Marcus might not even be an option in the summer.
6. David Lee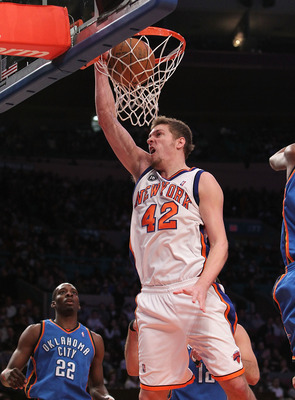 On paper, this might seem like a great move.
Lee averaged 16.5 points and 12.1 rebounds last year and 20.2 points and 11.7 rebounds this year.
He led the league in double-doubles last year and was in the top-five this year.
He's played 81 games in each of the last three seasons, meaning he's durable and doesn't break down easily.
The problem is, he's been playing in New York. He's thrived in Coach D'Antoni's system, but that's because he's the only player that hustles underneath. I mean, somebody has to be getting rebounds for them, right?
Defensively, he's a nightmare, which doesn't exactly fit in well with the Cavs' system. He's undersized, slow on rotations, and isn't a good one-on-one defender.
The Cavs still wouldn't have a true center, and he's not a player that you change your style and philosophy around for, so he'd have to adjust to Cleveland's game...and he doesn't seem to fit that well.
Add in the fact that he'll probably want something in the $8-$10 million range, and you'll deduce that Lee might look like a great fit, but probably isn't.
5. Carlos Boozer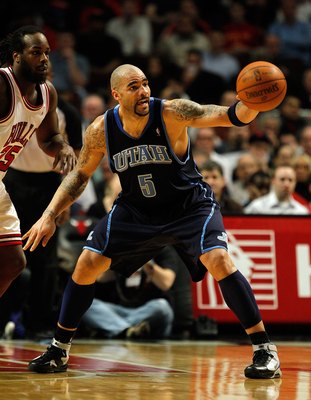 Let's just pretend that whole ugly incident in the 2004 offseason never happened.
If that's the case, then why not Boozer? He's been a dominating force in the Western Conference for the last six years, which is nothing to sneeze at. Considering he goes against guys like Amar'e Stoudemire, Dirk Nowitzki, Pau Gasol, Nene, Marcus Camby, Tim Duncan, and David West on a night-in, night-out basis, his numbers are that much more impressive.
He hasn't averaged less than 16.2 points per game during his time at Utah, and that was last year when he was injured for a majority of the season and played just 37 games.
This year, he's been healthy, happy, and productive, putting up 19.5 points, 11.2 rebounds (his highest average since 2007), and had a career-high year in field goal percentage (56.2 percentage), assists (3.2), and his second-highest free throw percentage (74.2 percent).
He's a great complement to Jamison—someone who's not afraid to bang bodies down low and do dirty work in the paint, while Antawn can roam the perimeter and take advantage of his athleticism against slower defenders or size against quicker defenders.
Still, that incident in '04 happened. No sense in trying to sweep it under the rug. That being said, the odds Boozer swallows his pride and comes back to Cleveland (and that the city embraces him with open arms) is highly unlikely.
4. Amar'e Stoudemire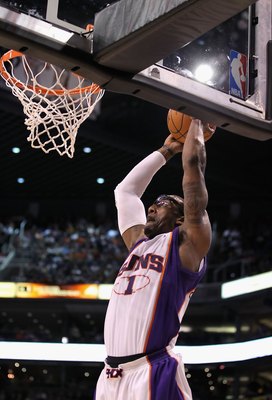 Staying put at the trade deadline might have been the best thing that could have happened to Amar'e Stoudemire's wallet.
Instead of being shipped to Cleveland, where he would have been the third option on offense and seen a dramatic dip in his stats, he stayed in Phoenix, where he and Steve Nash helped lead the Suns to a No. 3 seed in the West.
Since the All-Star break, he's averaged 26.3 points and 9.6 rebounds on 55.6 percent shooting. Some would argue that he's been the best player in the league since the break (those people would definitely be Suns fans, but you'd have to listen to their argument at least).
But I see a few things that would keep an Amar'e/Cleveland marriage from happening.
The first is that he doesn't play defense. He hasn't had to in his whole career, and he's not going to want to start now. Especially after he cashes that guaranteed contract he'll sign this offseason, which I would guess would be in the ballpark of five years, $85-$90 million.
The second is his lack of aggressiveness in big games. He was constantly outplayed by Tim Duncan in all of those classic Spurs/Suns series. He disappeared down the stretch and can't get points with his back to the basket in late game situations.
Even against Portland in Game One the other night, he lazily went up for a rebound late in the game, and Martell Webster (or maybe Batum, all of those Blazer forwards are alike) flew around him for a tip-in that kept the Blazers up for good. That kind of play won't fly in Mike Brown's system.
Finally, the fact that the Cavs couldn't pull off the trade for Stoudemire before the deadline might weigh in Amar'e's mind. Maybe he thinks, "they didn't want me bad enough before, so maybe I don't want them now either" or something to that extent.
It looks tantalizing, but I think his demands will just be too high for the Cavs to meet.
3. Chris Bosh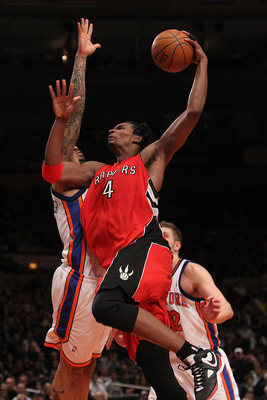 Bosh has averaged over 20 points in each of the last five seasons, and has cracked double-digit rebounding totals twice during that span (including this year).
He shoots the ball at a consistently high percentage—his lowest FG percentage since 2005 was 48.7 percent and his highest was 51.8 percent.
There's no need for me to go on and on about Bosh; we all know what a great player he is. There's only so many ways you can write about it.
His role on the Cavs would be the same he always played. But where would that leave Antawn Jamison? Would he move to SF?
Would Varejao become the starting center?
Or could Bosh handle center responsibilities? Could he be healthy for a full season (he's only played more than 70 games once since 2005)?
That's a lot of questions surrounding a max contract player. The Cavs would probably have to do some major overhauling, meaning that Bosh could be stuck on a mediocre team for a few years, and that's probably something he doesn't want to do if he leaves Toronto.
2. Joe Johnson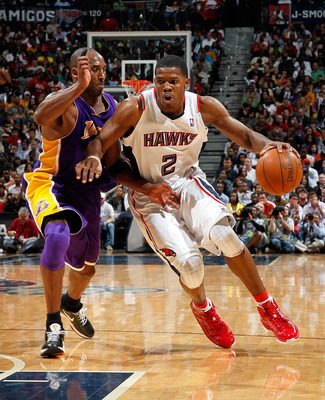 My personal favorite. I love Joe Johnson. I don't know why, but I have an unexplainable man-crush on him.
My dream scenario is that LeBron is re-signed, and the Cavs ship off Anthony Parker, J.J. Hickson, and Shaq in a sign-and-trade for Johnson in the offseason (I might have gotten the idea from Bill Simmons, self-proclaimed master of the NBA Trade Machine).
Now that sounds like a move, doesn't it? Imagine a starting five of Mo-Johnson-LeBron-Jamison-Varejao. I'm giddy just thinking about it.
Even without the King, I think Johnson would be a fantastic fit. He's tall, physical, athletic, and is a great closer in late-game situations—which is exactly what Cleveland would be losing in James.
He's at his best with the ball in his hands, but that wouldn't be a problem in the Cavs' offense. He could operate from the post or the elbow-extended area, while Varejao and Jamison flash without the ball and Mo and Parker float around the three-point line.
If he expresses interest in Cleveland, it would be a no-brainer to sign him. Unless the next guy wanted to play...
1. Dwyane Wade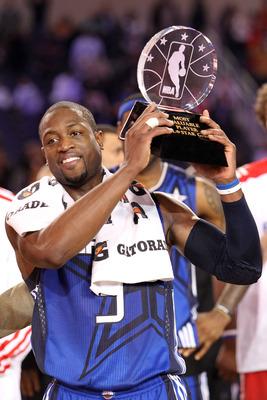 There's no way to replace the best player in the game. It can't be done.
But if you replace him with a top-five player, it considerably softens the blow.
I could go on and on about D-Wade, but there's no need. Just know that the maturity he showed this year proved that he can trust his teammates and be a LeBron James-type of player—someone who is a great facilitator but can dominate a game when called upon.
Wade has that in his blood. And (if, if, if, if, if, IF, IF, IF, IF, IF) the King abdicates his throne, there's no one else I'd want to take over.
Keep Reading

Cleveland Cavaliers: Like this team?