Ranking 2010's Top College Football Recruiting Classes on Offense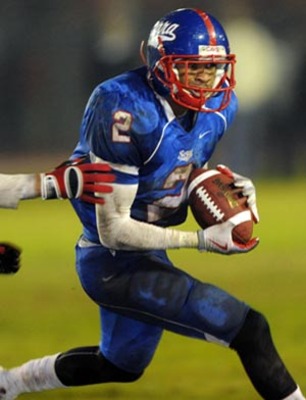 We've already behaved sensibly and broken down 2010's best recruiting classes on defense.
Now, let's embrace all that is glitzy about college football recruiting and lose our minds for the top recruiting classes on offense.
These are the kids who would score a hundred points a game, average 15 yards per carry and 25 per reception, and never punt if only football was a make-it/take-it sport.
Take a look at how the top rankings shift once we only take offense into account.
10. Michigan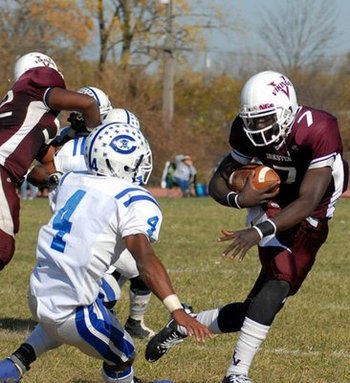 The Wolverines just make the cut for signing Devin Gardner, the top dual-threat quarterback available and a player Rich Rodriguez sure could have used two years ago.
Gardner looked every bit like what the scouts thought of him in Michigan's spring practices and its recent spring game: raw, unorthodox, but flashing that special ability to look natural, stand tall, play beyond his years and exert his will on a defense like only the greatest are able to do.
Joining Gardner are two running backs that have "overachiever" written all over them—Texas buster Stephen Hopkins, who could see plenty of time as a true freshman in Brandon Minor's old big-back role, and Austin White, a cut-and-go runner who faces a likely redshirt behind Michigan's depth at the position.
The Wolverines missed on many offensive line prospects but did sign Christian Pace, Scout's No. 11 center and an ideal prospect for Michigan's demanding reach-block scheme.
Five fly wideouts will add to a position of need for the Wolverines, and three—Ricardo Miller, Jeremy Jackson and Jerald Robinson—were all able to enroll early and get reps while receivers Je'Ron Stokes, Junior Hemingway, and Martavious Odoms took time off with injuries this spring.
No sense boring you with the details. Fact is, Gardner's is the name to know. If Rodriguez can get out of 2010 alive, the Wolverines—under their five-star QB—will actually, finally, be at a place where a Big Ten Championship is a legitimate possibility again.
9. BYU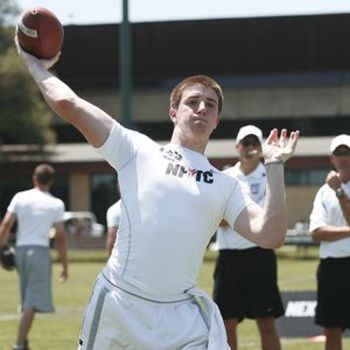 Jake Heaps is busy making BYU's spring ball one of the most interesting to watch (at least for us desperate college football fans).
The true freshman early enrollee is pushing junior Riley Nelson and sophomore James Lark for the starting job, and he has made it close enough that coach Bronco Mendenhall—who typically prefers to name his starter out of spring—has chosen to wait until closer to kickoff.
Heaps was Scout's No. 1 QB recruit overall. But even with that hype, taking over at BYU—a school with one of the proudest quarterback traditions in the game—is a major accomplishment.
Joining Heaps is wide receiver Ross Apo, a burner from Arlington, Texas; guard Graham Rowley, Scout's No. 11 prospect at his position; and Blair Tushaus, a three-star, No. 15 center out of Scottsdale, Ariz.
Like with Michigan's Gardner, Heaps will be the player to watch out of this group. Unlike with Michigan's Gardner, I'm hoping to see Heaps starting in September. With four full years, he'll have a chance to break some records for the Cougars and get them closer to busting the BCS.
8. Tennessee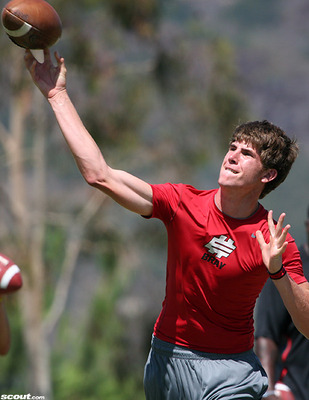 Rumors of Tennessee's demise have been greatly exaggerated. Yes, 2010 will be difficult, but the foundational talent in Lane Kiffin and Derek Dooley's patchwork class should get the Vols back to their winning ways with a little time.
Judging by Nick Stephens' transfer to an undisclosed location, JUCO transfer Matt Simms looks like he has the starting quarterback job within reach.
Freshman early enrollee Tyler Bray and Nash Nance provide the depth, with Bray (pictured) promising serious upside if he can hit up the Old Country Buffet a few times between now and 2012.
The Vols also signed a pair of solid tackles in Jawuan James—he of the unfortunate "I've enrolled in classes but haven't attended them yet, can I still transfer?" story—and James Stone, whom Dooley legitimately beat out Alabama for. Bravo any time anyone can do that.
And I'd be remiss if I didn't mention wide receivers Justin Hunter, a defection from LSU, and Da'Rick Rogers, one of those "throw it to me and watch me rock" receivers that test even the most seasoned SEC secondaries.
The next three years should be exciting ones for the Volunteers through the air. Finding a running back to tie it all together should be 2011's top priority.
7. Penn State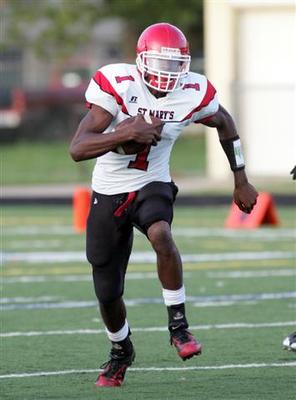 Only someone who's seen as many college football games as Cool Papa Joe would be able to downplay the excitement about Penn State's two new quarterbacks, Robert Bolden and Paul Jones.
Granted, both are raw passers entering a year when rawness is a major liability at the quarterback position. Bolden played out of scheme at high school and it affected his completion percentage. And Jones' early enrollment looks to have been for naught, as Paterno curtly dismissed Jones' chances as a passer, then decried the process of early enrollments entirely, as only he can.
But they are both supremely gifted athletes with athletic builds and the instincts to do damage with the ball in their hands. They'll bring their own to the malleable Spread HD.
They won't be running the zone-read necessarily, but once they and Rivals' top all-purpose back Silas Redd get settled, Penn State should be dangerous on the ground and through the air.
Watch also for center Miles Dieffenbach, Scout's second-best at the position; tight end Kevin Haplea, a tenacious blocker and red-zone beast; and Zach Zwinak, Scout's top fullback. Even if the Lions run the fullback dive on every play, at least they'll be running it with the best.
6. Alabama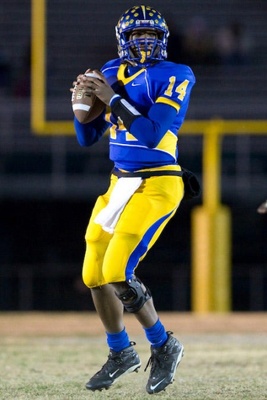 That there in the photo to the left is Phillip Sims, another quarterback whose poise and maturity would call for immediate playing were he not enrolling behind the defending national champion and SEC championship's most valuable player.
Sims will be the most well-spent redshirt of 2010, a testament to the depth Nick Saban has amassed on offense.
Other enviable redshirts: the one on running back Corey Grant, Rivals' fifth-best all-purpose back with 4.4 speed; the one on Arie Kouandjio, Rivals' No. 15 tackle; and Alabama's ace in the hole for 2011's top tackle, brother Cyrus Kouandjio.
Also watch out for Blake Sims, an athletic QB/RB/WR who briefly decommitted from Alabama before reentering the fold. I could see him do damage in some Wildcat formations if the Tide are forced to get adventurous mid-year.
5. Florida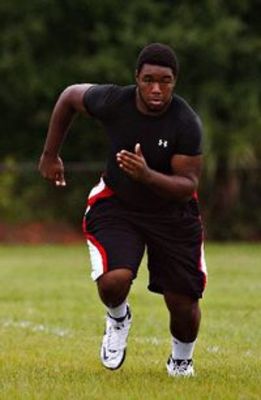 The Gators' biggest gains were on defense, but their offensive recruits are just as exciting.
Tackles Ian Silberman and Chaz Green are a great right-left combo. Silberman is raw but athletic and will be punishing in Florida's running game, which emphasizes getting its tackles out in space on linebackers and safeties.
Green is the prototype of a left tackle—big, light, and nimble. A little time in Gainesville should make him mean as hell.
Florida also cleaned up on receivers and running backs. Adrian Coxson, Chris Dunkley, and Soloman Patton give the Gators some depth and more than a few options. Dunkley in particular seems born to play in this offense, a real space-eater whose only drawback is size.
At running back, the Gators were able to hold on to Mack Brown, who wavered after Meyer's health problems but ultimately remained in the fold. He looked destined for a fifth star before suffering an injury and sitting out his senior year, but he should be electric if he can return to full health.
Travon Van could get moved to the slot or play at dive-back. He lacks size but can jet north-south with the ball in his hands.
Without a marquee quarterback at the top, this group looks a little naked. But you need classes like this one every once in a while too. And as for marquee quarterback, 2011's is already taken care of.
4. Texas
At any other school, quarterback Connor Wood would be a true freshman starter, a threat to do damage on the zone-read and an athlete the offensive coordinator bases a new playbook on.
At Texas, he'll ride the bench and learn to put that zone-read business away. Running is how quarterbacks get hurt, you know.
While Wood redshirts, Garrett Gilbert gets some really fun toys to play with at the receiver position. Mike Davis and Darius White are two of the most electric receivers in the 2010 class, fluidly combining speed (Davis), size (White), and ball skills (both).
Although the Longhorns have done much to improve their running game—if the spring playcalling is to be trusted—running back Traylon Shead is a big-bodied prospect probably looking at a move to tight end.
Center Dominic Espinosa (Scout's sixth-best) and tackle Trey Hopkins (No. 12) bring depth to the line, and the Longhorns wrapped the class at 25 by borrowing kicker William Russ from Arkansas. Anyone arguing the importance of a good kicker would be wise to think back to the Big 12 championship game.
3. Auburn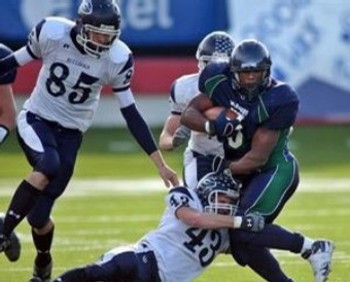 The one reason Auburn doesn't top this list is because they only get quarterback Cameron Newton for a few years.
Newton was born to play in Gus Malzahn's hurry-up offense. Despite limited exposure in Auburn's recent spring game, Newton should be able to master the short throws, quick reads and fake handoffs that make Malzahn's offense such an exhausting thing to defend against.
He's joined by five-star running back Michael Dyer, who drew rave reviews for his tenacious running style and versatility out of the backfield.
Receiver Trovon Reed is what the Tigers were missing in the slot last year. His lateral speed and versatility add another dimension to the playcalling.
And don't forget about the linemen. The Tigers grabbed top guard Eric Mack away from South Carolina, then landed No. 7 offensive tackle Shon Coleman on signing day.
Coleman was recently diagnosed with cancer and may not be able to contribute—good luck to him, by the way—but the Tigers nonetheless deserve accolades for their recruiting efforts. JUCO offensive tackle Roszell Gayden should also make an impact on Auburn's O-line.
In all, an effort that intimidates for how well Malzahn and Co. were able to find just what they were looking for.
2. Oklahoma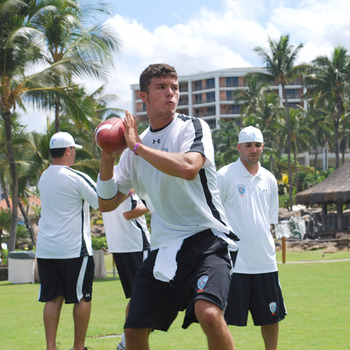 Oklahoma fields probably the finest QB-RB-WR recruiting combination in 2010.
Blake Bell is the tall, Bradford-esque quarterback with the boundless upside the rest of the Big 12 was hoping Oklahoma wouldn't be getting ever again.
Wide receiver Kenny Stills is the total package, a burner with great hands and sophisticated route-running who could carve out a niche taking heat off Ryan Broyles as a true freshman. He has already enrolled.
Running back Brennan Clay was the top target of spread schemes across the states—I know Michigan was pursuing him hard. He's a 1,000-yard rusher, 1,000-yard receiver with the acceleration in space that makes him truly lethal.
Where the fireworks may not go off, but should, is along the O-line, arguably the position of greatest need. The Sooners got early enrollments out of top guard Bronson Irwin and Scouts' fifth-best center, Austin Woods.
Other O-line commitments included tackle Daryll Williams and Tyrus Thompson. Lining up all-star tackles like Trent Williams at center is a desperation move Bob Stoops will hopefully never have to resort to again.
1. USC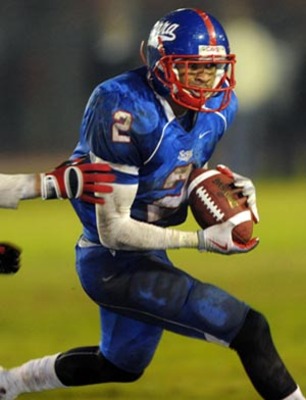 USC had the top offensive recruiting class even before Seantrel Henderson gave his verbal, then his signature, to the Trojans.
Wide receivers Kyle Prater, Robert Woods, and Markeith Ambles are the ideal X-Y-Z combination, flashing size, speed, and versatility, respectively. Prater and Woods were Scout's top two receivers in the class, and they went to the same damn school.
Xavier Grimble combines a receiver's athleticism with the size of a tight end. I could see him doing damage on those shallow crossing routes the Trojans have made their bread and butter.
Randall Telfer and Christian Thomas—both top 10 recruits at the tight end position—provide depth and add their own strengths at blocking and releasing to the mix.
Running backs Dillon Baxter—whom Kiffin christened the next Reggie Bush before he called the Trojans' running backs "clueless"—and DJ Morgan restock the stable with elite talent.
Giovanni Di Paolo joins Henderson as a decorated interior line recruit. He was Scout's fifth-best center.
And at quarterback, Jesse Scroggins joins the Trojans depth chart in the role of Mark Sanchez, a decorated recruit able to redshirt behind an entrenched starter and his quality backup.
All in all, the most balanced and thorough recruiting class on offense we may see at least until next year, when the Trojans do it all over again.
Keep Reading