The Biggest Fails In Women's Sports History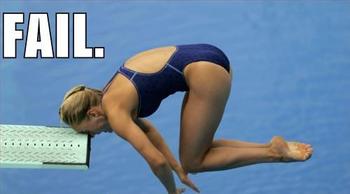 Let's face facts, fails are funny. All alliteration aside, I've seen enough articles detailing all of the stupid things guys do in sports, but I don't think we see enough of when girls screw up.
Then when I saw that epic dunk attempt fail, I just knew that I had to give the the women their due on here.
Take heart, ladies, this just means you're one of the guys. Here, I'll buy you a beer.
In the meantime, enjoy The Biggest Fails In Women's Sports History.
No. 8: WNBA Fail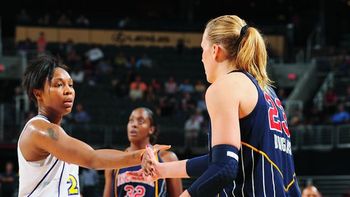 As if the WNBA needed another reason for us not to take it seriously, this had to happen - in a playoff game, no less.
Trailing by four with 0.9 seconds to go, the game was over, but somebody forgot to tell one of the Phoenix players. After her teammate his a three to cut the loss to just one point, she starts celebrating thinking they had just sent the game into overtime.
Then after it was all said and done, the girls had a nice little laugh about it, after they lost a freaking playoff game. There's no laughing after something like that.
No. 7: Ping Pong Fail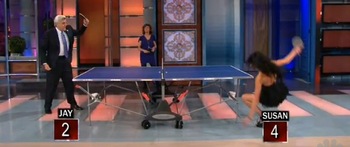 Even though my request that all female sports be played in high heels has fallen on deaf ears, at least Jay Leno of all people has listened.
His sexy opponent seems to have the game clearly in hand when she absolutely busts it on the winning point as a result of those heels.
Luckily for her, she's hot, so it's perfectly okay.
No. 6: Stair Sledding Fail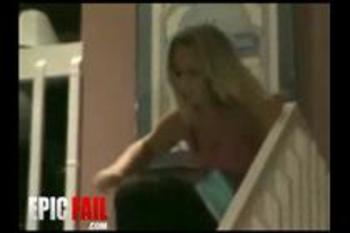 Although stair sledding is not an Olympic sport yet (or a real sport, for that matter), any drunken activity you come up with totally counts in my mind.
That is why this stair sledding fail makes the list. And even though most of the "sledding" was done on her face, she still gets up and walks it off like a champ. Which is another reason you should always be intoxicated for sports like this.
No. 5: Showboating Fail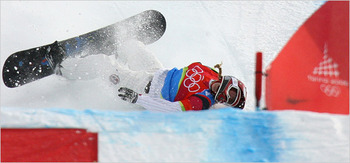 In 2006, Lindsey Jacobellis had the gold medal wrapped up with a huge lead in the snowboard cross, so she decided to throw in a trick on her last jump.
Too bad that jump turned into a fall and cost her the gold and 72 percent of her pride. It just goes to show: always - always - make sure you celebrate after you win.
No. 4: Cutest Soccer Fail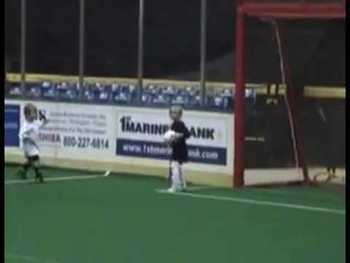 Just because it's a fail doesn't mean it can't be cute.
If it makes you feel any better, after the game she got some orange slices, watched Dora the Explorer and completely forgot what soccer even was.
No. 3: High Jump Fail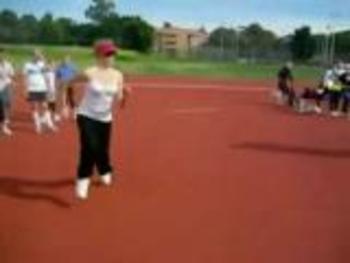 The difference between me and this woman is that I already know I wouldn't make it over the high jump bar.
...Also, I would at least land on the mat.
No. 2: Skateboard Fail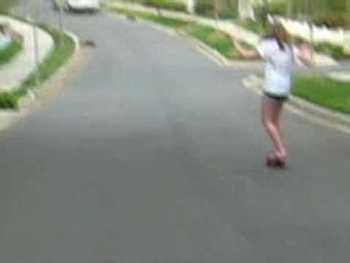 It seemed mean to add this one to the list, but there were a couple of different factors that convinced me it belonged on here.
One, she should have known as soon as that thing started going fast that she should have bailed and that there was no way it was going to end well.
Two, she eventually got her web redemption with Daniel Tosh, so she ended up fine and I can feel better about making fun of her.
I also thought it was funny how her friends was like "don't fall" and then gasped when she did fall, like she had no idea what would happen.



Tosh.0





Web Redemption- Skateboard Girl








No. 1: Dunk Fail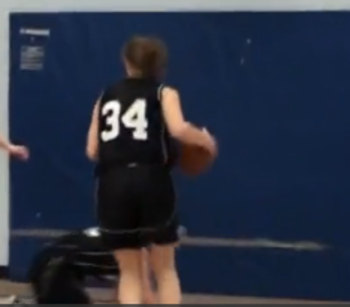 This video is just choke full of fail.
The shots and just overall play are pathetic, but things get taken into overdrive when a girl gets a rebound, turns around and starting running towards her teammate who has gotten down on all fours.
Really? They drew this up? Did they practice it? Because if they did, I seriously doubt this is how they envisioned it going down.
Just an epic face plant and a stirring reminder why most women just weren't made to dunk.

Hilarious Girls Basketball Dunk Fail - Watch more Funny Videos
Keep Reading