2010 NFL Draft: Top Five Linebacker Rankings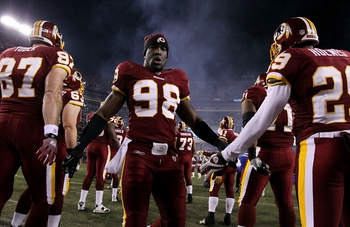 This is one of the weakest linebacker classes, especially on the inside, in this decade.
There are some decent pass rushers in the lot, but not many traditional 4-3 linebackers with the size to play the run.
With a dearth of talent at the position, look for the good ones to be picked early and often.
There is a chance that four or five linebackers will go in the first round and many others will be selected higher than they should because of the lack of talent.
Here are the Top Five linebackers in the 2010 NFL Draft.
1. Rolando McClain, Alabama
The Butkus Award winner is the only inside linebacker on this list.
McClain is a big, thick man and he moves very well for his size (6'3", 254 lbs). He is a smart player who can call signals and get players lined up.
He is a powerful hitter and solid tackler who can play all three downs.
McClain is an outstanding run defender, but a little stiff in pass coverage. He'll be the first linebacker taken because he's a leader, a hard worker, and a top competitor.
2. Sergio Kindle, Texas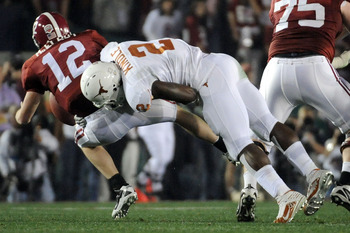 Kindle is an outstanding athlete who played defensive end in college, but will move to outside linebacker in the pros.
His strength is his versatility. He can rush the passer or drop into space and be effective in coverage.
Kindle is an amazing athlete (he was a star running back in high school) who is a perfect fit for the 3-4 scheme.
No wonder New England Patriots coach Bill Belichick is said to covet him.
3. Jerry Hughes, TCU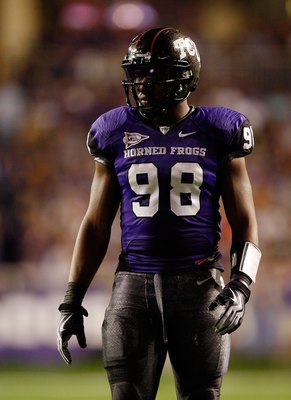 Hughes is a multi-dimensional player who can line up as a defensive end in the 4-3 or outside linebacker in the 3-4.
Blessed with a great first step and tons of athleticism, Hughes led the nation in sacks with 28.5 over a two-year span. He also collected 36 tackles for loss during that time.
Hughes is a relentless pass rusher, the best in this draft, and he's equally effective in coverage.
His coaches at TCU gave him praise for his leadership, work ethic, and willingness to do whatever it took to win.
The only reason Hughes isn't rated number one is his lack of ideal size to play end if he's drafted by a 4-3 team.
Regardless, Hughes should have a great career and might be the best pure athlete in this draft.
4. Sean Weatherspoon, Missouri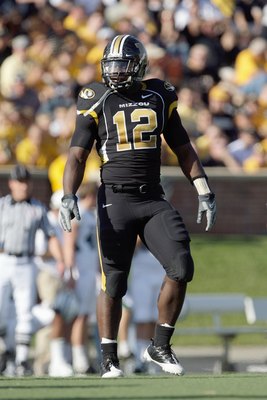 Weatherspoon can play inside or out, but he's best suited as an outside linebacker in the 4-3 scheme.
He's a great team leader and hard worker as evidence by his non-stop hustle on every play.
He's a tackling machine who makes plays all over the field.
Weatherspoon, the two-time All-Big 12 selection, is a decent blitzer with solid coverage skills.
That all should translate into a nice NFL career.
The Atlanta Falcons and New York Giants appear to be the leading candidates after Weatherspoon.
5. Daryl Washington, TCU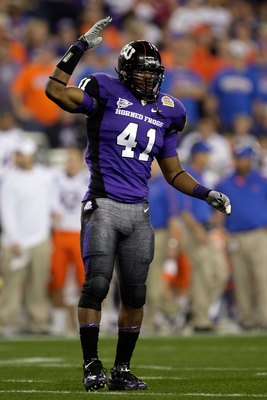 Washington didn't start until 2009, but made the most of it when he finally got his chance.
He ended up leading the Horned Frogs in tackles (109), 11 of those for a loss, with two sacks and three interceptions.
Washington played inside and outside in college, but with his slight frame (6'1", 230 lbs) he'll play outside in a 4-3 scheme in the pros.
There's a chance he could fall because of poor hands and lack of size.
Washington needs to bulk up to be effective in the NFL, but his speed and athleticism should make him a second-round selection.
Others to watch: Sean Lee, Penn State; Navorro Bowman, Penn State; Koa Misi, Utah; Brandon Spikes, Florida, Jason Worilds, Virginia Tech; Eric Norwood, South Carolina; Ricky Sapp, Clemson.
Keep Reading