Spurs/Mavericks Early Analysis: Will The Real San Antonio Now Show Up?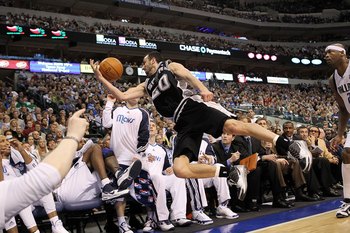 Regardless of my desire to see the underdog San Antonio Spurs eliminate the overrated Dallas Mavericks in the first round, it appears as though that may be more of a dream than reality.
If the Spurs continue to rely on their three aging stars and that trio alone, they will be heading home early this postseason.
But, if San Antonio wakes up and begins to play the kind of basketball the Riverwalk City has become accustomed to then the Spurs can still easily make a series out of this Lone Star State rivalry.
Owner Mark Cuban and his Mavs are clearly a top-notch team, and they got a whole lot better when they made the trade bringing Brendan Haywood and Caron Butler to Dallas from Washington.
However, regardless of Cuban's arrogance and his players sometimes-poor attitudes, the Spurs have the talent and the knowledge to beat this Dallas team.
Down 0-1 in the best of seven series, it's time for the Spurs to turn things around -- beginning Wednesday in Dallas.
Looking back at game one, let's look at five factors (and five things that must improve) that led to the Spurs falling behind in the opening round of this year's NBA Playoffs…
1. San Antonio's Big Three (And Them Alone)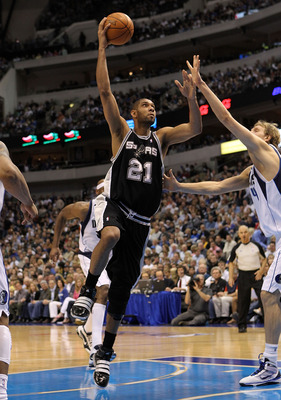 In the Spurs game one loss to the Mavs, Tim Duncan (27 PTS), Manu Ginobili (26 PTS) and Tony Parker (18 PTS) did all they could possibly do to keep San Antonio in the game.
Not to overlook the 10 points and eight rebounds garnered by the aging Antonio McDyess, but head coach Gregg Popovich is going to need more production from the likes of Richard Jefferson (4 PTS in game one), George Hill (held scoreless in game one) and the San Antonio bench (beyond Paker's 18 PTS off the bench, only nine more points came from the Spurs bench) if the so-called old-timers want to beat the young and gunning Mavericks.
Look for San Antonio's role players to play a much more vital part in game two's outcome -- and for the Spurs sake, let's hope this series heads back to the Riverwalk deadlocked at one game apiece.
2. Moving Slow Motion In A Fast Paced Game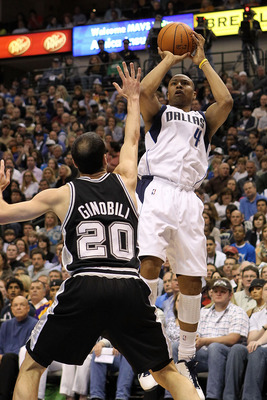 I guess in some ways all the jokes and media build-up around the old legs of San Antonio are partially true, at least if you base those results on game one in Dallas.
Beyond Tim Duncan and Manu Ginobili putting up over 20 points apiece in game one, they both had way too many turnovers: with Duncan losing the ball six times and Ginobili getting picked five times.
Another area where San Antonio appeared a bit slow on Sunday in Dallas: rebounding; for a team that averaged 42.8 boards per game, the Spurs pulled down just 37 rebounds in game one.
Assists were also down for a San Antonio that normally loves to share the ball, with the Spurs dishing out just 19 assists against the Mavs in game one after averaging 22.3 dimes per game during the regular season.
3. DEFENSE (And Lack Thereof)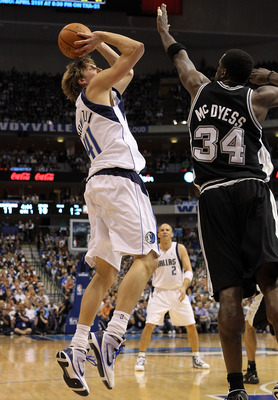 Preventing Dallas' Dirk Nowitzki from putting up another 30-plus point performance would be a step in the right direction (and, yes Dallas fan, I truly do credit a lot of his high scoring in game one to minimal, if not pitiful, defense against the Mavs).
In addition, these same Spurs averaged 4.6 blocks per game during the regular season and managed just one against the Mavs on Sunday night -- another area that must improve come game two on Wednesday in Dallas.
The Mavericks also shot a bit better than their regular season average, knocking down 47.3 percent of their shots against a clumsy Spurs defense after averaging 46.4 percent during the regular season.
In the same breath, San Antonio's offense was also superb in the first game in terms of percentages: draining 50 percent of their field goal attempts (after averaging 47.3 percent during the regular season).
4. Bench Production (Role Players Must Contribute)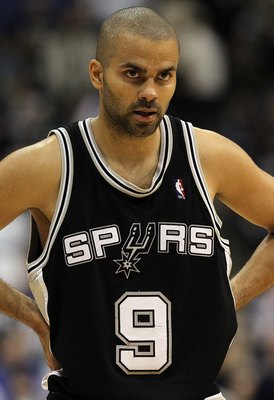 As mentioned in the intro, the only player beyond Tony Parker and his 18 points to come off the bench and score anything at all in the intrastate rivalry opener were Matt Bonner (5 PTS) and DeJuan Blair (4 PTS); Keith Bogans and Roger Mason were both held scoreless coming off the Spurs bench in game one.
Those bench numbers must improve in game number two if San Antonio truly hopes to knot this series up at one game apiece.
Of course, starters Richard Jefferson and George Hill must also begin contributing if the Spurs hope to make it out of the first round of the 2010 NBA Playoffs.
But bench production will be vital to this entire series, and if San Antonio's reserves can wake up and make a run when their time is called the Spurs could easily tie up the series on Wednesday.
5. Driving To The Basket, Getting To The Free Throw Line
Dallas attempted 20 more free throws than San Antonio, getting to the charity stripe on 34 occasions compared to the Spurs 14 trips to the line.
A bright spot in looking at those numbers is that the Spurs did drain 85.7 percent of their free throw attempts in game one compared to the Mavs 73.5 percent shooting from the charity stripe.
Regardless, Dallas still outscored San Antonio 25-12 from the line in a game that ended up being decided by just six points.
If the Spurs can quickly adapt in terms of learning to push the ball into the paint and drive to the basket, San Antonio could very well be heading to a game two victory on Wednesday night in Dallas…
*****
Denton Ramsey may be reached via email at denton.ramsey@gmail.com
Keep Reading

San Antonio Spurs: Like this team?