NFL Mock Draft 2010 (Part Two): New Players Emerging Late in First Round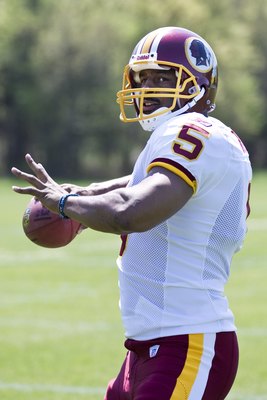 Well it has been a while since the first installment of this article, but as promised, here is the second half of my first-round projections.
I could honestly move around the first half of the first round right now as new players seem to be moving around, but I will make one change for those of you who will go back and read the other article again, or for those of you that remember.
The Broncos will more than likely take Oklahoma State wide receiver Dez Bryant now that they virtually have no true No. 1 wide receiver. They could wait and take another in the second round, but I don't see that happening.
Dan Williams was in that spot before. Insert him for the Tennessee Titans pick at No. 16 for them to try and replace Albert Haynesworth. This frees up Brandon Graham for this article to be taken...wait...just read and you will see!
Enjoy and feel free to comment, I can take the heat.
Recap of first round so far:
1. Sam Bradford
2. Russell Okung
3. Ndamukong Suh
4. Bryan Bulaga
5. Trent Williams
6. Eric Berry
7. Gerald McCoy
8. Jimmy Clausen
9. Bruce Campbell
10. Derrick Morgan
11. Dez Bryant
12. Jason Pierre-Paul
13. C.J. Spiller
14. Anthony Davis
15. Rolando McClain
16. Dan Williams
17. San Francisco 49ers—Joe Haden, CB, Florida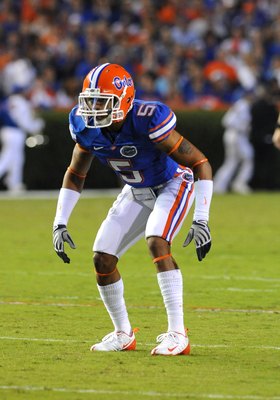 I honestly think the 49ers can pass on Haden at No. 13 and still select him at No. 17. They are going to be in a great position to win their division if they can get both Spiller and Haden.
The popular pick would probably be Taylor Mays since he is a USC guy, but the better pick would be Haden. They really are desperate for help on the edge and Haden is a lock-down corner.
His combine dropped him a bit, but he proved at his pro day that his speed was a fluke caused by a back sprain.
18. Pittsburgh Steelers—Maurkice Pouncey, C/G, Florida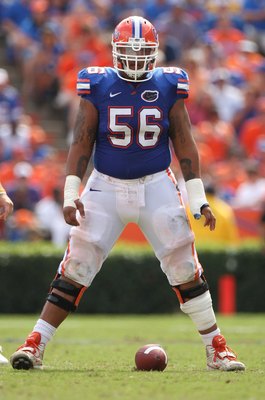 The Steelers have to get protection for Ben Roethlisberger since they have come out and stated publicly that they will not trade him despite two sexual assault chargers in one year.
The Steelers line might not be as bad as they seem considering Big Ben likes to hold on to the ball as long as humanly possible, but they could use a bump at right guard.
Pouncey is a four-position player on the offensive line, the only spot he couldn't or shouldn't play is left tackle. This will help the Steelers now and in the future, as he can be the foreseeable future star at center, but give them much needed help at right guard.
19. Atlanta Falcons—Brandon Graham, DE, Michigan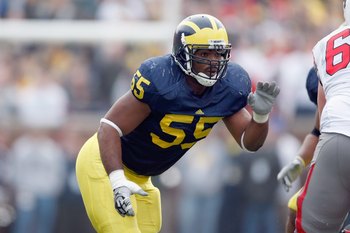 This is the fallback from the Broncos trade. The Falcons get the player I like most in the first round.
It may just be me blowing his Senior Bowl performance way out of the water, but I've loved this kid ever since then.
I was worried he would post poor combine numbers and fall to the second round, but that was not the case.
The Falcons are set offensively, so expect them to continue to take defensive players with their first-round picks until the defense catches up. I correctly predicted they would take Peria Jerry in all of my mocks last year, and provided he is available here, I feel like I'm on the money.
20. Houston Texans—Earl Thomas, FS, Texas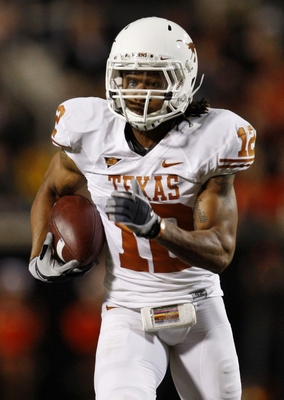 Earl Thomas would not only fill a giant need for the Texans in terms of getting a ball hawk in the defensive backfield, but would also be a tremendously popular selection, considering Thomas was born and raised a Texas boy.
Many have compared Thomas to Ed Reed. That combined with his 4.35 40 time he ran at his pro day and the eight interceptions in 2009, and you get teams that need a free safety salivating over him.
There have been rumors swirling that the Texans might take Ryan Matthews, the running back out of Fresno State, but that will more than likely only happen if Thomas goes earlier than No. 20.
21. Cincinnati Bengals—Brian Price, DT, UCLA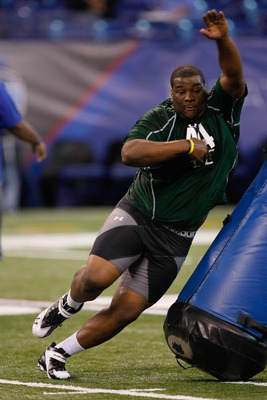 The Bengals beefed up their defense with Rey Maualuga and Michael Johnson last year. Now they need to add a run-stuffing defensive tackle to complete the meal.
Brian Price is another of my favorites in this draft, and when the Community-wide draft hit the Giants at No. 15 in February, my selection was Price.
Since then, the McNabb trade has had its effects and the Giants may in fact have McClain fall in to their laps or take Sean Weatherspoon, who has moved up boards. As a result, the Bengals may have the luxury of Price falling to them as well.
22. New England Patriots—Jared Odrick, DE/DT, Penn St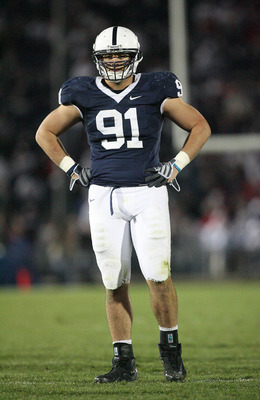 The last three years, the Patriots used their first pick on a defensive player, and seeing as how their offense is still pretty much set in terms of talent, I seriously doubt they will go offense.
This is especially possible considering they traded away Richard Seymour.
Odrick is very versatile and will fit the 3-4 scheme beautifully. He is very athletic and can move around the line, whether it be playing inside on third downs to get a pass rush up the middle or stuffing the outside runs on first and second down.
Belichick is a great drafter and rarely misses on early-round picks, so whoever he chooses will make an impact right away.
Of course, this is probably not gonna happen. We all know how Bill likes to trade away first-rounder for second-rounder. Hell, he had four last year.
23. Green Bay Packers—Kyle Wilson CB, Boise St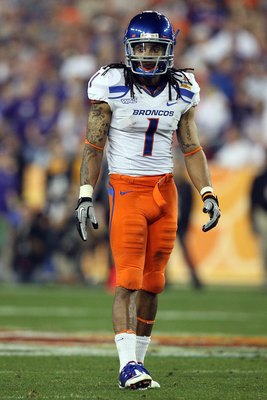 I wanted to slot Wilson as the Texans' pick, but I've heard too much about that pick being either Thomas or Matthews.
The Packers pass defense was absolutely horrible at times last year, especially against Arizona in the playoff game. Al Harris and Charles Woodson are on their last legs and are in dire need of some depth to keep them fresh.
Wilson originally got a knock because he was playing for a non-BCS school, but his Senior Bowl locked him into the first round.
The Packers would love it if Haden fell to them, but his pro day makes that a virtual impossibility.
24. Philadelphia Eagles—Devin McCourty, CB, Rutgers
The Eagles have a pressing need at both free safety and cornerback now that they traded away Sheldon Brown. I don't see the Eagles taking Mays, considering he is not a true free safety. His talents are more useful in the running game and would not mesh well with Quintin Mikel.
The Eagles would be better served to take a better first-round talent like McCourty and wait for a safety prospect later, like USF's Nate Allen or LSU's Chad Jones.
McCourty ran the fastest 40 by a corner at the Combine and was an All-Big East performer for Rutgers, getting 85 tackles and 10 pass deflections. He would be a good fit for the Eagles since they have Asante Samuel on the opposite side, who is much better in pass coverage than in run support.
25. Baltimore Ravens—Terrence Cody, DT, Alabama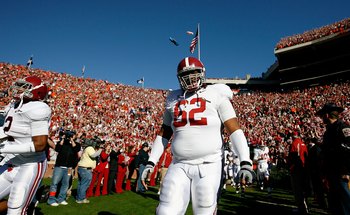 Cody ballooned in the offseason to over 370 lbs and look like a misplaced sumo wrestler at the Senior Bowl.
Since then he has dropped his weight to below 350 and counting, and would be a fantastic fit for Baltimore's 3-4 scheme.
Cody was a catalyst for Bama's national championship run, and opened up things for the entire defense by commanding double teams and freeing up fellow first-round prospect Rolando McClain to do his thing.
With Kelly Gregg entering his 11th season, Cody would be a perfect fit to replace him at nose tackle.
Ray Lewis just got a little excited.
26. Arizona Cardinals—Sean Weatherspoon, LB, Missouri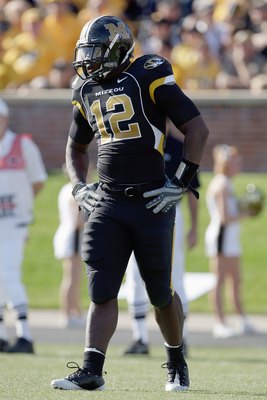 With the departure of Karlos Dansby to the Miami Dolphins, this pick is almost certainly going to be used on Weatherspoon if the draft plays out like this.
Unfortunately, the draft never goes as scripted as you all know, but I could see Weatherspoon being available here if the Giants or Steelers pass on him.
Weatherspoon is very versatile and incredibly fast. The Cardinals like to mix up between 4-3 and 3-4, but they mainly use 3-4 and he could play the same position Dansby did in the middle of the 3-4, as well as play outside in the 4-3 when they do make the transition.
27. Dallas Cowboys—Mike Iupati, OG, Idaho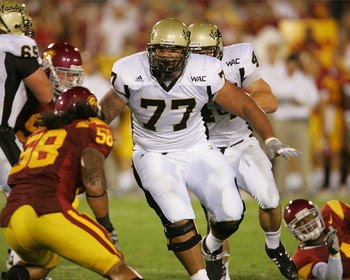 Leave it to Jerry Jones to take someone who had a horrible Senior Bowl and Combine. At the Senior Bowl, Iupati single-handedly made Geno Atkins look like a superstar at times and increased Atkins' draft stock.
That being said, he may have just had a bad day and his film still suggests he is a first-round pick.
The Cowboys love those big offensive linemen, and Iupati is no exception. He is a fantastic run blocker and Tony Romo can make up for the bad pass blocking with his feet.
Iupati is still the best pure guard in the draft, but he doesn't have much competition for that distinction.
28. San Diego Chargers—Ryan Matthews, RB, Fresno State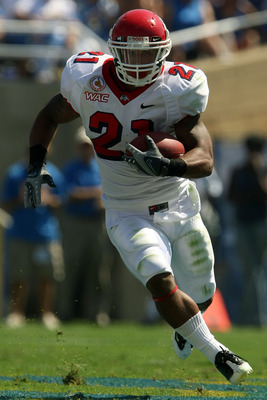 Goodbye LaDainian Tomlinson, hello next superstar runningback. Matthews had an unbelievable Combine and will be able to counter Darren Sproles' speedy style with his punishing style.
Matthews led the nation in yards per game last season, and might have been a Heisman candidate were it not for him missing a game due to concussion. Despite that, he still had 1,800 yards and had two 200-yard performances, including one against Boise State's great defense.
Interesting side note: In 2006 Matthews led the nation in high school with 3,396 yards and 44 touchdowns. Yea...in one season.
Three years later he basically led the nation in yards (he would have had he not gotten hurt, he led in YPG).
Next stop, NFL?
29. New York Jets—Sergio Kindle, DE/OLB, Texas
Kindle had somewhat of a down senior season, but he is still one of the best pass-rushing linebacker prospects in this year's draft.
The Jets got a weapon for Sanchez when they traded for Santonio Holmes, so they will likely try to find a replacement for Vernan Gholston, who has been an absolute bust.
If nothing else, Kindle will be a good kick in the butt for Gholston to get his act together and start working towards being a better player.
30. Minnesota Vikings—Kareem Jackson, CB, Alabama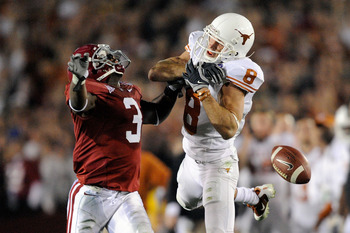 The Vikings haven't taken a corner earlier than the third round since 2006 when they selected Cedric Griffin. It just so happens that they lost Cedric Griffin to an ACL injury and will look to replace him with this pick.
Jackson is a reach at this point, but there is little possibility he will fall all the way to the bottom of the second round.
This is an interesting trade scenario if some team in the top half of the second round wants to move up and get a guy like Taylor Mays or Jerry Hughes.
I could very well see the Vikings moving down to acquire an extra pick.
31. Indianapolis Colts—Taylor Mays, S, USC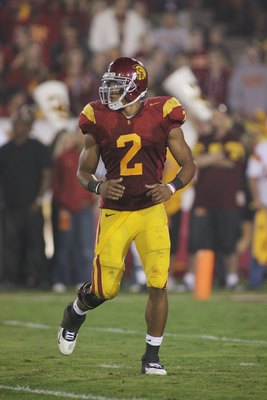 Hard to believe a guy could fall so far, but when doing mock drafts stuff like this happens.
Even though Bill Polian tends to use picks on offense in the first round, I don't think a player of Mays' caliber will fall below the Colts.
Bob Sanders is a great player, but he gets injured way too often and the Colts' run defense suffers from it. If Taylor Mays can come in and prove he has the ability to stuff the run, then Sanders can slide over to free safety and be more of a center fielder.
Sanders has better ball-hawking skills than Mays, and Mays can learn from him and become that much better a player for a Super Bowl contender.
32. New Orleans Saints—Jerry Hughes, DE/OLB, TCU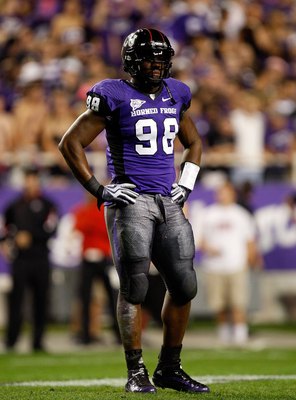 Hard to believe the Super Bowl champs actually have needs to fill. Such is the parity in the NFL.
The Saints could go with Hughes or a defensive tackle, but there is not another DT that has the potential that Hughes does as a pass rusher.
TCU was one of the best defenses in the country this past season, and Hughes was a big part of that. Their linebacking corps are all NFL prospects, and he was the best of them.
The champs lost Scott Fujita, who went to Cleveland, so picking up a guy who can play both outside linebacker and put his hand in the dirt on pass-rushing downs is more than a replacement for the loss.
Recap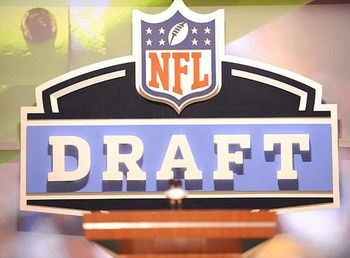 1. Sam Bradford
2. Russell Okung
3. Ndamukong Suh
4. Bryan Bulaga
5. Trent Williams
6. Eric Berry
7. Gerald McCoy
8. Jimmy Clausen
9. Bruce Campbell
10. Derrick Morgan
11. Dez Bryant
12. Jason Pierre-Paul
13. C.J. Spiller
14. Anthony Davis
15. Rolando McClain
16. Dan Williams
17. Joe Haden
18. Maurkice Pouncey
19. Brandon Graham
20. Earl Thomas
21. Brian Price
22. Jared Odrick
23. Kyle Wilson
24. Devin McCourty
25. Terrence Cody
26. Sean Weatherspoon
27. Mike Iupati
28. Ryan Matthews
29. Sergio Kindle
30. Kareem Jackson
31. Taylor Mays
32. Jerry Hughes
QB - 2
RB - 2
WR - 1
TE - 0
OL - 7
DT - 6
DE/Rush OLB - 5
OLB - 0
ILB - 2
DB - 7
Keep Reading