Five UFC Match-ups For Anderson Silva That'd Be Better Then Chael Sonnen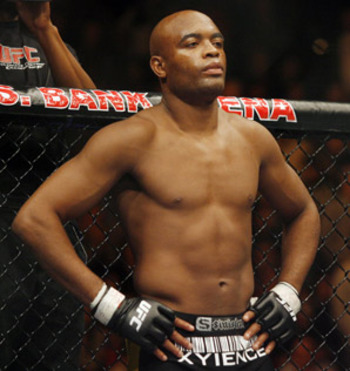 Disclaimer: This is NOT a list of fighters who I believe "deserve" a shot more than Chael Sonnen. This is merely a list of possible matchups that would deliver fireworks.
On the heels of UFC 112, Anderson Silva has been under the spotlight.
Some people want to see him lose, some want to see him merely tested, some just want an entertaining fight.
But the bottom line is, everybody wants to see Anderson back in the octagon doing what he does best.
What is that, you may ask?
Well, if you want an idea, go back to UFC 101 and watch him make Forrest Griffin look silly.
It takes two to tango though, and as shown in the Thales Leites fight at UFC 97 and, more recently against Damian Maia at UFC 112, giving Silva fights against guys who don't have much of a stand-up game doesn't make for entertaining fights.
I'm not going to delve into the mindset of Anderson Silva, but what I will do is explore some match-ups that would surely be more interesting than watching Chael Sonnen challenge for Anderson's title.
Don't get me wrong, Sonnen is an impressive wrestler, but can you really see this fight being an "entertaining" stand-up affair?
Sonnen will shoot for the take-down whenever he can and is unlikely to engage in a stand-up war with Silva.
Whilst I'm happy to watch wrestlers work, it's blatantly obvious that some of the meatheads who attend UFC events don't.
Here are some possibilities that may be more "entertaining" (some of these match-ups aren't currently possible, but could be down the line.)
Vitor Belfort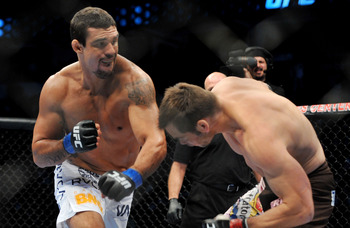 Vitor Belfort was Anderson Silva's original opponent for UFC 112. Unfortunately, he had to pull out due to an injury.
Had Belfort made it to Abu Dhabi in a healthy condition and fought Silva, this fight would have delivered fireworks.
Belfort has explosive hands which would provide the most thorough test-to-date of Anderson Silva's stand-up.
At UFC 103, Belfort made light work of Franklin, and people were genuinely excited to see the two face off. Its a shame it never happened and somewhat surprising that this match hasn't been re-scheduled.
Georges St-Pierre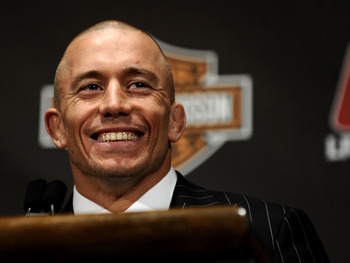 Did somebody say super-fight?
Two of the most dominant champions UFC has ever seen, facing off one on one, would be a big draw for the UFC.
Not only that, but it would provide Silva with the most dangerous challenge of his UFC career.
There is undoubtedly a size difference, but Anderson has suggested he may drop down to 170 in order to make this fight happen.
Would it really be surprising if he did?
If anybody thinks that size would ruin this fight, I'd suggest thinking again.
While he is smaller, apparently GSP throws light heavyweights such as, Rashad Evans, around in training.
I'm not necessarily saying he'd do the same to Silva, but he'd bridge the gap.
With the right promotion, this fight could be the biggest of all time.
Thiago Alves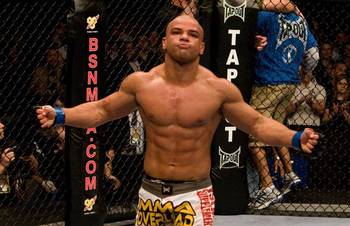 If you want fireworks, this is the right match.
Thiago Alves is a monster of a welterweight. If Anderson moved down and Alves moved up so that the pair could fight at catch-weight, or even middleweight, this fight would be massive.
Thiago Alves is a wrecking ball, great leg kicks tied into an overall world class Muay Thai game. He's not going to hesitate when standing with Silva and Silva wouldn't hesitate to stand with him.
I think it's safe to say that if these two ever meet, it's not going to the judge's scorecards that decide the result.
Jon Jones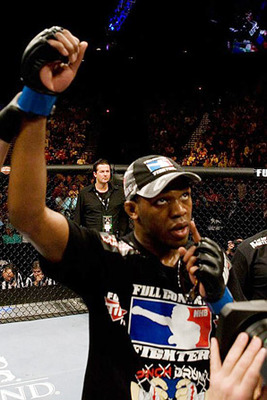 This fight has 'fight of the night' written all over it.
Jon Jones is MMA's brightest prospect. He's strong, fast and incredibly talented. Unorthodox striking, excellent Greco-Roman wrestling topped off with vicious ground'n'pound. Jon Jones has it all.
Nobody has managed to deal with Jones as of yet and it would be interesting to see how Anderson would cope if Jones grabbed a hold of him and took him for a ride.
Likewise, it'd be interesting to see how Jones' unorthodox striking matches up to Silva's awesome stand-up.
Something would have to give if these two met—MMA's rising star would be turned over, or the man who is arguably MMA's best fighter, would finally be stopped.
I'd love to see it.
Wanderlei Silva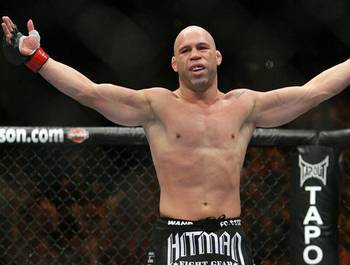 Wanderlei may not be the same fighter that he was back in Pride, but rest assured, this fight would be a barn burner.
Silva vs. Silva would likely be one of the most exciting fights you could put together. I don't think Wanderlei would hesitate to chase Anderson down and swing bombs at him.
Silva is back to winning ways after he broke down Bisping at UFC 110 in Australia, and whilst he's slated to fight Akiyama at UFC 116, who would rather see that fight as opposed to Wanderlei vs. Anderson?
Not many.
Furthermore, who would ever choose to watch Chael Sonnen challenging Anderson Silva when we could have this fight? I rest my case.
Keep Reading