2010 NFL Draft: Top Five Defensive End Prospects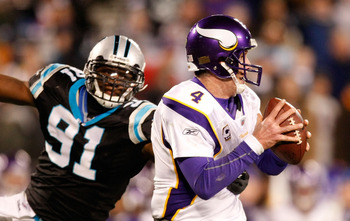 NFL personnel execs place a high value on defensive linemen and you'll see them fly off the draft board early and often.
Of premium value are pass rushing defensive ends.
The NFL has become a passing league and teams will pay big dollar to anyone who can get to the quarterback.
While there isn't a bona fide superstar in the mix this year, there are a bunch of solid prospects in this draft.
Here's a look at the top five defensive ends in the 2010 NFL Draft.
1. Derrick Morgan, Georgia Tech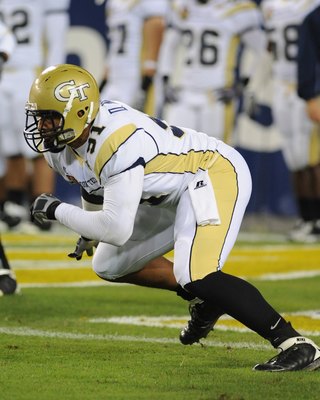 He is the most complete end in the draft and might have the versatility to play outside linebacker in a 3-4.
The ACC Defensive Player of the Year has a nice blend of speed and power with a great first step off the ball.
Morgan can get to the passer and also has the bulk to do well against the run.
He is a top athlete and the safest pick of all the defensive ends.
2. Brandon Graham, Michigan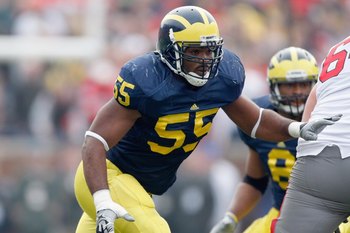 Graham is a defensive end by trade, but his best position may be outside linebacker in a 3-4 scheme.
He's small for an end (6'1") with short arms and a thick build.
Graham is very athletic with great instincts and a lot of hustle that makes up for his lack of size.
Dwight Freeney and Elvis Dumervil are two small ends who have made the jump to stardom in the NFL.
If Graham can bring his hustle and tenacity on Sundays, he just might follow in their footsteps.
3. Jason Pierre-Paul, South Florida
Paul might be the most physically gifted end in this draft.
He's very athletic and has the prototype body (6'5", 270 pounds) for a defensive end with long arms and legs.
Paul is a workout warrior and the purest pass rusher in this draft.
The problem is lack of experience.
He was a high school basketball player until his senior year of high school. Paul jumped around from junior college to South Florida, where he started only eight games at the Division I level before going pro after his junior season.
Paul is definitely a project and the team that drafts him has to be patient. He has all the athletic ability in the world, but he's a year or two away from being a consistent NFL performer.
4. Everson Griffen, USC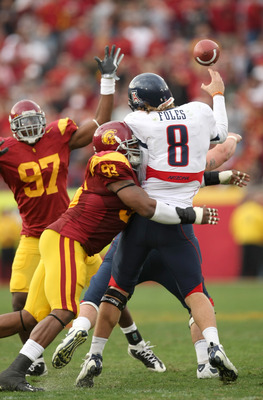 Griffen is an outstanding pass rusher with great first-step quickness and loads of potential.
He racked up 18 sacks and 15.5 tackles for loss in his three years at Southern Cal.
Griffen has the versatility to play in a three- or four-man front with his size, agility, and speed.
The big drawback to Griffen's game was his inconsistency in college (he was benched twice) and his problems against the run.
Griffen still should go late in the first round, but if he can put it all together, he has top 10 talent.
5. Carlos Dunlap, Florida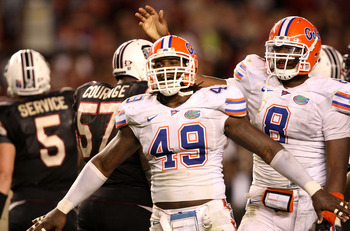 Dunlap is a huge end who would be perfect in a 3-4 defense.
He doesn't have as much quickness, agility and burst as some ends, but he can be disruptive, especially in deflecting passes.
Dunlap is much better against the run with his power and quickness, but he needs to develop better technique with his pass rush moves.
Others DEs to watch: Corey Wooten, Northwestern; Greg Hardy, Mississippi.
Keep Reading