2010 NFL Draft: 10 Starting Players Who May Be Under Threat From Rookies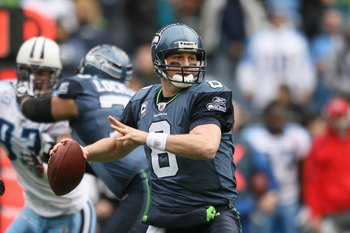 The 2010 NFL Draft packs excitement from every corner. The speculation of which players will land where has captivated the NFL world, and just when you think you have your Mock Draft pretty much figured out, it seems that the NFL throws a curve ball, which requires a drastic change in plans.
With a whole new breed of players set to explode in the league this year, it's safe to say that some starting roles may be under threat from younger and more talented rookies.
Therefore, the under-performing players of 2009 along with free agents and the older players of the game, have to step up, or else their beloved starting roles may be demoted to second string, as they fall victim to another dismal year.
But who is "under the gun" when it comes to rookies entering the league? The list could go on for miles, but the following Top 10 pretty much narrows down who needs to step up, or step down.
10. Terrell Owens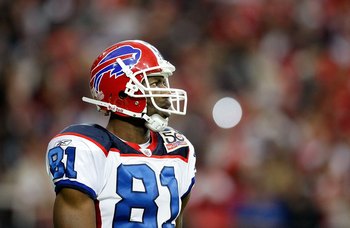 Some may argue with this pick, but the simple fact remains that Terrell Owens is beginning to grow old. NFL teams are demanding highly talented wide receivers in the Draft, and with many teams such as Denver and Washington in the mix, the options for Terrell Owens will significantly decrease as the offseason continues.
The bigger question that faces T.O is whether or not teams are willing to sign a veteran wide receiver, who can arguably still provide great plays, but may still bring the same controversy and loud mouth with him.
So far the Oakland Raiders are the team that everyone has speculated Terrell signing with. However I don't see the NFL veteran signing with another highly under-performing team, unless it is to his benefit.
New wide receivers mean less jobs to fill for Terrell, and come the end of next week he may regret not signing with a team earlier.
9. Ronnie Brown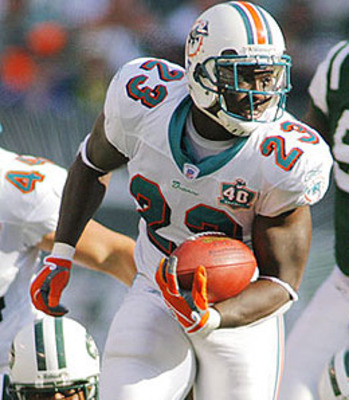 At the moment Ronnie Brown has bigger issues than football. Facing DUI charges, Brown may be in serious legal trouble in the coming months, and worse yet may face serious suspensions by commissioner Roger Goodell.
The Miami Dolphins on the other hand have cut ties with Ronnie Brown, and seeing as though he is a Restricted Free Agent, Brown may have a tough time finding a new home in 2010.
Some call him overrated, but there is no denying that Brown does have tremendous speed and skill, particularly in the wildcat formation. Although this is all true, Ricky Williams is the firm starting running back in Miami, and the Ronnie Brown days seem all but gone.
Will he find a new home? Probably. But with Toby Gerhart, C.J Spiller and other fantastic running backs breaking into the league, Brown may spend a little longer on free agency than planned, but that isn't to say he won't find a new home in the future.
8. Laveranues Coles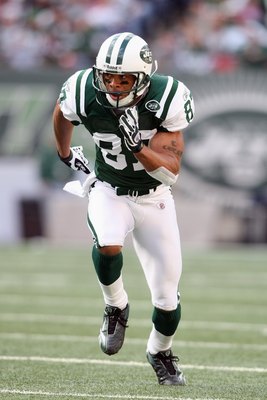 Laveranues Coles failed to live up to expectations in 2009. Fresh from the New York Jets to the Cincinnati Bengals, Coles posted only 514 yards last season with five touchdowns.
Now considered a veteran in the NFL, Coles may find himself in the same boat as Terrell Owens if he isn't careful. Unfortunately for Laveranues, the hard reality is that he is nowhere near as talented as Owens, and is highly criticized for his catching abilities and work ethic.
As mentioned on the Terrell Owens slide, the Draft affects guys like Laveranues Coles immensely. Younger and more talented wide receivers are bursting into the league, and although Coles can still be considered a decent wide receiver by some, it is unlikely that he finds a job anytime soon.
Teams like New England and possibly even Cincinnati come to mind as potential landing spots for Coles, but he isn't a wide receiver that has a broad future.
7. Santana Moss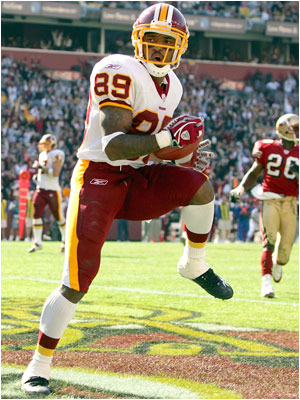 Antwaan Randle El is now in Pittsburgh, and the Washington Redskins are seeking out new receivers from the Draft. Some have speculated that Golden Tate or Dez Bryant could be wearing Redskins yellow and red, but this still leaves tremendous pressure on veteran wide receiver Santana Moss.
In 2009, Santana posted decent stats by his standards. 902 yards and three touchdowns helped the Redskins at times, but with two talented quarterbacks now on the same roster, he will have to step his game up a lot.
One thing that Santana has going for him is that he can take a young wide receiver under his wing, and guide him in the right path. Will this keep him the starting role? Maybe, but it will hopefully help not only the young draft pick, but Santana as well.
6. Brandon Jacobs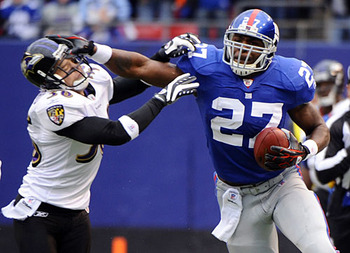 I never thought I would be writing this a season ago, but Brandon Jacobs 2009 stats were disappointing. 835 yards and five touchdowns for a team that strives off of offensive momentum simply doesn't cut it, and also makes everyone around him look bad.
Something changed about Jacobs last season, and funnily enough it wasn't all on the field. The mental side of Brandon Jacobs seemed to fall apart, and the on field motivation went downhill quickly.
The Giants aren't looking at drafting a running back right now, but I do feel that Jacobs is skating on thin ice when it comes to being the starter in New York. Another bad season will easily demote him to the second string role, and could ultimately cost Tom Coughlin his head coaching job.
5. David Garrard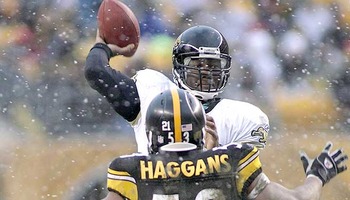 It's no secret that the Jacksonville Jaguars have offensive issues. The only positive to come out of the Jaguars lineup is that star running back Maurice Jones-Drew has patiently waited around, and it has come high tide that he gets the wins he deserves.
The Jaguars are among the top contenders to draft a quarterback this year, which puts once solid starter David Garrard in a bad position. Garrard didn't have an altogether awful year last season, but he did throw 10 interceptions that don't look good on any stat sheet.
David Garrard will more than likely still have the starting job come next season as head coach Jack Del Rio seems to have faith in his ability. Although the Jaguars fan base is small, they won't tolerate another inconsistent year, so it is important for Jacksonville to mold a young quarterback over time, so if Garrard does fail, he can step in.
4. Chad Pennington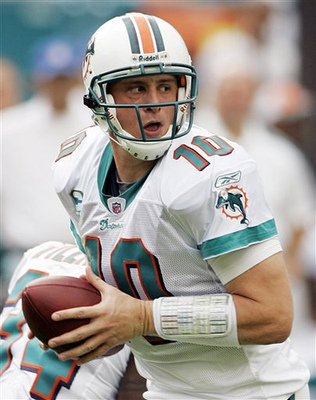 Chad Pennington's starting quarterback career looks close to over. Chad still remains with the Miami Dolphins, but given Chad Henne's impressive 2009 season things don't look good for Pennington in terms of starting anytime soon.
The Dolphins are in no need of a quarterback, but should they get a young wide receiver in the Draft, Pennington's skills may be tested as to whether or not he still has a position on the team.
Playing time isn't likely for Pennington, and as a big fan of his I can't even begin to say how sad it is to see Chad no longer the face of the Dolphins.
He may sit at the second starter role for some time, but sooner or later he'll have to make his mind up. Should I stay or should I go? It may not be his decision in the long run, but a young draft pick may be enough to push him over that last hurdle.
3. Cadillac Williams
Some have speculated that the Buccaneers need a new running game and a part of me agrees. Trusty Cadillac Williams is now a restricted free agent, and if there is a thought in his mind that he can return with the Bucs after the draft, he may find that his talent is not needed.
Tampa Bay does have bigger concerns than the running back position, but Cadillac is the type of guy that could very easily sit in the free agency column for an extended amount of time, and fail to see a signing.
Tampa Bay has the third pick in the Draft, and it would seem kind of boring to see them take a defensive lineman. A running back? Hopefully, but who it may be is anybody's guess.
2. Kyle Orton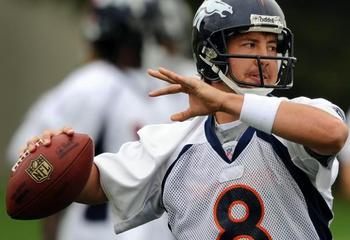 This pick may come as a surprise to you, but with Brady Quinn now in Denver the recent signing has set up a battle between two quarterbacks for the starting role.
Although many of us knew this, the need for a number one wide receiver is ever so present in Denver. Therefore, it may just come down to who has better chemistry with the new arrival, and whether or not they can post points on the board.
Right now Orton looks to be the solid starter for the Broncos, while Brady Quinn is due to make an appearance or two here and there. However, throw Dez Bryant into the mix and you have a constant duel as to who fits in better as starter.
Will it be Orton or Quinn? We'll have to wait and see, but Kyle must be as sharp as a tack next season.
1. Matt Hasselbeck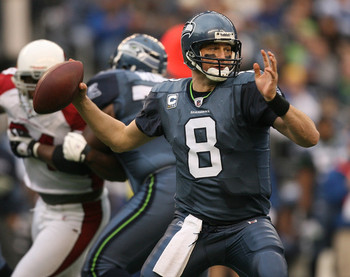 Matt Hasselbeck is perhaps one of the least questioned quarterbacks in the NFL, but at the same time should be one of the most criticized.
His 2009 season was nothing short of embarrassing. Time and time again Hasselbeck made mistakes and although much of this can be blamed on Seattle's struggling offense, Matt surely has to take some of the blame.
Seattle is rumored to be thinking of drafting a quarterback, and guys like Jimmy Clausen and Colt McCoy spring to mind. Seattle needs a young guy that can replace Hasselbeck when he finally decides to hang it up, and this year's Draft picks leave Seattle with an assortment of choices.
One thing to focus on is newly appointed head coach Pete Carroll, who has been quiet this offseason, but looks to have a strong and firm grip on Seattle come September.
Matt may still be the starter in Week One, but he'd better be ready to work especially hard on his throwing game as it cost Seattle way too many wins last season.
A Matt Hasselbeck failing could result in a rookie debut, and a Hasselbeck benching.
Keep Reading