The 10 Most Awesome Sports Brawls on the Internet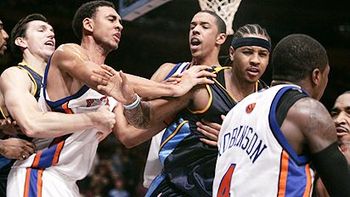 This weekend has been a great one for fights. The Celtics-Heat one got the NBA Playoffs started on a feisty note, but Strikeforce put things over the edge with their brawl after the fight this weekend.
It's great to watch cool sports videos on YouTube, but it's even better to watch the fights that ensue from those sporting events.
When you want to see the really good ones, that's where I come in and do the research so you don't have to. If you're in the mood for melees, check out The Top 10 Sports Brawls On YouTube.
10. Bruins/Stars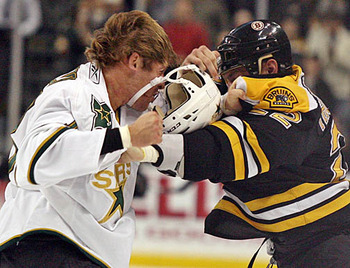 It was your classic "I went to a fight and a hockey game broke out" kind of deal.
Through the course of the video, they try to resume play numerous times but can hardly go a few seconds without a new fight popping up. Eventually, it's just both teams going at each other.
In other words, it's my idea of a perfect hockey game.
9. Celtics/Heat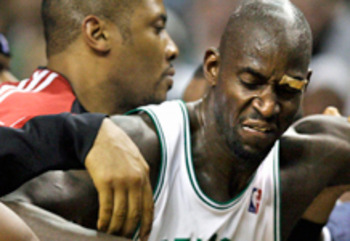 This may not seem like a legendary fight, but you have to factor in a few different things.
First, Paul Pierce is still on the ground. The trainer is diving on top of him like a soldier diving on top of a grenade to save everyone else.
Second, it involves TCIKG, or The Completely Insane Kevin Garnett, which is what Bill Simmons came up with to describe Garnett, and it fits perfectly. A guy tries to come to his own bench and Garnett starts throwing elbows immediately.
Then, last but not least, Big Baby Davis comes in with is "I'm going to act way tougher than I am in a continued effort to make everyone forget that KG made me cry last year" and needlessly inserts himself into the fray.
All in all, a great way to start the playoffs this year.
8. Lacrosse Brawl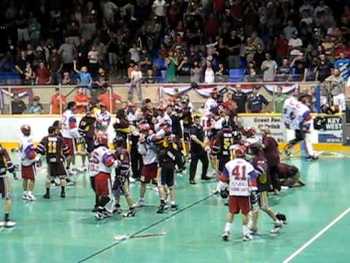 Man, this one just keeps going. A bunch of guys named Thad and Trent going at it because one guy probably called the other guy lower middle class.
I have to say, though, for a lacrosse fight, I feel like the sticks were not used as weapons nearly enough.
7. WNBA Brawl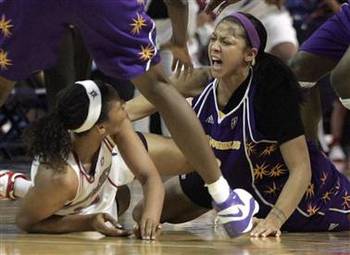 What a black eye for the WNBA. It used to be the most popular league in the country, but after this incident it has slowly faded into oblivion.
Oh, wait, nevermind. What I meant to say was that nobody really cares about the WNBA, but the one way they could actually get me to buy tickets was to promise that there would be at least one brawl every game.
Cat fight!
6. TNT/Purefoods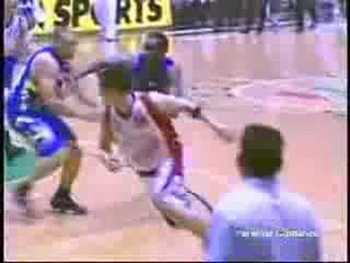 This one seemed fairly tame, just a guy throwing a ball at the head of another player.
But then a teammate of the victim actually comes up to the player starting all of this and actually karate kicks him in the back.
The crazed player turns around and the kicker has a moment of realization like, "Good God, what have I done?"
All of which leads to a hilarious instance when crazed player starts chasing kicking player who is now darting around the court to keep from getting killed. All he needs is a "woob woob woob" sound effect to complete it all.
5. Whitecaps/Lugnuts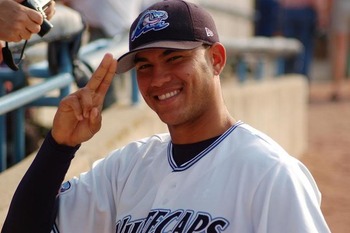 While this isn't the most entertaining brawl of all time, it's pretty much made to seem that way by the announcer, who treats it like the most shocking thing that has ever happened.
I think all brawls should be giving the Tru TV treatment. It's hysterical how they highlight the ball on the home run, like "look, the ball really did go over the fence" and then each hit is highlighted as potentially life threatening.
Just awesome.
4. Kids Hockey Brawl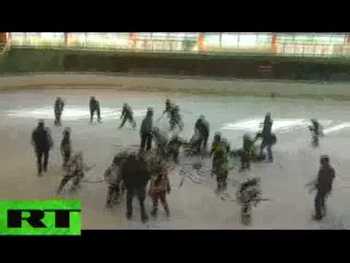 This was just plain awesomeness. A bunch of little kids throwing down on the ice. What could be better than that?
However, as a punishment, they all lost their sportsmanship trophy. Just kidding, nobody cares about those things.
The parents would have come to break everything up, but they were too busy fighting each other in the stands.
3. Dragons/Chiefs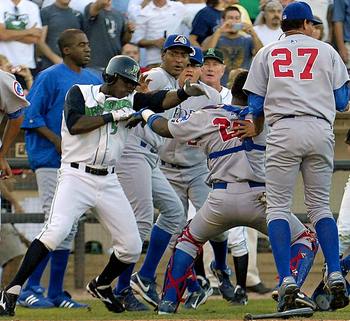 This went from being a mediocre brawl to an epic one in no time flat. Maybe it was the fact that one of the Dragons players threw a fastball into the opposing team's dugout, trying to kill someone.
However, he's in the minors for a reason and missed the dugout. He didn't miss the stands, though, and sent one fan to the hospital and got brought up on assault charges.
I'm sure it was all worth it, right?
2. Pistons/Pacers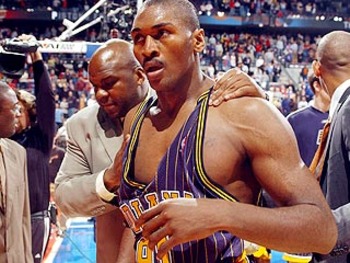 No matter how many times I watch Ron Artest charge into the stands, it still gives me such immense pleasure. Watching crazy people is just fun. Maybe that's why I enjoy working in San Francisco.
Just look at those eyes. That's the kind of guy you don't throw beers at.
1. Strikeforce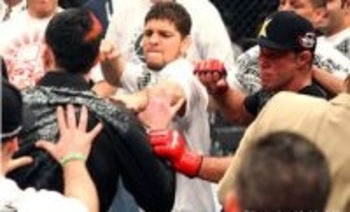 So many things in this awesome brawl.
First of all, how dare they put Gus Johnson in physical danger. That should be punishable by death.
Secondly, since Gus was involved, I was kind of hoping he'd break into ghetto mode, since he can switch in and out of it automatically. Just Gus freezing everyone where they stood.
Lastly, when did he didn't go that route, it was still hilarious how he tried to control everyone before finally going "gentlemen, we're on national television!"
I'm not sure "gentlemen" was the best choice of words for this group.
Keep Reading