2010 NFL Mock Draft: Mr. Relevant's First-Round Mock Draft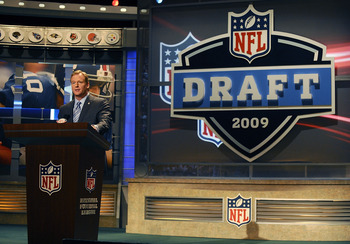 For me, it's a little late for my first mock, but I've been sitting on this one for a while waiting for pieces to fall in place, and to me they finally have.
The Combine has passed; stock has gone up and stock has gone down. People have used their pro days to either cement their places or move their way up or down teams' draft boards.
Now, I use this opportunity to try to nail as many picks as I can. Traditionally I've been right on par with most experts in terms of number of correct picks, but my drafts usually vary a bit from theirs.
Now here we go—let's get started with pick No. 1.
Pick No. 1: St. Louis Rams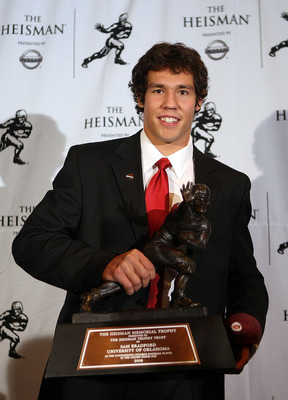 Sam Bradford, QB, Oklahoma
Bradford's hype is really snowballing close to Peyton Manning's pre-draft level. The only flaws people can pick out are his injury history, which has really only been one injury that he tried to rush back from, and the system he played in.
To me, the pro-style offense argument is way overblown. It's much easier to teach someone the rhythm and footwork of a dropback than to try to teach the accuracy that Bradford already possesses.
St. Louis is completely void of talent on the roster, so they try to rebuild with who they hope will be their franchise quarterback.
Pick No. 2: Detroit Lions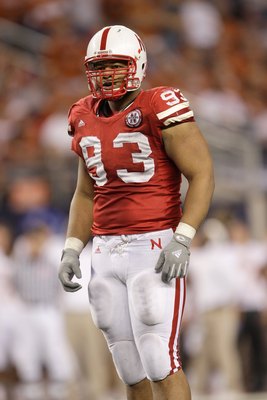 Ndamukong Suh, DT, Nebraska
Some people wlll tell you that he is far and away the best player in this draft; some people will tell you that he's not even the top DT in this class.
But I think Suh will be a more productive run-stuffer than Gerald McCoy and is a great pass rusher in his own right.
It's a position of need for Detroit, and Ndamukong is a player that can really elevate the play of the entire defense for the Lions. This should be an easy pick for Jim Schwartz, who had great success with Albert Haynesworth in Tennessee.
Pick No. 3: Tampa Bay Buccaneers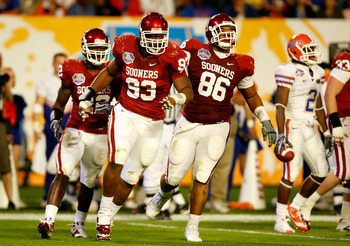 Gerald McCoy, DT, Oklahoma
McCoy has a game similar to Warren Sapp, and Tampa hopes to get similar production from him with the third pick. It's a big need for Tampa as they try to rebuild really the entire defense under Raheem Morris.
McCoy can be an elite pass rusher up the middle from the DT position.
Pick No. 4: Washington Redskins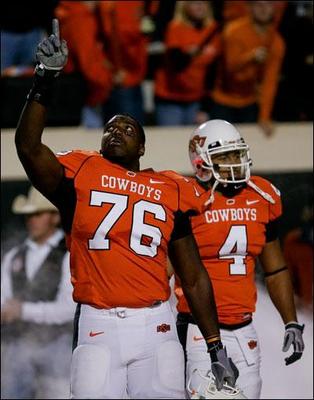 Russell Okung, OT, Oklahoma State
For my Redskins, this should be an easy pick. At every other position, Washington can at least field decent NFL starters, but at both tackle spots on offense it's pretty pitiful. Right now they are looking at Mike Williams and Stephon Heyer.
Some people think that Mike Shanahan may favor Trent Williams over Okung for his system, but either way the Redskins need a tackle if they expect any production out of newly acquired Donovan McNabb.
Pick No. 5: Kansas City Chiefs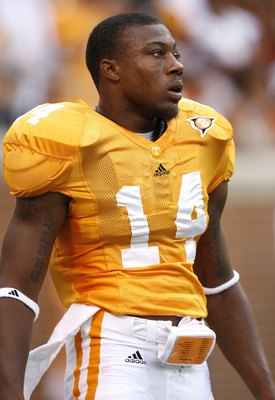 Eric Berry, S, Tennessee
The Chiefs have a lot of needs, and they would like a tackle, especially this high, but Berry is the best player on the board.
They could definitely use a playmaker in the secondary with Brandon Flowers and company, and I think Berry would be a great pick here.
Pick No. 6: Seattle Seahawks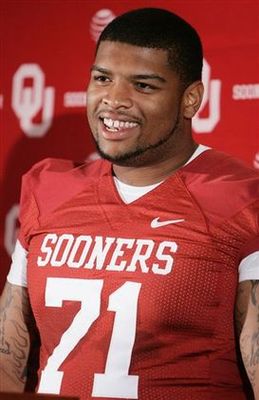 Trent Williams, OT, Oklahoma
The Seahawks have two glaring needs, one being offensive tackle and the other being defensive end. Here at No. 6 they grab Trent Williams, who is a great fit for their Alex Gibbs zone blocking scheme.
Williams has a tremendous amount of potential and is incredibly athletic for his size. Here the Seahawks hope to lock up the left tackle spot for the next decade.
Pick No. 7: Buffalo Bills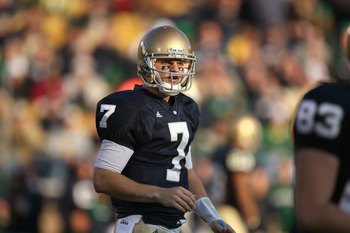 Jimmy Clausen, QB, Notre Dame
It's not generally my style to include trades in my mock drafts, but I think I've got two involving the Cleveland Browns that make too much sense, and I'm willing to lay my name on the line that at least one of them happen.
Here's the first as Buffalo jumps ahead of Oakland to ensure they get the QB they want.
Pick No. 8: Oakland Raiders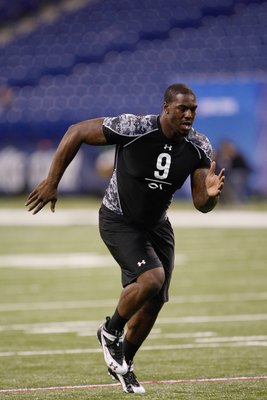 Bruce Campbell, OT, Maryland
God, do I hate this pick. I hate seeing it on other mock drafts, and I hate seeing it on my mock draft, but I'm done defending Al Davis—not that I had any reason to in the first place.
You can check out my article archives to see that last year pre-draft I said there was no way Oakland would take Darrius Heyward-Bey. I gave them the best receiver in the draft in Michael Crabtree, but Davis proved me wrong.
I won't be fooled this time. Oakland's going to take the workout warrior at a position of need, and he will again come from Maryland.
Pick No. 9: Philadelphia Eagles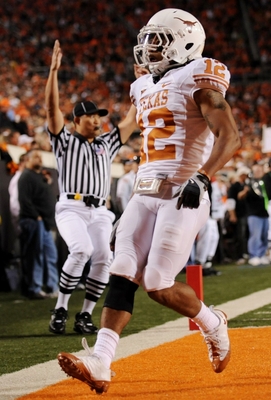 Earl Thomas, S, Texas
In the Browns' second trade of the night, they move down from their newly acquired ninth pick to 24 as the Eagles move up to get a top player at a big position of need.
Earl Thomas has the instincts of a great free safety and the cover skills of a corner; both of those are needed in Philly's secondary one way or another.
These trades let the Browns pick up a ton of extra picks on Friday and Saturday to try to fill their many holes.
Pick No. 10: Jacksonville Jaguars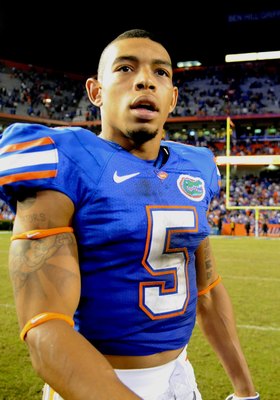 Joe Haden, CB, Florida
Haden gets to stay close to school in this scenario, and Jacksonville gets one of the most talented and toughest corner prospects in recent years.
Haden is a guy that Jack Del Rio would love to coach, and he gives the defense a big boost. They might consider Earl Thomas, but I've got Philly jumping ahead of them for that reason.
Pick No. 11: Denver Broncos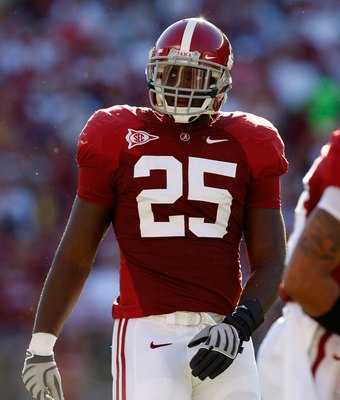 Rolando McClain, LB, Alabama
Player grade meets team need here. The trendy pick lately has been Dez Bryant, but that just doesn't make much sense. Why move a proven receiver for second round picks and then use your first to get a less proven wideout with similar issues?
The Broncos certainly have enough needs to go in another direction and try to shore up the D.
Pick No. 12: Miami Dolphins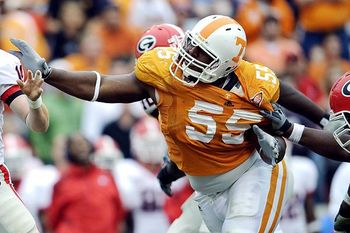 Dan Williams, NT, Tennessee
Just like the previous pick, the player grade meets the team need.
Miami has made the moves to try to compete this year. They brought in Karlos Dansby to add to the linebacking corps, and they traded for Brandon Marshall to add to the offense, which already has a stellar run game.
The secondary has a Pro Bowl safety and two promising sophomore corners. Getting their nose tackle of the future here will help them a lot in the present.
However, if they are desperate for a pass rusher, local product Jason Pierre-Paul could be heavily considered.
Pick No. 13: San Francisco 49ers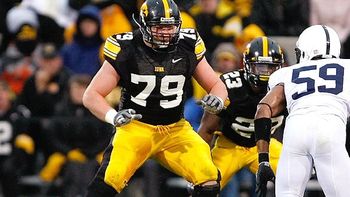 Bryan Bulaga, OT, Iowa
Mike Singletary should be ecstatic to grab Bulaga here. Some people have him with a top-10 grade, but he may slip because of his limited potential or a number of other reasons that may have nothing to do with Bryan himself.
With Bulaga opposite Joe Staley, San Fran should have the personnel up front to field a consistent offensive attack.
Pick No. 14: Seattle Seahawks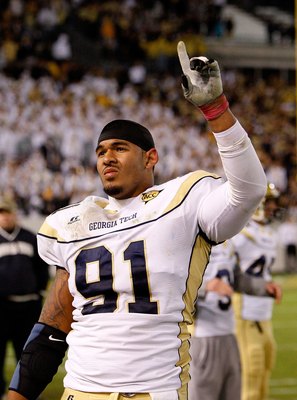 Derrick Morgan, DE, Georgia Tech
If Derrick Morgan is here at 14, Seattle will have the most successful Thursday night imaginable. They get the offensive tackle who could be their favorite over any other prospects, and they get the best and most complete defensive end in this year's draft.
Pete Carroll gets off to a good start shoring up the two biggest needs and two of the hardest positions to fill. With Williams and Morgan, Seattle gets two guys who are great values and who fit their systems very well.
Pick No. 15: New York Giants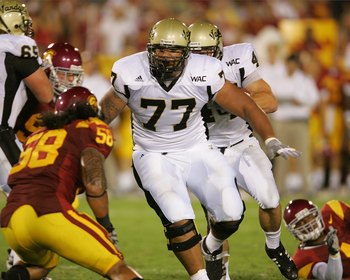 Mike Iupati, G, Idaho
This is kind of an awkward position for the Giants to be picking in my draft. They could move down, but I don't know who would want to move to this pick. They could also try and move to 10 or higher to ensure they get Rolando McClain to replace Antonio Pierce.
But if in this situation they stay at 15, I think Iupati will be the pick. Just a couple years ago the Giants won the Super Bowl because of their pass rush and stellar play on the offensive line. They were the most cohesive unit in football. Maybe that unit has gone stale.
Last year the run game disappeared. They could go with C.J. Spiller to try to fix that, but I think Iupati is the better fit for the Giants. He gives them an instant shake-up on the interior and could one day develop into a starting tackle.
Iupati can give them the power up front to open up holes for the power of Brandon Jacobs this season.
Pick No. 16: Tennessee Titans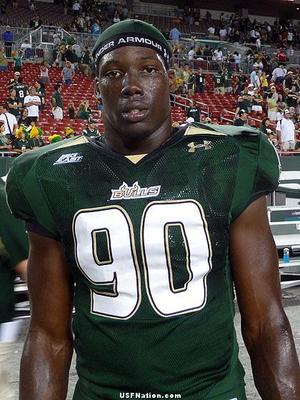 Jason Pierre-Paul, DE, South Florida
The top-end defense of a couple years ago has vanished from Tennessee. Haynesworth, Kyle Vanden Bosch, and Keith Bulluck have all gone, leaving the front seven with some major holes.
Jason Pierre-Paul could give them a big boost up front with a pass rush, and he actually reminds me a lot of a former Titans draft pick Jevon Kearse with his athleticism.
Brandon Graham could be the pick if they want a more polished DE, but I think they've got to go with one end or the other barring a top player falling from the top 15.
Pick No. 17: San Francisco 49ers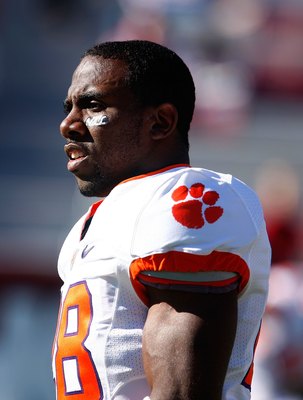 C.J. Spiller, RB, Clemson
With Frank Gore and Glen Coffee, running back isn't a big need for San Fran, but Spiller may be too good to pass up for Singletary and co. here at 17.
If they do go with Spiller, he would still be a complement to both Gore and Coffee and would add to the return game.
After shoring up the O-line with Bulaga, adding Spiller could let San Francisco run the ball like they really want to.
Pick No. 18: Pittsburgh Steelers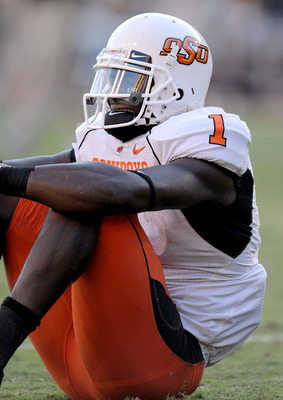 Dez Bryant, WR, Oklahoma State
Dez Bryant could definitely turn out to be a real head case, but I think Mike Tomlin can handle it. They're aren't really any legal question marks with Bryant for Pittsburgh to shy away from, so they could get a heck of an athlete just with a couple motivational and focus issues.
They just shipped out Santonio Holmes for nothing, but they aren't left with nothing at the position. They've got Hines Ward, who will always get his own and help the team, and they've got speedster soph Mike Wallace. Bryant could fill the void that Limas Sweed apparently won't.
Some fans could call for an upgrade in pass protection and/or the run game with a lineman, but I think you've got to do what wins you games, and that has been throwing it around. To me, there are just too many reasons for Pittsburgh to let Bryant slip any further.
Look for Maurkice Pouncey or another lineman to go here also though.
Pick No. 19: Atlanta Falcons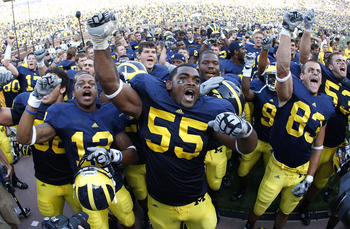 Brandon Graham, DE, Michigan
To me, this is another easy pick given the way my first round has played out. Atlanta's pretty desperate to get a pass rush, and with this pick they essentially will be adding two rookie D-linemen to last year's squad.
Graham would add to John Abraham and last year's first round pick Peria Jerry, who wound up on IR early in his career. Atlanta's got some good pieces behind the D-line, and a good pass rusher like Graham could do a lot to compete this year.
Pick No. 20: Houston Texans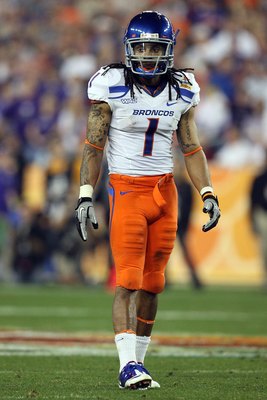 Kyle Wilson, CB, Boise State
Kyle Wilson is an interesting prospect. At Boise State, Wilson was a playmaker on D and in the return game, and Houston will hope to get that at the next level.
They lost Dunta Robinson to free agency, and Wilson should be a good replacement. He's about as complete as a corner can get with his cover skills, return ability, and his knack to get to the QB on a blitz.
He's about as tough a corner as you can expect to see with NFL cover skills to match.
Pick No. 21: Cincinnati Bengals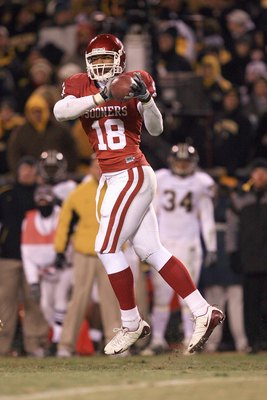 Jermaine Gresham, TE, Oklahoma
This pick is basically the consensus for about every draft I've seen, and it's because it just makes too much sense. I tried to think about every option but kept coming back to Gresham.
Cincinnati is deep at receiver and can expect to return the same run game and defense from last year. A guy in the middle like Gresham will do a lot to complement what Cincinnati does as a football team.
Pick No. 22: New England Patriots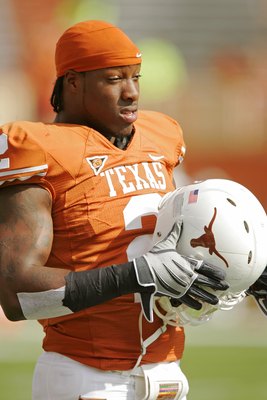 Sergio Kindle, OLB, Texas
This has got to be the position New England addresses unless they've got an out of the ordinary grade on a guy here. They need to reload with some youth on D, and an edge rusher is the biggest hole.
I think Kindle could go earlier, and if he does, Jerry Hughes could be the pick here.
Pick No. 23: Green Bay Packers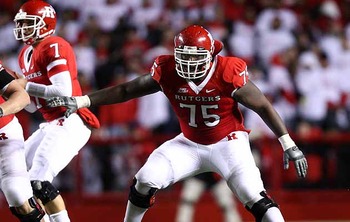 Anthony Davis, OT, Rutgers
Green Bay's season ended the same way it started: with Aaron Rodgers getting sacked...a lot. Anthony Davis is one of the more polarizing first round talents this year, but even if Green Bay has a relatively low grade on him, they may go for need here.
Scouts say that Davis has more potential than any tackle in the draft, but he's got to make it happen if he wants to be successful in the NFL. If he pans out, it could help out Green Bay's long-term prospects a lot offensively.
Pick No. 24: Cleveland Browns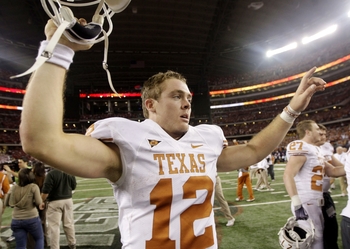 Colt McCoy, QB, Texas
Cleveland finally makes their selection, and Mike Holmgren gets the guy he's got his eye on. McCoy could be a perfect fit for the team Holmgren is trying to build, and I think this could be a successful situation for everyone.
In my trade scenario Cleveland picks up a bunch of extra picks and addresses the most important position for them too.
Some say it may be a little early, but this is the guy they want (along with a lot of other teams), and if they don't take him here, someone will probably jump ahead of their second round pick to grab him.
If my draft plays out, Cleveland will be one of the big Day One winners along with Seattle.
Pick No. 25: Baltimore Ravens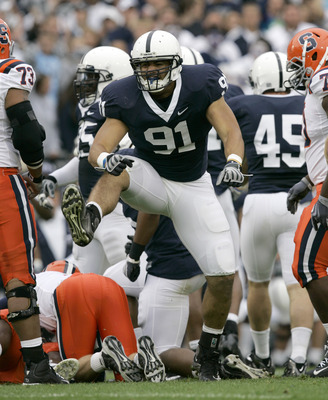 Jared Odrick, DE, Penn State
Teams with good front offices like Baltimore let players walk and simply reload. The Ravens are especially good at doing this on D.
They'll get younger in front of Ray Lewis and keep their defense at a similar level as last year. Odrick could even improve the pass rush this year, freeing up guys like Terrell Suggs.
I expect the Ravens to try to trade down, but if they stay, they appear to be very high on Odrick.
Pick No. 26: Arizona Cardinals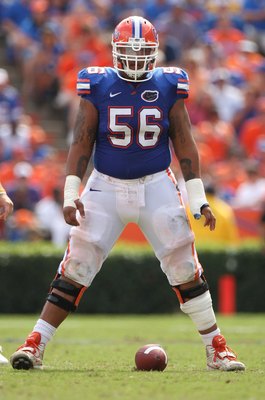 Maurkice Pouncey, C/G, Florida
Arizona has had a make or break offseason, and it will be very interesting to see how it translates to the field. Arizona will have to decide this season whether they are trying to build for the future or win now.
Maurkice Pouncey appears to be someone who could fit into either plan. It's one of the few positions on their roster that they absolutely know is a need, and Pouncey could very well be the best player on their board Thursday night.
Pick No. 27: Dallas Cowboys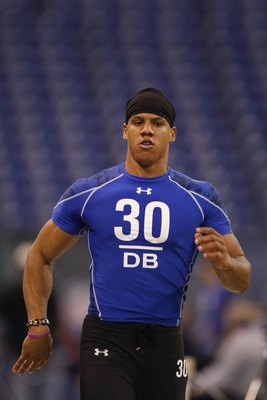 Taylor Mays, S, Southern California
Dallas has been searching for a playmaker at safety since Roy Williams early in his career. Mays may be the biggest boom or bust player in this year's draft, and the Cowboys just may be in a position to take that risk.
It's a position of need, and depending on how heavily the Cowboys weigh the Combine, he may be very high on their board at this point. It's very hard to pinpoint where Mays will go, but the Cowboys could be the favorites to make this pick on Thursday.
Pick No. 28: San Diego Chargers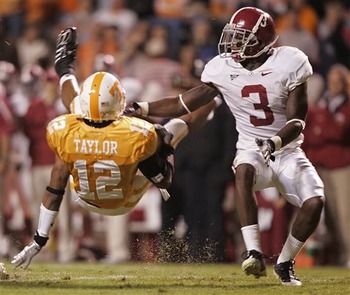 Kareem Jackson, CB, Alabama
A lot of people have Ryan Mathews as the pick here, but I'm never a fan of taking RBs early when you have other needs.
Even with the signing of Nathan Vasher, San Diego has needs in the secondary, but more importantly, Kareem Jackson is one of the best players on the board, and at 28 the Chargers might consider him a great value.
Pick No. 29: New York Jets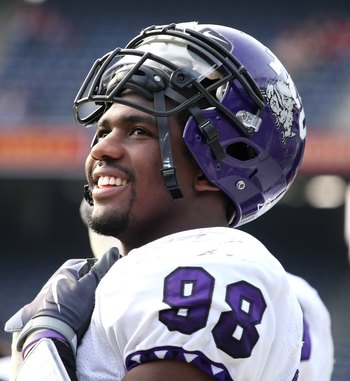 Jerry Hughes, OLB, Texas Christian
Jerry Hughes is another very interesting prospect. He's received very little media hype, and I think the grades teams will have on him will vary greatly. He could go anywhere from San Fran in the first to the middle of the second.
I think there's a pretty good chance he winds up in the AFC East. The Patriots are always looking at under the radar prospects like Hughes, especially at this position. The Jets and Dolphins are both in dire need of an edge rusher.
Unless the Jets love a safety here at this pick, I think they will go with a pass rusher. A popular pick here is Everson Griffen, but I don't think he's a Rex Ryan kind of guy. He's the sort of "look like Tarzan, play like Jane" player that the Jets just got burned on with Vernon Gholston.
Hughes is much tougher, and it shows on the field. He'll fit in very well with the Jets.
Pick No. 30: Minnesota Vikings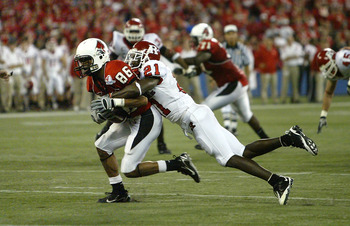 Devin McCourty, CB, Rutgers
Minnesota has very clear directions they can go. First, they could go QB to replace Brett Favre either sooner or later. However, there isn't a QB worth taking here, especially with Colt McCoy gone.
They could address the offensive line, but Iupati and Pouncey are off the board, and I'm not sure they're looking to replace Bryant McKinnie, who is inconsistent at best on the blind side.
They could look for a Chester Taylor replacement spell back, but I think if they're trying to win now, they're better off filling their biggest need with this pick. They could address the secondary, and I think that's what they'll do.
They would've loved to see Kareem Jackson fall two more picks, but McCourty is probably higher on a lot of people's boards because of the quickness in his feet and hips that he showed off at the Combine.
The pick will most likely be a corner, and I gave McCourty the edge over Patrick Robinson, who is a comparable prospect this year.
Pick No. 31: Indianapolis Colts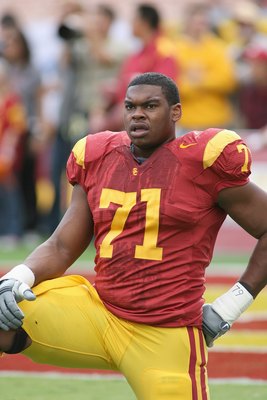 Charles Brown, OT, Southern California
If Charles Brown is available at 31, it should be an easy pick for the Indianapolis Colts. He is the best fit they could hope for in a tackle prospect for what they try to do.
He's light and quick, he'll hold up in pass protection, and he has the mobility to get outside on the stretch plays.
He could go high, but the only way he slips by here is if the Colts absolutely fall in love with someone.
Pick No. 32: New Orleans Saints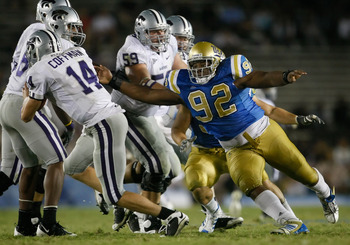 Brian Price, DT, UCLA
Sedrick Ellis has proven to be injury prone so far through his entire career, but even with a healthy Ellis, adding Brian Price will do a lot to bolster the Super Bowl champ Saints' D.
A lot of people have them going OLB with a player like Sean Weatherspoon, but I think they address the line. I had them going with a DE recently until they made a great bargain signing with Alex Brown.
Throwing Price into the mix could give them one of the stoutest front units in the league and allow Jonathan Vilma and co. to continue making plays behind them.
Keep Reading