Raiders: Could One of These Middle Line-Backers Be Oakland Bound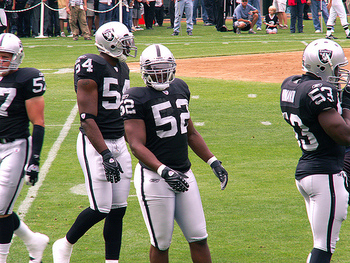 The signs are all there and they say Kirk Morrison's days at middle line-backer for the Raiders are coming to an end.
The Raiders ranked 31st in run defense and something has to be done to fix that. They also gave Morrison a tender lower than his peers at line-backer. Further more the Raiders have been hosting middle-linebacker prospects preparing for the draft.
Now that doesn't mean Morrison's days as a Raider are over, he may see a change to his natural position at outside linebacker.
Here's a look at some of the middle linebacker prospects the Raiders have brought in for private workouts.
Jamar Chaney Mississippi State, 6'1'' 242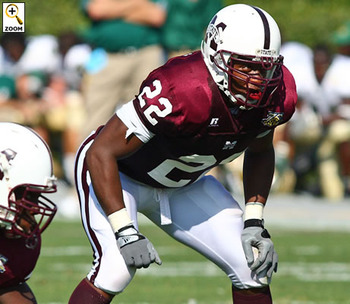 Projection: Rounds 3-4
Surprise, surprise... The Raiders invited the fastest line-backer from the combine to Oakland for a private workout.
At the combine he absolutely impressed showing great mobility and measureables. Posting top 10 marks for linebackers in every single event; including the fastest 40-time among any line-backer at 4.54.(4.45 at pro-day)
He is undoubtedly athletic, arguably the most athletic linebacker in the draft.
Pros:
-Elite Athleticism
-Excels in coverage.
-Excels in pursut
-Versatility(able to play any line-backer position)
Cons:
-too often avoids blockers and may struggle shedding blocks
-Experience
-Undersized
- only able to play in a 4-3 defense
Here's some extra info on him http://www.giantsgab.com/2010/03/26/prospect-profiles-ilb-jamar-chaney-mississippi-state/
Donald Butler Washington 6'1'' 245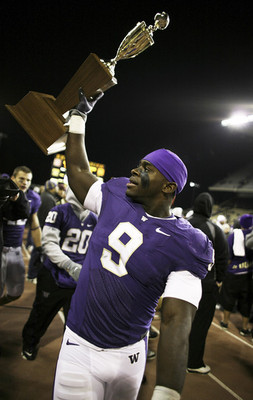 Projection: Round 2-3
Donald Butler is a solid linebacker with a great phisique. Who has been described as a lone bright spot on an otherwise porus defense.
At the combine he ran a 4.61 40 and repped out more bench reps than any other linebacker prospect with 35 reps at 225. Only two defensive and two offensive linemen out-lifted him
Pros:
-Very Athletic
-Great instincts
-leadership
-agile
-man coverage
-special teams
-reliable tackler
-great sideline to sideline speed
-great size
-quickly diagnoses plays
-Fluid hips
-upper body strength
Cons:
-Lacks lower body strength for taking on olinemen
-overly aggressive
-little room to gain body mass, frame may be maxed out
-little experience blitzing
-could be taller
Rolando McClain Alabama 6'3'' 254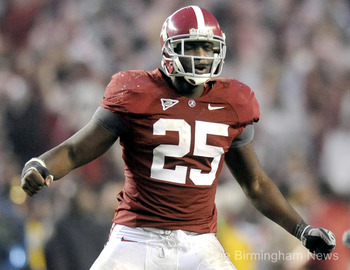 Projection: Early first round
He was the leader on one of the most dominant college defenses last year and has been described as a field general or even a defensive coordinator on the field. At the combine though he didn't amaze he had an adequate performance including a 4.68 40-time
Pros:
-Great Instincts
-Great Intelligence
-Ideal Build
-Big Hitter
-Proficent at shedding blockers
-Reacts quickly
-Great technique
-Excels against the run
-If we pick him the Broncos can't
Cons:
-Lacks speed
-Often plays tall losing leverage
-Takes plays off
-Health+duarbility concerns
-High cost(1st rounder)
-Struggles diagnosing screens and passes
-Hips aren't flexible in coverage
-Crohns' disease
Here's his highlight reel. http://www.youtube.com/watch?v=uhG6bwopKTc&feature=related
Vincent Rey Duke 6'0''' 240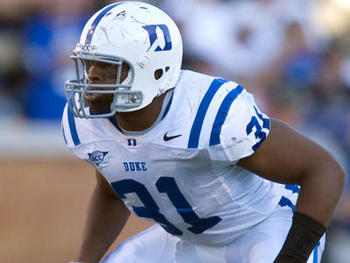 Draft projection: Rounds 5-7
A little known linebacker who has flown under the radar until an impressive pro-day sky rocketed his draft stock. Including a 4.54 40 and a 39-inch vertical. Had he been invited to the combine, like Jamar Chaney, all of his performances would have been among the top ten linebackers.
But even with that experts are unsure of him; some have his stock soaring while others think he will be lucky to be drafted. For example some scouting reports call him a liability in pass coverage while others claim he excels.
Check out his highlight reel and see what you think. http://www.youtube.com/watch?v=nh5OecA1utg
Pros:
-Athleticsim
-Hard-Hitter
-Great value late in the draft
-leadership
-nack for big plays
-Special teamer
Cons:
-Often drags down opponents rather than driving through them
-Undersized
-faced suspect competition
-much of his ability is unknown
Also here is some extra information on him.http://www.giantsgab.com/2010/03/25/prospect-profiles-ilb-vincent-rey-duke/
Other possibilities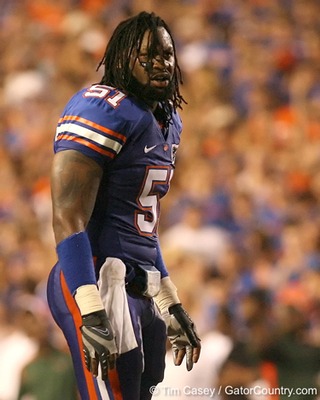 The Raiders still have time to bring in draft prospects like Brandon Spikes, Micah Johnson, and Pat Angerer. Who knows they may even draft a player who hasn't been invited in for a private workout.
Or they could forget about it all together leaving Kirk Morrison or another current Raider at the position.
So what do you think Raider-Nation? Given each players draft projection which gives the Raiders the best value, and which is most likely to happen?
Keep Reading

Oakland Raiders: Like this team?