The 10 Nastiest Pitchers of All Time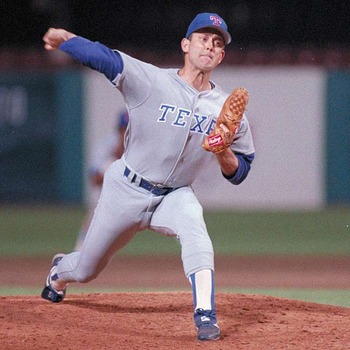 You don't need all-world credentials to capture a spot on this list.
You don't need a 20-win season or an ERA under 3.00.
You don't need to be a present or future Hall of Famer...
All you need is nasty "stuff."
I mean really, nasty stuff; downright filthy. The kind of stuff that sends hitters back to the bench thinking, "Do I really belong in this league?"
Face any one of the hurlers on this list, in their prime, and there's a very good chance that you'll end up embarrassed on the way back to the dugout.
You and eight or nine others that night.
Simply put, these flamethrowers are the epitome of "lights out." One, two, three...goodnight.
Oh you didn't see it? That's too bad.
Disqualified: Roger Clemens, RHP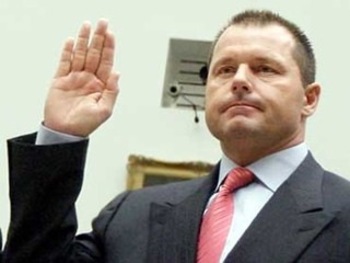 He's probably the best statistical pitcher in the history of the major leagues, but steroids helped him revitalize his career.
As a member of the Boston Red Sox, "The Rocket" went 11-14 with a 4.46 ERA in 1993, then a 4.18 ERA in '95, and a 10-13 record in '96. After what seemed to be the beginning of the end, he won 20 or more games (with a 2.65 ERA or better) in back to back seasons with the division-rival Blue Jays.
With that "transformation" in mind, I refuse to officially place him on this list.
However, stuff wise, Clemens had a blazing four-seam fastball and one of the filthiest splitters in the history of the game.
Honorable Mentions: Jonathan Broxton, Neftali Feliz and Justin Verlander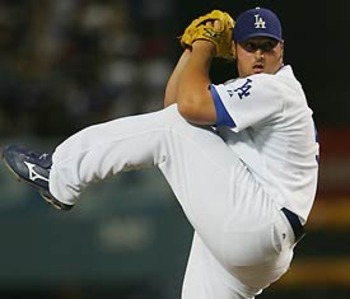 Look at the size of Broxton's lift leg -- that is insane. Imagine that monster coming at you with 98 MPH gas and a devastating slider. Your only chance is to allow him to fall behind in the count and then guess fastball.
Feliz is a raw talent in the truest sense of the phrase, a fireballer who could use a little work on his breaking stuff. However, he's slowly but surely beginning to refine his secondary repertoire, making him one of the most intimidating relievers in the world.
Verlander is a rare righty because he can maintain his upper 90s heat in the late innings of his starts (operative word being "upper"). There are only one or two other pitchers who can do that in today's MLB, one of whom you'll see later in this slideshow.
Verlander also has a wicked curveball.
No. 10: RHP A.J. Burnett, New York Yankees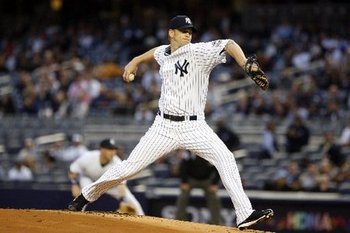 About five or six years ago, I remember thinking Burnett had the best stuff in baseball. His riding fastball would explode through the zone around 98 MPH, and his mesmerizing breaking balls tied opposing hitters in knots.
Now, as a Yankee, Burnett still has a "plus" repertoire. He's more consistently in the 94-to-96 range with his fastball (particularly the two-seamer) and doesn't have the untouchable air of his past, but he remains highly effective.
I love that he's willing to throw his biting slider in any count; even 2-0 and 3-1.
No. 9: RHP Daniel Bard, Boston Red Sox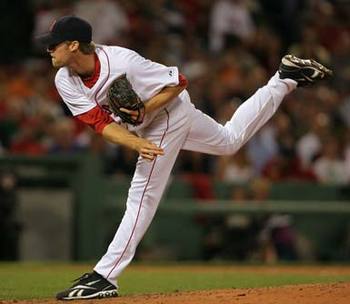 This guy is a freak.
I first saw Daniel Bard during a preseason game in 2009, firing blazers against my beloved Mets. Of course no one even foul tipped the ball against the intimidating, young right-hander, but I was most impressed by this:
Bard barely looks like he's trying out there. He's so smooth, and makes it look so, so easy to throw 98-to-100 MPH.
Sorry folks, it's not quite as easy as he makes it look. Don't worry though...I don't think he's from this planet.
And, to quote Crash Davis of "Bull Durham," Bard's curve is "ungodly."
No. 8: LHP Aroldis Chapman, Cincinnati Reds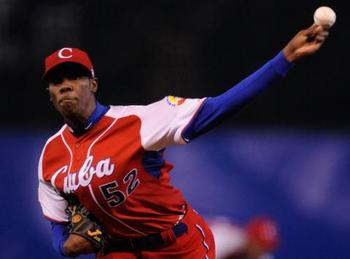 I know, I know -- he hasn't even thrown a pitch in the big leagues yet, but if you recall the opening of this slideshow, this list is ONLY about stuff.
How many lefties do you know that throw 99 MPH with consistency? How about hitting 101 MPH a few times per start?
Excuse me if I can't think of too many off the top of my head.
Chapman slings the ball with a three-quarters angle, making him a repetitive nightmare for left-handed hitters. He can get his heater working in both directions with a fading two-seamer and semi-cutter, and is working on his sharp slider down-and-in.
There's another lefty that made a nice living with a 98-to-101 MPH fastball and a down-and-in slider, and you'll be seeing him later on.
No. 7: RHP Mark Prior, Chicago Cubs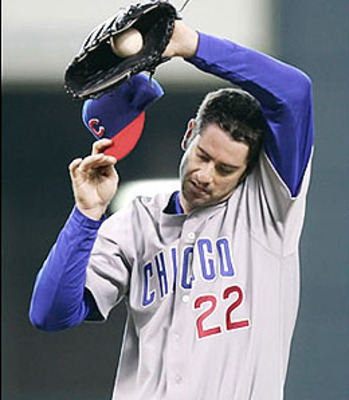 One of the saddest MLB stories of the past 20 years, Mark Prior had a chance to be a Hall of Fame-type pitcher. Touching 100 MPH in the early stages of his career, he was another guy (like Daniel Bard) who made flame throwing look like a walk in the park.
What was even more impressive about Prior was the fact that some considered his fastball his SECOND best pitch. His tight, twisting slider would approach hitters as a fastball, and disappear into the bottom of the strikezone. If you were looking gas, you didn't have a chance in the world.
But injuries derailed Prior's career, making him more of a "what if?" as opposed to a "what was." He made his millions though, so don't cry for him.
No. 6: RHP Ubaldo Jimenez, Colorado Rockies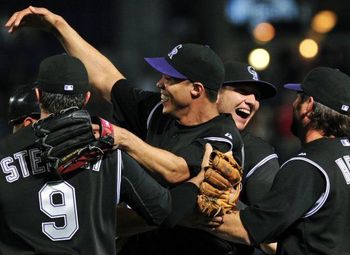 You might accuse me of jumping on the bandwagon after Jimenez's no-hitter, but I've been blown away by this guy since the 2007 playoffs.
Few recall that the Rockies made quick work of the Phillies that year, and Jimenez was already a key member of Colorado's rotation. He was heavily reliant on his fastball then, but showed flashes of outstanding secondary stuff.
Now, that secondary stuff -- a hard-biting slurve and sickening split-change -- is almost fully developed. He throws 98-99 MPH early in the game, and can still hit 97 with consistency in the late innings.
I'm pretty sure the last pitch of his no-hitter was 97 MPH. Not bad after 8.2 innings of work.
No. 5: RHP Kerry Wood, Cleveland Indians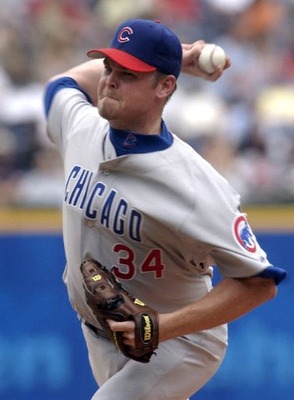 Sure Wood's on the Indians now (and was still throwing 94-to-96 prior to his injury), but he makes the top five for his days in Chicago.
I'm not sure I'll ever see a major league pitching highlight reel as impressive as his 20 strikeouts against the Houston Astros. That day, and pretty much of all his healthy days with the Cubs, Wood's breaking stuff was absolutely insane.
I mean NASTY; exactly what I'm looking for on this list.
Like his former teammate Mark Prior, various injuries have limited the scope of Wood's career, but no one can take away the electric ability he had out of the gate.
I won't forget it.
No. 4: RHP Stephen Strasburg, Washington Nationals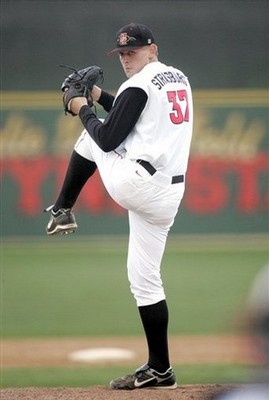 When I first stumbled upon video of this kid, I was pretty sure that I was dreaming.
"No one's stuff can be this good...can it?"
The first full highlight reel I viewed was the one of Strasburg's 23-strikeout performance. I was almost positive that I had a faulty clip because Strasburg's fastballs seemed abnormal to me.
The clip was sped up, so I looked for another one.
I found another one, and Strasburg was still throwing a million miles per hour with a knee-buckling curve ball. It was at that point I thought, "Will the Mets EVER have a pitcher like this? Will anyone? This is the best prospect I've ever seen."
He struck out eight in his first minor league start, showcasing that same mind-bending repertoire. Yea he hasn't appeared in a major league game yet (same as Chapman), but if you aren't blown away by this kid's stuff, then you should probably pick up another sport.
No. 3: LHP Randy Johnson, Seattle Mariners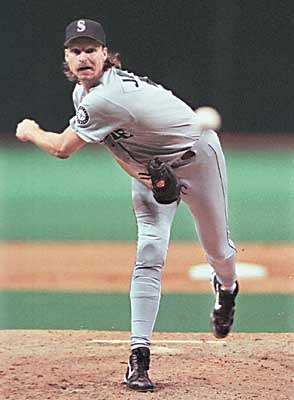 "The Big Unit" is everything that the Reds hope Aroldis Chapman will be some day -- a smoke-blowing left-hander with a tight slider that spins righties into the ground.
Johnson had an extended prime, a prime that earned him the distinction as one of the premier left-handed pitchers in the history of professional baseball. To me, all things considered, Sandy Koufax is the only lefty in Johnson's league.
How do you hit a lefty blazeballer who is almost seven feet tall with impeccable mechanics and a nightmarish slider?
I'll let you mull that one over.
No. 2: RHP Pedro Martinez, Boston Red Sox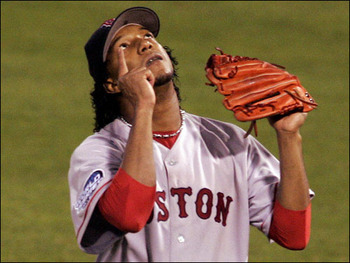 In this particular photo, I have a feeling that Pedro's thanking God for his incredible natural ability.
Probably a good idea on his part.
In the midst of the Steroid Era, a time in which Brady Anderson was hitting 40 homers and Luis Gonzalez was hovering around 50, Pedro Martinez went 23-4 with a 2.07 ERA in '99.
That's right, in the American League, in the best offensive division in the bigs, with everyone and their grandma juicing and taking supplements, Pedro struck out 313 batters.
In my opinion, his '99 season was the best ever by a starting pitcher.
How did he do it?
Stuff. Electric stuff. Unbelievable stuff.
At the time, Pedro had the best two-seam fastball in the league. He had the best curveball, and the best change-up. In addition to having three plus-plus pitches, he featured a 94-to-96 four-seam fastball and a sometimes-incredible slider.
Five completely effective pitches.
"Complete" is a good word actually; Pedro Martinez is probably the most complete pitcher the game's ever seen.
No. 1: RHP Nolan Ryan, Texas Rangers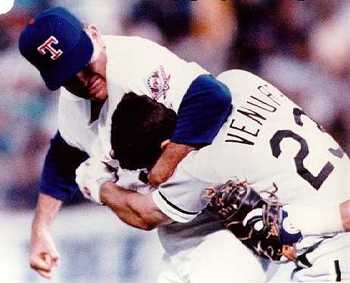 Sure "The Ryan Express" is beating up on Robin Ventura in this photo, but he's metaphorically beating up the field of this slideshow.
Can you imagine throwing a no-hitter at age 44 in a Major League Baseball game?
Can you imagine throwing seven career no-hitters at the highest level of professional baseball in this solar system?
Can you imagine being in your 40s and throwing 100 MPH?
There will never be another Nolan Ryan.
Well...
There's that kid, Strasburg.
We'll just have to wait and see, won't we?
Keep Reading

New York Yankees: Like this team?