The 10 Best Hockey Players In The World Today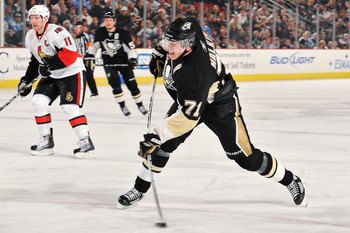 There are players that shape the NHL and that have left their mark in the hockey world. I am going to be counting down the top ten best NHL players today.
NOTE: Honour Roll to the players that missed the cut: Patrick Kane, Patrick Marleau, Dany Heatley, Nicklas Backstrom, Jonothan Toews, Jarome Iginla, Marc Savard, Marian Gaborik, Alexander Semin.
Daniel Sedin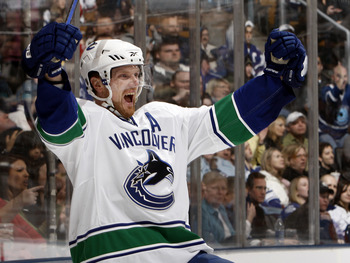 Daniel Sedin
Team: Vancouver Canucks
National Team: Sweden
Age: 29
Career Goals: 208
Career Assists: 339
Career Points: 547
Career Games: 705
Daniel Sedin kicks off our list at the number ten spot. The super swede easily had his best season of his career in 2009-2010 recording an excellent eighty-five points & fifty-six assists. Keep under our hats that Sedin missed nineteen games this season. He would've been close too one hundred if not over one hundred if he avoided injury. Sedin has now gone four straight seasons with over seventy points.
Zach Parise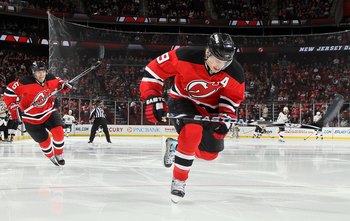 Zach Parise
Team: New Jersey Devils
National Team: United States of America
Age: 25
Career Goals: 160
Career Assists: 175
Career Points: 335
Career Games: 407
Zach Parise comes in at the number nine spot. The American born player who came out of college and has worked his way up to be the star of New Jersey, has not looked back. Parise achieved an incredible fourty five goals last season and ninety four points. This season he was good for eighty two points and thirty eight goals. Arguably the best two way player in the NHL, Parise has now captured four straight seasons with thirty+ goals.
Joe Thornton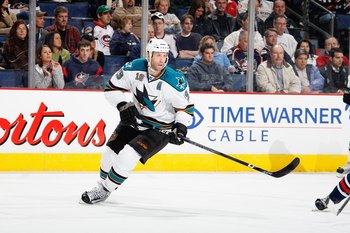 Joe Thornton
Team: San Jose Sharks
National Team: Canada
Age: 30
Career Goals: 285
Career Assists: 646
Career Points: 931
Career Games: 915
Your average 'Joe' is way above average when it comes to hockey. Joe Thornton has gone five straight seasons with over eighty points including in 2005-2006 when he got traded to San Jose, we saw one of the best performances ever in hockey when Thornton registered a truly phenomenal ninety two points in fifty eight games! Joe Thornton has been one of the most consistent players in the league and is one the best at passing the puck.
Pavel Datsyuk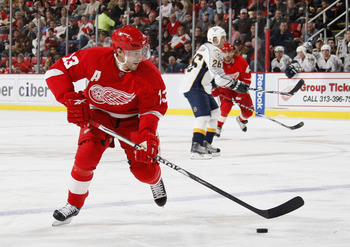 Pavel Datsyuk
Team: Detroit Red-Wings
National Team: Russia
Age: 31
Career Goals: 198
Career Assists: 394
Career Points: 592
Career Games: 606
Is there a more classier player in the game today then Pavel Datsyuk? He has truly been the heart and soul of the Detroit Red-Wings and well, who can't like this guy? A bit of a down-fall this season but, ninety seven points last season, ninety seven points two seasons ago and eighty seven points three seasons ago, and eighty seven four seasons ago. Again, one of the better play-makers in the league, Datsyuk brings the whole package.
Niklas Lidstrom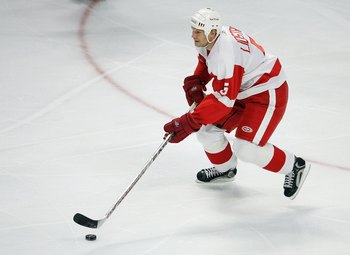 Niklas Lidstrom
Team: Detroit Red-Wings
National Team: Sweden
Age: 39
Career Goals: 237
Career Assists: 809
Career Points: 1,046
Career Games: 1,412
The first and only defense-men to crack this list. Nicklas Lidstrom is the best defense-men in the NHL right now and has been for the past decade. Six norris trophies speaks for itself but how about the fact that his worse plus-minus season was a plus seven! He is one of the greatest defense-men to ever play and he puts up the points more then a-lot of forwards do. Nicklas Lidstrom deserves the number six spot.
Henrik Sedin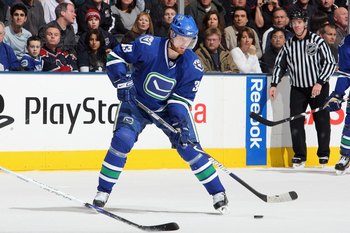 Henrik Sedin
Team: Vancouver Canucks
National Team: Sweden
Age: 29
Career Goals: 178
Career Assists: 434
Career Points: 572
Career Games: 728
The brother of Daniel, Henrik Sedin led the league in points and assists this season with one hundred & twelve points which was a franchise high and eighty three assists. He became the first and only player to win the Art Ross trophy in Vancouver Canucks franchise history. Arguably the best play-maker in the league & one of the most classiest people in sports.
Evgeni Malkin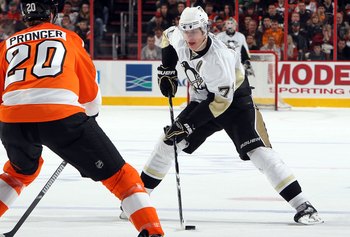 Evgeni Malkin
Team: Pittsburgh Penguins
National Team: Russia
Age: 23
Career Goals: 143
Career Assists: 238
Career Points: 381
Career Games: 309
Evgeni Malkin. Some say he's the main part of Pittsburgh's success, he definitely is one of the big reasons the Pens won the cup seeing that he won the Conn Smythe trophy last season. Malkin already has an art ross trophy and a stanley cup at just the age of 23 and I don't think he has any plans on stopping.
Ilya Kovalchuk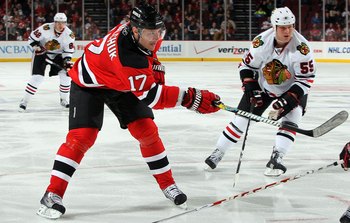 Ilya Kovalchuk
Team: New Jersey Devils
National Team: Russia
Age: 27
Career Goals: 338
Career Assists: 304
Career Points: 642
Career Games: 621
Ilya Kovalchuk has gone six straight seasons with over forty goals. He is the second best goal scorer in the NHL and is a natural sniper. He has great speed. He is the THIRD best NHL player today.
Sidney Crosby & Alexander Ovechkin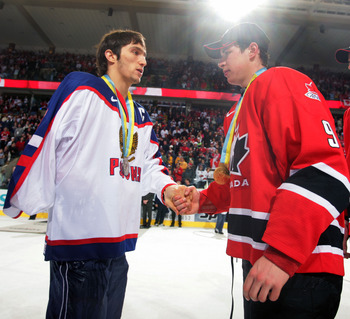 Sidney Crosby
Team: Pittsburgh Penguins
National Team: Canada
Age: 22
Career Goals: 183
Career Assists: 323
Career Points: 506
Career Games: 371
Alexander Ovechkin
Team: Washington Capitals
National Team: Russia
Age: 24
Career Goals: 269
Career Assists: 260
Career Points: 529
Career Games: 396
I don't know, their both so amazing. One is a great passer, one is a great scorer. However, since I won't leave you with a quesiton mark, i'll say: Crosby number 2, Ovechkin number 1.
Alexander Ovechkin
Keep Reading