2010 NFL Draft: The Pros and Cons of This Year's Cornerback Class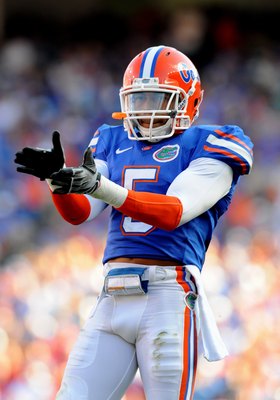 In today's increasingly pass-heavy NFL, you can never have too many quality cornerbacks on your defense.
There are many teams that could be in search of a corner early in the first few rounds with the 49ers, Steelers, Packers, Eagles, and Vikings looking like possible teams who could consider going with a corner in the first round.
When trying to rate this year's class, you could probably say that it is above average but not overwhelmingly great. If you were to give it a grade, it would probably fall somewhere in the B to C+ range.
There are no guys this year that will make you forget about Deion Sanders, but there are still players capable of doing great things in the NFL.
Joe Haden of Florida is the premier player of the class, but there are a wealth of players after him who offer a lot to a team in need of a corner.
Haden and Kyle Wilson of Boise State are the only surefire first rounders but there could be as many as five who find themselves in the first round mix when all is said and done.
Here's a look at how they all stack up.
Joe Haden - Florida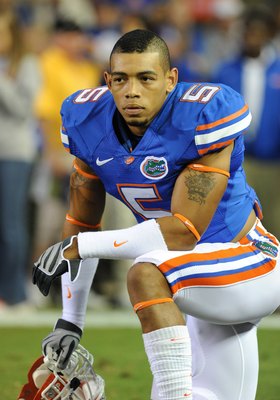 Round Projection: First (Picks 10-18)
Height: 5'11"
Weight: 193
Class: Junior
40: 4.57 (Combine)
Vertical: 35 (Combine)
Career Stats
Tackles: 197
INTs: 8
Pros
-Athletic specimen
-Started every game at Florida
-Can go man-to-man with any receiver
-Absolutely fearless
-Good leadership skills and has team-first mentality
Cons
-Inexperienced (Didn't play CB till college)
-Slow 40 time alarmed many evaluators
-Can be too jumpy in coverage at times
-Not a very physical or jarring tackler
-Has some limitations in zone coverage
Summary: Haden, the consensus top CB this year, may not have that rare shutdown game changing ability but he can certainly be a No. 1 corner for an NFL team.
He went toe-to-toe with any receiver put in front of him during his career. Although he's still raw and developing, with some good sound coaching, Joe could be one of the top defensive backs in the NFL within a few years. He is a true talent.
Kyle Wilson - Boise State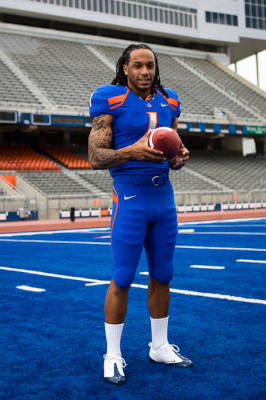 Round Projection: First (Picks 18-25)
Height: 5'10"
Weight: 194
Class: Senior
40: 4.47 (Pro Day)
Vertical: 38 (Pro Day)
Career Stats
Tackles: 159
INTs: 11
Pros
-Has a maniac type of personality, but in a good way
-Started every game his last three seasons
-Top notch quickness
-Dedicated to improving
-Tremendous strength for a CB
Cons
-Lower level of competition in the WAC is a concern
-Can be a ghost in run support (never topped 45 tackles in a season)
-Might not be able to match up against taller receivers
-He could be schemed into obscurity by a quality offensive coordinator
-Doesn't have lockdown type coverage skills
Summary: Wilson is solid in every phase needed. He has the makeup of a winner and is the type of player that adds a positive mentality to a team. If a team is looking for a fearless corner that always plays with a chip on his shoulder, then they probably won't go wrong with Kyle Wilson.
Chris Cook - Virginia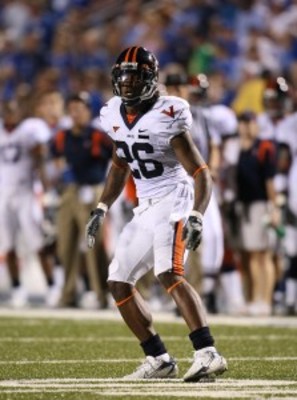 Round Projection: Late First
Height: 6'2"
Weight: 212
Class: Senior
40: 4.46 (Combine)
Vertical: 38 (Combine)
Career Stats
Tackles: 143
INTs: 7
Pros
-Exceptional size
-Tested through the roof at the Combine
-Good hand technique
-Can turn and run with almost any receiver stride for stride
-Was an immediate impact player as soon as he stepped foot on campus
Cons
-Doesn't play as fast as he times
-Needs to be more physical
-Instincts are a concern
-Plays high, which only embellishes his height even more
-Suspended twice at Virginia for academics
Summary: Cook certainly passes the eyeball test. After a solid week at the senior bowl and a terrific combine, the Virginia corner has moved himself into solid second round consideration.
At his height, some teams may view him as more of a safety/corner tweener, but his stats make him appealing regardless of position.
Kareem Jackson - Alabama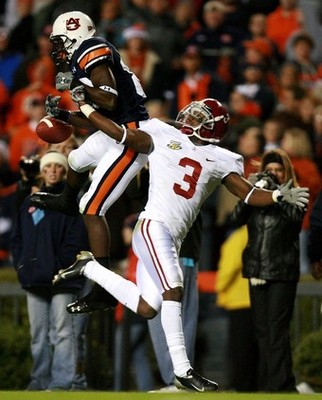 Round Projection: Late First/Early Second
Height: 5'11"
Weight: 196
Class: Junior
40: 4.48 (Combine)
Vertical: 37 (Pro Day)
Career Stats
Tackles: 156
INTs: 5
Pros
-Taught by Nick Saban, one of the best defensive back coaches in all of football.
-Immediate starter since freshman season
-Uses his body well
-True competitor
-Faced top level talent in practice and game situations
Cons
-Saban felt he needed another year to hone his skills
-Can be too grabby with receivers
-Change of direction skills are iffy
-Stiff hips
-Can get burned by receivers with great top-end speed
Summary: Jackson is one of the fastest risers in the entire draft. He learned under the tutelage of Saban at Alabama and has manned up against top flight competition.
Kareem may lack the truly special qualities of elite corners, but he has the competitiveness, drive, and focus that teams want in a cornerback. He's a very low risk type of player.
Devin McCourty - Rutgers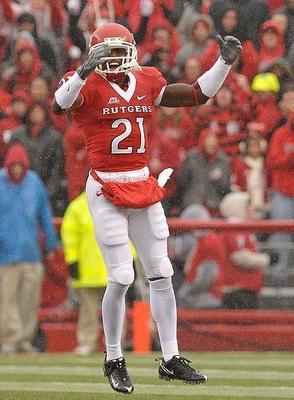 Round Projection: Late First to Mid Second
Height: 5'11"
Weight: 193
Class: Senior
40: 4.48 (Combine)
Vertical: N/A
Career Stats
Tackles: 231
INTs: 6
Pros
-One of the leaders of the Rutgers defense
-Huge special teams performer
-Strong tackler
-Very aware in coverage and always keeps his head on a swivel
-Twin brother Jason plays for the Titans
Cons
-Could be a liability against bigger, stronger receivers
-Doesn't have a body conducive to taking a large amount of punishment
-Not strong in man-to-man coverage
-Lacks great ball skills
-Teams weren't afraid to throw in his direction
Summary: McCourty has been a consistent starter and leader for the Rutgers defense throughout his career. There is no one thing about him that will wow you, but he does all the little things right.
He's the type of young man that has solid character and intelligence and will rub teams the right way. Devin could be one of the better all-around special teams players in the league when all is said and done.
Patrick Robinson - Florida State
Round Projection: Early Second
Height: 5'11"
Weight: 190
Class: Senior
40: 4.42 (Combine)
Vertical: 39 (Combine)
Career Stats
Tackles: 110
INTs: 7
Pros
-Superb athleticism
-Above average in man-to-man coverage
-Great footwork
-Not afraid of contact
-Added value as a Special Teams player
Cons
-Can struggle in zone coverage
-Looks lost at times
-Wasn't overly productive in final two seasons
-Took a few years to gain the full trust of the coaching staff
-Was part of the Music City Bowl cheating scandal
Summary: Robinson looks exactly how you want your cornerback to look. His lack of production and his tendency to disappear every so often are concerns.
Nonetheless, if the Seminole cornerback can end up in the right system with a good defensive backs coach, he could be a solid corner in the league for years to come.
Jerome Murphy - South Florida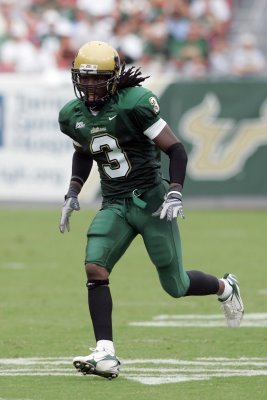 Round Projection: Mid to Late Second
Height: 6'0"
Weight: 196
Class: Senior
40: 4.52 (Combine)
Vertical: N/A
Career Stats
Tackles: 178
INTs: 8
Pros
-Big hitter
-Versatile in coverage
-Very active
-Well versed in Bump N Run
-One of the biggest difference makers in the Big East
Cons
-Can gamble on routes too much
-Struggled against better receivers
-Tackling form needs work
-Not as fluid as you would like
-Has a tendency to lose his discipline
Summary: If you're looking for a physical corner to play close to the line of scrimmage, Jerome Murphy is your guy.
He can lose his head a little more often then you would like, but there's no denying he plays with the natural physicality you want in a defensive back.
Look for a team employing the Cover 2 scheme to give Murphy a long look in round two.
Dominique Franks - Oklahoma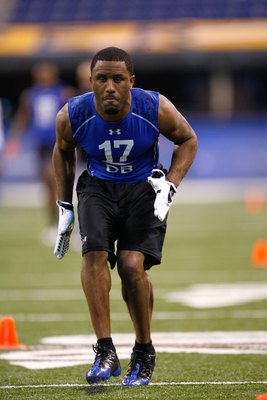 Round Projection: Late Second/Early Third
Height: 5'11"
Weight: 194
Class: Junior
40: 4.52 (Combine)
Vertical: N/A
Career Stats
Tackles: 85
INTs: 6
Pros
-Started every game since his sophomore season
-Good at baiting quarterbacks
-Shows the recovery speed needed in the NFL
-Plays smart in coverage
-Could be utilized in the return game
Cons
-Gave up too many big plays at Oklahoma
-Very rarely came up in run support
-Loses confidence when he gets beat
-Upper body strength is a concern (10 bench reps)
-Can be undisciplined in his technique at times
Summary: Dominique's return capabilities could help boost him up in the draft. He doesn't have the makings of a No. 1 cornerback but he has been one of the premier players on a talent laden defense over the last two seasons. He has a ways to go to become a great corner but he could make an immediate impact on special teams.
Brandon Ghee - Wake Forest
Round Projection: Late Second/Early Third
Height: 6'0"
Weight: 192
Class: Senior
40: 4.45 (Combine)
Vertical: 37 (Combine)
Career Stats
Tackles: 148
INTs: 1
Pros
-Great athlete with terrific speed
-Three-year starter
-Was one of the leaders of the Demon Deacons defense in '09
-Plays well in zone coverage
-A physical battler at the line of scrimmage and in run support
Cons
-Ball Skills, Lack of Interceptions
-Not quick enough to react
-Never stood out in the ACC (Never earned All Conference honors)
-Allows the receiver to make the catch far too often
-Suspended in 2007 for academics
Summary: Ghee definitely has the speed to compete with the receivers in the NFL but his lack of big plays could turn some teams off.
Akwasi Owusu-Ansah - Indiana (Pa.)
Round Projection: Third
Height: 6'0"
Weight: 207
Class: Senior
40: 4.47 (Combine)
Vertical: N/A
Pros
-Has the prototypical size you want in a CB
-Displays terrific closing speed
-Great returner (Two kickoffs and three punts returned for TDs last season)
-Went unchallenged by opposing teams during the latter part of his career
-Dazzled at Ohio State's Pro Day
Cons
-Faced marginal competition in the PSAC (Division II)
-Unproven bump and run skills
-Questionable in run support
-Was unable to show off in postseason All-Star games
-Shoulder surgery in March
Summary: Akwasi is one of, if not the best of the lower division players this year. He has the speed to be a man-to-man cover corner but also the range and versatility to make the move to safety.
The fact that he never proved his worth against top competition could hurt him a bit on draft day, though.
Keep Reading