2010 NFL Draft: The Jacksonville Jaguars Are On The Clock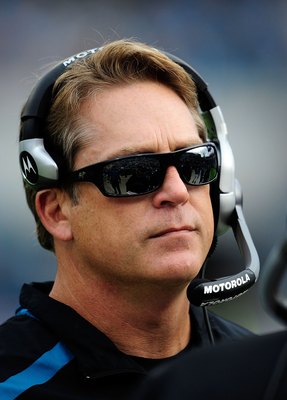 We are less than a week away from the beginning of the 2010 NFL Draft, which kicks off at 7:30PM on Thursday, April 22, 2010 in New York City.
This is the first year that draft will take place in prime time, and the Jaguars have the 10th pick in the first round.
Let's take a look at the team's needs, and envision which player will be available to the taking when the Jaguars are on the clock.
Position No. 1: Defensive Line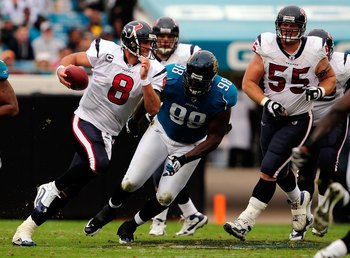 This just in—the Jaguars have struggled the last few season when it comes to applying pressure and sacking the QB. In 2009, the Jaguars were dead last with 14 sacks. It is suffice to say that Derrick Harvey and Quentin Groves have not panned out as planned.
The Jaguars have signed two-time Pro Bowl defensive end Aaron Kampman from the Green Bay Packers in free agency, but he is coming off a serious injury sustained in the 2009 season.
Also, veteran John Henderson is not getting any younger, and ever since Marcus Stroud left for Buffalo, Henderson hasn't been the same. Third-round draft pick Terrance Knighton was a nice pick-up, but another solid pick at defensive tackle would be sound.
South Florida defensive end Jason Pierre-Paul may be available when the Jaguars are on the clock in the first round, but he is too much of a raw talent and unknown to risk being taken that early. Derrick Morgan out of Georgia Tech would be a safer choice.
If the Jaguars look at the interior, then Dan Williams from Tennessee should be available, but that may be too early in the draft to grab him.
My prediction is Derrick Morgan will be the choice if defensive line is what Gene Smith wants with the No. 10 pick.
Position No. 2: Secondary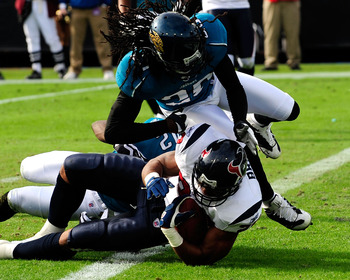 Reggie Nelson, aka The Pinball Wizard, lost the confidence of fans and coaches with his less than stellar play in 2009. Instead of tackling, he bounced off players and was made to look ridiculous.
Fortunately, CB Derek Cox, the 2009 third-round draft pick out of William & Mary, turned out to be a great pick, and with Rashean Mathis, the two turned out to be a great duo.
Will Gene Smith reach out for another Florida Gator in Joe Haden if available? First, Haden is a CB, but Smith believes in best available player strategy. Since Eric Berry is expected to be off the board by the time the Jaguars are on the clock, I just don't see this happening.
Position No. 3: Linebacker
Next on the list of needs for the Jaguars is linebacker. With the return of Reggie Hayward and signing of Aaron Kampman, GM Gene Smith may look into picking up an inside or outside linebacker if Joe Haden is off the board.
At No. 10, Rolando McClain should still be available. However, this will be a stretch, that's why I feel this is not a realistic choice for the Jaguars unless they trade down to get him.
Position No. 4: Wide Receiver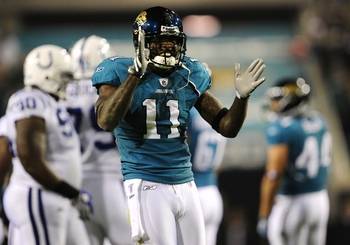 Mike Sims-Walker emerged as the No. 1 wide receiver for the Jaguars in 2009, and now that Torry Holt is no longer with the team, there is talk that they will look in the first round for someone to line up opposite of Sims-Walker.
I don't see the Jaguars reaching out for a WR at No. 10. The Jaguars have too many on the roster, and with the signing of Kassim Osgood in free agency this year, it would be a ridiculous move.
Position No. 5: Quarterback
OK...let me say it now: Tim Tebow will not be taken with the No. 10 pick or at all in the first round. If he is available in the third round, then yes, or perhaps the Jaguars make a deal to get him in the second round.
The question that is circulating is will Gene Smith pick Jimmy Clausen if he is available? I don't see it. Yes, he is talented, but Clausen has too many questions surrounding him (i.e. personality, footwork, etc.) that may scare the Jaguars away.
Besides, didn't David Garrard just play in this past Pro Bowl?
Potential Best Player Available at No. 10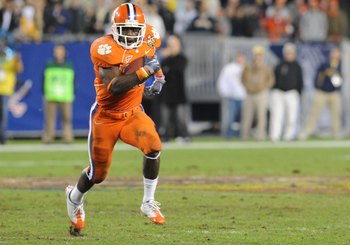 This is definitely a stretch, but today's NFL is a two RB league. Would Gene Smith reach out for CJ Spiller if he was still on the board? Imagine having Maurice Jones-Drew and CJ Spiller at your disposal? Two very talented and young RBs in your stable?
It most likely will not happen, but it would turn a few heads if it did.
Keep Reading

Jacksonville Jaguars: Like this team?