The NFL Draft's All-Late Round Team: Best of the Rest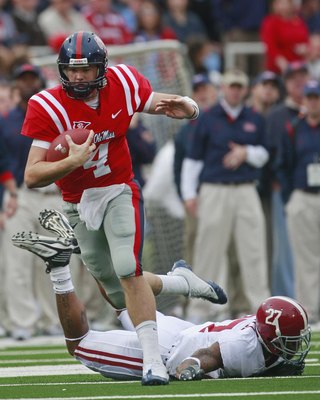 With the upcoming draft, everyone focuses on the Eric Berry's and Ndamukong Suh's. Well, there are good players later in the draft. Plenty of late-rounders have turned out to be legends and stars like these:
Well, I decided to compile an all-American team of late round picks. I defined a late-round pick as predicted past Round Three. Enjoy, and tell me who you think deserves to make the best of the rest.
Quarterback: Jevan Snead (Ole Miss)
Jevan Snead's the type of developmental quarterback that can be turned onto a star. He's got a big-time arm and can throw into really tight spaces. The question is his decision-making. That, however, is fixable.
Even though he can't start for the first few years, he can develop Kevin-Kolb style into a pro quarterback. If he can learn how to make good throws, he can lead a playoff-caliber team.
Predicted round: 4-5
Possible teams: Arizona Cardinals, Tennessee Titans, Cincinnati Bengals, Kansas City Chiefs
Running Back: Toby Gerhart (Stanford)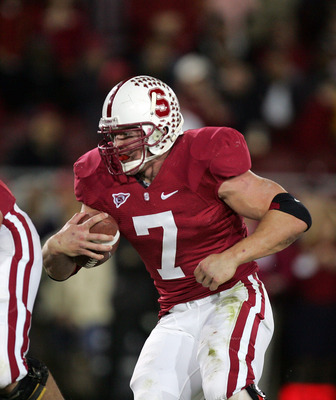 Toby Gerhart is a big, powerful runner who can get the last few yards. A Heisman trophy finalist, he carried Stanford with 1,871 yards last season.
He surprised everyone with a 4.53 40 at the combine. A LenDale-White guy sans alcohol, he is the type of goal-line back that will be an integral part of a team.
Predicted Round: 3-4
Possible teams: New England Patriots, Detroit Lions, Seattle Seahawks, Denver Broncos, Washington Redskins
Fullback: Willie Rose (Florida Atlantic)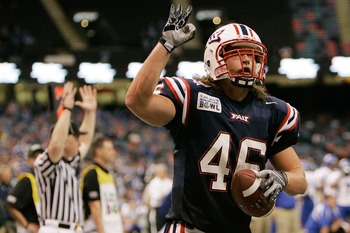 Willie Rose is a very good blocking fullback. He logged 38 receptions in 2008, and in 2009 received 23 passes. He averages five yards per carry, and nine career TDs. He could be a solid fullback.
Predicted round: 7
Possible teams: Arizona Cardinals, New York Jets
Wide Receivers: Blair White (Michigan State), Andre Roberts
Blair White is a physical specimen. He runs a 4.42 40. He is a big guy at 6'2". He's a mid-round guy that has tons of upside.
White posted 70 catches for 990 yards and nine TDs. Blair White is a pro-style receiver.
Andre Roberts was the best receiver for the South in the Senior Bowl. He is crisp route runner, and runs a solid 4.46 40. He received 77 passes for 792 yards and eight TDs. He is also a solid punt returner. He has only dropped six catches in his career.
This is a deep receiver class. Both these guys can be developed into great receivers or be good slot receivers now.
Predicted round: 4-5 White, 3-4 Roberts
Possible teams: Atlanta Falcons, St. Louis Rams, Kansas City Chiefs, Cleveland Browns, Houston Texans, San Diego Chargers
Tight End: Ed Dickson (Oregon)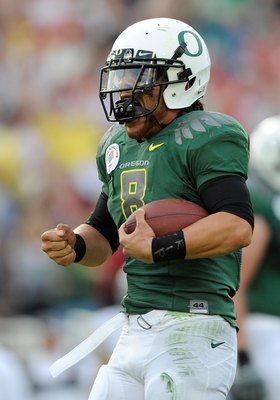 Ed Dickson is a Vernon-Davis type tight end who is a great receiving tight end. Although his blocking is average, he is a good receiver and can add a weapon to a team. He can help young quarterbacks develop and will help compliment a blocking back. He is consistent, and made 40 catches for 551 yards and six touchdowns last year.
Predicted round: 4-5
Possible Teams: Miami Dolphins, New York Giants, Baltimore Ravens, Cincinnati Bengals
Offensive Tackle: Sam Young (Notre Dame), Chris Marinelli (Stanford)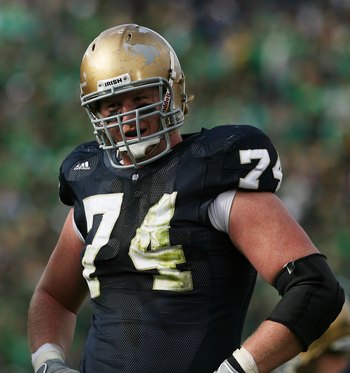 Sam Young was a second-round prospect, but not anymore. He was exposed by USC and others in his senior campaign. He weighed in at 305 lbs, but is now up to 315.
He is talented, for sure. He excelled in the Senior Bowl, opening holes for running and being great in pass protection.
Chris Marinelli is a later-round pick, but is an AP All-American Second-Teamer. He has had problems with shoulder injuries, but played brilliantly in his senior year. Oh, and he was a big part of the offensive line that blocked for that Gerhart guy. You know, the Heisman Trophy finalist?
Predicted Rounds: Young 4-5, Marinelli 6-7
Possible teams:
Young: Cleveland Browns, Washington Redskins, Atlanta Falcons, Indianapolis Colts
Marinelli: New York Jets, Baltimore Ravens, San Francisco 49ers
Offensive Guard: Mike Johnson (Alabama), Brandon Carter (Texas Tech)
Both of these players are All Americans. Mike Johnson is the top zone-blocker in the draft, and a first team All-American. He blocked for great backs like Glen Coffee and some Ingram guy. He was a big reason for the return of the Crimson Tide.
Carter on the other hand, is the scariest guy in the game of football. He wears war paint like Crazy Horse hungry for some Custer. He is someone you don't want to go against. A 3rd team All American, he's a monster of a guard. He's scary. I think I already said that. He's really scary.
Predicted: 4-5 Johnson, 5-6 Carter
Possible teams: Seattle Seahawks, Pittsburgh Steelers, Tampa Bay Buccaneers, Green Bay Packers
Center: Chris Hall (Texas)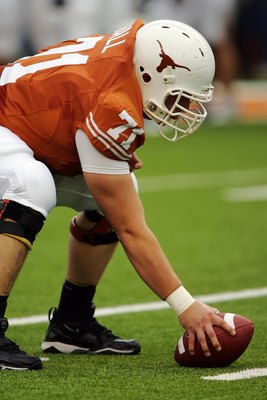 Chris Hall is an All-American third-teamer who anchored the Texas O-line in their championship run. He is extremely versatile, and has started at every position (on the O-line). He is the type of center you can develop into someone good.
Predicted round:7
Possible Teams: Detroit Lions, New England Patriots, Atlanta Falcons
Defensive End: C.J. Wilson (East Carolina), Cliffton Geathers (South)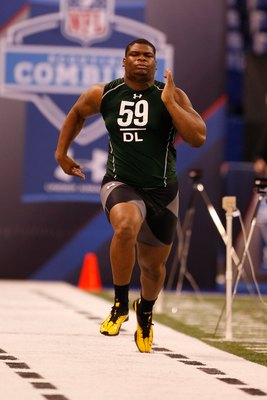 C.J Wilson is a great defensive end who had a huge junior season but a disappointing senior season. He can play both DE and DT, as with South Carolina's Cliffton Geathers. He ended on a high note, ending with 10.5 TFLs and 5.5 sacks. Those decent numbers pale in comparison to his junior season: 18.5 TFLs and 10.5 sacks. He also runs a blazing 4.83 40. He is a great risk/reward balance.
Geathers, brother of the Bengals' Robert, is a late-round prospect with good upside. He can be a situational pass rusher, or developed into a starter.
Outside Linebacker: Eric Norwood (South Car.), Brandon Sharpe (Texas Tec
Eric Norwood may be the best pass rusher in the draft. His skills in coverage are iffy, but as a situational pass rusher, he is dominant. He managed about seven sacks per year. He creates constant pressure on the quarterback.
Brandon Sharpe is a monster. He was second only to Von Miller in total sacks with 15. He is a beast for offensive line men. He is a great situational pass-rusher.
Predicted round 4-6
Possible Teams: Buffalo Bills, New York Jets, Green Bay Packers
Inside Linebacker: Donald Butler (Washington), Brandon Spikes (Florida)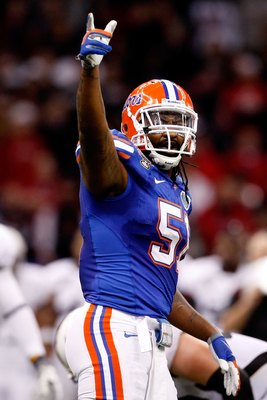 Oh, how they fall. Brandon Spikes was once thought to be first-round pick. Now he is clawing into the fourth. Why? A 5 second 40 yard dash. Let's just say he will not be drafted by the Raiders.
However, getting an originally first-round prospect in such a late round is a great steal. He is a force against the run, and managed 131 tackles as a sophomore. He struggles in the zone, but is a huge hitter.
Donald Butler is a good inside linebacker, too. He managed 91 tackles last year. He runs a 4.61 40 (sorry Spikes), and can be a solid starter in a few years.
Predicted round: 4-5
Possible Teams: Dallas Cowboys, Buffalo Bills, Indianapolis Colts, Philadelphia Eagles
Defensive Tackle: Mike Neal (Purdue), Arthur Jones (Syracuse)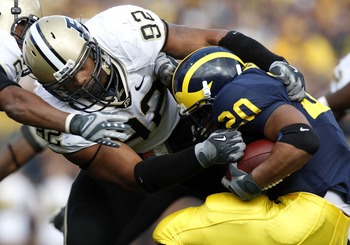 Both Neal and Jones are solid players who can play both DT and DE. Jones managed 144 tackles and Neal made 98. Neal wins in sacks, 12 to five. Jones has a dubious knee history. Despite that, both players can be decent offensive linemen.
Predicted round: 4-5
Possible Teams: Buffalo Bills, Seattle Seahawks, New York Giants
Cornerbcks: Donovan Warren (Michigan), Crezdon Butler (Clemson)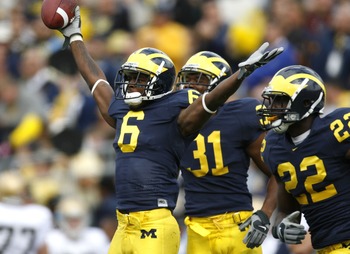 Warren is an intelligent and confidant corner who will be great at a pro level. He was a first-round prospect until he pulled a "Spikes" and had a bad 40. This will send him lower, but he is very talented. He managed four picks last year. He mirrors receivers and plays good football.
Crezdon Butler, in contrast, is a speedy corner. He may be a workout warrior, but he still produces—11 career picks.
Predicted round: 4-5
Possible teams: Oakland Raiders (Butler only), Indianapolis Colts, Seattle Seahawks, New York Jets.
Safety: Kurt Coleman (Ohio State), Robert Johnson (Utah)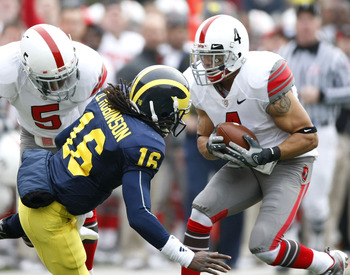 Robert Johnson is a fine safety out of Utah who is great in coverage. He picked off a whopping six passes. He also managed 70 tackles. He is part of the All-Mountain West first team. He can be a solid starter in the next level. Coleman puts up similar numbers: five picks and 68 tackles. Both players can develop into solid starters.
Predicted round: 4-5
Possible Teams: Kansas City Chiefs, New York Jets, San Francisco 49ers, Minnesota Vikings, Jacksonville Jaguars
Keep Reading