Under the Radar: Oakland's Ten Best Players You'll Know About in 2010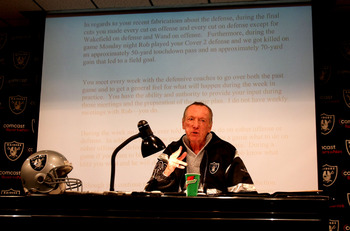 Since 2003, the Oakland Raiders have been in the NFL's dumpster, frequently the target of jokes by fans and fans posing as professional journalists.
In the previous years, the Raiders have loaded up on crusty veterans with bloated contracts.
In 2010 however, the Raiders may still have bloated contracts, but the Raiders are quietly developing a corp of young players that could catch NFL fans by surprise in 2010.
Here they are.
Honorable Mention: Darren McFadden and Darrius Heyward-Bey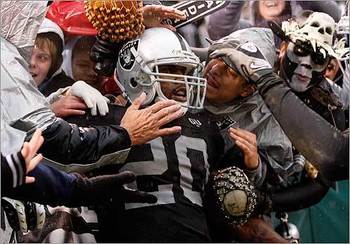 Darren McFadden and Darrius Heyward-Bey are already being written-up as busts by lazy fans and journalists posing as fans.
Both seen as part of Al Davis' pattern of taking talented players that flop in the NFL.
Yet, McFadden has shown big-play ability, but has not been durable. However, that may be affected by poor blocking; a problem which should be rectified in the NFL Draft.
Heyward-Bey meanwhile had a tough task on his plate in 2009 as the top pick for a struggling team with the expectation of being the go-to receiver for the embattled JaMarcus Russell.
Once Chaz Schilens and Louis Murphy take the pressure of Heyward-Bey, I think Raider Nation will see the big-play ability that the Raiders wanted when he was selected.
10) Cornerback Chris Johnson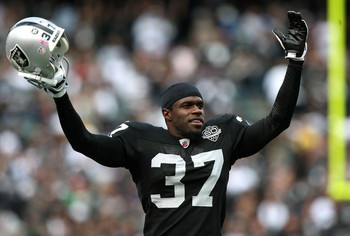 Easy to confuse with the Titans halfback of the same name, Chris Johnson has had a tough job as the corner-back opposite to Nnamdi Asomugha.
Most quarterbacks have given up almost entirely at passing in the direction of Asomugha, with only 13 passes completed against in 2009.
That creates an inordinate amount of pressure on Johnson and Johnson has fared well with 68 tackles, three picks, and 18 passes defensed for the seventh overall pass-defense in the NFL.
09) Returner Johnnie Lee Higgins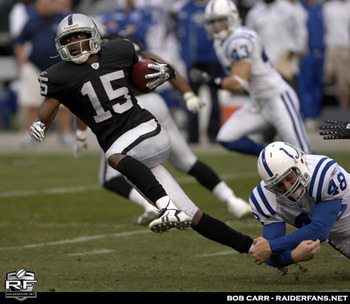 Though the Raiders receiver corp has been much maligned, there is burgeoning talent in the mix that has gone overlooked.
Right now, the Raiders expect the top three to be Louis Murphy, Chaz Schilens, and Darrius Heyward-Bey.
That means more time for Johnnie Lee Higgins on punt and kick returns, which he excelled at in 2008 with three returns for touchdowns to lead the league, along with a high average of yards per punt return.
On top of that, Higgins has also been a deep-threat in the passing game.
08) Safety Michael Huff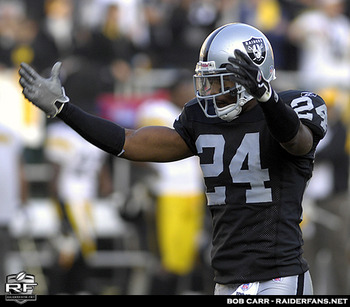 Previously labeled a bust by fans and fans posing as journalists, Oakland's top pick from 2006 is starting to turn the corner on his career as a safety.
In 2009, Michael Huff played 16 games with 59 tackles, 0.5 sacks, 3 picks, 14 passes defensed and a fumble recovery. One of those picks was critical to the victory over the Kansas City Chiefs.
Some argue that the Raiders pass-defense has been inflated by the fact that the run defense is so poor.
Nevertheless, that can be true and false. Part of the reason that Oakland saw the fewest pass attempts in the NFL in 2009 is that quarterbacks have been unwilling to challenge Nnamdi Asomugha, while corner-back Chris Johnson has also proven capable of pass defense with three picks and 18 passes defensed.
The problem in the past had been that the safeties would get burned deep, but Huff and Tyvon Branch have changed that.
Now, quarterbacks prefer to just hand-off to the running-back and gas out the Raiders front seven, which was one of the most aggressive in the NFL in 2009 with 94 tackles for loss to lead the NFL and 34 sacks, which is the most for Oakland since 2002.
07) Receiver Chaz Schilens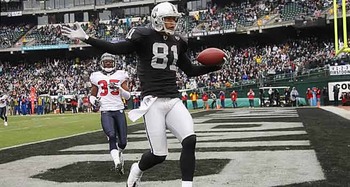 Receiver Chaz Schilens spent much of 2009 on injured reserve, but his return would coincide with the late season heroics of Bruce Gradkowski.
In eight games, Schilens averaged 12.6 yards per catch, had two touchdowns, and 29 receptions.
Hailing from San Diego State at 6'4 and 225 lbs, the receiver is also fast. Schilens should provide a nice target for whomever steps in at quarterback.
06) Defensive-end Matt Shaughnessy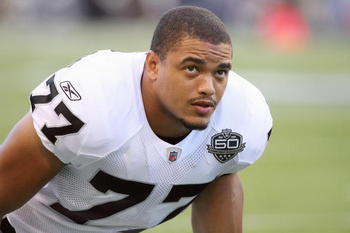 Labeled a reach when the Raiders selected Matt Shaughnessy in the third round of the 2010 NFL Draft, Shaughnessy came up big as a rookie.
The total numbers might not be eye-popping, but anyone that actually watched the games would know that Shaughnessy was a beast when on the field.
Shaughnessy's success however could allow Richard Seymour to spend more time at tackle.
At the end of the season, Shaughnessy finished with 29 tackles, four sacks, a fumble recovery and an untold number of tackles for loss on a team that led the league in tackles for loss.
05) Safety Tyvon Branch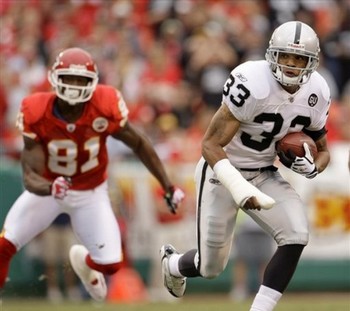 For reasons that are included in the slide about Michael Huff, safety Tyvon Branch has been a beast at safety.
In 2009, Branch racked up 124 tackles, two forced fumbles, a sack, and eight passes defensed for a pass defense that ranked seventh in the National Football League.
04) Halfback Michael Bush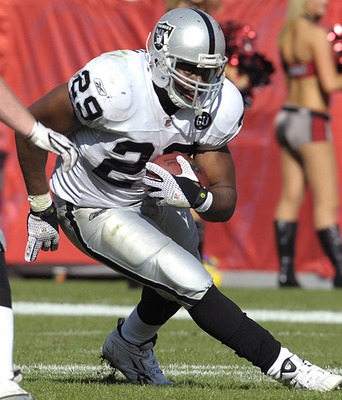 With uncertainty at quarterback, the Raiders must shore-up a rushing attack that has been erratic.
The offensive line has some promise with tackle Mario Henderson and guard Robert Gallery, but the other three lineman have created too much pressure on Gallery and Henderson.
The Raiders are expected to address the offensive-line in the 2010 Draft.
The promise of Michael Bush in 2009 is one reason that the Raiders decided to release Justin Fargas.
A 4th round pick in 2007 that was sidelined for that season due to injury, Bush has looked like the best every down runner on the roster.
In 2009, Bush averaged 4.8 yards per carry on 123 attempts for 589 yards, three touchdowns and three runs over 20 yards with the longest at 60 yards.. Bush also averaged 6.2 yards per reception for 105 yards.
03) Linebacker Trevor Scott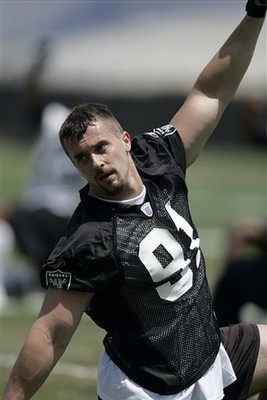 A sixth round pick in 2008 from Buffalo, Trevor Scott has shown a great deal of pass-rushing in his two seasons.
Originally a defensive-end, Scott moved to weakside linebacker in 2009 and the Raiders intend to keep him there, as he wreaked havoc on opposing backfields.
In 16 games, Scott amassed 43 tackles and 7 sacks. Scott however shifted between defensive end and linebacker until settling in at linebacker near the end of the season, so it hard to say what Scott will do once he has played full-time.
02) Receiver Louis Murphy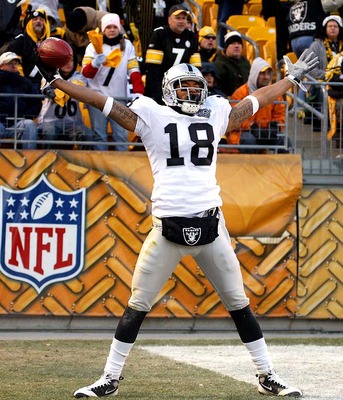 A 4th round rookie from Florida in 2009, Louis Murphy finished the season with 34 receptions, 521 yards, an average of 15.3 yards, a long of 75 and three touchdowns.
Murphy's 34 catches led the wide receivers.
It should be noted as well that two of those touchdowns were key touchdowns for the late season heroics of Bruce Gradkowski against the Steelers and Bengals.
Murphy also played a key role in the opening night game against San Diego in which he hauled in a rainbow from JaMarcus Russell. Murphy also had a TD negated by a new rule that still makes no sense.
Murphy also had a key block in the long touchdown by Zach Miller that made the difference against the Philadelphia Eagles.
Going into the Draft many so-called experts have argued that the Raiders should add a receiver because the Raiders still lack a definite go-to.
Though it won't surprise me if Al Davis takes a flier in the 5th or 6th round, the Raiders really don't need new talent at receiver, the Raiders need experience.
That can be added with a veteran or by patience.
01) Quarterback JaMarcus Russell or Bruce Gradkowski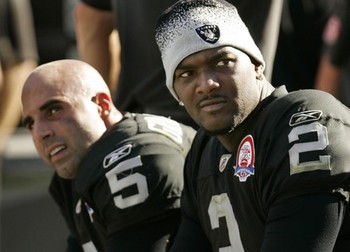 Here has been the problem with the assessment of Oakland's quarterback situation.
The Raiders entered the season with postseason dreams and the heat on JaMarcus Russell.
Yet, the Raiders also had two rookies at wide receiver and another on injured reserve.
When JaMarcus Russell struggled (and that's sugar coating it) the narrative was that the receivers were wide-open.
Russell would even criticize the receivers publicly and that was met with blowback from fans that didn't want to hear that.
Yet, as the season progressed, so did the receivers and even tight-end Zach Miller. Chaz Schilens returned from injured reserve too.
All of this happened around the same time that Bruce Gradkowski stepped in at quarterback, which begs the question: Did Gradkowski make the receivers better or did the receivers merely progress?
I say that because it may not have been entirely Russell's fault that the passing game struggled.
The receivers were learning by fire and under intense criticism from media and fans, especially the media salivating for the day when they can declare Darrius Heyward-Bey to be an official bust.
I sincerely believe that once the offensive line is over-hauled and the Raiders can run the ball consistently, that either quarterback will be able to lead the Raiders back to the postseason.
Keep Reading

Oakland Raiders: Like this team?