NBA Draft Stock: Rising and Falling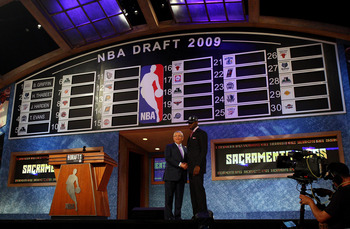 The NBA draft is held in June but that doesn't mean that what happens in March isn't important. While it might be somewhat counterintuitive to place so much emphasis on only a few games, it is certainly true that players in the past have been able to improve their draft stock with three or four good games in the tournament.
Dewayne Wade's epic 2003 tournament in which he led Marquette to the Final Four, as well as recording a triple-double against the No. 1 seeded Kentucky Wildcats helped propel his draft stock high enough to have him forego his senior season. Wade was selected with the 5th pick in the 2003 NBA draft and many executives will say that his performance in the tournament thrust Wade into the national spotlight.
Tyrus Thomas is another player who saw his draft stock rise dramatically because of his tournament performance. In 2006 the lanky forward helped to lead the LSU Tigers to an unexpected Final Four. Thomas elected to turn pro after completing his freshman season and amid his inspired tournament play was taken 4th overall in the 2006 NBA draft.
The tournament can be a great opportunity for players at smaller programs to get their name known by putting together a couple of good performances. It can also be a chance for more well known players to answer questions that NBA scouts have about them.
Players like John Wall and Evan Turner don't have to worry about their draft stock rising or falling because they've been the projected No. 1 and No. 2 picks in the draft for a couple of months now. But there are many players who are on the fringe of the draft and may have played themselves into or out of the first round, or even into or out of the draft all together.
With all of this in mind, let's take a look at 8 players who aren't necessarily lottery picks but have seen their draft stock rise or fall during the tournament this year.
Rising: Ekpe Udoh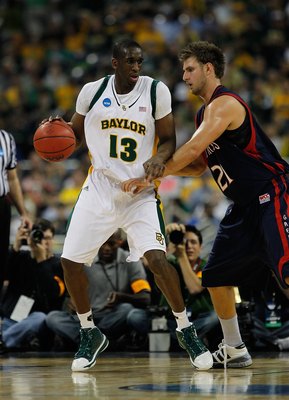 The 6'10'' Baylor forward had himself a great season after he transferred from a Michigan system that didn't fit his playing style. Udoh, who was a virtually unknown player coming into 2009, started the season with a bang against some of the weaker out of conference opponents that Baylor faced.
But unlike some players who get out to fast starts and fade during tougher conference play, Udoh seemed to get stronger as Big 12 play went on. At 6'10'' Udoh has a great combination of length and athleticism which allows him to be a force under the basket despite his lean frame.
Thanks to this length and athleticism, Udoh excelled at rebounding and blocking shots during the regular season and he found himself on most draft boards by the middle of January. NBA scouts loved Udoh's athleticism and shot blocking but they raised questions about whether or not he could score at a consistent rate.
During the tournament, Udoh seemed to answer most of these questions, especially in Baylor's first round win over Sam Houston St. During which the Bearkats implemented a triangle and two defense to try and slow down the superb guard play of Tweety Carter and Lacedarius Dunn and essentially dared the rest of Baylor to beat them.
Udoh answered the challenge and scored 20 of the teams 68 points on 9 of 16 shooting. Despite sub-par offensive games against Old Dominion and St. Mary's, Udoh had one of his best games of the season against Duke in the Elite 8.
Not only did Udoh score 18 points he added 10 rebounds, 6 assists, and 5 blocks and it was obvious in the second half of this game that the Duke players were scared to go into the paint and challenge Udoh.
Udoh recently declared for the draft and thanks in part to his strong tournament performance he should be a lottery pick in June's draft.
Rising: Omar Samhan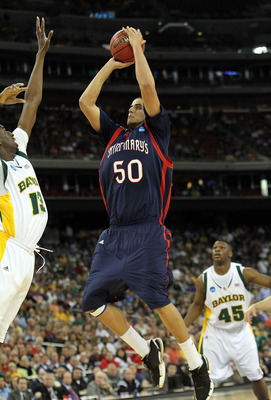 The Saint Mary's center certainly made a name for himself during this tournament when he led the Gaels to their first Sweet 16 in school history, including upsets over No. 7 seed Richmond and No. 2 seed Villanova.
Despite averaging over 21 points and nearly 11 rebounds per game this season, he was relatively unknown heading into the tournament because of playing in the West Coast Conference.
Samhan took full advantage of the national spotlight, scoring 29 points against Richmond and 32 points against Villanova, while shooting an amazing of 75% from the field.
If you were anywhere near a sports bar during either of these games you probably heard at least one guy yelling, "who the hell is that big guy on Saint Mary's?" as he tore his bracket into little pieces.
Likewise, in a league where the center position is thinner than the Olsen twin's forearms, most NBA scouts were probably yelling the exact same thing.
Despite lacking any semblance of athleticism, Samhan has good size at 6'11'' and showed tremendous footwork when he featured a plethora of post moves including the ability to finish with both hands, over both shoulders and even stepping out and hitting an occasional jumper.
For those who think Samhan can't play center in the NBA consider these current NBA centers; Rasho Nesterovic, Kwame Brown, Jason Collins, Jarron Collins, Jerome James, Johan Petro, Jeff Foster, Hamed Haddadi, Josh Boone, Aaron Gray, B.J. Mullins, Adonal Foyle, and Kosta Koufos.
Samhan won't be a star in the NBA but with his his tournament performance (even with a somewhat poor game against Baylor) fresh in everyone's mind, he has seen his draft stock rise, putting him somewhere in the late 2nd round
Rising: Jordan Crawford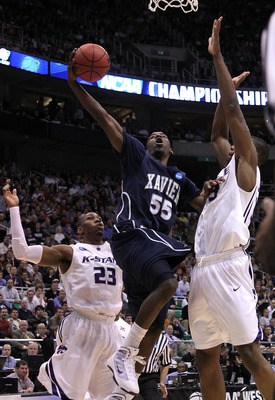 Before the tournament he was known as the guy who dunked on LeBron, but after it he was known as the guy who almost gave Gus Johnson a pulmonary embolism, thanks to his heroics against Kansas State in the Sweet 16.
Crawford, a 6'4'' Xavier shooting guard who transferred from Indiana, followed up a great regular season with a superb tournament. He looked unstoppable during pretty much all three games that Xavier played in the tournament, essentially scoring at will against Minnesota, Pittsburgh, and Kansas State (3 very good defensive teams).
Crawford used his superior quickness to get to the basket during all three games and turned in impressive scoring results, tallying 28, 27, and 32 points respectively. Crawford also showcased his ability to hit the three in the tournament going 9 for 11 from behind the arc, including an unbelievable 35-footer against Kansas State which sent the game into double overtime.
Above all, Crawford looked like an NBA player; he put the ball on the floor, embraced contact, and was very athletic and aggressive on the offensive end of the court.
Jordan is currently undecided about the draft as he's only a sophomore, but should he decide to come out early he will need to learn to be comfortable not being a team's No. 1 option at the NBA level.
Crawford's tournament heroics have pushed him to the brink of the first round, although he's nowhere near the lottery at this point.
Rising: Gordon Hayward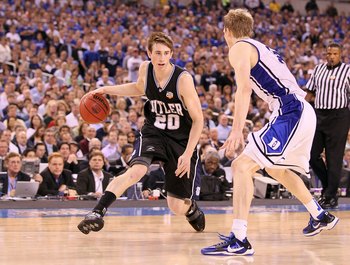 He looks more like a small town paperboy than an NBA player, but Hayward has seen his draft stock soar thanks to his success in the tournament.
Although he's 6'9'', Hayward plays more like a guard, getting plenty of touches on the perimeter and having the ability to both put the ball on the floor as well as shoot with proficiency.
While he only weighs slightly more than 200 pounds Hayward is also a capable rebounder and averaged seven per game during the tournament. Hayward's size, versatility, and solid athleticism have NBA scouts making comparisons to former Duke standout Mike Dunleavy, who was selected with the 3rd pick in the 2002 draft.
Despite their low scoring, defensive minded game plan, Hayward has emerged as the go-to guy for the Butler Bulldogs during their tournament run.
Including breakout scoring performances of; 17 points against Syracuse, 22 against Kansas State, and 19 against Michigan State. While Hayward would certainly benefit from another season or two at the collegiate level so he could add some muscle to his frame, the lure of the draft may be too enticing.
He is currently a projected first round pick and may even sneak his way into the end of the lottery before it's all said and done.
Falling: Da'Sean Butler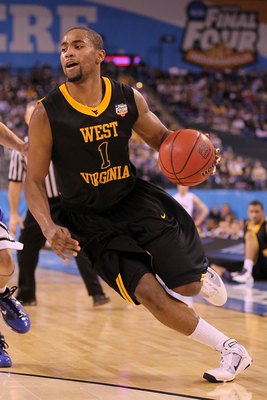 Butler was having a great season for the West Virginia Mountaineers, and was the heart and soul of their run to the Final Four. He was steadily moving up draft boards until he suffered a torn ACL, sprained MCL, and two bone bruises in West Virginia's loss against Duke.
If Butler weren't a senior he would certainly go back to school in order to rehab his knee and prove to NBA scouts that he was fully recovered from this horrible injury. Because he's a senior, he doesn't have that luxury and Butler will have to enter the NBA draft amid much speculation about when he will be able to play again.
He will also not be able to participate in pre-draft workouts which will further hurt his draft stock. Butler proved during the season that he was a tough, versatile player who could do a little bit of everything and while he wasn't projected to be a high pick, his stock was improving.
We saw DeJuan Blair fall to the 37th pick in last year's NBA draft because of perceived knee problems when most thought he had first round talent, and he wasn't even injured.
Unfortunately for Butler, he probably wasn't a first round talent and is currently dealing with a serious knee injury which should cause him to fall quite a bit in the draft, if he's picked at all.
Falling: Scottie Reynolds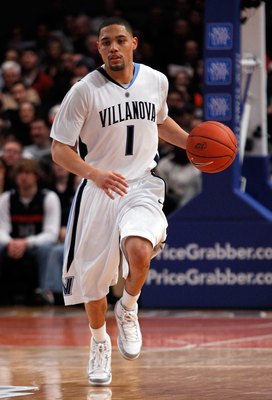 There's no denying that the 6'2'' point guard had a great career at Villanova; however he didn't show much during this year's tournament.
Villanova struggled against 15th seeded Robert Morris in the first round and lost to Saint Mary's in the second. On top of all this, Scottie had two of his worst games of the season, shooting 4 of 26 from the field and just 2 of 11 from behind the arc.
Reynolds also had as many assists as turnovers in these two games and he looked somewhat lethargic in both contests.
NBA scouts were already questioning Scottie's size and whether or not he could really play point guard at the next level, both from a defensive standpoint as well as being more of a distributor.
Scouts will point out that he never really showed great playmaking ability in college and at only 6'2'' with decent, but not great athleticism, Scottie would appear to be a defensive liability at the NBA level.
With his poor performance in this year's tournament especially against two teams who don't have exceptional guard play, these questions remain unanswered.
While Reynolds is a capable scorer his defense, size, and playmaking ability may very well keep him out of this years draft all together.
Falling (kind of): Greg Monroe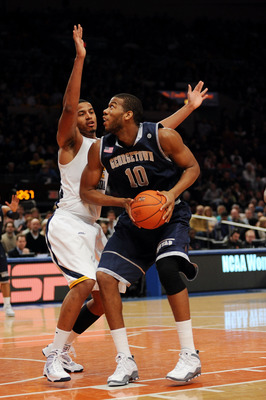 Let me explain this one, Monroe didn't play poorly in the tournament but he didn't really play much in the tournament either. Thanks to Georgetown's uninspired play in the first round they were sent home early.
If he had led Georgetown to the Elite 8 or Final 4 his draft stock would've been through the roof. Instead, the Hoyas got thumped by the 14th seeded Ohio Bobcats and no one got to see Monroe play past the first round.
As it is, Monroe is a great prospect at 6'11'', who can run the floor, finish in traffic, and also has the ability to score with his back to the basket, as well as facing up. An underrated part of his game is his passing ability, which should allow him to thrive in the NBA because he will be able to set up his teammates for easy scores.
Monroe is a projected lottery pick in the 2010 draft, but he could probably use another year in college to bulk up in order to get ready for post play in the NBA.
Saying that Monroe's draft stock fell because of the tournament isn't exactly right, but I'm looking at what pick Monroe could've been projected at had he gotten to play 3 or 4 games in the tournament.
Falling: Sherron Collins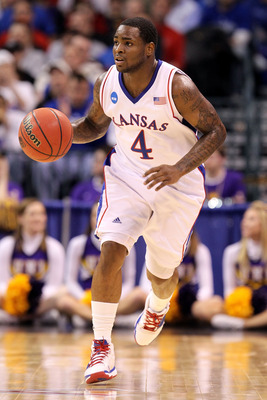 Much like Reynolds, Collins has had a great career in college but his team underachieved in the tournament.
The highly touted Kansas Jayhawks were the favorite to win another National Championship but ran into a Northern Iowa team that simply outplayed them in the 2nd round.
During that game Collins posted just 10 points on 4 of 15 shooting as well as turning the ball over 5 times. In the NBA the 5'11'' Collins will be limited to playing point guard because of his height, but that shouldn't necessarily mean he won't be able to have a productive career in the league.
Despite his height, Collins possesses great strength and explosiveness which should allow him to get his shot off, as well as withstand the pounding he will take when penetrating into the lane.
Because he struggled in the tournament and Kansas didn't go very far, Sherron is looking like an early second round pick, whereas, he might have been able to break into the first round had things worked out like everyone predicted it would for Kansas.
Keep Reading