2010 NBA Playoffs: Los Angeles Lakers vs. Oklahoma City Thunder Preview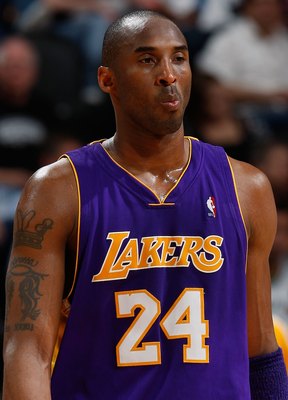 The NBA playoffs are just around the corner, and it looks like this could be the first round series to watch.
No other team has surprised as much as the Oklahoma City Thunder. This has to do greatly with NBA leading scorer Kevin Durant—a phrase that will become common in the future.
Durant has put the young Thunder on his back, and he has carried them all the way to the No. 8 seed.
Unfortunately that means their reward is Kobe Bryant and the Los Angeles Lakers.
The Lakers are coming off an NBA Championship, and they want more.
Kobe Bryant, Lamar Odom, Ron Artest, Pau Gasol, Derek Fisher, and Andrew Bynum—when healthy—make up the best six man rotation in the league, and the Thunder are certainly going to have their hands full.
As always I want to hear your opinions, so please speak up.
Enjoy!
Season History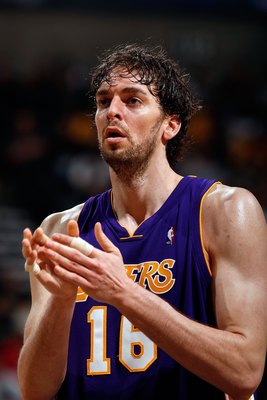 The Thunder are a respectable 1-3 versus the Lakers in the regular season.
However, this record is a little deceiving.
In two of the three losses for the Thunder, they only lost by three points. Durant was also able to get hot in the two close games by putting up 28 and 30 point games.
The Thunder's one win came in a dominating 91-75 victory in late March. Here, Durant was able to put up 26 points, and Nenad Krstic was able to snag 10 rebounds.
The Thunder were dominant on defense in their latest match-up.
Could this be an upcoming trend for the playoff series?
Who's Hot, Who's Not: Lakers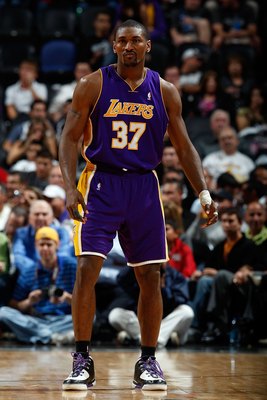 Since having a dispute with Kobe Bryant, Pau Gasol has been a man on a mission under the basket.
Since March 27, Gasol has put up a double-double in seven of his last nine games. This also includes a season high 22 rebounds, and a season high 32 points.
If the Lakers are going to have success in the playoffs, Gasol is going to be a big factor.
Ron Artest has been the exact opposite of Gasol recently.
His head just does not seem to be in the game, and he seemed very reluctant to play in the last couple of games of the regular season.
Maybe Artest has bigger plans for the playoffs?
With Artest you just never know what is going through his head.
However, the Lakers need Artest to straighten up and start becoming that premier defensive stopper in the playoffs.
Who's Hot, Who's Not: Thunder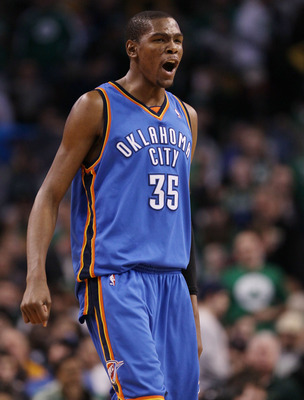 Kevin Durant has been simply out of control for the majority of the season.
But, he was definitely in a league of his own down the stretch of the regular season.
In the month of April Durant put up 40-plus points three times, 30-plus points four times, and his lowest point total was 23 points.
Most players would be thrilled to score 23 points, but not Durant. Durant is going to need a few 40 point wonder games in order to give Oklahoma City any chance against the Lakers.
While Durant got hot down the stretch in April, Russell Westbrook did not.
The fiery point guard only put up double digit assist totals twice, and he saw a significant decrease in his points, steals, and shooting percentage.
The only category Westbrook saw an increase in was his turnovers.
In four of the final eight games, Westbrook saw himself turn the ball over at least five times. This also includes two seven-turnover games.
The Thunder will need Westbrook in tip-top shape, so look for him to bounce out of this cold spell.
Lakers' Key to the Series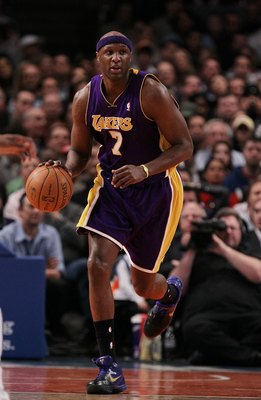 The Lakers' key to success may start with the stars—Kobe Bryant, Pau Gasol, Ron Artest, and Andrew Bynum—but it will certainly end with Lamar Odom.
Odom is one of the most difficult match-ups in the league. He is a versatile forward who also has the ability to create on the fast break, hit the long jumper, and pull down 20 rebounds.
If the Thunder put Jeff Green on Odom, Green may have a tough time with him down low. However, if they match-up Nick Collison or Nenad Krstic on Odom, he will have a field day out on the perimeter.
The Lakers are going to need a big performance out of Odom if they want to get past the young Thunder. He always seems to step up his game in the playoffs, and I do not see any break to that trend.
Thunder's Key to the Series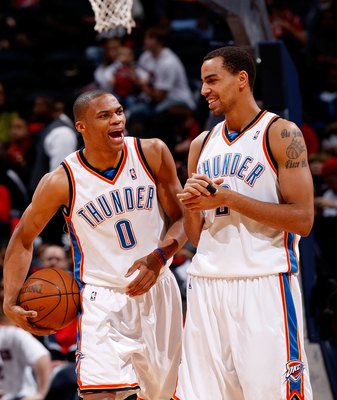 The two X-factors for the Thunder are Russell Westbrook and Thabo Sefolosha.
The Westbrook vs. Fisher match-up is a very intriguing one. Westbrook is a very explosive athlete, who at times can seem virtually unstoppable.
Will Derek Fisher be able to slow down this young point guard? Or will Westbrook have his way with the crafty veteran?
The Thunder are going to need Westbrook to be that solid No. 2 option behind Durant.
Sefolosha is not a household name...yet.
The shut-down guard from Switzerland is regarded as one of the best pure defensive players. Many players and scouts think that he should be a candidate for defensive player of the year.
Frankly, I completely agree.
Sefolosha will have his biggest task yet to date: Stopping the best player in the league—Kobe Bryant.
If Sefolosha can even do a decent job against Bryant, this could mean huge success for the Thunder. Sefolosha will need to be on top of his game for the Thunder to have any chance in the series.
Series Prediction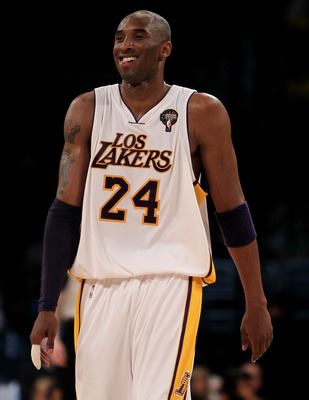 The picture says it all.
Kobe Bryant and the Lakers will walk away with the series victory, but it will not be an easy No. 1 vs No. 8 match-up that the Lakers are used to being in.
If Bynum is ready for the playoff, this could pose huge match-up problems for the Thunder. Gasol and Odom are already tough enough, but to add another seven-footer would be devastating.
The Thunder should get big production from Durant, Westbrook, and Green, but it does not look like it will be enough.
However, in the next couple of years, this match-up could become a regular Western Conference Finals series.
Still, I like the Lakers to take the series in six.
Keep Reading

Los Angeles Lakers: Like this team?