From Andre Agassi to Bjorn Borg: The Top 10 French Open Finalists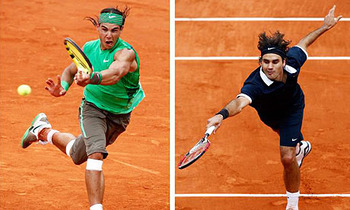 What is it about the red clay at Stade Roland Garros that lifts some players to great heights while stopping others dead in their tracks?
Is it a lack of patience or mental acumen that causes some great players to shut down on the red dirt?
The fact remains that in order to get to the very top of the men's game, you must find an answer to the clay courts at the French Open.
For this ranking, first consider the number of times a man made it to the finals of the French Open as the demarcation of greatness. Next consider the wins against the losses within a given number of tries.
10. Andre Agassi: Three French Open Finals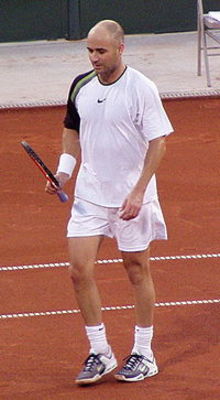 Andre Agassi is not remembered for his play on the red clay of Stade Roland Garros. But, for the American, his solitary win on the grounds in Paris in 1999 is perhaps as significant a win as the controversial U.S. player ever recorded in his long and illustrious career.
Agassi made three appearances in the finals in Paris at the French Open. His first came against Andres Gomez in 1990, which he lost in four sets. His second appearance in a French Open final occurred in 1991. He lost to fellow American Jim Courier in five sets.
Like many other top-notch American males, Agassi seemed doomed to fail at the French––like John McEnroe and Jimmy Connors before him and his contemporary Pete Sampras. Only Courier seemed to have figured out the winning combination on the red clay.
In 1999, Agassi was once again in the finals against Andriy Medvedev of Ukraine, who had unexpectedly reached the finals by upsetting both Sampras and Kuerten. Agassi fell behind 0-2 and it looked liked another also-ran for the American. But Agassi rallied and came from behind to steal this one away.
Finally Agassi won the French and with it held a career Grand Slam. It was that single win in three tries that did it for Agassi and helped darken the ink in his record book.
For Agassi his winning percentage at the French Open is 76.1 (51-16).
9. Sergi Brueguera: Three French Open Finals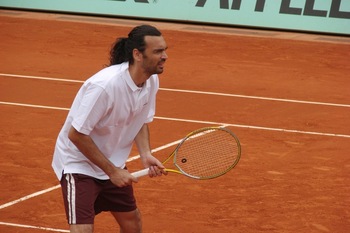 Sergi Bruguera made it to three French Open finals, also winning two like his contemporary Jim Courier. Bruguera's wins came in 1993-1994 and then again in 1997.
In 1993 he defeated defending champion Courier in an epic five-set final, and then the next year Brugera defended his hard-earned title by taking out Alberto Berasategui of Spain in four sets. His final attempt in 1997 was thwarted by the man from Brazil, Gustavo Kuerten, unseeded at the French Open that year.
He was the predecessor to the current wave of Spanish clay courters whose best surface is the dirt that allows them to slide their way into fame and fortune. Although not long, Brugera's light burned bright while it lasted.
His winning percentage at the French Open was 76.2 percent (32-10).
8. Jim Courier: Three French Open Finals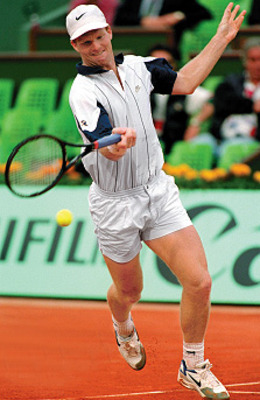 Jim Courier was unique in American tennis because he did well on the grounds of Stade Roland Garros. That was where the American fine-tuned his tennis to play with consistency and patience.
Courier made it to three finals in Paris, winning two of them in 1991 and 1992. He lost his bid for three consecutive titles in 1993 by losing to Sergi Bruguera in five sets.
For most Americans during this era, the red clay was as foreign a surface as that found on the moon. Apparently so because Americans treated it that way. Their games appeared to lose gravity on the red clay.
That is, until Courier and Chang showed them the possibilities, teaching them how to anchor a solid win on the red dirt.
Courier's winning percentage on the French Open clay was 81.6 (40-9).
7. Gustavo Kuerten: Three French Open Finals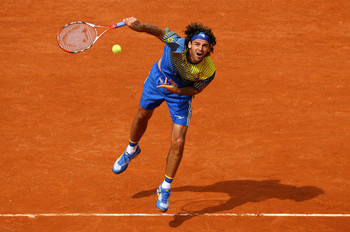 Gustavo Kuerten from Brazil was another true French Open champion whose tennis legend was born on the grounds of Stade Roland Garros where he won his first championship in 1997 as an unseeded player.
Kuerten made it to three French Open finals, winning all three of them. Following the initial win in 1997, Kuerten won again in 2000–2001.
"Guga," as he was known to his fans, played baseline tennis, employing a solid service game and heavy topspin groundstrokes that kept his opponents pinned to the baseline as the Brazilian attempted to run them to death.
He won fans across the world when, after winning his third French Open title against Alex Corretja, Kuerten drew a heart in the red clay and laid down in the center of it.
His injuries forced a premature departure from the game of tennis, but he retained his place in the hearts of the crowds at Paris, when he made his last appearance there in 2008.
Kuerten's winning percentage is 81.8 percent (36-8).
6. Guillermo Vilas: Four French Open Finals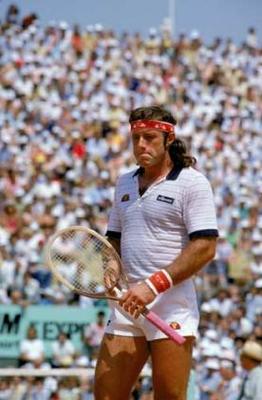 Guillermo Vilas was always a huge favorite with the Paris crowd. This was during the days when the men on tour wore "shorts" that indeed lived up to their billing. The attire showed off powerful thighs that thundered across the red clay and caused the ladies in the front rows to swoon. Or something close to that—so the story goes.
Vilas was a gentleman, however, on and off the court and his reputation for sportsmanship and his renowned dedication to the sport of tennis were without equal in the '70s and '80s, when he played on the famous courts at Stade Roland Garros.
Vilas played in four French Open finals but was victorious only once, in 1977. In that regard, he is tied with Roger Federer, who made it to four finals but also came away with only one win to date. That, of course, occurred last year. In 2010 Federer will come to Paris as the defending champion. Unlike Vilas, though, Federer's four trips were consecutive.
Vilas loved to dominate his opponents by getting them involved in long clay-court rallies. The Argentine wore his opponents down because Vilas was extremely fit and could play on for hours.
His winning percentage in Paris was 76.7 percent (56-17).
5. Roger Federer: Four French Open Finals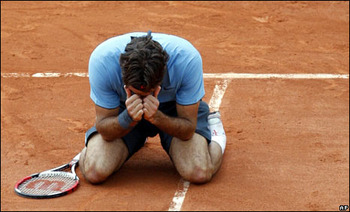 Roger Federer, who plays excellent tennis on any surface, has suffered most on clay––not because he does not play well on the surface, but because on the storied grounds at Stade Roland Garros, he most often encounters the King of Clay, Rafael Nadal, in the finals.
This was true in 2006–2008 when the man from Switzerland made it to three consecutive French Open finals, only to lose to Nadal. Nadal, it seemed, always rose to the occasion to defeat Federer in the finals on the red clay.
Last year, however, the man across the net facing Federer during his fourth French Open final was Robin Soderling. Soderling, in the upset of the decade, had sent Nadal packing during the fourth round.
The end result for the man from Switzerland was immediate. Finally, Federer won his first French Open in four tries.
Federer has a chance to make it to a fifth final, tying both Lendl and Wilander––as does Nadal. But for Federer, his fifth final would be consecutive.
The Swiss' winning percentage at the French Open is 79.6 percent (39-10).
4. Rafael Nadal: Four French Open Finals
Rafael Nadal suffered a huge blow to his place in tennis history and his ego in 2009, going down to defeat at the hands of Sweden's own Robin Soderling in the fourth round on the hallowed grounds of Stade Roland Garros.
Nadal had owned this place since his first victory in 2005. He had never lost a match at the French Open.
His streak of 31 consecutive wins ended with this defeat––but Nadal still holds the record with that mark, followed by Borg with 28 (from 1978 to 1981).
Nadal shares his record of four consecutive French Open titles with Bjorn Borg and his appearance in four consecutive French Open finals with Borg, Ivan Lendl, and Roger Federer.
His winning percentage at the French Open is 96.9 (31-1), which nudges him ahead of Borg by a sliver—but then Nadal is still very active, and he has a chance at this point to improve or decrease this winning percentage. Still, it is an impressive mark no matter how you look at it.
While tennis experts have already crowned him King of the Clay, the jury is still out on the King of Roland Garros. How he fares in 2010 will go a long way toward cementing his legacy on the red clay in Paris.
3. Mats Wilander: Five French Open Finals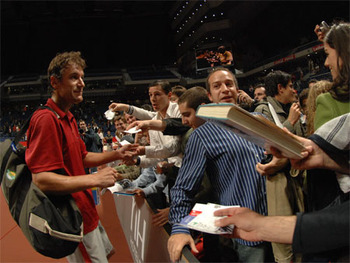 Mats Wilander also made his first mark on the clay courts at Stade Roland Garros, where the Swede appeared in five French Open finals, a record he shares with Ivan Lendl. They are surpassed only by Bjorn Borg, who appeared in and won six French Open crowns.
Wilander and Lendl have both won the French Open championship three times, but not consecutively.
A distinguishing fact for Wilander was that at the time he first won the French Open Championship, he was youngest male ever to win the title, at 17 years and nine months of age. The Swede won the event unseeded during his initial outing at Stade Roland Garros.
He shares winning the French Open on his first try with Rafael Nadal. He was surpassed by Michael Chang in 1989 as the youngest champion ever to win the French Open crown when Chang took the title at age 17 years and three months. In the modern era Wilander shares being an unseeded champion with Gustavo Kuerten (1997) and Gaston Gaudio (2004).
When Wilander entered and won the French Open in 1982, all the tennis world immediately began to tout the teenager as the second coming of Bjorn Borg. Borg fans, reeling over the absence of their man, flocked to Wilander as their new champion. Wilander's reaction was to cut his long blond hair and run for the hills.
Wilander's winning percentage at the French Open Championships is 83.9 percent (47-9).
2. Ivan Lendl: Five French Open Finals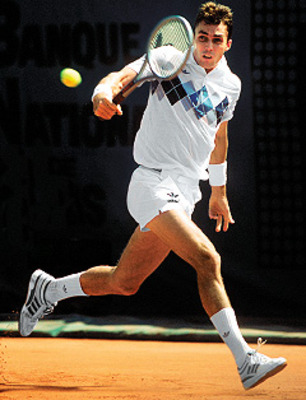 Ivan Lendl made his mark on the red clay in Paris, starting with his first Grand Slam final in 1981 against legendary Bjorn Borg—extending the great Swede to five sets before finally succumbing to the clay mastermind from Sweden.
Clay was where Lendl learned control and patience in addition to fine-tuning his heavy topspin and his power game from the baseline. His first Slam victory in 1984 was won on the grounds of Stade Roland Garros.
John McEnroe was up 2-0 and well on his way to his first Grand Slam victory on clay when the Czech fought his way back into the match. Lendl won in five sets.
This set the Czech on his path to the No. 1 ranking as well as a stellar career on the red clay in Paris, where he won the French Open three times—1984,1986, and 1987.
In all Lendl appeared in five French Open finals, winning three of them. He lost to Borg in 1981 and to Mats Wilander in 1985. The Czech appeared in four consecutive French Open finals, a record he shares with Rafael Nadal, Borg, and Roger Federer—pretty illustrious company.
Lendl's winning percentage on the red clay stands at 81.5 percent (53-12).
1. Bjorn Borg: Six French Open Finals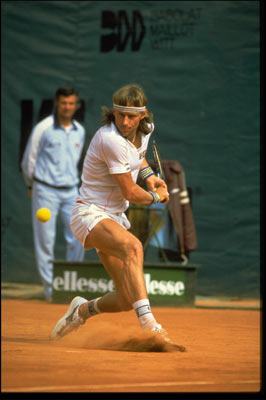 Bjorn Borg still reigns supreme in the record books at Stade Roland Garros, even after he retired from the game at age 26 almost 30 years ago.
The red dust became the soul of his game. No one before him or since has ruled the red clay in Paris more definitively than the man from Sweden. Borg won 41 consecutive sets and holds the record at the French Open.
He won the French Open six times starting in 1974—followed by victories in 1975, 1978, 1979, 1980, and 1981. He never lost in a French Open final.
If you think about how many more French Open titles Borg might have won had he continued, the mind boggles, because no one was close to defeating him. But then, we will never know—nor should such thoughts linger when estimating his place in tennis history.
Borg's winning percentage at the French Open is 96 percent (49-2).
Keep Reading