Sharks-Avalanche Game 2: Sharks Report Card
Game 2 is in the books, and what a game that was! The Sharks finally put forth a great effort, sustained it well throughout the game, but more importantly, we never gave up. Despite some iffy penalties and a few defensive miscues, we continued to get up off the mat and show some fight until we tied the game.
A few numbers to chew on before you start the report card.
19:18, 19:45, 19:28 - Time of the three tying goals in the first, second and third periods, by Malhotra, Nichol and Pavelski respectively.
52 - shots on goal by the Sharks
4 of 9 - Nabby's goal/shot ratio at one point in the 2nd period
5 - Seperate deficits the Sharks overcame in Game 2
1 - Thrown bottles in my house after Stewart scored a softie on Nabby to make it 5-4. Funny thing is, the score didn't cause me to throw the bottle. The Patrick Roy NHL History Will Be Made commercial right after did. Nabby lets in a softie after we battled back to make it 4-4, and then that commercial just put me over the edge.
Goaltending: D+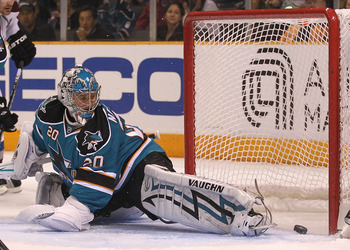 In the Game 1 Report Card, I gave Evgeni a lot of rope considering how I've given up on him so many times in the past. I thought he looked sharp, looked different, looked like he wanted to prove all the doubters and naysayers wrong. Even after his Olympic debacle, he turned it around late in the season, looked good in Game 1 so I gave him a lot of rope.
And he nearly hung us all with it. I am not sure if the Stewart breakaway shook him up, but he never seemed to recover until overtime. I could be wrong but he looked shaky on the breakaway and that seemed to break his concentration for some reason for the rest of the game.
Nabby for most of the night fought the puck and didn't look comfortable for some reason. At least 2 of the goals were soft and he struggled to control the rebounds, something he owned in Game 1. He also made a series of bad decisions starting from early the 2nd period, and especially for the Yip goal. Just bad bad decision and a even worse goal.
I want to believe in him, and Nabby knows he played bad. Lets see if he has the mental wherewithal to bring his game back into focus. We need him to step it up and play like he can. Free Agency is but a early playoff exit away.
Defense: B-
Boyle looked confident and was very involved last night and his aggressive play kept the play alive on several occasions. The guy is just everywhere, and is such an asset coming out of our zone. Blake delivered a big goal and played a great game with some big hits and steady veteran play. He continues to amaze me with how aware and how efficient he is. No movement is wasted, he is among the best in subtle interference and even when he's away from the puck he consistently creates space and time for teammates.
I thought Murray had another bad game, he got caught with his pants down on the Stewart breakaway, he should have been aware Boyle was pinching in. Murray also overplayed the Hejduk one timer. I thought he tried to make amends and overcompensated/got too aggressive a few times. Turned the puck over a few times, once trying to dangle his way into the offensive zone. Not his game and he knows it.
Huskins and Demers kept a high level of energy, made a few youthful mistakes but made their minutes matter. Demers could have cost the team with a retaliation penalty, he needs to keep his head level.
Wallin was a scratch and after Game 1, I don't blame the coaching staff.
Wingers: A-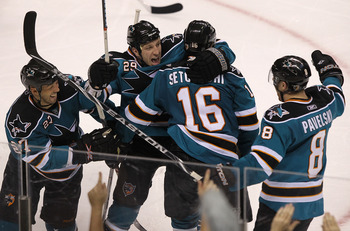 I wondered what would happen if the Sharks woke up and all four lines contributed in this series. The Avalanche simply looked overmatched for most of the night. We dominated the faceoffs, time in the attacking zone and dictated the tempo. They fought valiantly but without some suspect goals allowed or fluky first goals, this game could have been very different. After the second period we were outshooting the Avs by a 29-10 margin.
I thought we finally did what we needed to do, moving east to west to try and fold the 1-2-2, move the puck down low and punish their D. The Avs had a lot of problems moving the Sharks off the puck down low, as we cycled and controlled the tempo for most of the game.
Clowe continues to be one of the best Sharks, Pavelski is playing inspired hockey, Setoguchi is crashing the net, and what can you not like about Nichol and Malhotra? Our second and third lines put in big time performances in Game 2, and their continued passion for taking the body clearly took a toll on the Avs. We played as much of a inspired playoff hockey game as I've seen from the Sharks in a long time.
The Big Line? I thought they played better, but still wish they had been broken up earlier. I didn't see them broken up until later in the game, but seeing as how well the rest of the lines were playing, maybe the coaching staff didn't want to break that up. I still feel that the three of them together is just too much firepower on one line if they aren't getting it done, and they seem to be lapsing at times defensively.
Bottom line is, the Big Three played better but we need more from our leaders and stars. I would give anything to transplant Nichol and Pavelski's heart into Joe and Patty.
Coaching and Intangibles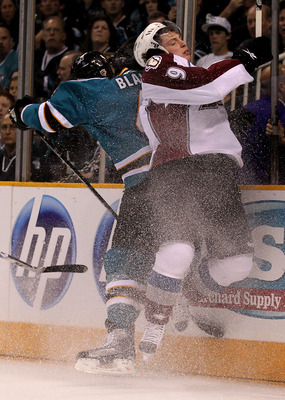 The Sharks looked energized and played with a controlled fury throughout the night, and the coaching staff kept everyone fresh and lines rolling. The energy was high, and best thing about it we sustained it throughout.
Whatever they did or said to the team worked because the team looked nothing like the lost bunch they were in Game 1. For the most part we played with purpose, skated well, kept our feet moving and was active away from the puck.
What really gets my hopes high, is the way the Sharks battled back, despite the fluky goals, despite the five-on-three, despite the soft goaltending, despite some of the questionable calls (Setoguchi goal/penalty) come to mind, despite all of those things our team kept fighting back and making it happen. I know it's just one game, and all it really means is that the series is even, but I can't help but feel that a game like this is something we can build on.
Foundation and work that, invested now can be called upon later when we need to battle back from another setback. We need to keep this going and realize that this kind of play is needed for the next 15 wins and its not going to get easier.
Colorado, here we come.
Keep Reading

San Jose Sharks: Like this team?