NFL Draft Position Rankings: Offensive Line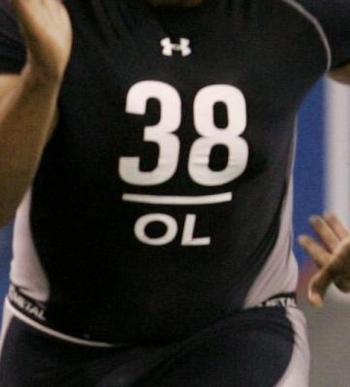 This slideshow will profile the top 10 offensive tackles in the upcoming 2010 NFL Draft.
After I've ranked every position, I will compile all of my "team projections" into a complete mock draft.
April 8—DB/WR
April 9—Safety/TE
April 10—LB
April 11—RB
April 12—DE
April 13—QB
April 14—DT
April 16—OL
April 17—Mock Draft
No. 1. Russell Okung - Oklahoma St.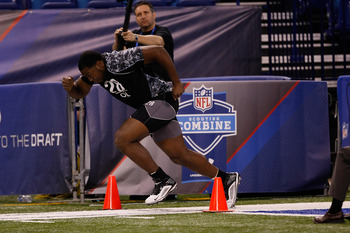 In recent weeks, there has been a debate surrounding the best offensive tackle in the draft. For months, Russell Okung was the unanimously favored to be the first tackle off the board.
In my opinion, the recent conversation surrounding Bryan Bulaga and Trent Williams is gamesmanship by the teams at the top of the board.
Russell Okung is the best tackle in this draft, always was.
Okung was one of four unanimous selections for the 2009 All-American team and will be the first offensive linemen off the board.
Projected Round: First
Projected Team: Washington Redskins.
With Mike Shanahan in town, the Redskins will rely heavily on zone blocking schemes in the running game. Okung is athletic enough to get downfield and strong enough to block in a man-to-man scheme.
No. 2. Bryan Bulaga - Iowa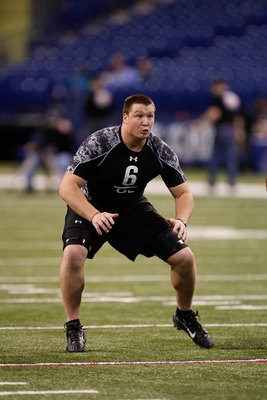 The term "can't-miss prospect" is used ad nauseum in the weeks leading up to the draft. As we've seen in the past, there are very few sure things in the draft.
That said, this tackle from Iowa will be as NFL-ready as any player in 2010. Offensive linemen in Kirk Ferentz system are expected to excel, they're used to NFL-style blocking, and they have a great understanding of the position.
His tape will give scouts a very good indication of his blocking abilities and exactly how he would fare on a pro-style offensive line.
Projected Round: First
Projected Team: Kansas City Chiefs.
Bryan Bulaga's arm length is considered borderline to play left tackle in the NFL. With Branden Albert still on track to become the Chiefs starting left tackle, Bulaga will be a perfect fit at right tackle.
No. 3. Trent Williams - Oklahoma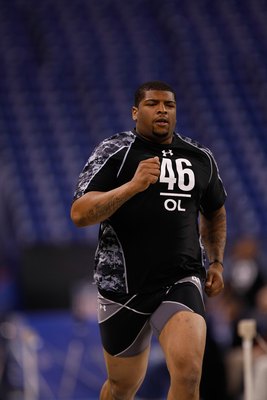 Trent Williams is easily one of the most athletic offensive linemen in this draft class.
His 4.81 forty time is one of the fastest ever recorded by an offensive linemen. Making him athletically capable of playing left tackle in even the most demanding zone-blocking schemes.
In 2008, Williams was a key-member in the Oklahoma offensive line which allowed a nation-low 11 sacks.
Projected Round: First
Projected Team: Seattle Seahawks.
Seahawks offensive line coach Alex Gibbs is known for his zone-blocking schemes. Trent Williams athleticism makes him a perfect fit to play tackle in Gibbs' scheme.
No. 4. Anthony Davis - Rutgers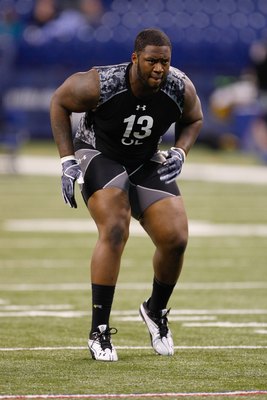 Many well-respected analyst have pegged Anthony Davis as the most talented tackle in this draft.
Why is it, then, that Davis's draft stock is consistently dropping?
In his sophomore season, Davis' arrived overweight and was demoted to the second string for the start of the season.
In his three years at Rutgers, Anthony Davis was suspended on two occasions for violations of team policy.
Perhaps more alarming, Davis was a no-show at the Rutgers pro day, leaving a bad impression on almost 50 NFL scouts and every NFL team.
For all his talent, there are too many character concerns to ignore. His work ethic and commitment have been a problem since day one, he has top-10 talent, but an undraftable attitude.
Projected Round: First
Projected Team: Dallas Cowboys.
With a talented group of offensive linemen available, teams at the top of the board won't need risk drafting a problematic player. If the Cowboys could land a talent like Davis at 27, they'd have no option but to draft him.
No. 5. Maurkice Pouncey - Florida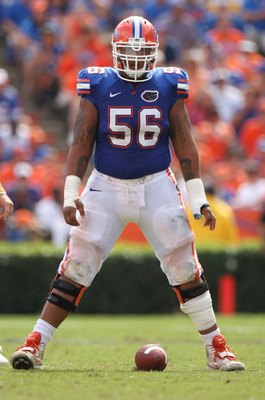 Drafting interior linemen in the first two rounds is considered a faux-pas among some NFL executives.
It's not a position where players are required to be of rare physical stature or athletic ability.
Given the resurgence of the passing game and the quality of pass rushers, offensive linemen are becoming increasingly more valuable.
Florida's Maurkice Pouncey will capitalize on the new found need to talented interior linemen.
A guard at Florida, Pouncey projects to be a center in the NFL.
In pre-draft interviews, scouts have been impressed by Pouncey's intelligence and ability to make offensive line calls.
Projected Round: First
Projected Team: Houston Texans.
One thing kept Houston out of the playoffs last season, their run game. The blame fell primarily on the running backs, but their line didn't hold up their end of the bargain either. Maurkice Pouncey can play guard or center and will give the Texans' line a boost in toughness and talent.
No. 6. Mike Iupati - Idaho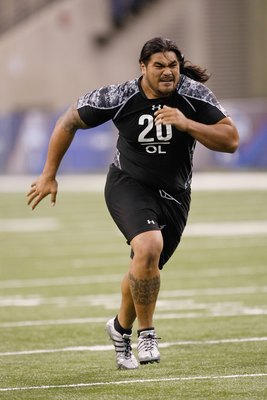 Mike Iupati was so dominant at the Senior Bowl that it led one analyst said that he was capable of playing all five positions on the offensive line. As time wore on, very few people shared this opinion, but everyone agrees that Iupati is one of the best interior linemen prospects of 2010.
Iupati is a raw propect, so much so that it is difficult to anticipate what position he will play.
Iupati has the size and arm length to play left tackle. However, his foot speed and awareness are lacking.
In 2009, Iupati was a first team All-American at left guard.

Projected Round: First
Projected Team: Indianapolis Colts.
The Colts have very few holes, on either side of the ball. In drafting Iupati, the Colts draft the best player available, while also improving their run-blocking abilities.
No. 7. Charles Brown - USC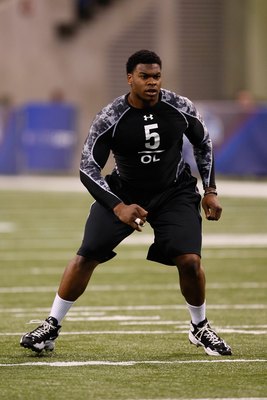 Charles Brown, a former tight end, has all the athleticism to start at left tackle in the NFL.
USC play against a bevy of top pass rushers every season, and rely heavily upon their offensive line. Charles should be ready to handle the speed and strength of NFL-caliber defensive ends.
In 2009, Brown won the Pac-10 Morris Award for top offensive linemen. What makes this award unique is the fact that the award winner is selected by their opposing defensive ends. A big compliment from some of the top pass rushers in the country.
Projected Round: Second
Projected Team: Tampa Bay Buccaneers.
The Bucs currently rely on undrafted Donald Penn to protect their blind side. If Charles Brown is available at No. 35, the Bucs should invest in the longevity of their franchise quarterback.
No. 8. Bruce Campbell - Maryland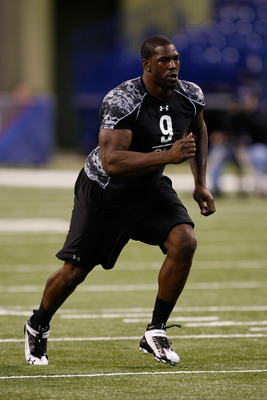 "Offensive linemen don't look like that" has become a popular phrase when describing Bruce Campbell.
At 6'6" and a lean 313 lbs, Bruce Campbell is the epitome of a combine-freak. Campbell was a top-performer in almost every exercise. Most notably, he ran a mind-boggling 4.78 forty yard dash. The fastest ever by an offensive linemen.
Until this point, however, Campbell hasn't been able to translate his athleticism into production on field. His career at Maryland consist of 17 starts and he failed to receive a single vote for All-Conference honors.
Projected Round: Second
Projected Pick: New York Giants.
Teams looking for immediate help in pass protection will likely pass on Campbell. The Giants have the security of two starting tackles, but they're lacking in depth. They could groom Campbell to eventually take over from the declining Kareem MacKenzie.
No. 9. Jon Asamoah - Illinois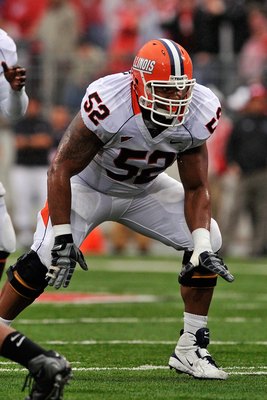 His teammates and coaches define him by his toughness, but Jon Asamoah production in his three years define his ability.
In his three years as a starter, Illinois averaged nearly 210 yards per game on the ground. As a sophomore, Asamoah led the way for Rashad Mendenhall, who rushed his way to the Big Ten player of the year award.
Not just tough and talented, Jon Asamoah was a dedicated student earning the honor of Academic All-American as a senior.
Projected Round: Second
Projected Team: Denver Broncos.
Some would consider this a reach for Asamoah, I'm sure the Broncos won't. With Cutler and Marshall leaving town, the Broncos will be more dependent on the running game.
Interior linemen are a major area of need. If the Broncos pass on Asamoah, there's a considerable drop in talent for the later prospects.
No. 10. Rodger Saffold - Indiana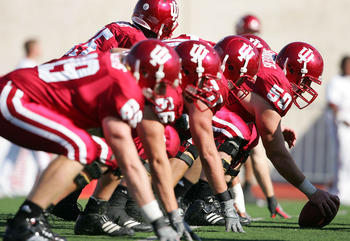 Rodger Saffold seems to have fallen victim to lack of exposure. As a four-year starter at Indiana, he made one bowl game and failed to win more than six games in a season.
The East-West Shrine game was truly a coming out party for the senior. Since then, Saffold has done nothing but impress in all of his pre-draft workouts. As a result, Saffold's stock has steadily risen.
Projected Round: Second
Projected Team: Indianapolis Colts.
Peyton Manning was subject to a revolving door of left tackles last season, the Indianapolis coaching staff were never pleased with Tony Ugoh or Charlie Johnson. The addition of Saffold likely won't play a role in 2010, but in the future, he could be given the assignment of protecting the franchise.
Keep Reading