"The Beast" Arrives In South Beach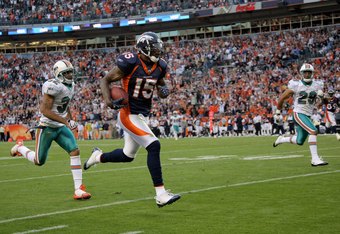 Doug Pensinger/Getty Images
The Miami Dolphins have made their biggest blockbuster trade since they got Ricky Williams from the Saints in 2002. This one could be even bigger, but we'll see about that. Even after the ups and downs, Ricky is still here 8 years later and has been a big part of the Dolphins return to form.
The major difference is Brandon Marshall could become "Rock Star" status, something that hasn't been seen since Dan Marino was playing. It will almost certainly guarantee that the Dolphins will be the ones visiting the Jets on Monday Night Football in week one.
Especially after their past 4 games, which have all been memorable. The first game in 2008 which came down to the wire, won by the Jets because of a Favre lucky heave. The second one where the Dolphins won the AFC East title. The back and forth matchup on MNF in Miami with the wildcat domination of the Jets D. The Ginn double return game following that. Was that the one that made Rex Ryan cry?
However, we all know the media love affair with the Patriots, so who knows.
On the field, Brandon opens up the Dolphins offense. They now have an elite weapon at WR, something the Dolphins have not had since the 90s. Chambers was great, but not elite. Marshall has the potential to be a Top 3 WR. After all, he had Kyle Orton throwing to him in Denver last year. Henne & Pennington are both better than Orton.
Bess, Camarillo, and Hartline wont have to go up against the top corners in the NFL now. These young guys should all improve on last season, and be able to get open more. Bess is similar to Welker, Camarillo didn't drop any passes in 09, and Hartline showed he could possibly be one of the better #2 WRs in the league.
Ricky Williams, Ronnie Brown, Patrick Cobbs & Lousaka Polite. They gave teams nightmares at the beginning of 2009. Then Cobbs went down and then Brown went down. With all 4 [most likely-Brown could be traded, but not likely] returning, and now with Defenses unable to stack the box because of Marshall, they could be even better. Could become one of the best backfields of all time.
As for his character, it seems he is excited to be with the Dolphins and wants to become one of the best WRs of all time. His past issues seem to be in the past, hopefully they are. He didn't make excuses, he owned up to everything and said he's moved on. He also got married recently. He seemed happy and renewed in the Press Conference. He has also been to the workouts, and Vernon Carey's charity golf tournament.
People wonder why Denver would get rid of an elite WR. Well, they also let Mike Nolan go, who also signed with the Dolphins. I'm sure Nolan put in a good word for Brandon. Marshall and his McDaniels just were not a good fit.
Here's to hoping he has as much as an effect on this team as we think. He could help bring the AFC East Division Championship back to the Dolphins, and then some.
This article is
What is the duplicate article?
Why is this article offensive?
Where is this article plagiarized from?
Why is this article poorly edited?

Miami Dolphins: Like this team?