Top Ten Draft Busts of the Last Ten Years: The Cleveland Browns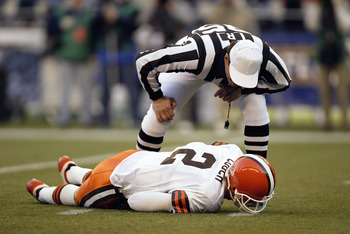 With the draft less than a week away I thought it would be interesting to take a look back at the top ten draft busts of the Cleveland Browns since they came back into the NFL...or basically the pre-Holmgren era.
The criteria was a first, second or third round pick. I feel anything from the fourth round and on and making it or not is all a part of the draft and you should expect a top three pick to contribute.
Another factor was the 10 players taken immediately after the player was chosen, and in the end helped determine my order, which may surprise some people.
HONORABLE MENTION
Chris Cooker, DB, Marshall-3rd Round 2003
James Jackson, RB, Miami-3rd Round 2001
Travis Prentice, RB, Miami-3rd Round 2000
JaJuan Dawson, WR, Tulane-3rd Round 2000
Rahim Abdullah, LB, Clemson-2nd Round 1999
Melvin Fowler, C, Maryland-3rd Round 2002
10. Travis Wilson, WR, Oklahoma-3rd Round 2006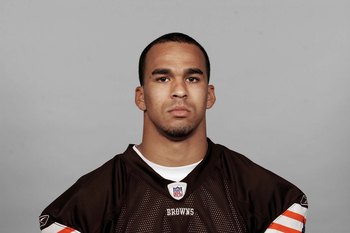 We begin our list with a man whose contributions to the team should rank him higher...if there were better options behind him. Let us look at those stats...
2 receptions and 32 yards in the 2006 and 2007 season. Dynamite contribution Mr. Wilson.
Sadly, the only names that stand out following him are Jerious Norwood and Clint Ingram, two players who would have contributed a great deal more.
9. Marquis Smith, DB, Cal-3rd Round 1999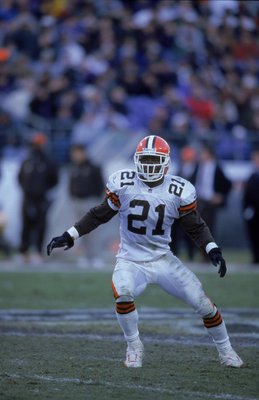 A part of the first draft class, I suppose you can say he contributed more than Travis Wilson, he even was with the team three seasons instead of two. Lets go to the stat line:
11 known tackles (tackles not counted prior to 2001), 1 sack and 4 whole pass deflections.
Following Mr. Smith was Marty Booker and Dat Nguyen and while not fancy names, or in Dat's case even in the league anymore, they would have contributed far more than Marquis Smith.
8. Charlie Frye, QB, Akron-3rd Round 2005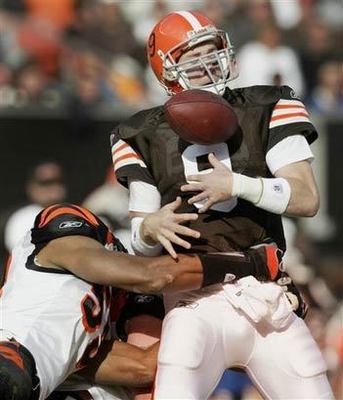 One of the most fitting pictures I could find. Now Charlie saw more field than the previous two but it could be argued that this may have actually hurt the team more than it hurt him.
The one bonus to Charlie was those Frye's Fries outfits which you know the rest of the league was jealous over.
354-567 making a 62% completion rate and 3490 yards. Not bad, definitely better than the completion rate of the other two QBs on this list.
The problem with Charlie is the 14 touchdowns and 23 interceptions. Luckily he has found a home with the Raiders which doesn't frown on the whole more interceptions than touchdowns thing.
Following Charlie, two defensive players I wish would have been on the Browns: Channing Crowder and Justin Tuck.
7. Brady Quinn, QB, Notre Dame-1st Round 2007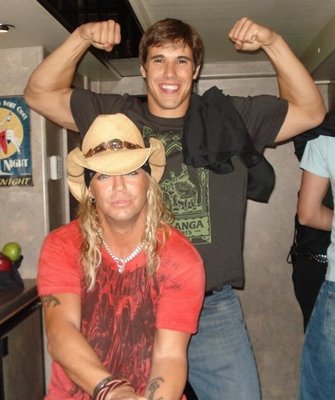 Yeah, I had to throw that picture up there.
So our recently departed quarterback, there was so much hope. Hell, we gave up so much to get that high and it got us...crappy Subway commercials and 24-inch pythons. The wounds are too fresh, to the scorecard.
184-353 a 52.1%. 1902 yards, 10 touchdowns and 9 interceptions...so he's in the plus side in that area...barely. Of course he wasn't on the field much in three years...now to the list of people taken right after him.
Brandon Meriweather, Jon Beason, Robert Meachem, Joe Staley, Ben Grubbs, Greg Olsen, Anthony Hernandez.
I didn't even bother looking to see who was available if we had never moved up, I was depressed enough as is.
6. Jeff Faine, C, Notre Dame-1st Round 2003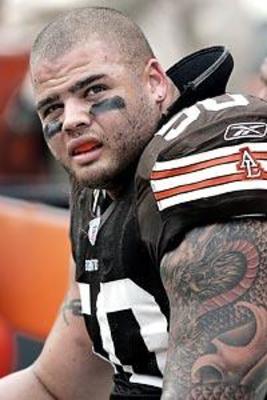 To his credit, Jeff Faine is still in the NFL and starting...for his third team. He wasn't horrible with the Browns, but we did go after another center in free agency after three years.
Of course in hindsight we probably shouldn't have cut Faine when we did. Though no real stats, the real reason he is so high is all who followed after him...
Willis McGahee, Dallas Clark, William Joseph, Kwame Harris, Larry Johnson, Nick Barnett, and the biggest dagger of them all....Nnamdi Asomugha.
5. William Green, RB, Boston College-1st Round 2002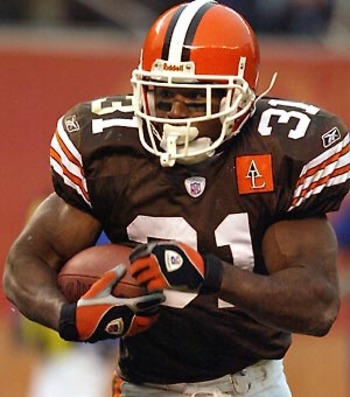 All the signs were there in big neon lights. The kid was the Travis Tritt song as I live and breathe and...we took a chance. When you look at the stats it doesn't seem THAT bad
568 carries for 2109 yards with 9 touchdowns...then you realize that total is over four seasons. Who did we miss out on this time?
Phillip Buchanon, TJ Duckett, Javon Walker, Brian Thomas, Napoleon Harris, Charles Grant, Lito Sheppard and the final dagger....Ed Reed.
4. Quincy Morgan, WR, Kansas State-2nd Round 2001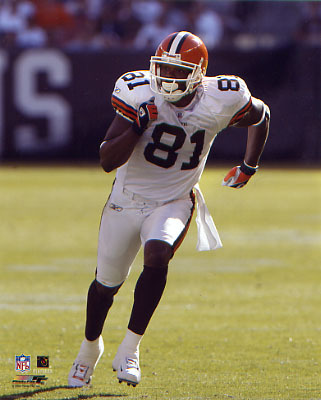 This is not Quincy Morgan's fault. He was a solid receiver for the Browns a good No.. 2 or 3 guy.
He falls this far because of who came immediately after him. First though let us thank him for the following
133 catches for 2056 yards and 15 touchdowns in four seasons. Now let us look at what might have been.
Kyle Vanden Bosch, Alge Crumpler, Chad Johnson, Kendrell Bell, and Ken Lucas.
3. Tim Couch, QB, Kentucky-1st Round 1999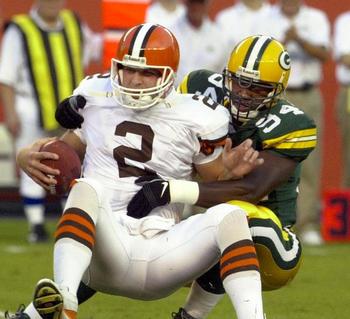 The picture above sums up Tim Couch's first year in the NFL. Did you realize he was sacked 56 times in 1999? In 2001 he was sacked another 51 times.
I say this because maybe if Dwight Clark and the people in charge back then would have drafted some linemen to protect our first draft pick maybe things would have turn out differently....but they didn't and he lands at No. 3.
1025-1714 for 59.8%, 11,131 yard 64 touchdowns and 67 interceptions.
We all know who was drafted right after, hint he's now the Redskins' QB, but we also missed out on Edgerrin James, Ricky Williams, Tory Holt, Champ Bailey and Chris McAlister.
2. Courtney Brown, DE, Penn State-1st Round 2000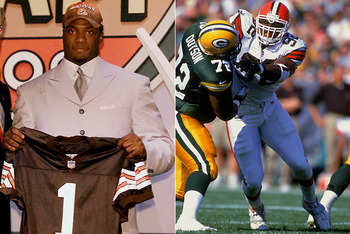 Number 2 and Number 1 can easily be called a toss up. Should Courtney Brown be the number one bust, maybe. He was hurt a lot and I think that may have softened my cold heart a lil bit, where as our number one is just lazy.
That said Courtney Brown played for the Browns from 2000 to 2004. He never had higher than 30 tackles in a season and had 17 sacks his entire career in Cleveland. Here's the tough part...
Lavar Arrington, Chris Samuels, Jamal Lewis, Corey Simon, Thomas Jones, Plaxico Burress, and Brian Urlacher.
1. Gerard Warren, DT, Florida-1st Round 2001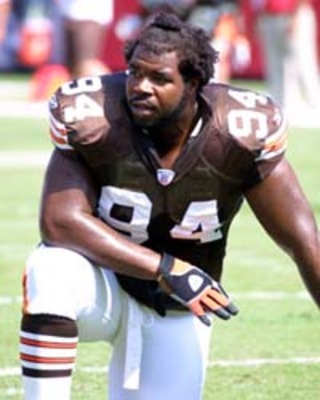 Seriously, this was one of two pictures I could actually find of Warren in a Browns uniform. I don't know what it is, but apparently even the Internet is trying to forget Gerard Warren's time in Cleveland.
He came out like a gangbuster his rookie year netting 61 tackles. Then came 39...then 32...and finally 18 his last year with the Browns.
In total, he had 16.5 sacks and 4 forced fumbles. I think this is also about the time I really started to hate the University of Florida.
Finally this is the tough part, four players picked after him at 4, 5, 6 and 7.
Justin Smith, LaDainian Tomlinson, Richard Seymore and Andre Carter.
I still can't believe this waste of space was still employed in the NFL as of last year...
Keep Reading

Cleveland Browns: Like this team?