2010 NFL Draft: Top Five Quarterback Rankings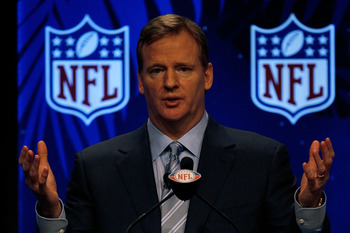 With the NFL Draft quickly closing in, I decided to throw my hat into the draftnik arena with my very own position-by-position rankings.
Each position will be profiled over the coming days, leading up to my 2010 mock draft, which will be released next Wednesday or Thursday.
The position rankings aren't based on what draft guru's like Kiper, Mayock, or Lande think. They are based on my observations of games I've attended or watched on television.
Measurements are important but not the most significant factor in my rankings. How many reps a guy does in the bench is secondary compared to a player's production on the field.
Production is the name of the game in evaluation.
Here are the top five quarterbacks in the 2010 NFL Draft.
1. Sam Bradford, Oklahoma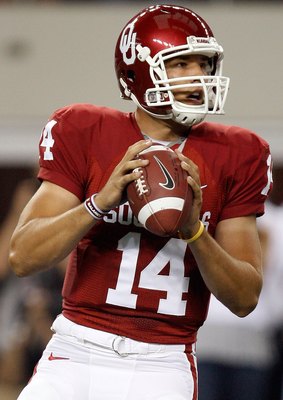 Bradford is one the most accurate quarterbacks in the history of college football.
His pro day workout solidified him as the top pick in the draft.
He can make all the throws, has solid leadership attributes, and may be the only franchise quarterback in this class.
The only question mark on Bradford is the injury problems he suffered through last season. Some scouts wonder how he'll take a hit by a big NFL defensive lineman.
Bulking up to 236 pounds in the offseason helped to allay some of the scouts' fears.
Bradford has all the makings of a big-time NFL quarterback.
2. Jimmy Clausen, Notre Dame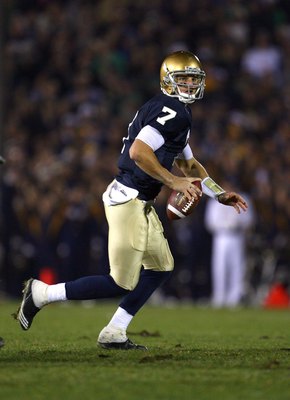 Clausen was brought up in a pro-style offense at Notre Dame under the tutelage of Charlie Weis.
That should only help his cause.
He has better decision-making ability and accuracy than Brady Quinn, the last Irish quarterback taken in the first round. Clausen may not be a superstar, but don't look for him to be a total bust like Quinn either.
Clausen is equally adept at working from the shotgun or under center. He doesn't have a powerful arm, but he can make all the NFL throws.
He needs some time to develop, but should turn into a decent pro quarterback.
3. Colt McCoy, Texas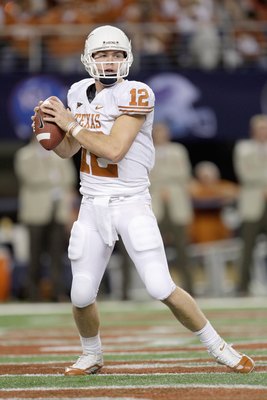 McCoy is a winner. There can be no denying that.
He left his mark on the University of Texas in more ways than one.
McCoy left school as the all-time victories leader in NCAA history with 45 wins in 53 starts. His pass completion percentage of 70.33 was just shy of breaking the old NCAA career-record of 70.39 by Colt Brennan.
His 13,253 yards passing places him sixth all-time in college football.
McCoy is one of only 11 quarterbacks to throw for at least 100 touchdowns during his career. His 112 scoring strikes rank seventh on the all-time list, while his 132 total touchdowns rank sixth.
He also generated 14,824 yards in total offense, a figure that was surpassed by just three other players in the history of the NCAA.
Helped his draft position with a solid pro day workout and in individual workouts with the Rams and Browns.
McCoy is very accurate on short and medium range passes, but struggles with the deep ball. He's the smallest (6'1'', 216-pounds) of all the major quarterback prospects and that has some teams concerned.
He will need some time to develop, but is a nice value pick in the second round.
4. Dan LeFevour, Central Michigan
One of the most productive quarterbacks in the history of college football.
LeFevour produced 150 touchdowns in his career—102 passing, 47 rushing and one receiving. No quarterback in NCAA history put the ball in the end zone more than he did.
LeFevour passed for 12,905 career yards. He also rushed for 2,948 yards and set a school record with 47 rushing touchdowns. Also set school marks for a season with 19 rushing touchdowns in 2007 and 28 passing touchdowns in 2009.
He has decent size (6'3'', 230-pounds), but average arm strength. LeFevour struggles on deep routes, but with better technique and time in the weight room, his strength should improve.
It's nice to have a powerful arm, but it's not a prerequisite for success. Look at Fran Tarkenton or Drew Brees as examples.
LeFevour hasn't been talked about much leading up to the draft and that's good news for the team who drafts him. With time, he has a chance to be a productive starting quarterback in the NFL.
5. Tim Tebow, Florida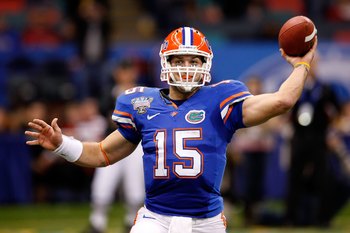 One of the most publicized, scrutinized, and dynamic players in college football.
Tebow is a leader and a winner. He will need time to develop, but could become a very good NFL quarterback.
Despite early concerns from NFL scouts, coaches, and team executives about Tim Tebow's throwing motion and ability to be a pro quarterback, the former Florida Gators star has gained momentum leading up to the draft.
He'll be gone by the early part of the second round and may sneak into the first round to a team intrigued by his leadership abilities and athleticism.
Others to watch: Tony Pike, Cincinnati; Levi Brown, Troy; Jonathan Crompton, Tennessee.
Keep Reading