The Forgotten Heroes of Sabres' Playoff History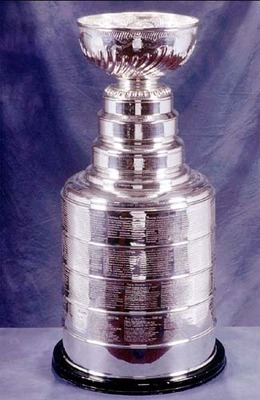 Here's a little known fact: only 11 times in their history have the Buffalo Sabres failed to qualify for the NHL playoffs. 11 times in 39 years. That means that roughly 72% of the time, the Sabres have had a chance to win the Stanley Cup.
That also means that the Buffalo Sabres have had ample opportunity to collect their share of playoff heroes. Any decent Sabres fan will recall the French Connection during the run to the 1975 Cup Finals against Philly. Everyone remembers what Dominik Hasek meant to the Blue & Gold (and sometimes the Black and Red).
I hope that the rest of the NHL pays very close attention to this article. Its purpose is to point out that you never really know where the next Brad May will come from.
Vaclav Varada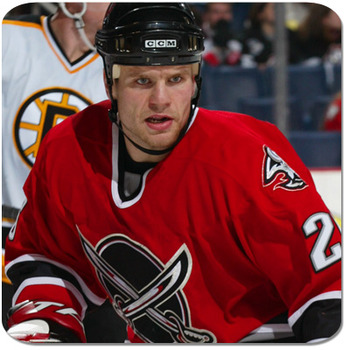 If you saw that face charging after you, would you duck?
Vaclav Varada made a name for himself in Buffalo Sabres history as the prototypical "Playoff Performer". He would put together a solid yet unspectacular regular season, then suddenly morph in to the Tasmanian Devil come playoff time. Relentless, tenacious, and tough as nails, Varada could be counted on to hit anything that moved.
Never flashy, Buffalo never relied on Varada to put up points. They could, however, count on an energetic shift that wold rile up the rest of the team during those bouts of laziness that seemed to plague Buffalo.
Varada wrapped up his NHL career in Ottawa (booo!) and has spent much of the past decade playing in Europe.
Michal Grosek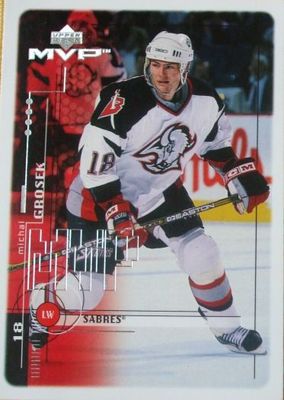 Some of you Buffalonians will say "Oh Yeah!" and vivdly remember the 1999 Stanley Cup Finals team.
The rest of you, well, I had to resort to using a hockey card to find a picture of him, so that should tell you something.
Here's something else you didn't know: Michal Grosek shares the team record for most game-winning goals in a single playoffs. His defining moment was his Game 5 OT goal that wrapped up the opening round against the Philadelphia Flyers in 1998. Grosek was arguably the best player during those playoffs.
Grosek went on to play for the Blackhawks, Rangers, and Bruins before moving on to Europe.
Dave Hannan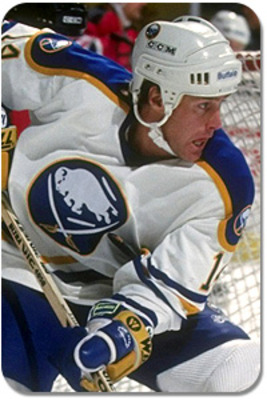 Dave Hannan is remembered in Buffalo for two things: killing penalties and sending the New Jersey Devils "Back to where Jimmy Hoffa is!" for a Game 7 in the first round of the 1994 playoffs.
Game 6 of that series featured a 0-0 tie after three OT periods, with both Dominik Hasek and Martin Brodeur playing fantasticly for the equivalant of 2 games. Finally, at 1:52 am, Hannan lifted a backhand over a sprawling Brodeur to end the 11th-longest game in NHL history.
Youtube the video. You won't be disappointed. The Sabres' performance in Game 7, however, was disappointing. The Devils won, 2-1.
Michael Peca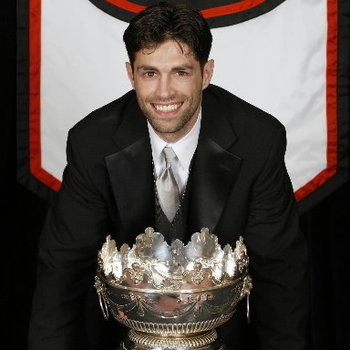 Among Sabres fans, Captain Crunch is not easily forgotten. He embodied the "Hardest-working Team in the NHL" under then-coach Ted Nolan. A two-time Selke Trophy winner as the league's top defensive forward, Peca captained Buffalo's run to the 1999 Stanley Cup finals.
I put Peca on this list because his ugly divorce with the Sabres overshadows what he meant to this city. Never before or since has one player carried an entire franchise on his shoulders. With all due respect to Dominik Hasek, Peca never pulled himself from a playoff game in a hissy fit over his play, subsequently claim a knee injury, then attacked a reporter for daring to spread the story. (Hasek did this in the first round of the 1997 playoffs against the Senators, then attacked Buffalo News writer Jim Kelley over the incident)
Steve Shields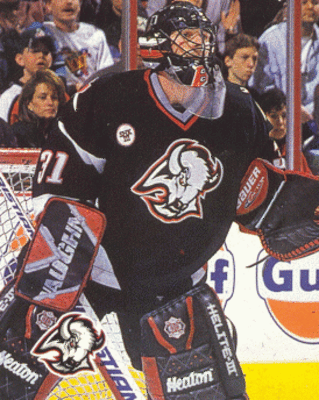 After Dominik Hasek's antics in the 1997 playoffs (mentioned in the previous slide), Sabres' backup goalie Steve Shields stepped in to save the day in Game 3 of their series against Ottawa. Shields backstopped Buffalo to a 4-3 series win.
Hasek was subsequently suspended for three games for the Jim Kelley altercation, in which Hasek tore the shirt of the Buffalo News reporter. Shields played the first three games of the Conference semi-finals against Philadelphia, all losses. Hasek was due to return in Game 4, but once again claimed he felt a twinge in his knee. Shields once again saved the season with a 5-4 OT victory. Before Game 5, Hasek once again claimed injury, and Buffalo unltimately lost the series Four games to One.
Keep Reading