Ask Away: 25 Burning Questions as the 2010 NBA Playoffs Approach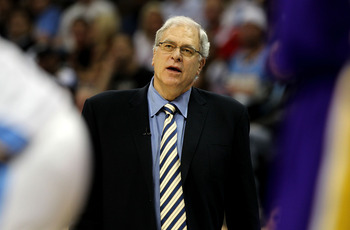 The playoffs begin this weekend and the excitement in the air is suffocating.
Can we just start the damn thing already?
Here are 25 questions (and some answers) that will help decide who hoists the next Larry O'Brien Trophy. Since the league's bottom-feeders should want to join this party, they merit mention as current embarrassments to David Stern.
Will Ron Artest and his wacko antics help the Lakers defend the 2009 crown?
Is this the inevitable year of LeBron?
Does seeding matter in the Western Conference?
Here are the questions.
Does Don Nelson's Wins Record Matter?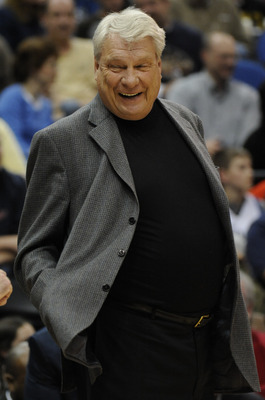 Can you call Nelson the NBA's all-time winningest coach when he led zero championship charges from the sidelines to Phil Jackson's history making 10?
The small-ball pioneer spent several years chasing down Lenny Wilkens victory record, while his team lost more dignity than Larry King in a divorce court and more shine than a toilet in an Alcatraz cell.
A recent ad for the Golden State Warriors features players reciting the words "pride, passion, and commitment." The franchise will not possess any of those qualities until GM Larry Riley fires Nelson and finds a coach who gives a damn about defense and consistent appearances in the 'W' column.
In his so-called glory days, he left the arena after an ejection to watch the remainder of the game with fans at a bar.
A memorable post-game moment from the 2007 playoffs: he brought his beer to the podium and waxed philosophical after a loss.
The passion is gone. His Picasso-like offense doesn't win squat when it's time to get serious.
What other coach would play Stephen Jackson at center? While that may look humorous on the court, it doesn't win games.
With 1,333 victories in his back pocket, Nelson should do the great Bay Area fans a favor and call it quits. The only reason for Riley to keep Nelson around is being his buddy.
The spoils system still exists.
The Warriors too often do not play hard. Their defense is more penetrable than the Octomom. How can a winning coach allow any opponent to tally 90 points in the paint without any resistance?
The Spurs did that a few weeks ago.
The Warriors scored more than 100 points in that game. And lost. Because they gave up 147 points.
Talk of rookie Stephen Curry as the future face of the franchise means nothing when the team cannot even live up to the message of its advertisements.
Don Nelson ranks as the all-time winningest coach…if you like stand-up comedy.
Are the Minnesota Timberwolves Worse Than the Nets?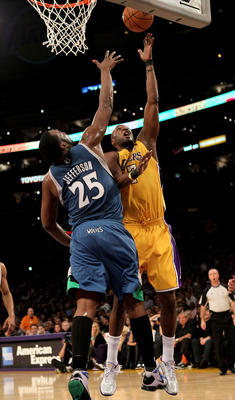 The Timberwolves upgraded at point guard, added some other complimentary pieces, hired Phil Jackson's lead assistant, and lost nine more games than last year.
The front office sent out packages with "Brewer's Beans" touting Corey Brewer as a most improved candidate. His game elevation helped the Timberpuppies lose 67 games!
Could you rank the New Jersey Nets higher on a scale of incompetence? The Nets won fewer games, and at one point challenged the NBA's all-time worst record.
Yet, a white Russian with deep pockets is ready to turn a swamp disaster into a profitable winner, provided a planned move to Brooklyn comes to fruition.
Who will save moribund Minnesota?
Owner Glen Taylor couldn't run a Burger King. Rookie GM David Kahn has taken too many early missteps, he makes Tom Delay look like a dancing champion.
With a lockout looming, Ricky Rubio will think twice before risking the prime of his career to play on a 15-win embarrassment.
The team never gelled, nor did Kevin Love and Al Jefferson. The franchise amassed more losing streaks than Clark Griswold in Vegas Vacation.
The only White Russians in Minnesota are the ones management must be drinking to cause so much uncouthness.
Maybe Kahn can use the 2010 draft to pick up two more points guards in a row, neither of which will star in the NBA anytime soon.
Will a Roster Overhaul Follow Eddie Jordan's Dismissal?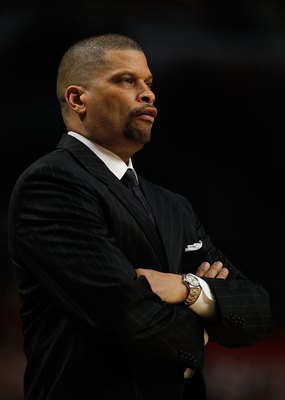 At some point, GM Ed Stefanski must realize his roster is more mismatched than beach sandals and tuxedo pants. He cannot blame Jordan and the Princeton offense for every failure.
The Sixers missed the playoffs and won less than 30 games because the mix of talent isn't fit to play any one style of basketball. Elton Brand's back-to-the-basket and mid-post game clashes with the run-first, chuck up whatever approach of the rest of the cast.
Andre Igoudala isn't a star, and Samuel Dalembert needs to be shown the door since he needs GPS assistance to navigate the court every night.
"Why did we stop playing defense?" Dalembert asked in an interview with the Associated Press.
You tell me, Sam.
If the coach fails to emphasize defense enough, the players must take matters into their own hands. They still execute the schemes, right?
Jordan's motion system flopped with this confused group, and he needed to go.
Stefanski's job has just begun. The Sixers have not been relevant since Allen Iverson led an overachieving squad to the NBA Finals in 2001 and won't be again until the front office oversees real change.
Jordan was the franchise's third coach in five years, a sure sign of the basketball operations department's ineptness and organizational instability.
With bloated contracts on the books and little wiggle room, the necessary change could prove difficult.
Get used to a half-empty Wachovia Center and droves of boo birds, Philly fans.
$ir Elton might be staying a while.
Where's the Wizardry in Washington?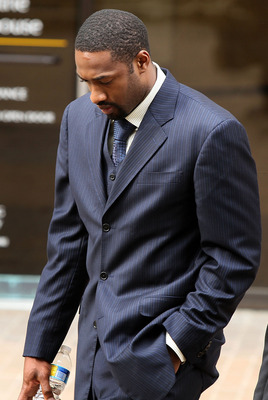 Most preseason playoff predictions included this outfit from the nation's capitol. Many basketball writers, including this one, thought the Wizards had done enough over the summer to make a first-round series competitive.
Instead, Gilbert Arenas' gunplay prank gone awry and a host of issues on both sides of the ball sabotaged a campaign that began with such promise. After a season-opening road win over the Dallas Mavericks, the team looked ready to fulfill its potential.
The addition of standup locker room guy Fabricio Oberto, and scorers Mike Miller and Randy Foye was supposed to bolster the production of mainstays Arenas, Antawn Jamison, Caron Butler, and Brendan Haywood.
The season went kaput quicker than a mid-flight card game.
Butler and Haywood now play for the Dallas Mavericks. Jamison was traded to the Cavaliers for…nothing. Arenas will spend the postseason in a halfway house.
Javaris Crittenton should wonder if he will ever play in the NBA again.
Andray Blatche still behaves like a petulant punk. JaVale McGee does not scream franchise player when he takes the court.
GM Ernie Grunfeld needs to start over, but the $90 million remaining on Arenas' leviathan deal makes that impossible.
Does Merlin work overtime?
Did the Chicago Bulls Do the Toronto Raptors a Favor?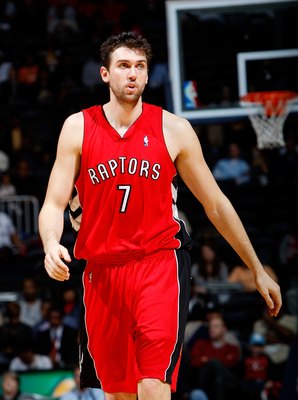 When Chris Bosh left for the hospital on a stretcher, so too did the Raptors crappy season. A facial fracture sidelined Bosh for the crucial stretch in which Chicago overtook Toronto for the eighth playoff spot.
GM Bryan Colangelo's hallmark offseason move was grossly overpaying Hedo Turkoglu. The versatile forward responded with a diaper soft, post-contract effort that made the Redskins' Albert Haynesworth look like a bargain gamer.
How can you win when Jarrett Jack and Reggie Evans are your toughest players?
Instead of lamenting a missed opportunity, Jay Triano, Andrea Bargnani, and Colangelo should send thank you notes to Vinny Del Negro and the rest of the Bulls.
The Raptors saved hundreds of thousands in additional hospital bills that would have piled up in a first-round date with the Cleveland Cavaliers.
Bargnani would have soiled the court just looking at a 37-year-old Shaquille O'Neal.
He has a world of talent, but will he ever put it together on both ends? He showed signs, but it was far from enough to warrant coddling him as a building block.
Jose Calderon still cannot stay in front of a potted plant. DeMar DeRozan needs a clue and more playing time before a final judgment can be rendered on his NBA-readiness.
Sonny Weems was a nice surprise, but really, how much can you expect the Denver Nuggets' castoff to do?
Colaneglo's roster needs less euro trash and a hint of toughness. Maybe another lottery trip will convince him he cannot keep Bosh without an expensive and thorough renovation.
The Bulls won 10 of 14 to sneak into the postseason. Keep reading to find out why they should not throw any parties, either.
R.I.P. Downy Dinos season. Should we sing the Barney theme song?
Should Phil Jackson Bring Back Andrew Bynum or Shut Him Down?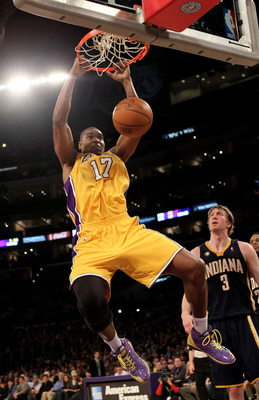 No one can argue the Lakers are better sans one of the game's youngest budding stars in the pivot.
Bynum strained his left Achilles' tendon March 19. This marks the third year in a row he has missed significant time during the season's stretch run with a foot injury.
This question begs for an answer. Should Phil Jackson bring back Bynum if he cannot even play at the half-speed, foul-prone level he did in the 2009 Playoffs?
The preps-to-pros big man made some nice cameos, changing a few quarters with his energy and advancements on both ends. Lamar Odom and Pau Gasol, however, did the heavy lifting.
If Bynum practices and shows he has the lift that was missing at the end of last year, re-introducing him into the fold at a gradual pace becomes a no-brainer.
What if he can't?
Would the Lakers hopes of winning the Western Conference and a repeat disappear with him?
Given that Bryant led the team back to the NBA Finals while Bynum was shelved, the answer might still be "no".
He remains an important part of the Lakers' future. How he fits into the postseason equation now should depend on what his body can handle and whether he can do more than just collect two fouls before Odom runs to the scorer's table.
Will Phil Jackson's Tweaking of Kevin Durant, Refs Pay Dividends?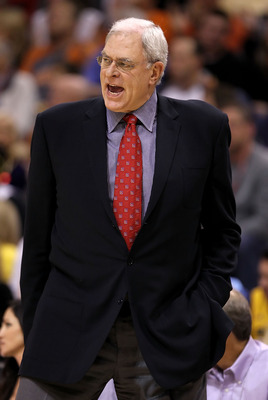 No coach critiques the refs or his players between games more than the Zen Master. Does anyone do it better? The irksome topic of the moment—whether it's a questionable string of calls in the fourth quarter or shoddy play from Sasha Vujacic—takes precedence in his post-game interviews.
His latest gripe: Thunder forward Kevin Durant shoots too many free throws. His team faces Oklahoma City in the first round.
The L.A. police chief does not need to convene an investigation to know the intent of the coach's words.
"Yeah, by the calls he gets, he really gets to the line a lot, I'll tell ya," Jackson said of Durant.
The youngest-ever scoring champ fired back at the Lakers' coach, giving an already tantalizing first-round series another subplot.
"If you say that I get superstar calls or I get babied by the refs, that's just taking away from how I play," Durant said. "That's disrespectful to me."
The league office lightened Jackson's wallet by $35,000 for his candid remarks.
It says here Jackson should not be the one worried about a potential free-throw disparity when he has Kobe Bryant on his side.
Can the Bobcats Score Enough to Escape the Magic's Buzzsaw?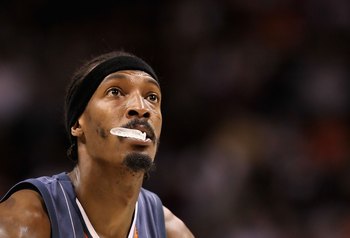 Larry Brown guided the Bobcats to their first winning record and playoff berth ever in another superb coaching job.
Charlotte plays suffocating, grimy defense. The 'Cats problem as the playoffs loom: The Magic, their first round opponent, do the same.
Stan Van Gundy's squad finished with the lowest opponent field goal percentage in the league.
Orlando boasts a lot more offensive weapons and took the season series 3-1.
Stephen Jackson can get on a hot streak, and the underrated Gerald Wallace will produce his customary 20 points a night.
How will Boris Diaw counter Rashard Lewis? Even with three competent bigs and 18 fouls, can the Bobcats stop Dwight Howard from owning both baskets?
How will Raymond Felton handle Jameer Nelson? What to do with Vince Carter?
A playoff berth will test the viability of the NBA's return to Charlotte. The often half-empty Time Warner Arena should be rocking at full capacity on Saturday, April 24.
Wouldn't it be something if the home team was, too?
Can the Oklahoma City Thunder Pull Off the Upset of the Century?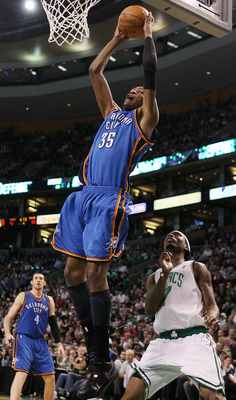 Give the 2006-2007 Dallas Mavericks this: When their 67-win season ended with a first-round thud, a former coach played a huge role in the eighth-seed's upset.
Could anyone have known the Mavericks tendencies or Dirk Nowitzki better than Don Nelson?
The Oklahoma City Thunder head to the Staples Center this weekend as the ultimate underdogs. No one expected Kevin Durant to be this good, this soon.
His team rose from 27th in opponent field goal percentage to sixth, from 23 wins to 50.
How does this group, with no dominant shot blocker, lead the league in rejections?
Scott Brooks has his college-age roster playing salty defense and thinking it can pull off another shocker.
Can anyone find fault in this young squad's fearlessness? Why should a team with a payroll well below the luxury tax threshold, way ahead of schedule fear the defending champions?
Those who know would jump up and down like maniacs screaming, "Kobe Bryant!" "Phil Jackson!" "Lamar Odom!" "Pau Gasol!"
Oklahoma City doesn't know because it hasn't been here before. That makes the Thunder a dangerous outfit—one the Lakers must not fail to respect.
Sometimes, the ignorant can surprise the omniscient—emphasis on sometimes.
Durant is too wet behind the ears to out duel a battle-tested Kobe Bryant. That doesn't mean millions won't be glued to their TV sets Saturday afternoon watching him and the Thunder try.
Will the Chicago Bulls' Bite Match Its Bark?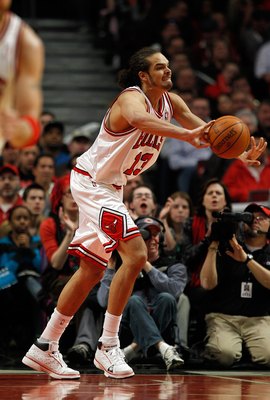 Mere weeks ago, Derrick Rose guaranteed his Bulls would open the playoffs in Cleveland this weekend.
Credit Rose and his teammates for backing up those words with 10 wins in the final 14 games. The Bulls still finished .500, with too many injuries and flaws to believe they have improved enough to make noise.
With a win over Charlotte on the final night of the regular season, Chicago gained entry to LeBron James' torture chamber.
He will slap the Bulls silly inside and from the perimeter, and his teammates should rise to the challenge after last year's conference finals loss to the Magic.
The wild card for Vinny Del Negro's squad is Joakim Noah. His inexorable hustle will force the Cavaliers bigs to bring their best in every game.
He rebounds and defends with a ferocious energy his fellow Bulls must match.
They won't. Their chances to "shock the world" are slimmer than Lindsay Lohan's waist.
Does Seeding Matter in the Western Conference?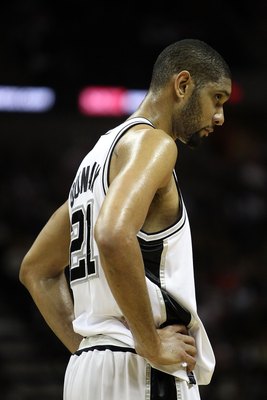 Tim Duncan and the San Antonio Spurs will open the playoffs on the road for the first time in 13 years as a seventh seed.
Does it mean anything? Five games separate the Spurs and the Dallas Mavericks, their first-round opponent.
Throw convention out the window.
Give Gregg Popovich a few more lucky breaks in close games and no injuries to All-NBA point guard Tony Parker, and maybe the Spurs are second and the Mavs are seventh.
The eighth seed a few years ago could barely crack the .500 mark and still qualify for the playoffs without much of a fight.
This year's eighth seed, the Thunder, won 50 games.
Don't put stock in where teams finished as much as how they played down the stretch. The Spurs played as well, or better, than the Mavericks in March and April.
The Lakers remain the favorites, but rest of the picture looks murky. Even the defending champs did not enter the postseason playing like full-strength world-beaters.
The one joust that qualifies as David vs. Goliath, upset material features Kevin Durant's Thunder and the Lakers. Everything else is a craps shoot.
How Much Burn Will Rookies Get?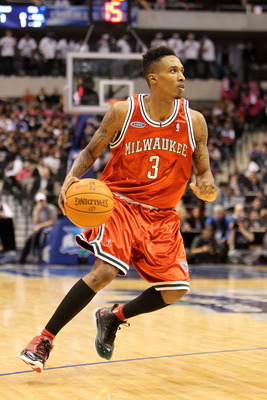 The question Scott Skiles must answer is tougher than you might think. Brandon Jennings dropped 55 points on the Golden State Warriors but has cooled off since that explosive performance.
Who earns the crunch-time minutes at point guard for the Milwaukee Bucks—the lightning rod rookie still prone to first-year mistakes, or steady, solid veteran Luke Ridnour?
If Skiles picks the former, he risks losing some smarts in favor of athleticism. If he chooses Ridnour, he gets acumen with no sizzle.
Gregg Popovich must also decide how and if rookie center Dejuan Blair fits into his postseason rotation. The 6'7" Pitt product made a compelling case Wednesday night with 27 points and 23 rebounds.
The Spurs' coach, though, famously said this of last year's rookie standout George Hill: "this playoff probably isn't for him."
Has Blair already forced his coach to nix his rookies-in-the-playoffs aversion?
Mavs' first-year guard Rodrigue Beaubois flashed his talent with a 40-point outburst against the Warriors (I notice a theme here with Golden State), but Rick Carlisle might hesitate to play such an unseasoned baller over J.J. Barea and Jason Terry.
Wesley Matthews might start for the Jazz, and Ty Lawson figures to play a key reserve role for the Nuggets.
How Far Can the Portland Trail Blazers Go Without Brandon Roy?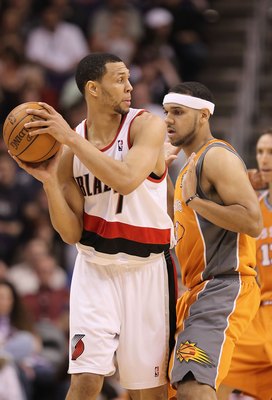 Multiple sources reported Thursday afternoon that Brandon Roy will undergo surgery on his right knee, crushing any chance he will make a postseason appearance.
Can the resilient Blazers defy the odds without him—again? Most teams use basketball terms to sum up their season. Nate McMillan needs crutches, a physician, and a medical dictionary to describe his.
What else could go wrong in Portland? The one rotation player who did not miss a game with an injury: 37-year-old Juwan Howard.
McMillan will head to Phoenix sans both of his original rotation centers, Roy, and an ill LaMarcus Aldridge.
How does this guy not get more Coach of the Year consideration? He helped Andre Miller transform from distraction and awkward fit to a glue guy, just as he was in Philadelphia.
The addition of Marcus Camby has been a boon on the defensive and offensive ends.
While thanking my lucky stars I'm not a ballboy for this injury-plagued team, I offer the following advice:
Bury the Blazers at your own peril.
Tough Juice to Swallow: Will Mavs' Deadline Acquisitions Live Up to the Hype?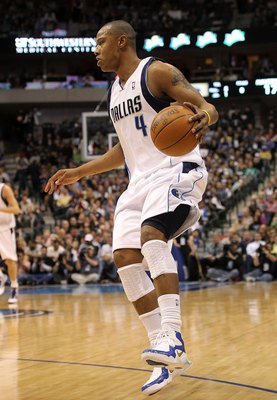 The way folks hemmed and hawed about the three-team deal that sent Josh Howard to Washington and Caron Butler and Brendan Haywood to Dallas, you might have thought the Wizards castoffs were coming to save North Texas from a falling asteroid.
Both players bring a defensive edge to a team in sore need of some bravado on that end of the floor. Butler will take pressure off Dirk Nowitzki, and Haywood can score a few buckets inside if Kidd feeds him the rock.
Butler will help Shawn Marion make life tougher for Tony Parker and Manu Ginobili when Dallas and San Antonio face off this weekend. Just how tough remains to be seen.
They also do not tote much of a winning pedigree, with a single playoff series victory between them.
Does Mark Cuban and Donnie Nelson's midseason coup cure what has ailed the league's oldest team in the playoffs since the epic collapse in the 2006 NBA Finals?
It says here that Butler and Haywood, 29 and 30 respectively, have more than enough in the tank to impact a postseason round or two.
After that, I would leave the asteroid stuff to NASA.
That's Amar'e: Can Star Forward Propel Phoenix Suns Past First Round?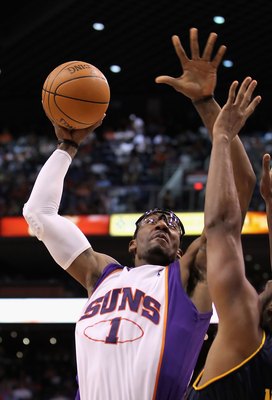 Injuries to Carlos Boozer, Andrei Kirilenko, Brandon Roy, a hobbled Kenyon Martin, and another Spurs-Mavs first-round battle could brighten Alvin Gentry's playoff outlook.
One reason to believe the Suns can take advantage of the Blazers' misfortune: the possessed play of Stoudemire, whose monstrous averages in March and April helped the team secure the league's best record in that two-month span. He has dropped 30 points effortlessly, thanks in part to Steve Nash's precise passing.
Phoenix was not competitive in its first two meetings with the Lakers at Staples Center, so you can forget about a Western Conference Crown or a second round victory over L.A.
Suns fans should still scream in horror at a potential Spurs-Suns matchup, unlikely as that seems. The Spurs still own the Suns in the playoffs.
Gentry's squad surrenders 105 points per game, a number unfit for a champion.
Still, if they win a round and take the Lakers to six games, will anyone gasp?
Can the Nuggets Overcome George Karl's Absence and K-Mart's Balky Knee?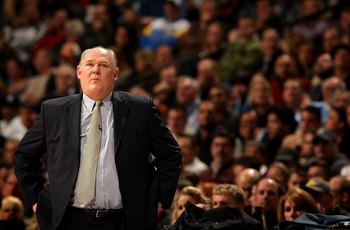 For much of the regular season, the Nuggets looked ready and hungry enough to dethrone the Lakers and compete for the franchise's first title.
Denver boasted a better record against winning opponents than Cleveland and the squads that met in last year's Finals.
Chauncey Billups made them a smart machine, and J.R. Smith made them lethal. Carmelo Anthony provided the star power, and Nene did the dirty work.
Then, George Karl announced his bout with pancreatic cancer, and glue defender Kenyon Martin's left knee tendinitis forced him to sit for more than a month.
Forget the Toyota Prias. The Nuggets represent the country's worst runaway vehicle. Can rudderless Denver get back its groove?
Not when they play slipshod perimeter defense.
Not when J.R. Smith allows stupidity and selfishness to consume him.
Not when Martin looks as if he worries his legs could buckle at any moment.
Not when Karl's sideline voice means so much.
Even with renewed confidence versus the Lakers, they will need to beat the teams behind the champs in the standings first.
You might as well put these Nuggets in a Happy Meal. They're fried.
Can Jamal Crawford, Atlanta Hawks Soar Into Conference Finals?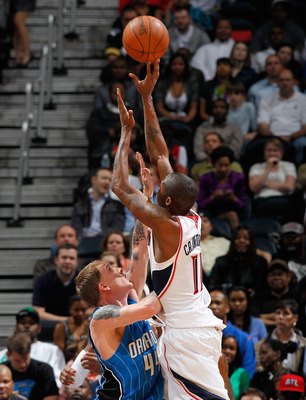 The feel-good story of the playoffs might be Jamal Crawford's first trip to the postseason in his 10-year career.
Once a productive scorer on loser teams, he has become a go-to option in the clutch for the Hawks, who won 50 games for the first time since Alexander Graham Bell's invention of the telephone.
OK, make that 1998.
The absence of Andrew Bogut will almost certainly give Atlanta's frontcourt the edge it needs to win this showdown.
Al Horford will make Kurt Thomas look prehistoric, as will Josh Smith and Marvin Williams. The Bucks' Ersan Illyasova could become a factor.
Joe Johnson, the master of the iso, can turn games with his deadeye stroke in winning time. He will team with Crawford to create a knockout 1-2 perimeter punch in close games.
Mike Bibby still bags open jumpers off double-teams. Zaza Pachulia gives maximum effort off the pine.
The Hawks swept the season series with the Celtics, but the two combined wins against the Cavaliers and Magic highlighted why size matters.
Unless Charlotte pulls off a stunner over Orlando, count on another second-round exit for Atlanta.
Does Andrew Bogut's Injury Doom the Milwaukee Bucks?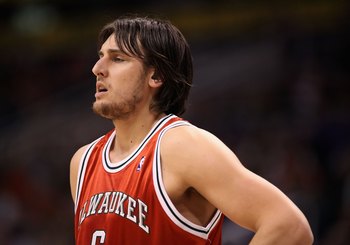 When Bogut crumpled to the floor after Phoenix's Amare Stoudemire fouled him on a breakaway dunk, the excitement in the Bradley Center quickly turned to dread.
You could have heard a mouse scamper watching that horror unfold on television. Painful as it was to watch the injury live, the absence of the improved Aussie center could slaughter the Bucks' hopes against the Atlanta Hawks. His size—and robust 16-point, 10-rebound average—would have been a boon against the Hawks' midget frontline.
Scott Skiles has done a commendable job in getting appreciable, reliable production from Carlos Delfino, Charlie Bell, and Luc Richard Mbah a Moute.
The team has lost a single digit number of games since GM John Hammond acquired scoring dynamo John Salmons at the trade deadline.
How much more substance can Skiles milk from his ambitious but flawed roster?
Bogut was beginning to look like a complete interior player worthy of a No. 1 pick. Without him, Milwaukee becomes an easy pick to lose to athletic, ultra-talented Atlanta in a competitive but short first-round meeting.
Will Vince Carter Rewrite His Legacy, Reputation?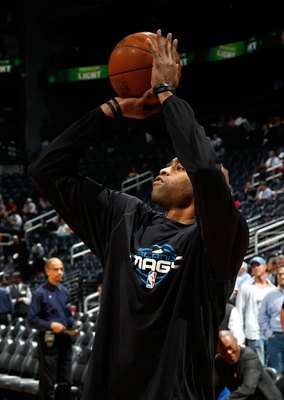 Carter quit on the Raptors early in his career. He didn't lead the Meadowlands' team to the Promised Land.
Now, he gets the chance to save a career packed with gaudy stats and few meaningful victories.
The Magic's finish will determine whether Otis Smith made the right decision when he traded for Carter and let Hedo Turkoglu walk.
Carter controls his own legacy with every foul shot and every pull-up jumper. With Dwight Howard setting backbreaking screens, Carter will get all the looks he wants.
He must balance his forays to the rim and three-pointers while concentrating on harmonization with the rest of the offense.
With a Finals appearance or a title, Carter can forever separate himself from spineless cousin Tracy McGrady.
"I quit" can become "I won."
Can All-Banged-Up Utah Jazz Make Sweet Playoff Music?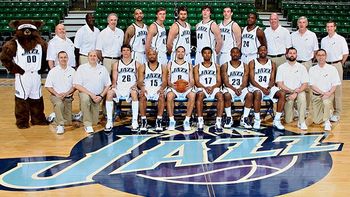 Jerry Sloan demands the same effort and runs the same plays with every team he coaches. His players usually respond to their Hall of Fame guidance counselor's pleas.
The Jazz will need more than just discipline and hustle to dispatch the Denver Nuggets if Carlos Boozer and Andrei Kirilenko cannot play. Deron Williams and Mehmet Okur are also limping into the postseason.
John Stockton famously missed 22 games in his 19-year NBA tenure. No one can compare this group to that one.
Even at full strength, the Jazz frontline lacks the athleticism necessary to deter foes from the paint.
Without Kirilenko, Sloan has no one with quickness to match up with Carmelo Anthony.
The fleet-footed Williams still runs the show to perfection, but he needs more help—and the services of his injured mates—if the Jazz hope to swing past also struggling Denver.
Does it help that the Phoenix Suns spanked both outfits on consecutive nights this week?
Hot Debate: Can One-Man Miami Heat Topple Grumpy Ol' Boston Celtics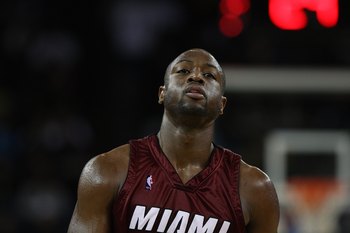 Dwyane Wade carries the heaviest load of any superstar on any squad.
Michael Beasley's immaturity and inconsistency often forces Wade to star in a one-man show.
Jermaine O'Neal finds the zip code of the action on some nights. On others, he looks more washed up than an actor in a shower commercial.
The Heat's first-round series with the Celtics pits a lone ranger against an unarmed angry mob.
Do Kevin Garnett, Paul Pierce, and Ray Allen still boast the moxie and faculty to fuel another championship run?
Rajon Rondo will eat Carlos Arroyo and Mario Chalmers for breakfast. Will his Boston comrades also remember to crack the eggs and butter up the toast?
It says here the Celtics will emerge victorious thanks to more difference-makers. Wade cannot beat a team—even one dragged to a miserable finish by its coach and point guard—by himself.
It will be fun to see him give it his best shot.
The Big Ticket Stub: Can KG's Game Still Match His Fury?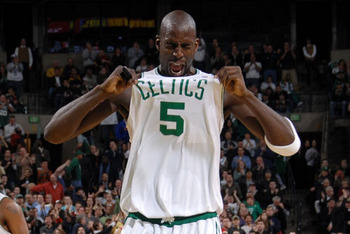 Kevin Garnett's mouth runs faster than Usain Bolt. He's been yapping a mile a minute since his days at Farragut Academy, and the smack talk has only increased with age.
He still screams and lobs insults at opponents like a champion. Can he play like one?
He struggles to finish alley-oop passes from Rajon Rondo with his usual oomph. His numbers have dipped across the board.
Can anyone stare at that 14-point, seven-rebound average and say they see signs of the old KG? He just looks like an old KG.
Doc Rivers swears lesser minutes have caused the stats drop. If the Celtics want to do more than squeak by the Heat in the opening round of the tournament, they will need Garnett's production to match his passion.
If he fails to perform at his usual frenetic level, will he shut his yapper, and call himself the Big Zip It?
Nah.
Will Ron Artest, Other Heralded Signings Earn Postseason Redemption?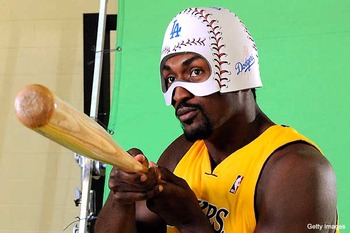 Artest's odd tribute to the primary colors, and the obscure ones, continued in the Lakers' Wednesday loss to the Clippers.
Did he see a picture of an Easter basket one day and decide he should dye his hair all of those colors?
The beauty of Ron Ron: you never know. The stories of his shenanigans never cease—from once drinking Hennessey at halftime, to boarding a late buss to the Rockets-Lakers' Game Seven in his underwear, to signing/talking Celine Dion's "My Heart Will Go On" in a YouTube video.
I didn't pretend to understand this head case when he played in Houston. I'm not sure Phil Jackson knows much more than I do.
His mind remains the NBA's greatest mystery. The following ugly stat does not. Since the All-Star break, he has hit a paltry 28 percent of his three-pointers.
If teams dare him to shoot in the postseason, can he make them pay at his usual 39-percent clip?
He didn't slow down Carmelo Anthony or LeBron James, two of the marquee stars he was brought in to guard.
Artest even suggested in an interview that Trevor Ariza was a better fit in the triangle offense.
He will earn his paycheck in the postseason, when the lights will shine brighter.
So will Richard Jefferson, Antonio McDyess, Shaquille O'Neal, and the other heralded acquisitions.
Rasheed Wallace might be hopeless. Even ESPN's resident Celtics fan Bill Simmons hopes he gets T'd up and suspended for eternity.
GMs sought these pieces for what they could do in the playoffs. Will they leave a mark or stink up the joint?
Just don't ask Artest how to get to the Padres game.
Can the Presumptive MVP Back Up Second Award With Championship Finish?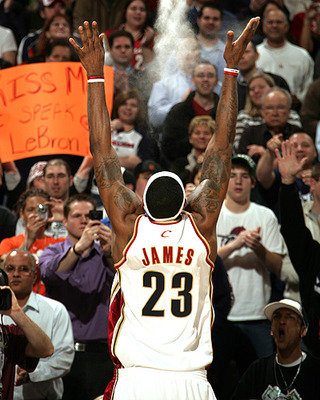 A ring for the King?
No player faces more pressure over the next two-plus months than James. Whereas Bryant, Duncan, O'Neal and others have already secured their legacies with multiple titles, James still doesn't have one.
Will his supporting cast rise to the occasion, or will the Magic again outclass the Cavs' in the conference finals?
He appears hungrier than ever, and a first-round date with cocky Derrick Rose and the Bulls should keep his taste buds sharper than last year's sleepwalking sweep of the comatose Detroit Pistons.
James needs Mo' from Williams and Andy to be dandy. He will runaway with the MVP vote when the NBA announces the results sometime during the second round.
Will this season of high expectations for Cleveland end with that elusive parade, or the coldest shoulder ever from a native son?
The answer, just like the ball, lives in his hands.
What about Kobe Bryant?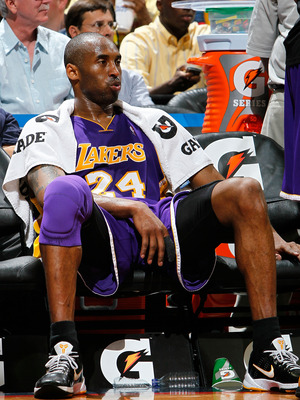 He listened all year as analysts and fans lauded James as the league's best player.
He heard everyone from newspaper columnists to his own coach question the Lakers ability to win another title.
Are they tough enough? Are they focused enough?
He played through ankle injuries, back spasms, the flu, and other nagging ailments. He also nailed six game-winning shots.
L.A.'s detractors have focused on this bump and that bruise.
The world will not end if the Lakers go home early. It will before Kobe Bryant ever allows that to happen without a knock-down, drag-out fight.
Just as title hopefuls should not forget about Duncan's championship moxie, they should also still fear Bryant.
Doubting him is a bad idea, like playing in rush-hour traffic, or climbing Mount Everest naked with no oxygen supply.
What will Kobe do? He won't sit and let someone else take his trophy.
Foes will have to pry it from his stoic hands. Celebrate James all you want, but don't diss Bryant—unless you want to piss off a ruthless monster.
Keep Reading