2010 NFL Draft: Five Guys Al Davis Will Battle for in Raiders War Room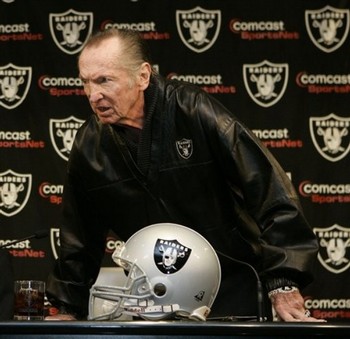 Perhaps the anticipation for a draft has never been bigger. The NFL has changed the way they will televise the draft to make it more Hollywood.
This has been called one of the deepest drafts in the history of the NFL and will be on TV for three days.
The first round will be a primetime event, that will look more like the Oscars than any other draft we've seen before. Don't be surprised if next year the NFL has a host for the event and musical performances.
The one thing that won't change much is the teams "War Rooms" but those are never seen. Perhaps the most curious war room of them all is the Oakland Raiders War Room.
Al Davis will fight for the guys he wants, and he always gets what he wants. Let's take a look at five guys Davis will battle for.
Joe Haden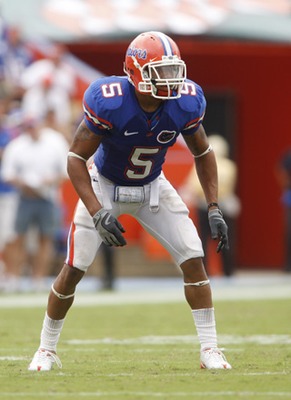 While this may surprise a lot of people, it shouldn't surprise Raider fans. Al Davis loves drafting speedy defensive backs. Joe Haden fits the mold and also fits a need.
Nnamdi Asomugha needs a solid starter on the opposite end, and Haden can be that guy. Not only will Haden be a solid option to play opposite of Asomugha, but he could also be his replacement.
Asomugha has two years left on his giant contract, and has already been the topic of trade rumors. If Asomugha is not resigned or traded, odds are the Raiders will lose him to free agency.
Davis loves Haden's speed and athletic ability. Haden has also said the Raiders have been one of the four teams that have been keeping a close eye on him.
Don't be surprised if his name is called.
Jason Pierre-Paul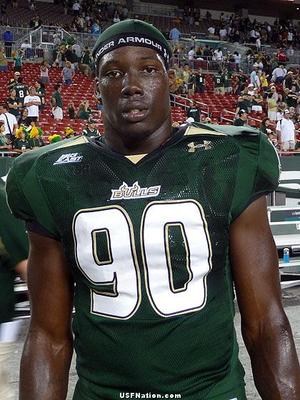 Another player that has Al Davis written all over him is Jason Pierre-Paul. He is perhaps the best athlete in the draft. He is a big, strong physical specimen that is arguably the best pass rusher in the draft.
Richard Seymour was brought in to the Raiders last season, but has not signed a long term deal. If he and the Raiders are not able to come to an agreement, the Raiders will need a defensive end.
Matt Shaughnessy learned a lot from Seymour last year, and played very strong for a rookie. If Pierre-Paul could learn from Seymour, he could quickly become a star.
Pierre-Paul is the perfect Raider prospect. He has the size and strength, but is also a raw talent with a lot of potential.
It wouldn't be the first guy with raw talent and a hyphenated name that the Raiders have picked in the top ten in recent years. (Darrius Heyward-Bey)
Bruce Campbell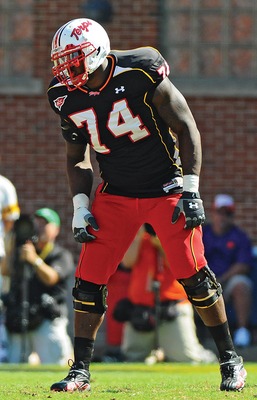 It's no secret the Raiders need help along the offensive line. They have only drafted one offensive lineman since 2007. Bruce Campbell is a very physically talented and imposing offensive tackle.
He has the size and athletic ability to be a great tackle, but is also very raw according to multiple scouts. His performance at the combine caught a lot of peoples attention and don't be surprised if Davis is ready to jump on another combine star from Maryland.
This pick would not be surprising at all.
Trent Williams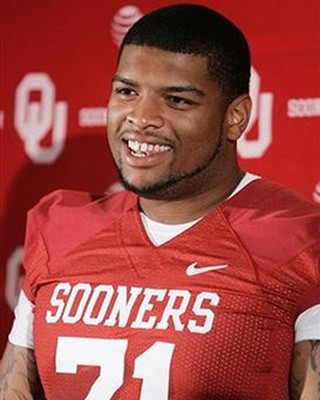 While many people think the Raider's War Room consists of Al Davis, his three superbowl trophies and a life size cardboard cut out of Al Davis 30 years younger, he will actually probably have a couple coaches in there as well.
Tom Cable has been given more say in what goes on with the team than any other coach in recent history. So expect Davis to fight for one of Cable's guys and tell the younger cardboard cut out to take a seat.
Trent Williams is probably the best fit for Cable's zone blocking scheme, and he could be plugged right in and make an impact.
His size and strength are great, but his smooth footwork and handwork make him a great fit for the zone blocking scheme. If available at number eight, don't be surprised if the Raiders call Trent Williams.
Ronaldo McClain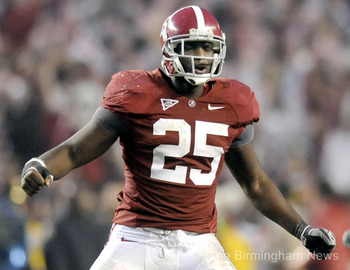 Al Davis likes picking up players from the east side of the country. Ronaldo McClain enjoyed a very successful career and he helped lead Alabama to a national title.
With Kirk Morrison only being tendered with a third round pick, it suggests that the Raiders were willing to part ways with their leading tackler.
Thomas Howard, Kamerion WImbley, Trevor Scott and Morrison are all linebackers on the roster, but Cable has hinted that Wimbley will start and so will Scott.
Howard and Morrison may be on their way out via trade, and Rolando McClain would be a good young guy to replace either of them if they were traded.
For more Raider news and updates follow me on Twitter: http://twitter.com/RaiderWorldWide
Keep Reading

Oakland Raiders: Like this team?