2010 NFL Draft: 10 Realistic First Round Picks for Arizona
With the NFL Draft less than a week away now, the Arizona Cardinals have in their minds a plan.
A plan on who to draft, what positions to draft, and when to draft them.
But since you and I aren't in the Birds front office, we have to speculate as to who they would pick, as well as to think about possible draft-day trade scenarios and all that.
I highly doubt they'll move up or down with their first round pick, as that is something the Cardinals don't do often (1998 the big exception).
So, let's look at 10 players that the Cardinals could realistically take with their first pick.
(But we don't have to stop here. If I missed someone you think the Cards could/should draft, let me know in the comments below!)
Sean Weatherspoon, LB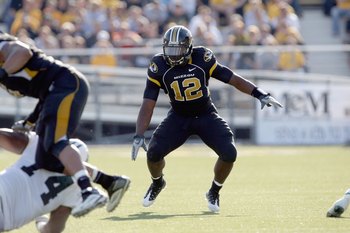 As you have already guessed, Sean Weatherspoon is a very good option for the Cardinals with the 26th pick.
Witherspoon has good range, and would fulfill a big need at inside linebacker, though he could also play outside linebacker.
At 6'1", 239 lbs., he has the ideal size and athleticism to fill the void left by Karlos Dansby. Many scouts think that he could play outside linebacker as well, but that is more likely in a 4-3 scheme.
Despite his athleticism, he's not noted as a great blitzer. Dansby wasn't overly great either, so I think Arizona would be okay with that.
He wouldn't have to start right away either, as Paris Lenon would probably be the opening day starter.
The linebacker from Missouri, in my humble opinion, would be the ideal pick for the Cardinals with their first pick.
Jerry Hughes, OLB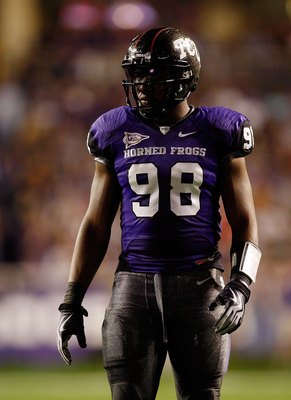 Where Weatherspoon is known for his range and athleticism, Hughes is known for getting to the QB.
As one of the leaders in sacks in the BCS the last couple years, Hughes would definitely add to the Cardinals pass rush.
However, he's used to having his hand on the ground, according to nfl.com. So he wouldn't be an asset in pass coverage.
But then again, if he can get to the QB quickly, why would he need to help in pass coverage?
On the other hand, the Cardinals do have a plethora of young outside rushers (Will Davis and Cody Brown for starters), so taking Hughes may not be needed.
I see the Cardinals taking Hughes if all the good inside linebackers and offensive lineman are taken, however.
There's still a good chance we could see Hughes in a Cardinals jersey next year, however.
Dan Williams, NT
I've mentioned Williams in previous articles as the guy I think that could fall to the Cardinals.
But having gone through several mock drafts, and doing one myself here on B/R, I now don't think Williams will last that long.
But stranger things have happened, which is why if he is still on the board, the Cardinals would be pressed to not draft him.
Williams is the overlooked defensive tackle in the draft, rated behind McCoy and Suh, but make no mistake: Williams is only a short distance behind.
The only liability that he would present is a lack of pass rush. But Bryan Robinson wasn't exactly a sack king either, so Arizona could easily overlook that.
But what Williams could do at 6'2", 327 is eat up space. He would make Arizona's rush defense that much better, and allow Darnell Dockett and Calais Campbell opportunities to go one on one with offensive lineman.
However, as noted earlier, Williams could go earlier, to someone like Miami, New York Giants, Baltimore, or maybe even some team like Houston.
If Williams is still there, along with Weatherspoon, the Cards will have a dilemma.
A nice dilemma to have though.
However, it is more likely that they will draft...
Terrence Cody, NT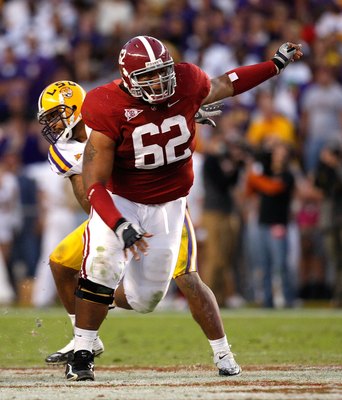 Speaking of space eaters.
Anyone who checks in at 354 lbs. is going to cause problems for opposing defenses.
I'll admit, I wasn't high on Cody for the longest time, mainly due to his immaturity. But he's grown on me lately.
And if there's a team that can deal with his lack of maturity, it's the Cardinals.
As well, with strength and conditioning coach John Lott, Arizona has someone who can whip this huge mammoth into shape.
It should be noted that Arizona would like to find a long term solution at nose tackle, as Alan Branch hasn't worked out according to plan.
Cody could be that answer, if he gets into shape and matures.
If he does, Arizona could have one of the best rush defenses in the NFC, or maybe NFL, as early as next year.
While Cody was at Alabama, the Tide didn't allow a single 100-yard rusher.
He could also serve in goal line situations on offense and would help the field goal block unit, both of which he did at Alabama.
Boy, that's one big temptation at pick #26.
Charles Brown, OT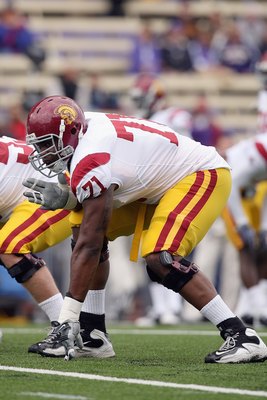 Brown is arguably the best offensive tackle that would be on the board when Arizona picks.
And even though I'm not in the front office, I don't think they'll pull the trigger on Brown unless all their favorites are gone, which is unlikely.
Brown did start all 4 years at USC, so he is NFL ready. He just needs a little seasoning.
The converted tight end is athletic, and uses his speed to make up for his lack of size, according to nfl.com.
But his problem is not finishing off his blocks. Something that wouldn't have been a problem with the quick release of Warner, but may be one with Leinart at QB.
Brown doesn't excite me, but he does have all the tools to be successful.
Devin McCourty, CB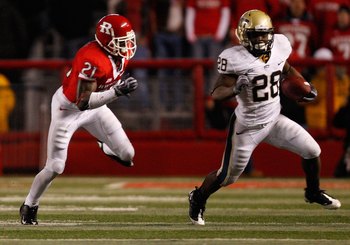 This is one that I'm sure you're scratching your head about.
Who the heck is Devin McCourty?
The cornerback from Rutgers is regarded in many scouts minds as the 3rd or 4th best corner in the upcoming draft.
You've heard this many times I'm sure, but remember what happened in the playoffs last year?
Arizona's secondary could use some help.
He would be a good compliment to Dominique Rodgers-Cromartie. McCourty is smaller, but is described as a good defender.
He played hard while at Rutgers and knows his limitations according to reports.
He would also help the return game, as that is something he did while at Rutgers.
That is something that could intrigue the Cardinals, who could use another punt returner with Breaston stepping into the second receiver role this year.
Look for the Cards to at least consider McCourty on draft day next Thursday.
Rob Gronkowski, TE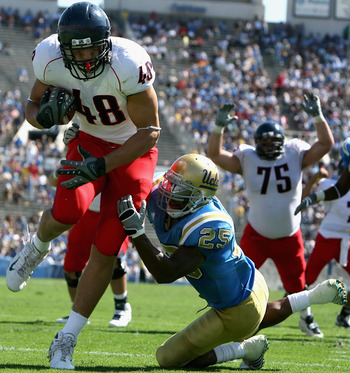 In previous days, I've said that a likely candidate for the Cardinals to draft is Jermaine Gresham.
But I'm starting to change my mind. I really think Gresham could go to Baltimore or Cincinnati before he would fall to Arizona.
Widely considered the second best TE in the draft, Gronkowski could make even more of an immediate impact than Gresham.
Gronkowski made a big impact while at Arizona, proving to be the best tight end in the PAC-10...when he was healthy.
That's the biggest concern about Gronkowski: his health.
He missed most of his senior season with injuries. But then again, Gresham missed his whole senior season.
So what's the difference between the two? Really?
Plus, as I've stated before, I'd love to see a hometown kid in an Arizona uniform.
Remember the last time that happened? Jake Plummer was pretty good.
And with Arizona needing a dynamic TE to take pressure off Leinart, Gronkowski could be that guy.
Brian Price, NT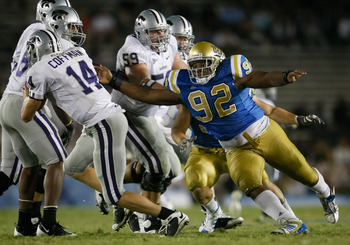 Brian Price is next on the board of nose tackles, and should definitely still be there when Arizona is up to pick.
Price was a force to be reckoned with while at UCLA, despite being only 6'1", 303 lbs.
I say only.
That's still pretty big. The question the Cardinals would have to answer is whether he would be big enough in the hybrid 3-4 scheme they run.
Price wouldn't be as great an asset in the run game as Cody and Williams, but would be more of a help in the pass rush because of his size (or lack thereof) and better quickness.
He would certainly fill a big need, should Arizona decide to draft him.
Jason Pierre-Paul, DE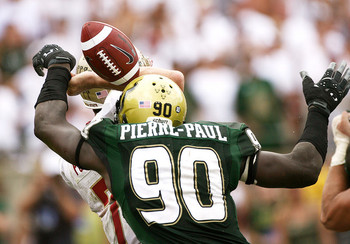 Jason Pierre-Paul has been the biggest enigma of the 2010 draft so far.
In initial mock drafts, some had him going as high as #3 to the Bucs.
But recently, some mock drafts have had him falling to the Cardinals.
I highly doubt it will happen.
But as I've said before and I'll say again: stranger things have happened.
If JPP does fall this far, the Cardinals would be foolish to not invest in the insanely athletic defensive end.
His lack of experience is his biggest flaw. He only played one full season of BCS football.
But the tools he possesses...all I can say is "wow."
Pierre-Paul should immediately solve the pass rushing problems for the Cardinals, and I would imagine he would be flexible enough to play both DE and OLB in the Cardinals hybrid scheme.
We'll see if he's still there come next Thursday. If he is...rejoice Cardinals fans.
Arrelious Benn, WR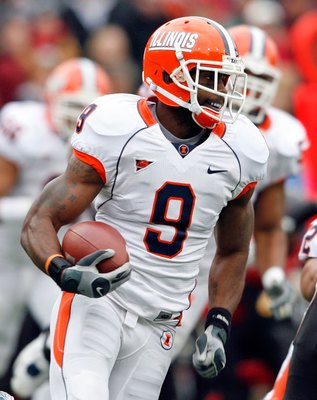 Last, but not least, the Cardinals I'm sure would consider looking for depth at the WR position.
Benn is very similar in makeup to another Cardinals receiver: Early Doucet.
With one big exception: for lack of a better term, Benn is more versatile.
While at Illinois, it wasn't uncommon to see Benn running reverses, or being given a handoff.
Benn is big enough to be considered a physical receiver, yet quick enough to be considered a threat in that department.
As well, I imagine Benn could be a big help on special teams, whether as a returner or a gunner perhaps.
Benn would not only fill a big need for depth for Arizona, he could be a star for years to come.
Well, thanks again for reading. I really hope the Cardinals get one of these 10 players, but again if I missed someone you think they should go for, let me know below!
Keep Reading

Arizona Cardinals: Like this team?