2010 NHL DRAFT: Top Five Picks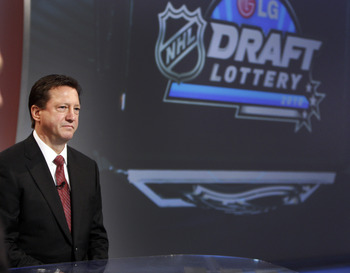 With 16 clubs making it to the NHL Playoffs, lets not forget our friends who didn't make the party. Out of the 14 remaining teams, their draft order is set.
The Toronto Maple Leafs and Calgary Flames can sit on the sidelines and watch as the Boston Bruins and Phoenix Coyotes, respectfully, have their first round draft choice in hand while they're in competition for Lord Stanley's Mug.
There is always a chance a trade or two may come down on draft day, so let's not worry about that right now. I will mention the possibility of potential trades as the slide show continues...
To check out all the rankings, go to: http://centralscouting.nhl.com/ for more.
My top five are as follows. What are your top five?
1. Edmonton Oilers—Taylor Hall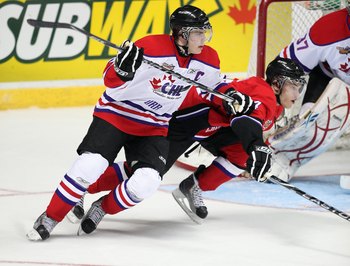 The Calgary, Alberta native who moved to Kingston, Ontario as a lad, would be a great addition to the Oilers' stable.
If Oilers GM Steve Tambellini can get Cogliano, Gagner, and Gilbert Brule resigned next season, Hall's skill fits with these types of players. Given that there are changes to be made in Oil Country, Hall would be a great addition to a young team looking for an identity
Hall could be the player that allows the Oilers to trade a players like Ales Hemsky or help offset the potential loss of Mike Comrie.
After Dustin Penner on the left side, it's pretty thin. Patty O'Sullivan has tried to help fill the void, but really is a center. Either way, Hall would add to the overall team speed of the Oilers.
Do the Oilers trade this pick? No way!
2. Boston Bruins (via Toronto)—Tyler Seguin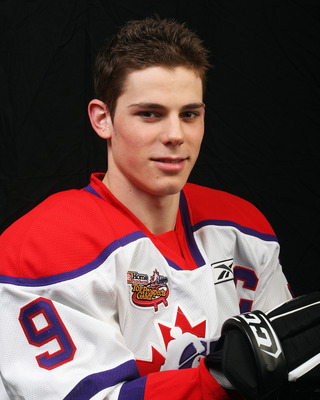 It's hard to believe, but Bruins centers Patrice Bergeron and David Krejci are only 25 and 23 respectively.
Add another center, Tyler Seguin, to that list and the Bruins are in good shape for the future. His skill set would certainly fit in with the Bruins, while at the same time help out the cap situation and make the Bruins a younger team. Mark Recchi and Steve Begin are nearing the end.
We all know how good Marc Savard can be for this club, but even a healthy Savard is 31. With Savard locked in to a big-time contract that starts after next season, it's possible that the Bruins could lose Bergeron to free agency after next season. If that were to happen, Seguin would have some time and space behind Krejci and Savard to mature.
What a great way to secure your center position and still be able to draft other components with your remaining draft picks. Thanks, Brian.
Do the Bruins trade this pick? Likely not.
3. Florida Panthers—Erik Gudbranson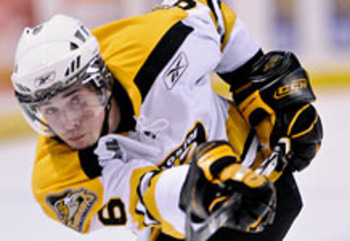 This kid is mean. This kid hits like a MACK truck and he hasn't filled out yet. Erik Gudbranson is more than a one trick pony and could be one of the best players to be drafted in this Entry Draft.
The Kingston Frontenac D-man is also the captain of Team Canada at the World Under-18 tourney.
The Florida Panthers have a young core of players for Peter DeBoer to work with and adding Gudbranson would certainly help this young team for years to come.
With veteran D-man Bryan McCabe being eligible for UFA status after next season, the Panthers still have some decent D-man in Ballard and Allen. After that, it's fairly thin on the back end.
The emergence of Dmitri Kulikov to one day replace McCabe's offense was a nice surprise of the 2009-10 season. It will be a player like Gudbranson who can also contribute some offense as well as the potential to develop into a shut-down defender. His size and strength are his biggest weapons. Oh, he has a rocket of a shot as well.
The jury might still be out on Ellerby and Garrison on the back end, but this group could improve with the likes of Gudbranson.
The Panthers cupboard is getting thin right now on D and Gudbranson could very well make the team out of training camp.
Do the Panthers trade the pick? Maybe. GM Sexton needs a little help in some other places, but it would have to take a great offer to get this pick no matter who Florida selects. This kid can play.
4. Columbus Blue Jackets—Brett Connolly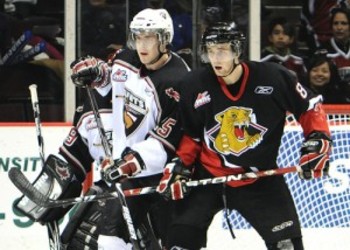 Riddle time: Who plays right wing for the Columbus Blue Jackets?
Tick, tock, tick, tock...Your answer please....
Other than Jakob Voracek and Jared Boll and maybe Derek Dorsett, no one really. The Jackets finished the season with some youthful players filling in these roles.
Tomas Kana and Chad Kolarik are young players who are still developing. More so, Kana is only 21 and a RFA come the summer, as Boll finished the season injured and allowed GM Scot Howson to recall Kana and Kolarik.
The Jackets are not very deep at forward. While their D is not the best in the league, look for a lot more from Kris Russell, Marc Methot, and the ever-improving Anton Stralman next season. Klesla, Commodore, Hejda, and Tyutin form a good group.
So when you are looking at what your club needs are, Mr. Howson, maybe you should help find Mr. Nash and Co. some scoring support.
Brett Connolly is making the most of his opportunities right now. The young Prince George Cougar is skating on the right wing with Team Canada at the Under-18 world championships.
Missed some time this season, but put up good numbers last season with 30 goals for Prince George in the WHL.
Do the Jackets trade this pick? Yes, it could happen...I hope that they don't. GM Howson will be looking for a dance partner and it could very well be somebody like Carolina (seventh pick) or Atlanta (eighth pick). This will depend on how the first three picks go.
5. New York Islanders—Jack Campbell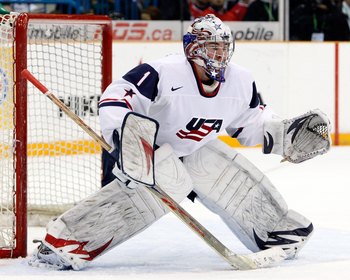 Well, here we are again.
That must be what N.Y. Islander fans are thinking. Another good American goaltender in this year's Entry Draft and the Isles are in need of good young goalie.
Did you think GM Garth Snow had this planned?
Last season, Snow signed Martin Biron and Dwayne Roloson to help out around the rink until Ricky D was A.O.K. The problem was that Ricky is not A.O.K. and if it wasn't for Roloson and Biron, it could have been a long season on Long Island.
With Ricky D's health a huge concern, look for the Isles to select Jack Campbell. Campbell is headed to Michigan next season to play for Red Berenson.
So as much as the Isles need a goalie of the future, they have some small amount of time. Roloson still has a season left on his contract.
This would be a great selection for the Isles, if he is still available that is. Having backstopped Team USA in the Gold medal game in the World Juniors, Campbell is making people notice.
Jack Campbell is going to be a great goaltender and why not have Dwayne Roloson as your mentor. It wouldn't surprise me to see Roloson play until he is 50! Regardless, it could be one of the most important drafts for GM Garth Snow.
The Isles are headed back in the right direction. If they could only get the Lighthouse project built, then this team might actually start to build off the skills and maturity of some of their younger players.
Okposo, Tavares, and Bailey to name a few; now add Campbell to that list and that would really solidify this club for years to come.
Do the Isles trade this pick? We'll have to wait and see. I think that they don't.
What to expect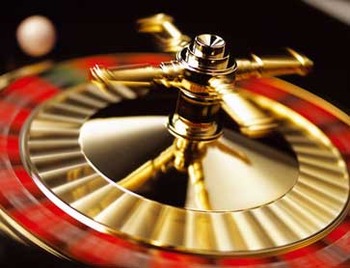 Anything can happen...
There are 14 clubs with some time on their hands to think about next season, while the other 16 continue to think about this season.
Enjoy the playoffs and we'll be spinning the wheel before long.
Cheers!
Keep Reading