Eight Years Later: Dissecting "The Run" & Where Seneca Is Now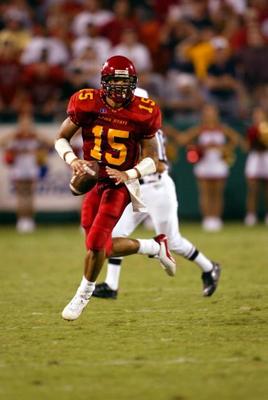 Iowa State hasn't had the illustrious history that many college football teams and fans have come to enjoy and cherish. But that fact alone does not mean that Iowa State hasn't had its share of exciting moments or exciting players.
In 2001, junior quarterback, Seneca Wallace transferred from Sacramento City College to Ames, Iowa to become an Iowa State Cyclone.
While many people outside of the college city of Ames may not have heard of Seneca Wallace, within city limits, and within the confines of Jack Trice Stadium, Wallace became a hero—the embodiment of the Iowa State Cyclones.
As a junior and a newcomer to the Cyclones in 2001, Seneca Wallace took the Cyclones to their second bowl game since 1978. A drought that fans were ready to rid themselves of.
When 2002 came around, expectations were high for this young football team and Seneca Wallace in general... And then it happened... This small town team and QB was put into the national spotlight because of a single play... And a rise in the polls to No. 9, which would be where they peaked.
This is dissection of....
The Run
The Setup...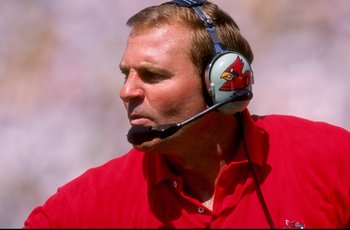 At 6 o'clock on a chilly evening on Oct. 12, 2002...
The 4-2 Texas Tech Red Raiders came rumbling into Ames for a showdown against the 5-1 Iowa State Cyclones...
Texas Tech was coming off a victory versus No. 23 Texas A&M, while Iowa State was fresh off a 36-14 victory against a No. 20 Nebraska.
This convincing defeat of No. 20 Nebraska, and a very close loss in the season opener against a No. 3 ranked Florida State, catapulted the Cyclones in the polls... Reaching a national rank of No. 11 for the match up against Mike Leach and Texas Tech.
Through two full quarters, it was a war of defensive prowess. Each team was able to put up a field goal early in the first quarter, but was unable to score for the rest of the half.
In what turned out to be a 31-17 thrashing of Texas Tech... The Cyclones had to start somewhere... As does our story.
12:03 to 11:55 Remaining in the Third Quarter
With 12:03 remaining in the third quarter of this defensive slug fest, the Cyclones' line gets set at Texas Tech's 12 yard line, as Seneca Wallace begins to walk up...
With 11:55 remaining, the receivers and backs of the Cyclones are set and Seneca Wallace takes his place under center.
11:54 to 11:44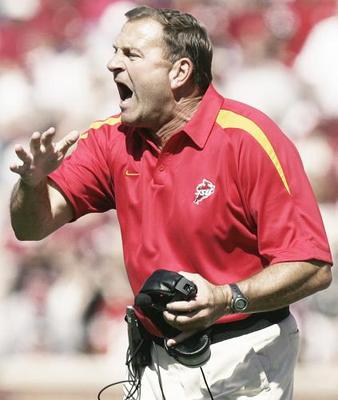 With 11 minutes and 54 seconds remaining, Seneca Wallace can be seen under center yelling several inaudible phrases and code words. The Texas Tech Red Raiders defense holds steady and isn't caught off guard. Four seconds tick by unnoticed...
Seneca Wallace calls for the ball and the center snaps it back to his QB with 11 minutes and 50 seconds remaining.
Wallace takes a four step drop... Looks to his left for his first option... His receiver is blanketed by the Texas Tech defender and ends up falling down as Wallace begins to look else where...
Wallace scrambles backwards a few yards, then parallel to the line and to his right as he continues to look for his second option. He has two defenders closing in quickly.. Wallace eludes the first tackler as he continues to back pedal... still looking for an option down field.
With 11:44 remaining, Seneca Wallace begins to run parallel to line once more to his right at the Texas Tech 32 yard line...
11:43 to 11:40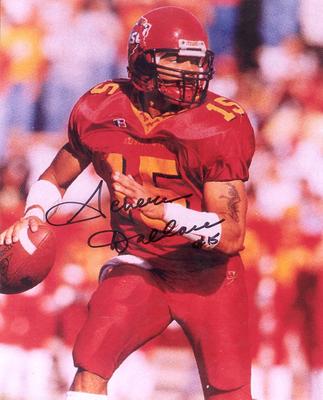 Wallace realizes that his receivers just aren't able to get open. After scrambling to the right sideline, Seneca sees a hole a decides to do what he does best... Run.
At 11:41, With a Red Raider chasing him from behind and another in front of him ready to knock his teeth out... Wallace jukes to the left, causing the tackler in front of him to dive and miss at the Red Raider's 14 yard line.
11:39 to 11:35
At 11:39, after just juking one Red Raider out of his socks... Wallace encounters a group of three more Texas Tech defenders, roughly five yards up field.
Wallace decides that it would be best to stay away from this group... While on the 10 yard line, Seneca decides to turn on a dime and run parallel to the 10...
With one speedy defender remaining on his tail... Wallace turns it up to another gear, but the gap between him and the defender continues to close.
With 11:37 remaining, in the middle of the left hashes, RB Michael Wagner delivers a devastating, bone crushing block on the defender in high pursuit of Wallace... The defender flies back five yards and Wallace has the endzone in sight...
11:34 to 11:32
With 11:34 remaining in the third quarter, Wallace continues to the left sideline, losing gas...
5...
4...
3...
2...
1...
TOUCHDOWN IOWA STATE!
With 11:33 showing on the clock, Seneca Wallace crosses the plane of the endzone and scores six for the Cyclones. The game clock stops at 11:32 and the Cyclones can be seen celebrating in the endzone...
After the fact, it has been estimated by experts that Seneca Wallace ran over 100 total yards, on his way to the endzone on that fateful day in Ames, Iowa.
A hero had been born...
Where Is He Now?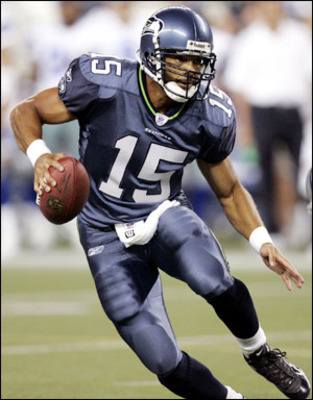 Seneca Wallace was drafted in the fourth round of the 2003 NFL Draft by the Seattle Seahawks.
In his time as a Seahawk, Seneca Wallace has gained the reputation as one of the best back up quarterbacks in the league behind guys like Charlie Batch (Pittsburgh) and Matt Schuab (Atlanta, now a starter in Houston).
Mike Holmgren was the head coach of the Seahawks when they decided to draft Seneca Wallace. They grew a very close bond, and Holmgren knew of the talents that Wallace had. In the offseason following the 2009 Super Bowl, Mike Holmgren left his post in Seattle to become the president for the Cleveland Browns.
Mike Holmgren began his reign as a NFL president by trading a conditional 2011 draft pick to Seattle for QB, Seneca Wallace.
Entering his eighth season as a pro QB, Seneca Wallace has accumulated the following statistics...
556 Pass Attempts, 333 Completions for a 59.9 percent completion percentage.
3,547 Passing Yards, 25 TD, 14 INT and a QB rating of 83.1
Watch the miraculous play for yourself:
http://www.youtube.com/watch?v=KwqXK_gN974
Thank you to CyclonesFanatic.com for all Iowa State photos of Wallace, the Logo, and Dan McCarney.
If you hadn't heard of Seneca Wallace previously... You have now. And have witnessed the story where a hero was born...
Keep Reading