2010 NBA Playoff Bracket: A Complete Denver Nuggets vs. Utah Jazz Breakdown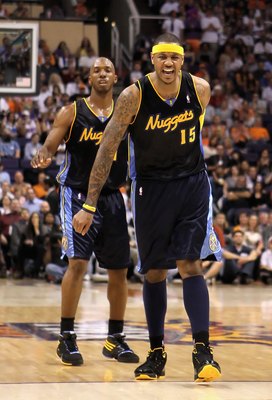 After 82 grueling regular season games, the NBA playoffs are finally here.
This weekend will commence the two-month march to the NBA Finals. Sixteen teams will be competing for the Larry O'Brien Trophy, and it will be a tough task to accomplish with the depth of the field this season.
There are more than a few title contending teams this year, as the Lakers, Denver, Cleveland, Orlando, Atlanta, and Boston are all worthy of being in the championship discussion.
The Western Conference is scary deep with all eight playoff squads winning at least 50 games.
The first round will be very entertaining and there could be some surprises. One of the most interesting first-round matchups is the No. 4 Denver Nuggets vs. the No. 5 Utah Jazz. Here is a breakdown of the series.
Head-to-Head This Season
The Nuggets had their way with their division rivals this year, winning three out of four against the Jazz. Not to mention, Denver notched a 10-point victory in Utah without Carmelo Anthony and Chauncey Billups in the lineup.
Utah's lone win came in the teams' final matchup, once again without Anthony and Billups for Denver.
Utah struggled to find an answer for Denver's two stars. Anthony and Billups torched the Jazz for a combined average of 60.5 points in two games. They were able to dictate the game offensively, and the Nuggets still managed to pull off a victory even without the duo.
Denver averaged 111 points per game against the Jazz, which is almost five points better than its season average. Overall, the Nuggets outplayed the Jazz head to head, and that could be foreshadowing what's to come in the playoffs.
Who's Hot/Who's Not?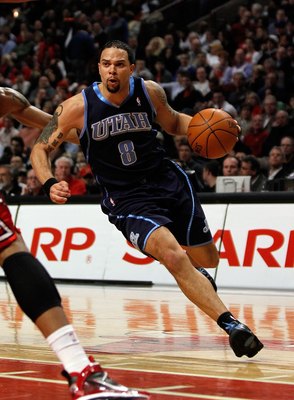 As much as critics like to say the Nuggets have been struggling since the loss of George Karl to throat cancer and the injury to Kenyon Martin, it's not as bad as it appears.
While Denver did finish 8-8 over its final 16 games, the Nuggets still managed to go 5-2 in April without their legendary coach and with a hobbled Martin.
In Denver's five April victories, the Nuggets won by an average margin of 10.6 points, including a win over the defending champion Lakers. For a team that's playing without its head coach, that certainly isn't anything to panic about.
The Jazz finished a little hotter, boasting an 11-6 record over their last 17 games, but went 3-3 in the final month. In those three defeats, they were beaten by an average of 15 points. Wednesday's loss to Phoenix once again prevented the Jazz from attaining home court advantage in the first round.
However, Utah did make a valiant late season effort to catch the Nuggets for the Northwest Division title, but fell just short.
Either way, both squads finished 6-4 over their final 10 games.
Denver Nuggets Keys to Victory
For the Nuggets to win this series, they are going to have to utilize their homecourt advantage. Both teams are lethal on their home floors and both teams have severe road deficiencies for being elite Western Conference forces.
Denver has the benefit of having the best player on the floor in Carmelo Anthony (pictured). He scorched Utah for 33.5 points per game, and the Jazz had no response to his potent scoring. If Melo can continue his dominant play, the Nuggets will have a big edge.
Another key to victory for Denver will be its interior defense. The Jazz make a living in the paint with Carlos Boozer leading the way. They average 49.1 percent from the field, which is second best in the NBA. If K-Mart and Nene can contain Boozer inside, it will give Denver the advantage.
Utah Jazz Keys to Victory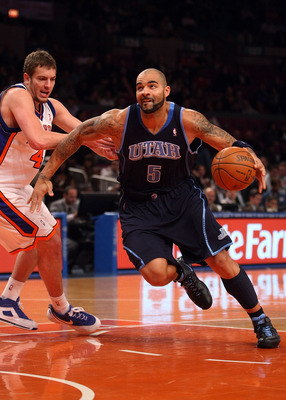 For the Jazz to be triumphant, they need to play solid defense. Utah is a better defensive squad than Denver, allowing 98.8 points per game compared to the Nuggets' 102.4. The Jazz also limited opponents to 44.9 percent shooting, which they will need to rely on against dangerous Denver shooters Anthony, Billups, Ty Lawson, and J.R. Smith.
In addition, the Jazz will need to limit the strong inside play of Nene Hilario, who averages 58.7 percent from the field.
Another key to Utah's success will be the play of Deron Williams. He has a big assignment in guarding Mr. Big Shot, as well as leading his offense. The Jazz are first in the league in assists and D-Will is a major reason for that. He has a variety of weapons to pass to in the frontcourt besides just Carlos Boozer (pictured), with Andrei Kirilenko and Paul Millsap posing major threats for the Nuggets.
Not to mention, Williams has outside threats to kick it out to in Kyle Korver and Mehmet Okur, which could prove huge against a very average Denver perimeter defense. The Jazz need to capitalize on the Nuggets.
Prediction: Who Takes the Series?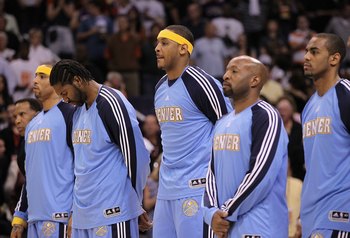 Out of all the Western Conference first round matchups, this one is the most intriguing. The Jazz and Nuggets have almost identical statistics in many categories, including points per game, steals per game, and field goal percentage.
They have the same record at 53-29, to go along with similar home and road records. In addition, both teams have excellent point guards and possess strong frontcourt players. This will be a back-and-forth series, with both teams heavily relying on their home floors. Expect a lot of the games to come down to the fourth quarter, and they will be decided by which team can maintain its composure best.
However, Denver has the advantage of its homecourt, where the Nuggets are 34-7, which is tied for second best in the NBA. The Nuggets will be a little lost without George Karl, but an experienced Chauncey Billups will help them prevail. Billups is a former Finals MVP and a veteran who will give Denver the confidence it needs.
Not to mention, Carmelo is almost unstoppable and he will prove to be too much for the Jazz. Denver is slightly better and a dangerously deep team that has the experience and poise needed to make another deep run in the playoffs. Denver in seven.
Keep Reading

Denver Nuggets: Like this team?