2010 NBA Playoffs: Power Ranking the Postseason Teams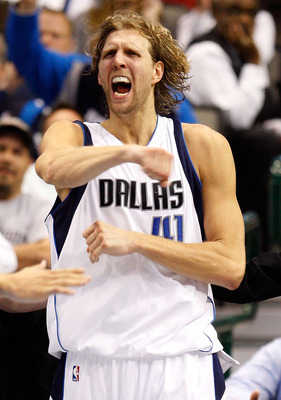 This is it NBA fans. The time of year that everyone has been waiting for since the opening tip in late October.
At long last, the NBA Playoffs are upon us.
Everything that players and teams have done for the last six months has led up to this—the time of year where every game, every play can make the difference between failure and success.
Down the stretch run of the grueling 82-game season, much of team's destiny is determined by playoff positioning. Beyond that, it's important for a team to go into the playoffs on a high note, winning and playing well in order to continue doing so against the best competition in the world.
And while some teams are peaking at just the right time (Phoenix, Miami), others (LA, Cleveland) treated the end of regular season as a mere formality before the real show.
Some think it won't matter to the powerhouses and they will turn on superb play in the playoffs. But, the contenders to the throne can't be so sure and many have given it their full effort as a precursor to the postseason.
The following list is the power rankings of the 16 remaining NBA playoff teams. Each team was ranked on three factors; their overall record, their record in the last 10 games, and how far they can go in the playoffs.
Just Happy to be Here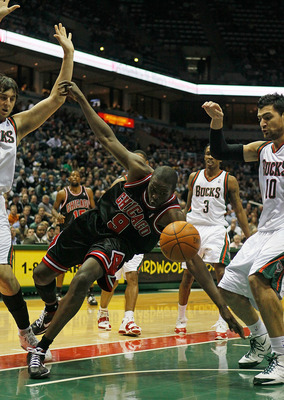 16. Charlotte Bobcats (44-38, L10 6-4)—This will be the first playoff appearance for this seven-year-old team. While they have surpassed expectations, it's highly unlikely that Charlotte will defeat Orlando.
15. Milwaukee Bucks (46-36, L10 6-4)—The Bucks haven't been to the playoffs since 2005-06, and without Andrew Bogut, their hopes to move past the first round are all but sunk.
14. Chicago Bulls (41-41, L10 7-3)–Sure, they've gone 10-4 since Joakim Noah's return, but they still only finished the season .500 overall. Although they did battle tough with Cleveland earlier in the year (2-2), so the Cavs should have a fight on their hands.
13. Portland Trail Blazers (50-32, L10 7-3)—The terrible injury news just never stops for Portland this year. Brandon Roy missed final two regular season games and he will have knee surgery Friday meaning he will not be able to ball in the playoffs. Even with a healthy Roy, the Blazers got unlucky by drawing the hottest team in the West in Phoenix.
The Pretenders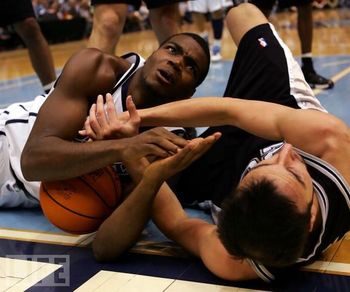 12. Boston Celtics (50-32, L10 3-7)—The Celtics are the home team versus Miami but that isn't necessarily a good thing. Boston finished season with better road (26-15) record than home record (24-17). Plus, they are slumping at the moment and drew the boiling hot Heat in the first round. Things are not looking up for the aging Cs.
11. Oklahoma City Thunder (50-32, L10 6-4)—The youngest team in the playoffs is OKC and their MVP is scoring leader Kevin Durant. The Durantula averaged 30.1 PPG over the course of the season, but only 25.8 PPG versus the Lakers. The Thunder went 1-3 against LA this season but 2-3 losses were by only three points and they will bring it to the older and wiser Lakers for sure.
10. San Antonio Spurs (50-32, L10 6-4)—The Spurs are aging quickly but they have two things in their favor—a championship pedigree and knowledge of their opponents the Mavericks.
Team leader Tim Duncan averaged 19.8 PPG and 8 RPG in first round against Dallas last year, which marked the only time he had been booted in the first round in his career. He and his Spurs teammates will be extra hungry in the playoffs this time around.
9. Utah Jazz (53-29, L10 6-4)—Deron Williams (18.7 PPG, 10.5 APG) and Carlos Boozer (19.5 PPG, 11.2 RPG) are a one of the top duos in the Association. Although Boozer did strain an oblique on Tuesday night, he told ESPN's J.A. Adande that he will play on Saturday, "No matter what."
But, what the Jazz don't have going for them is the home court that they need. Utah is a sad 21-20 on the road this season compared to 32-9 at home.
The Contenders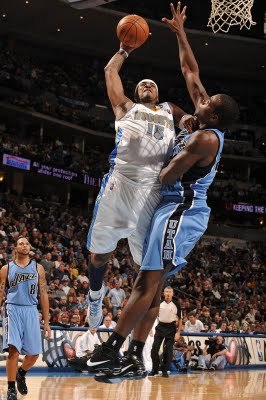 8. Denver Nuggets (53-29, L10 6-4)—The Nuggets spent almost all season in the second seed but lost all that momentum about the same time they lost their coach, George Karl, to neck and throat cancer. Still, Denver battled tough and ended up backing their way into the Northwest Division title and the fourth seed.
The Nuggets lucked out to play the Jazz in the first round since they were 3-1 against Utah this season, as opposed to the Suns (1-2). Also, Denver was 2-0 versus Utah when their best baller Carmelo Anthony played (33.5 PPG).
If Denver beats Utah they may be able to get Karl back for the rest of the playoffs, which could push them to the Western Finals again. If not, they could fall in Round Two against LA.
7. Miami Heat (47-35, L10 9-1)—No one is as hot as the Heat right now (pun intended). But, the competition they have played in April has been weak (one playoff opponent).
Dwyane Wade played well in last year's first round (29.1 PPG) despite losing to Atlanta, plus they are playing collapsing Boston, which could mean an almost automatic first round win.
6. Atlanta Hawks (53-29, L10 7-3)—Joe Johnson, Josh Smith and Jamal Crawford are the three Js that can shoot jumpers and just flat out play the game. Atlanta is currently on a 13-game home winning streak to end the regular season and they score near seven points more than the Bucks.
Can they beat the Magic in round two? They lost the season series 3-1 to Orlando and lost badly, by almost 12 PPG.
The Favorites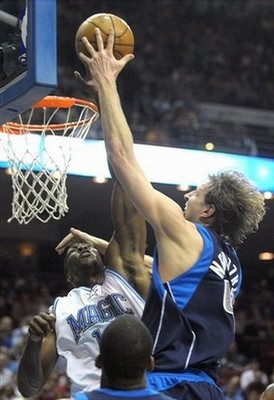 5. Los Angeles Lakers (57-25, L10 4-6)—Yes, the Lakers are the World Champions. Yes, they have been atop the mighty West all season long. But what happened to that authoritarian play?
The three points of the triangle, Kobe Bryant, Pau Gasol, and Andrew Bynum have all sustained injuries this season and time seems to be catching up with the Lakers.
Even with pulling the young Thunder in the first round, LA should roll and meet up with the Nuggets in the second round. Will it be yet another trip to the Western/NBA Finals? It is all up to the men in purple and yellow to answer that question.

4. Phoenix Suns (54-28, L10 8-2)—What's there not to love about the Suns right now? Steve Nash has been on fire all season and Amar'e Stoudamire is peaking currently, along with his team. They beat Utah, Denver and San Antonio in the last week all by double digits, leading to an overriding confidence heading into the playoffs.
Nash averages 17.3 PPG and 8.7 APG in his playoff career and the sizzling Suns may be advancing towards an epic matchup with Dallas.
3. Cleveland Cavaliers (61-21, L10 4-6)—LeBron James. Will his 29.7 PPG, 7.3 RPG, and 8.6 APG be enough for the NBA MVP? All signs point to definitely yes.
Add in Shaq Diesel, Antawn Jamison, and Mo Williams and the Cavs have the best chance at an NBA Championship since LeBron came to Cleveland. They play Chicago in the first round, then the winner of Boston/Miami in the second, setting up for a rematch of last year's East Finals.
2. Orlando Magic (59-23, L10 9-1)—The Magic have been nothing short of magical this season. With a great mix of youth and veteran leadership, Orlando will challenge the Cavaliers for the chance to play in the Finals.
Dwight Howard is an absolute beast (18.3 PPG, 13.2 RPG) and Vince Carter can still hoop through age and injuries.
1. Dallas Mavericks (55-27, L10 8-2)—Don't be surprised if Dallas dominates all the way to the NBA Finals this season.
Dirk Nowitzki finally got some stellar role players to support him in Caron Butler and Brendan Haywood and Jason Kidd just keeps on going.
The road will not be easy as they will play San Antonio then likely Phoenix and LA, but this could be the year Dallas and Dirk get their NBA Championship.
This should be fun...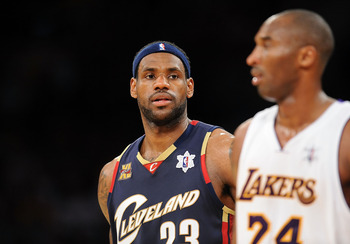 Who will win? Who will lose?
No matter what, basketball fans are in for an exciting, competitive and wild playoff experience starting Saturday.
This weekend is literally jam-packed with NBA basketball—with quadruple-headers on both Saturday and Sunday.
The schedule is as follows (All times Eastern):
Saturday:
Chicago at Cleveland 3:00PM ABC
Milwaukee at Atlanta 5:30PM ESPN
Miami at Boston 8:00PM ESPN/R
Utah at Denver 10:30PM ESPN
Sunday:
OKC at L.A. Lakers 3:00PM ABC/R
Charlotte at Orlando 5:30PM TNT
San Antonio at Dallas 8:00PM TNT
Portland at Phoenix 10:30PM TNT
Rich Kurtzman is a Colorado State University Alumnus and a freelance journalist. Along with being the Denver Nuggets Featured Columnist here on B/R, Kurtzman is the Denver Broncos FC on NFLTouchdown.com, the Colorado State Rams Examiner on examiner.com and a contributor to coloradosportsdesk.com.
Follow Rich on twitter @ twitter.com/richkurt
Keep Reading

Dallas Mavericks: Like this team?