Miami Dolphins: 2010 NFL Draft Top 5 Needs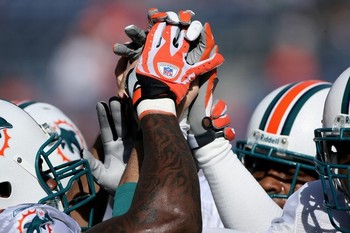 The Dolphins' inability to become a consistent playoff contender can still be pinned on the bad drafts that occurred before Bill Parcells arrived. It looks like Parcells, along with general manager Jeff Ireland and coach Tony Sporano, still have the knack for getting the most out of young talent. Last season, for instance, the Dolphins were relying heavily on second year players (Chad Henne, Jake Long and undrafted free agent Davone Bess), as well as a few rookies (Vontae Davis, Sean Smith and Brian Hartline). That's good news, but it doesn't mean the Dolphins are out of the woods yet. Miami needs to do a better job finding big-time playmakers before this team is going to thrive. They hit on Davis, Smith and Hartline in 2009 but had some big whiffs too like Pat White, Patrick Turner and JohnTrading for Brandon Marshall is a great first step as well as the signing of Karlos Dansby. The Dolphins will draft this year at 12, 73, 110, 173, 174, 179, 212, 219 and 252.
The Decision Makers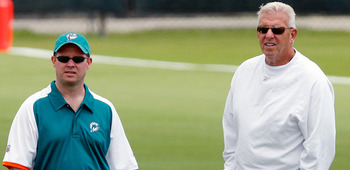 Executive vice president of football operations Bill Parcells oversees the team's front office and is a hands-on manager. Ireland has final say on personnel decisions, but Parcells clearly plays a major role in evaluating personnel. Parcells advises Ireland, and the two work closely together. Sporano is included in discussions on personnel.
Needs 1.) Nose Tackle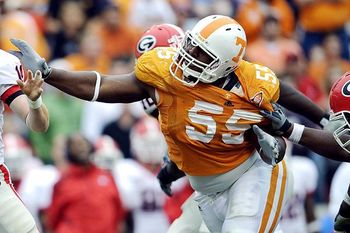 It's crucial to have a quality nose tackle for a 3-4 defense to be effective. The Dolphins have had one in Jason Ferguson, but he's 35 and coming off a torn quadriceps that ended his 2009 season prematurely. Ferguson will be suspended for the first eight games of the 2010 season due to a violation of the NFL's substance abuse policy. Miami will and should consider using the 12th overall pick on a nose tackle if one to their liking is available. The team needs to find a young player who can bolster the spot for years to come. Ferguson's backup, Paul Soliali, fits best as a rotational player.
Dan Williams will be the best nose tackle prospect left, Suh & McCoy, will be gone by now. The 6'2", 325 pounder is a square bodied tackle, with skills to instantly become a two down run defender. Might never grab the headlines but will become a quality pro for years to come. Third round players might be Al Woods of LSU, Torell Troup from UCF, Tar Heel Cam Thomas most likely won' slide to 73 but is appealing.
Needs 2.) Outside Linebacker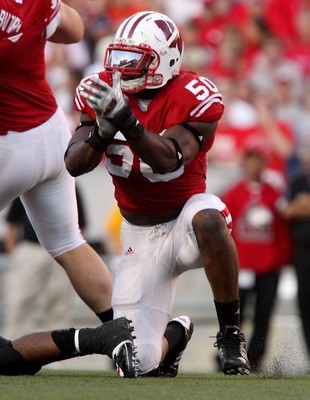 As of right now Jason Taylor's career with the team looks to be to be over, and Joey Porter's tenure with the team is over all in all the cupboard looks a little empty. Considering the importence of the position in the 3-4 scheme, Miami must find a starter for this position in the draft. Cameron Wake is young player that could step up big this season.
The "Tuna" likes big bodied rushers so the 6'3", 245 pounder O'Brien Schofield from Wisconsin could easily fit the bill. This college end has what it takes to stand up and rush the edge, as well as provide run support. He injured his ACL in the first day of the Senior Bowl practices, dropping his draft grade down from what once was possible first round. When healthy Schofield should live up to the high draft billing. Also consider Brandon Lang of Troy, Gator Jermaine Cunningham, Ricky Sapp from Clemson and Hokie Jason Worilds.
Needs 3.) Free Safety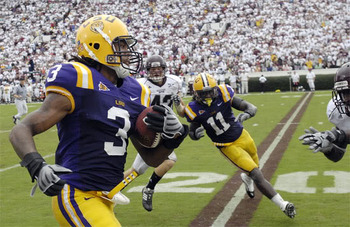 Gibril Wilsonn was a major disapointment in his first year and was even pulled from the starting line before being released. There have been talks of free agent Daren Sharper coming in to help, however he would most likely be only a one year solution. Strong safety Yeremiah Bell is solid in run support, but Miami needs to add a coverage safety to the mix. Rookie Chris Clemons, was simply too raw last season; still should be a good prospect.
Safety is a fairly deep class in this year's draft as many as thirteen could be drafted. Chad Jones is a risk/reward prospect that does not play the run as well as one would like with minor character concerns. Conversely Chad has the ability to be a top-flight center-fielder with tempting physical tools, uses his hands well to shed blockers. Can contribute early on special teams.
Needs 4.) Running Back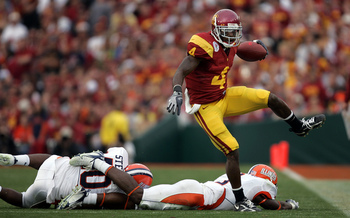 With the new collective bargaining agreement, Ronnie Brown will stick with the Dolphins for another year before becoming an unrestricted free agent. Ricky Williams also plans to play one more year before retiring (who ever knows with this guy). So for now, Miami's backfield is sound. However long term stability of the position has more than considerable question marks. Don't expect the Dolphins to address this need early.
An exciting player that could be on the board would be Joe McKnight, of USC. Mckinght is a fluid, agile, instinctive runner with versatility to contribute out of backfield on swings, screens and draws. Joe can line up at receiver and return kicks. Other prospects might be Oregon's Lagarrette Blount, Charles Scott from LSU or Lonyea Miller from Fresno State.
Needs 5.) Tight End
Miami runs alot of two tight end sets featuring Anthony Fasono, who is solid nevertheless not much talented depth is behind him. Tight end is deep this year, talent can be found in all rounds whether the need is a blocking tight end or a pass catcher. Maybe even an H-Back type player, getting Henne more tools to succeed will go a long way.
H-Back Role: Dorin Dickerson from Pitt, Clay Harbor of Missouri State and Wisconsin's Garret Graham.
Inline Role: Nate Byham of Pitt, Alabama's Colin Peek, and Illini Mike Hoomanawanui
Keep Reading

Miami Dolphins: Like this team?