How Many Non-Conference Football Games Will the Big Ten Win in 2010?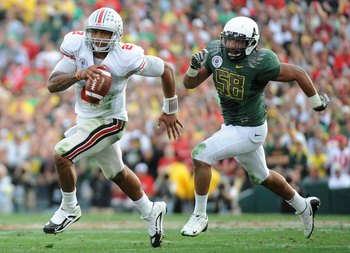 44 games.
Eleven schools multiplied by four games each.
That's how many chances Big Ten member teams have to post non-conference wins during the 2010 football season.
Fresh off a successful performance in last year's bowl games (including wins in the Rose, FedEx, Capital One, and Champs Sports Bowls), the league has an opportunity to further enhance a once-tarnished national reputation this fall, mainly during the month of September.
Is your favorite Big Ten team going to survive the non-conference season unscathed? Can they win the big game? Are they on upset alert?
Glad you asked.
Illinois: 2 wins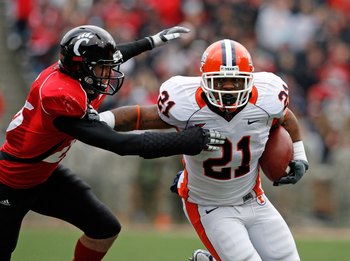 The Fighting Illini enter the 2010 season with a lot of unknowns (including how long their coach might be in town), which doesn't bode well against some difficult non-conference opponents.
Illinois will likely be an underdog against Missouri and star quarterback Blaine Gabbert in their traditional neutral-field opener, and it's hard to see them pulling off a win in St. Louis without long-time stars Juice Williams and Arrelious Benn. A December trip to Fresno State also looks like a defeat waiting to happen (the Bulldogs posted a thrilling 53-52 win in Champaign last year).
That leaves games against in-state foes Northern Illinois and Southern Illinois as must-wins for Ron Zook, and his team should answer the bell (although the Huskies are always dangerous).
September 4: L vs. Missouri in St. Louis
September 11: W vs. Southern Illinois
September 18: W vs. Northern Illinois
December 3: L at Fresno State
2010 non-conference record prediction: 2 wins, 2 losses
Indiana: 4 wins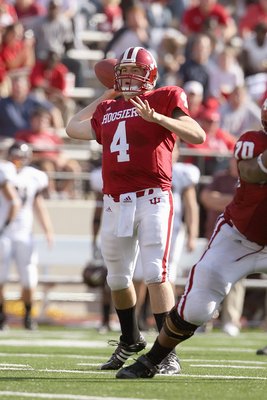 The Hoosiers head into 2010 with a lot of offensive talent returning and not so much on the other side of the ball. The good news for the folks in Bloomington is that the non-conference schedule falls somewhere between cream puff and cupcake.
IU is likely looking at four wins in four tries during the non-Big Ten slate. Ben Chappell and company start with a cakewalk (Get it? "Cupcake"? see what I did there?) against Towson to build their confidence and points-per-game average.
The Hoosiers get a return visit from Akron after knocking off the Zips 38-21 on the road last year. The third opponent, Western Kentucky, was 0-12 a season ago, but the Hilltoppers could be dangerous in their first home game after opening with trips to Nebraska and Kentucky.
Arkansas State probably provides the stiffest challenge (which should tell you everything you need to know about the Hoosiers' non-conference schedule). The Red Wolves threw a scare into Iowa last year at Kinnick Stadium before falling short, 24-21.
September 2: W vs. Towson
September 18: W at Western Kentucky
September 25: W vs. Akron
October 16: W vs. Arkansas State
2010 non-conference record prediction: 4 wins, 0 losses
Iowa: 4 wins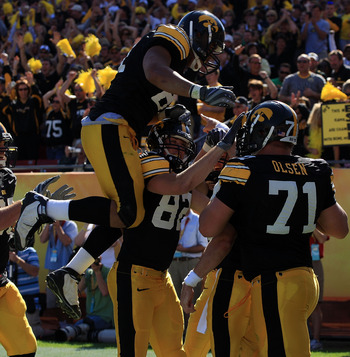 While the Hawkeyes may have one of the Big Ten's finest squads on paper, they will face a significant test in a Week Three trip to Tucson. Coach Kirk Ferentz should have a better idea exactly how effective his stable of running backs will be in 2010 after Iowa visits the desert. The guess here is that returning star quarterback Ricky Stanzi—plus Jewel Hampton plus Adam Robinson plus Brandon Wegher—will be enough for the Hawks to escape Arizona with a narrow victory.
The rest of the schedule features a trio of very winnable home games, most notably the always-entertaining rivalry clash with Iowa State.
September 4: W vs. Eastern Illinois
September 11: W vs. Iowa State
September 18: W at Arizona
September 25: W vs. Ball State
2010 non-conference record prediction: 4 wins, 0 losses
Michigan: 3 wins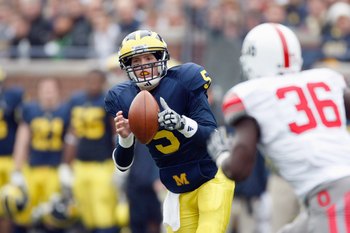 Tough to say how many non-conference games Michigan wins in 2010, because the longer the Wolverines flirt with using more than one quarterback, the longer this team stays inconsistent.
When the dust has settled, Michigan will drop a winnable ballgame to finish the non-league portion of the schedule 3-1. The slip-up could be vs. UConn in the season opener, or it could be against one of the MAC's perennial giant-killers, Bowling Green...but I'm going to take the safe route and say the Wolverines hold serve at home while coming up short in South Bend.
Of course, if Rich Rodriguez finally moves Denard Robinson to a position where he and Tate Forcier can be on the field at the same time every snap, I reserve the right to change this prediction.
Yeah, like that will ever happen.
September 4: W vs. Connecticut
September 11: L at Notre Dame
September 18: W vs. Massachusetts
September 25: W vs. Bowling Green
2010 non-conference record prediction: 3 wins, 1 loss
Michigan State: 4 wins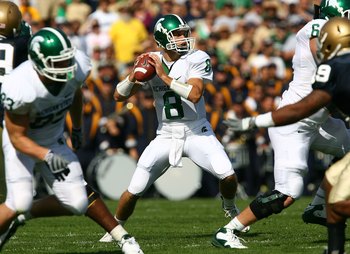 While off-the-field distractions have ravaged the Michigan State program over the past year, the Spartans have the opportunity for a good start in 2010.
MSU returns its key playmakers on both sides of the ball (Kirk Cousins on offense, Greg Jones on defense), and will also benefit from a scheduling gift that puts all four September games in-state: Michigan State was slated to visit Florida Atlantic in Week Two, but the Owls chose to move the contest from from their campus to Ford Field in Detroit.
Voilà—road game becomes "home" game.
The run of September home games for the Green and White includes welcoming in Western Michigan and Northern Colorado, neither of which should prove overly daunting (MSU defeated WMU 49-14 a year ago). The only real test on paper comes (as it does for many Big Ten teams) against the "we're still independent for now" Fighting Irish of Notre Dame.
Michigan State's quarterback returns. Notre Dame's doesn't.
Spartans win.
September 4: W vs. Western Michigan
September 11: W vs. Florida Atlantic at Detroit
September 18: W vs. Notre Dame
September 25: W vs. Northern Colorado
2010 non-conference record prediction: 4 wins, 0 losses
Minnesota: 2 wins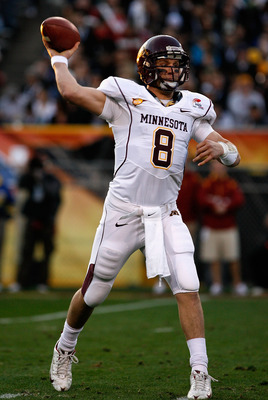 No one expects Minnesota to knock off college football heavyweight USC in a Week Three showdown. While a Gophers upset may not be impossible, it's certainly unlikely.
However, don't be surprised if coach Tim Brewster's team is tagged with a loss even before USC comes to town for the much-hyped September showdown.
That's because the Gophers have to travel to Middle Tennessee State on Thursday, Sept. 2 for a big-time trap game in the season opener. The Blue Raiders won their last seven games of 2009, including a New Orleans Bowl victory over Southern Mississippi, and returning star quarterback Dwight Dasher could pin a surprising loss on the unsuspecting visitors from Minneapolis.
Northern Illinois in Week Four won't be easy either (the Huskies won at Purdue last season), but if Minnesota does in fact drop two of their first three games, they should bounce back to take care of NIU.
September 2: L at Middle Tennessee State
September 11: W vs. South Dakota
September 18: L vs. USC
September 25: W vs. Northern Illinois
2010 non-conference record prediction: 2 wins, 2 losses
Northwestern: 4 wins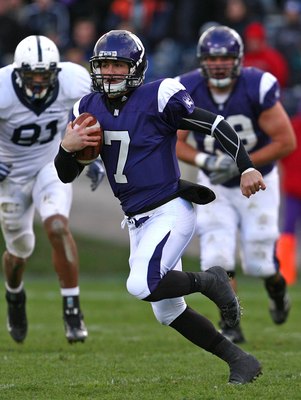 Northwestern rolled up eight wins in last year's Outback Bowl season and the 2010 slate sets up nicely for another warm-weather postseason trip...as long as the Wildcats can win away from Ryan Field.
The 'Cats are the only Big Ten school to play a pair of true non-conference road games in 2010, at Vanderbilt and at Rice. The good news is that both contests are extremely winnable (the Commodores lost their final eight games of 2009 to finish 2-10, while Rice dropped their first nine games of the 2009 campaign to also finish 2-10).
Northwestern should handle Illinois State and Central Michigan at home with relative ease, and the possibility of a 4-0 start could springboard the Wildcats toward a surprising finish in the always-tough Big Ten.
September 4: W at Vanderbilt
September 11: W vs. Illinois State
September 18: W at Rice
September 25: W vs. Central Michigan
2010 non-conference record prediction: 4 wins, 0 losses
Ohio State: 4 wins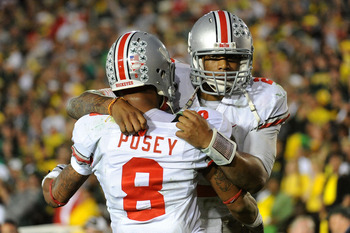 The Ohio State Buckeyes welcome all four non-conference foes to Columbus in September 2010, and the results should be good for Jim Tressel's veteran squad.
Terrelle Pryor headlines the list of sixteen returning starters from last year's Rose Bowl-winning outfit; the Buckeyes boast more than enough firepower to knock off Marshall in a rare Thursday night opener at the Shoe.
OSU will face off with both ends of the MAC spectrum, entertaining 2009 East co-champions Ohio as well as lowly Eastern Michigan (which didn't win a game last season).
The Buckeyes' true non-conference test will come in Week Two against the Miami Hurricanes, a game that could have both BCS implications for the teams and Heisman Trophy implications for the quarterbacks (Pryor and Miami's Jacory Harris).
Definitely a heavyweight showdown between two of the nation's elite programs, but OSU's home-field advantage against the Canes will be the deciding factor.
September 2: W vs. Marshall
September 11: W vs. Miami (FL)
September 18: W vs. Ohio
September 25: W vs. Eastern Michigan
2010 non-conference record prediction: 4 wins, 0 losses
Penn State: 3 wins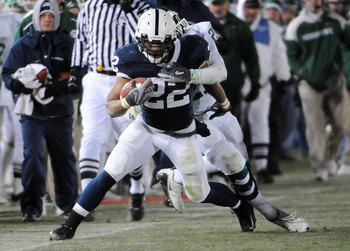 The good news for Penn State is that offensive stars Evan Royster, Graham Zug, and Derek Moye are all back in Happy Valley.
The bad news for the Lions? None of them play quarterback.
PSU's new signal-caller, whoever it might be, will make his first road start in one of the most difficult situations imaginable: against the defending national champion Alabama Crimson Tide in Tuscaloosa on Sept. 11.
Suffice it to say the Lions won't enter Big Ten play undefeated.
Thank goodness for PSU the other three non-conference games are against Youngstown State, Kent State, and Temple.
3-1's not bad, right?
September 4: W vs. Youngstown State
September 11: L at Alabama
September 18: W vs. Kent State
September 25: W vs. Temple
2010 non-conference record prediction: 3 wins, 1 loss
Purdue: 4 wins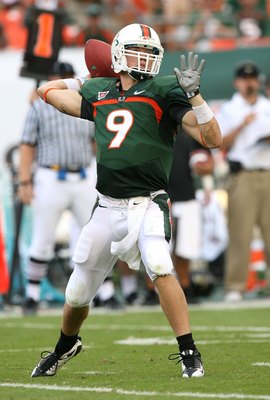 The Boilermakers have their work cut out for them in the season opener at Notre Dame, but new quarterback Robert Marve (a transfer from Miami) could open eyes early. Marve has plenty of weapons to throw to, including All-Big Ten wideout Keith Smith, and has a year of starting experience under his belt (with the Hurricanes in 2008)...but hey, that's more than Irish quarterback Dayne Crist can say at this point.
If the Boilers survive the trip to South Bend unscathed, they could pick up some serious momentum by rolling off wins against Western Illinois, Ball State, and Toledo in Ross-Ade Stadium.
September 4: W at Notre Dame
September 11: W vs. Western Illinois
September 18: W vs. Ball State
September 25: W vs. Toledo
2010 non-conference record prediction: 4 wins, 0 losses
Wisconsin: 4 wins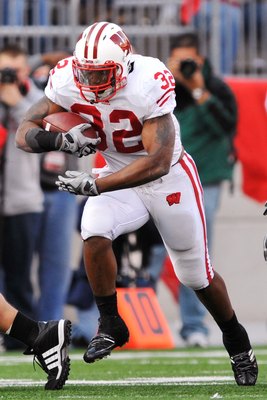 Wisconsin's non-conference schedule in 2010 features a road trip to UNLV, followed by home games against San Jose State, Arizona State, and Austin Peay.
Any guesses what those four opponents have in common?
They all finished below .500 a season ago.
John Clay is salivating already.
In all seriousness, the Badgers can't afford to take the Pac-10 Sun Devils lightly, and any road game a few time zones away (such as the Vegas journey) is by no means a gimme, but Wisconsin appears in great shape to follow up their 10-win 2009 campaign by taking an unblemished record into Big Ten play this fall.
September 4: W at UNLV
September 11: W vs. San Jose State
September 18: W vs. Arizona State
September 25: W vs. Austin Peay
2010 non-conference record prediction: 4 wins, 0 losses
Total Non-Conference Victories: 38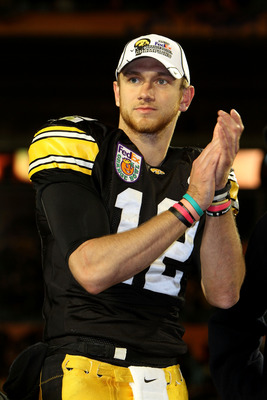 If the Big Ten does in fact win 38 of the schools' 44 combined non-conference games, the stage will be set for what could be one of the most exciting league races in history.
And who knows? Maybe Penn State CAN surprise Alabama. Maybe Illinois WILL turn things around before they square off with Mizzou.
Or on the flip side, Notre Dame could throw a wrench into the 38-win forecast. A key injury could devastate any given team's season before the year even begins.
I guess that's why they play the games.
But the way things look now, Big Ten schools are going to enjoy playing those games in 2010.
Especially the ones in September.
Keep Reading