WCQF Game One: Sharks Report Card
Coming into the series with the Avs, Sharks staunchly denied that the "Ghosts of Failures Past" would come knocking on the door. These denials became such an overpowering voice and singular message that it seemed quite clear that, despite the Sharks denials, they did have Scrooge in the back of their minds.
Well, its a good thing that Game One is over and we put those worries to rest once and for all, right?
Oh wait......
Coming into the game with the young, fast, and hungry Avs, who only last year were the worst team in the West, the Sharks looked to change their fortunes. Someone forgot to tell the Sharks, as they sleepwalked through the second period and poured gas onto the fires of doubt, rather than putting forth the effort that might otherwise have quelled those rumblings.
Goaltending: Grade A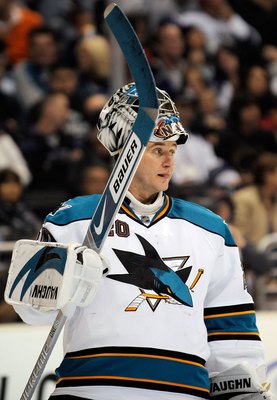 My love/hate relationship with Evgeni is no secret. While his stats during the regular season are great, I don't personally feel he's the goalie that will steal a series, or even carry the team through a series. While my opinion of him hasn't changed for the most part, he played well in Game One.
Nabby had a solid game; the Liles goal as well as the winning goal were goals he couldn't do much about. And he consistently displayed a solid control of rebounds and looked very sharp especially through a stretch in the second period where the Avs outshot us 10-1.
Defense: D-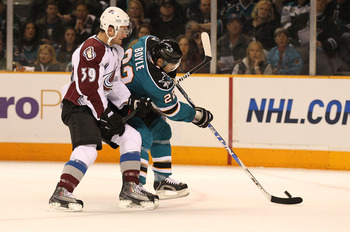 Outside of our top D pairing, our blueliners looked horrible in Game One. Boyle and Blake did play well enough, but Boyle looked like he was pressing quite a bit, especially during the second period. He contributed to the Sharks inability to get through the neutral zone and move into the attacking zone with speed. If they just slowed down a bit, maybe regrouping back in their zone and giving the forwards a shot at collecting themselves before breaking out, they may see better results. Boyle was caught down low out of position quite a few times last night. I know they want to contribute, but we need to play smart playoff hockey.
Miscommunication, turnovers, and a stagnant breakout defined the rest of the defensive corps, as Murray and Huskins did not have a strong game. Wallin looked like he belonged in the minors last night. So much for Stanley Cup experience.
This group needs to get their collective heads out of their rear ends and start playing smart hockey. Panicking and pressing the attack like we did last night is not going to get us anywhere.
Team Canada Line: F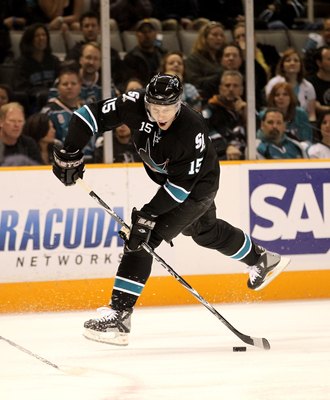 I normally just grade the wingers and centers separately, but this much ballyhooed line provided very little in Game One. Turnovers and mental mistakes plagued both Patty and Joe, and despite the fact that this is the playoffs, I saw nothing from this line that looked anything different than years past as far as effort or desire is concerned.
Heatley looked gassed for most of the third after taking an extra long shift, and the opportunities that he did have weren't much of a threat to score.
Patty had some bright spots late bringing the puck into play, but Hannan knows how to play his ex-teammate and he shut down Marleau several times around the net and coming into the Colorado zone.
What else to really say about Joe? He shot the puck more than he does normally, great job. How about not turning the puck over? How about getting into the corners and behind the net and being Jumbo? How about not trying a backhand no look pass across ice by the blue line in the Avs zone?
The Sharks did nothing they talked about coming into the game, whether it was putting the puck down low, winning the battles in the corners, or beating the Avs with superior size and skill. This top line needs to be broken back up and the rest of the lines shaken up to see if the troops just might respond.
Forwards and Centers: B-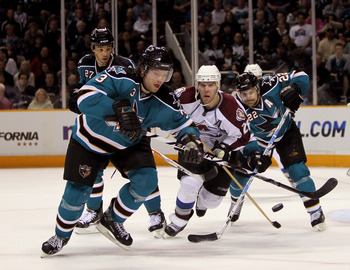 I have doubted the moves and the players that the FO has committed to this year. But for the most part I am pleasantly surprised by the overall effort, commitment, and tough-it-out attitude that the rest of the team played with.
Clowe, Pavelski, and Setoguchi played well, although if Devin took some mustard off of his shots to get them on net once in a while it would be nice. Malhotra, Nichol, and Couture also played very well and showed intensity that I thought lacked with others, and Manny's faceoff ability is something we'll lean on this year in the playoffs to be sure.
I thought Mitchell could have had a great game as well, but a lot of his chances were just out of his reach or he just couldn't make it happen. Hes got the wheels, and looked confident last night, much like Setoguchi he just couldn't capitalize
Coaching and Intangibles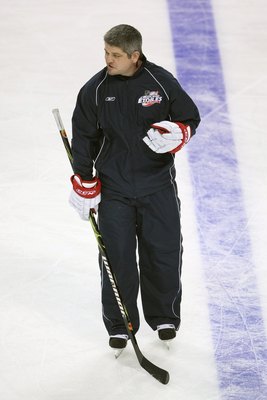 I don't want to hear about how great the first six minutes were, or how we lapsed during the entire second period, or how past failures don't matter this year. We had a power play 28 seconds into the game, and continued to look lost or confused as to what needed to get done, especially when we were breaking out of our zone and trying to enter the Avs zone. Miscommunication in our zone, dumping, chasing nothing, turnovers, and a lack of effort are the themes of last night
I feel discouraged that the coaching staff could not adjust during the brutal second period, including a stretch where the Avs dominated play, outshooting us by a wide margin. Their team speed and backcheck continued to catch the Sharks from behind and disrupt the flow of our offense. But the real stinger was that we didn't change a thing about how we were entering the Avs zone. We would simply skate to the blue line, continue to dump it in, or make some ill advised pass to try and enter the zone—which more often than not became a turnover.
Bottom line is, this team still does not look like it gets it, and at times looks lost and disinterested.
Sound familiar?
What's Your Point?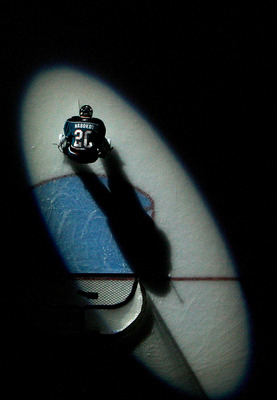 As bitter as a pill as this Game One was, I still feel that the Sharks will win in five. Nobody in that locker room thought it would be an easy series, and Game One only proved that point. But things need to change for us to win, and for us to have any postseason success, and I will repeat my mantra at the risk of sounding like a broken record.
Goaltending
Nabby has got to pick up his game. This means as well as he played in Game One, hes got to do better. And for the first time in a long time I believe he will.
Team Canada Line
The lines need to be juggled around, much like they were during the regular season. This will not only alleviate some pressure and spread the Gold Medals around, but would maybe get Marleau and Heatley away from Hannan and Foote.
The 1-2-2
We need to come into Game Two (and beyond for that matter) with a clear understanding of what we need to do and to EXECUTE it. More excuses about things bouncing the wrong way, last year doesn't count, and closing windows means nothing if we can't keep our focus and our heads in the game.
Come on Sharkies, wake up.
Keep Reading

San Jose Sharks: Like this team?