Taking In the Sights at Yankee Stadium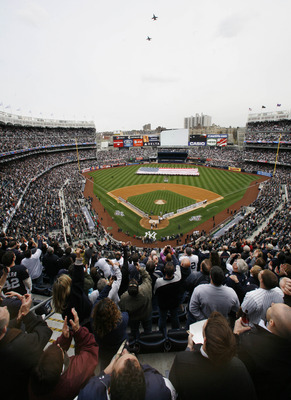 I love going to Yankee games. Love, love, love it.
My feeling is probably similar to how Hank Steinbrenner reacts when the Phillip Morris Convention rolls into town. Pure titillation.
So when my buddy Mark offered me a ticket to the Yankees' home opener against the Angels on Tuesday, you can guess that my schedule was quickly cleared.
Being your dutiful Yankee blogger, I felt it was my responsibility to do a couple of laps around the House That George Built and report on what I saw.
Please excuse my shoddy camera work. I used my camera phone, which makes several of the photos look like stills from the Zapruder film. Also, I drank nine beers between 11 a.m. and 5 p.m.
Why don't you join me?
Stan's Sports World Keeps It Classy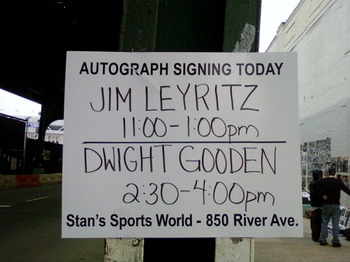 Apparently, Mel Hall was unavailable.
Elsewhere on the River Ave. Crime Blotter...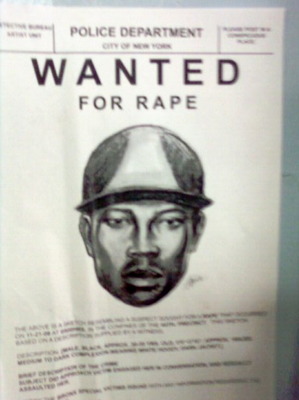 This was conspicuously taped to a wall in the bowling alley bar. The Jets are already trying to get his agent on the phone.
Beer Is For Suckers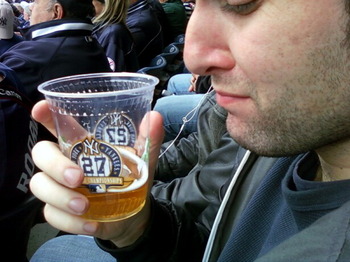 Is it possible the brews at Yankee Stadium are getting smaller? This shot of Bud Light costs six bucks.
Pictured: Mark, a conned and broken man, makes do with the hand he was dealt.
The Old House In Ruins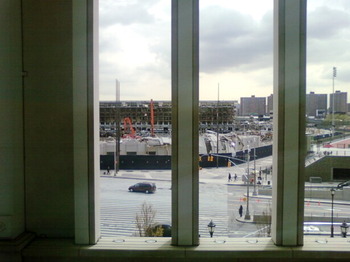 All day, people were staring in awe at what remained of old Yankee Stadium. The place looks like the setting of a Michael Bay disaster movie.
Food, Food, Everywhere
For me, the most underrated aspect of the new Stadium is the collection of rare photographs taken from the Daily News archive.
Over in the official food court (main level, third-base side), various photos of famous Yankees eating and drinking adorn the walls above the stands.
Here we have a 1996-era Derek Jeter making a giant bowl of what I assume was his short-lived Derek Jeter Sugar Puffs. To the right is Mickey Mantle wearing a YooHoo shirt while scarfing down a cannoli.
Good times.
Would You Like Some Raw Fish With Your Cracker Jacks?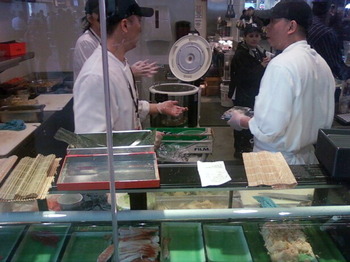 Call me xenophobic, but I'm not ready to live in a world where sushi is consumed at a Yankee game.
The '09 Champs Take Their Place
Each World Series championship team has its own collage along the main level concourse. Here is the surprisingly A-Rod-centric 2009 collage.
Love that Jeter shot, though.
Rich? Like Pork Products? Follow Me.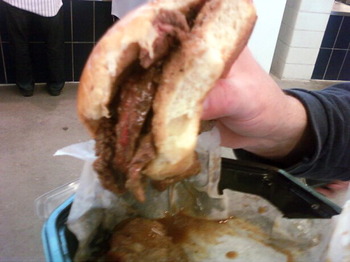 For $15, this delicious Lobel's meat sandwich can be yours. I asked a random dude to hold up his lunch so I could snap this pic. I briefly considered punching him in the heart and stealing his food, but thought better of it.
Beers Of The WorldAffluent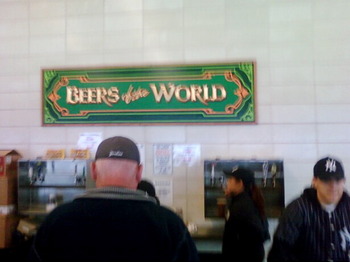 If paying $10 for a flat Budweiser is beneath you, head on over to the Beers of the World stand to make everyone in your section hate you.
The individual with his back to the camera is actually the Monopoly guy.
Ummmm ...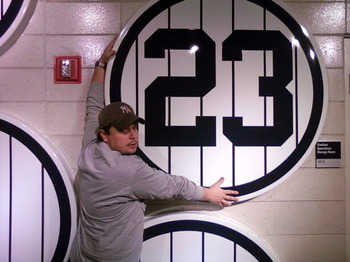 I didn't know I was being photographed here. Let's just move on.
Is Doc Smuggling a Small Child Under That Shirt?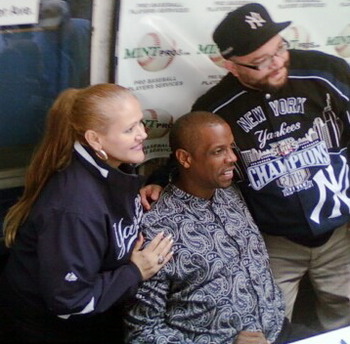 Cocaine is a hell of a drug...
My Ultimate Fan Pet Peeve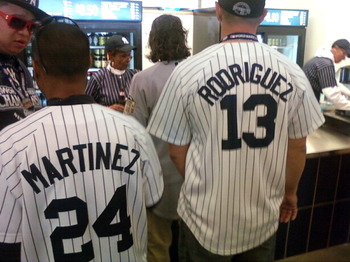 It boggles my mind how many people regularly show up at Yankees games wearing official jerseys with a player's last name sewn across the back.
You might as well be holding up a sign that says, "Hey, I'm not a real fan! I have no idea what a sacrifice bunt is! I hope the Yankees score a lot of points today!"
That said, the guy in the red shades is pretty boss, so I'll cut his buddies some slack.
Looks Can Be Deceiving ...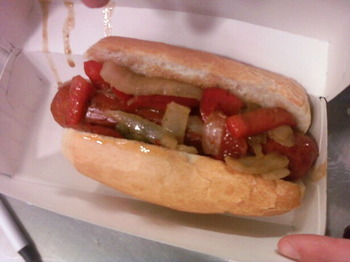 Despite its underwhelming appearance, the Premio sausage is still the best thing you can eat at the Stadium, new or old.
Staler Than A Leno Monologue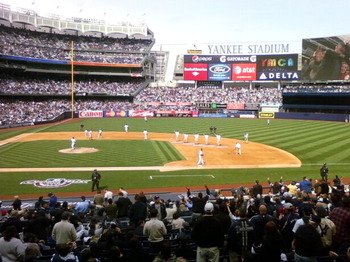 Really, guys? Still with the YMCA thing? You're killing me.
Due To Overwhelming Demand (?)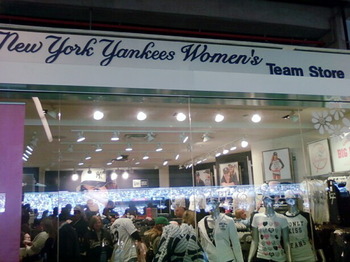 The Yankees art gallery has went the way of the Giambino, replaced by the New York Yankees Women's Team Store.
This is either the smartest or the stupidest idea ever.
Some birthday gifts were meant to stay in the closet ...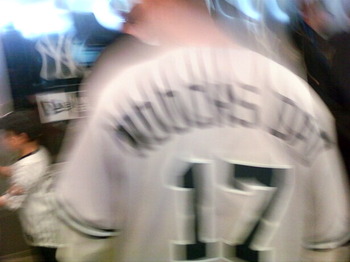 A direct descendant of Last Name Jersey is the Personalized Last Name Jersey, which takes the concept of exposing you as a fake fan and doubles down by making you a dorky Dad as well.
About Ready To Join The Art Gallery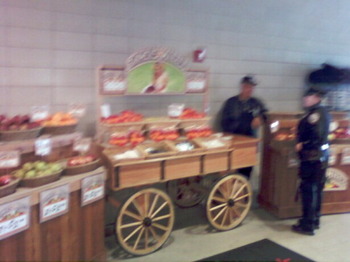 The fresh fruit section is a good idea in theory, but with a massive variety of tremendous fried products available for purchase, they may as well make the produce plastic at this point.
What's Behind The Curtain?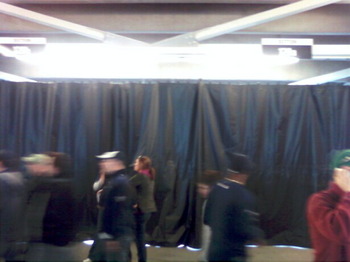 This mysterious curtain hangs in front of two sections of the main level concourse. I think this is where the scientists that operate Mark Teixeira set up shop.
A Cameo By The Boss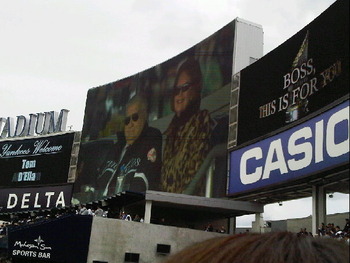 Ah, George. The Boss received a long ovation from fans prior to the fourth inning, but he didn't seem to be aware of it.
The woman I assume to be his wife tried to get him to acknowledge the crowd, but he just sat there emotionless.
I think it may be time to nix the public appearances for George, or at least keep him off the 6,000-foot scoreboard.
A Trip To Home Depot May Be In Order
If I had one complaint about the aesthetic look of the Stadium, it would be that's still entirely too...gray. It's nothing that a few hundred cans of navy blue paint can't fix, but still.
Pictured: Mark in a main stairwell looking like the main character in a Zack Braff coming-of-age film.
Dan Hanzus writes the Yankees blog River & Sunset and can be reached via e-mail at dhanzus@gmail.com. Follow Dan on Twitter at danhanzus.
Keep Reading

New York Yankees: Like this team?