Eight NFL Teams That Have Something to Prove In 2010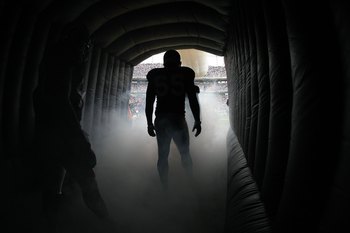 It was just a few days ago that I did a slideshow on the same topic and I had my eyes reopened to the NFL world by its fans. Needless to say they provided me with feedback.
I would like to apologize to the many readers on B/R who took the time to go over my previous slide and felt their time was wasted—this slide should (hopefully) do the subject justice!
For my "do-over," I have selected a team from each division in both the AFC and the NFC. My choice will be based off of the teams' 2009 records, their approaches to the 2010 free agency period, their amount of needs going into the draft, and the amount of picks in the draft.
I will not pick teams that made it into the final round of last season's playoffs like the Vikings and the Chargers, as we all know what those teams have to prove.
As always your comments and opinions are very much appreciated, so feel free!
Thank you and I hope you enjoy!
Chicago Bears: 7-9, NFC North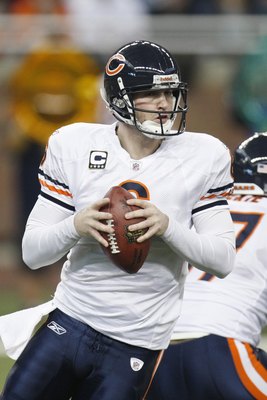 I had to go with the Chicago Bears over the Minnesota Vikings in the North because of all the free agents the Bears brought in, but also for the limited amount of picks they have in the draft.
The Bears' draft schedule is a scary situation. They are missing out on key draft picks in the first and second rounds. Their first pick comes in the third round (75th overall).
If the Bears stay with what they have in terms of draft picks, the front office and the fans shouldn't expect any type of impact draft.
That said, the Bears are, in my opinion, the team that made the most noise in the free agency period. They've added a bunch of players who can come in and contribute.
First the Bears signed the premier free agent defensive end, Julius Peppers, and another big name in running back Chester Taylor. They also signed tight ends Richard Angulo and Brandon Manumaleuna and defensive back Tim Jennings.
If you look at the Bears' roster you will see they have six tight ends:
1. Angulo 2. Kevin Brock 3. Kellen Davis 4. Manumaleuna 5. Greg Olsen 6. Desmond Clark.
Out of those six players (what team keeps six TE's?), Olsen brings the most value. Is it impossible to imagine that he could be involved in a draft day trade so the Bears can acquire an early round pick?
I'm not saying Olsen is as good as gone, but if they did trade him, it wouldn't surprise me one bit!
2010 Draft needs: OL, WR, S, CB
Arizona Cardinals: 10-6, NFC West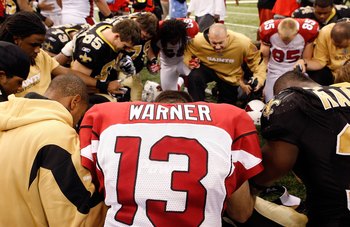 After making a Super Bowl appearance in 2008, the Cardinals quietly made their way through the 2009 season and made it to the playoffs for a second straight year.
Free agency took its toll on the Cardinals as they lost key players like WR Anquan Boldin (Steve Breaston is expected to fill that void), DB Antrel Rolle (they made a trade to acquire Kerry Rhodes to fill that spot), and LB Karlos Dansby (who still needs to be replaced).
With the 26th overall selection in the draft, I think the Cardinals will select DT Terrence Cody out of Alabama.
The Cardinals have made a couple of bad judgments at the DT position, drafting players like Gabe Watson and Alan Branch, and would be striking gold if they were to draft the space-eating Cody.
2010 draft needs: OL, LB, TE, DT, WR
Philadelphia Eagles: 11-5, NFC East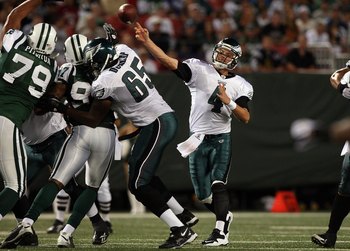 For the Eagles, the offseason has featured more veteran cuts to their roster than I've seen in a long time.
GM Howie Roseman has been quoted as saying the Eagles aren't in a rebuilding process, but it is obvious that is exactly what is happening.
There is the offseason "blockbuster" move that sent QB Donovan McNabb to the Washington Redskins in exchange for their 2010 second-round pick (37th overall) and a 2011 fourth-round pick that could become a third-rounder depending on McNabb's performance in the upcoming season.
Fourth-year QB Kevin Kolb takes over for McNabb, and many among the fan base pretty much expect Kolb to pick up right where the Eagles left off in 2009.
There is a ton of confidence in Kolb among the Eagles' front office. He has shown enough progress while being taught by three of the best QBs in NFL history in McNabb, Jeff Garcia, and Michael Vick.
Philadelphia's young offense has a great amount of respect for Kevin, including standout WR DeSean Jackson.
Can Kolb handle being a starting NFL quarterback—especially in Philly?
There was also the tough decision to part ways with legendary RB Brian Westbrook after he had multiple concussions in 2009. The doctors have said he is good to go and is able to sign with any team and yet nobody has picked him up—a definite sign that teams are wary of this future Hall of Famer.
Second-year man LeSean McCoy will be the new starting back while newly acquired RB Mike Bell will be his complement, and FB Leonard Weaver still is in the mix.
CB Sheldon Brown and LB Chris Gocong landed new teams in a trade that sent them to the Cleveland Browns in exchange for their 2010 fourth- and fifth-round draft picks and LB Alex Hall.
Brown's departure puts the Eagles' secondary in a bad situation. The Eagles still have CB's Asante Samuel (although his name has been in many trade rumors), Ellis Hobbs (who is expected to start opposite Samuel), Joselio Hanson, (newly acquired) Marlin Jackson, Dimitri Patterson, and Geoffrey Pope at their disposal—but add it to the list of needs!
Other players the Eagles have either cut ties with or traded are WR's Reggie Brown (to Bucs for their 2011 sixth-round pick) and Kevin Curtis, DE's Chris Clemons (coupled with a fourth-round pick to Seahawks for DE Darryl Tapp), Darren Howard, and Jason Babin (to Titans), G Shawn Andrews—the list goes on and on.
However, the Eagles are stacked with 11 picks in the upcoming draft, including seven in the first four rounds in an extremely deep draft. Good players will be around in the fourth round!
The focus in the draft is defense, which was the Eagles' sore spot in 2009.
My prediction is either an offensive lineman or safety in the first round.
That prediction is determined on whether or not Southern Cal safety Taylor Mays is still around at pick No. 15, in which case the Eagles will get involved in a draft day trade to move up and draft him.
If Mays is gone by that point, I would assume the Eagles would take OG Mike Lupati (out of Idaho), who is expected to be around when the Birds pick at No. 24.
The last thing I want to point out is both their special teams unit and their defensive backs should be much better than they were in 2009, as new coaches have been signed.
Bobby April, who has won the Special Teams Coach of the Year award multiple times over the last five years, is now in control of the Eagles' special teams, and the one and only Dick Jauron will now head the defensive backs unit.
Jauron's resume would take up about five slides, so I'll just say this man has done everything in coaching—I mean everything.
In his playing years he was a safety, so he definitely knows the ins and outs of the position.
This is a very young Eagles roster headed by experienced coaches, but they will only get younger after the draft!
They aren't rebuilding? I beg to differ!
2010 Draft needs: OL, LB, S, DL
Atlanta Falcons: 9-7, NFC South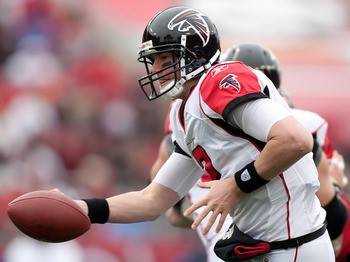 When the free agency period opened for business, the Falcons wasted no time in addressing one of their more pressing needs.
They saw Dunta Robinson, who was the best corner available in free agency, and signed him to a long-term deal. They also solidified their other corner position by re-signing Brian Williams.
Falcons GM Tom Dimitroff said he also likes their backups, so they seem to be OK at corner.
The Falcons also signed DB Matt Giordano and DT Dan Klecko.
What this allows the Falcons to do is be true to the positions they really need to fill in the draft, which is less than two weeks away. They should really have their eye on either a linebacker or a defensive end—or even better, a hybrid-type player.
South Florida DE Jason Pierre-Paul would be an outstanding addition. He has tremendous upside; the only problem is draft experts see him being a year away from becoming an NFL talent.
There is one other player who, if he is available, the Falcons should take: Mississippi DE Greg Hardy!
The only problem with Hardy is his injury report, but if he can stay healthy, Hardy is a dominating force at defensive end. In only 10 games as a junior, Hardy had 64 tackles (18.5 for a loss) and also posted 10 sacks.
If his injury report were to make him slip to No. 19 when the Falcons are up, Hardy would be tough to pass on!
2010 Draft needs: LB, DL, OL
Miami Dolphins: 7-9, AFC East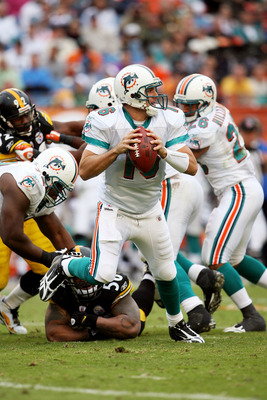 The AFC East was a very bad division to pick a team from.
They have the division king over the past decade: the New England Patriots, who again ended up on top in 2009 with a record of 10-6 but who also have questions heading into the draft.
Then there is the Buffalo Bills (6-10), who have everything to prove, so I'm not going in that direction.
My decision ultimately came down to the two teams that quite frankly have had the best offseasons: the Miami Dolphins and the New York Jets. I decided to do this slide on the Dolphins and we'll see if we see anything on the Jets a little later!
Miami had the fewest needs in the AFC East going into the draft, and the Dolphins solidified their two biggest by signing LB Karlos Dansby at the beginning of free agency and adding WR Brandon Marshall, who was dealt by the Broncos on April 14.
In exchange for Marshall, the Broncos received the Miami Dolphins' 2010 and 2011 second-round draft picks.
Miami still enters this year's draft with nine picks, only missing its second- and fifth-round picks, and the Dolphins have at most three definite needs to address to make them a contender in 2010.
With the need for a linebacker and wide receiver out of the way, the Dolphins can focus on their other two areas of need in the draft, which are the defensive line and safety positions.
They hold the 12th overall pick in this draft, and whichever way they decide to go, they will get a true impact player.
If they look to the safety position, there are two players who would fit nicely in Miami's defensive scheme: Texas product Earl Thomas (graded 8.4) and Southern Cal's Taylor Mays (graded 8.3).
If they decide to draft a defensive lineman, they should go with Tennessee DT Dan Williams, who is graded around 8.5.
Since the Dolphins were ranked 24th in the league in passing yards in 2009 and 18th in rushing yards, they will want to shore up the secondary by drafting S Earl Thomas.
The skinny on Thomas is he is a ball hawk of a safety who has extremely good straight-line speed. Though he is small for a safety, that does not stop him from making contact, and is known as a good tackler.
Thomas is also considered an elite athlete with fluid hip motion while watching where the QB's eyes are. His only downfall is his size: 5'10", 208 pounds.
2010 Draft needs: S, DL
Denver Broncos: 8-8, AFC West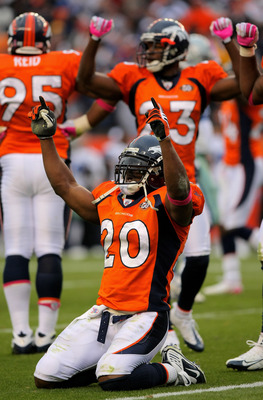 I could very well have decided to go with the San Diego Chargers, but that was too easy—they went deep into last season's playoffs, so everyone knows what is on their mind.
Denver started off the 2009 season red hot, going 6-0. Over the next 10 games the team managed to win only two, ending the season at .500.
With that said, and looking at the other two teams in the division (Raiders and Chiefs), the obvious choice here was the Denver Broncos, following their 8-8 campaign.
In my first slideshow I mentioned how I thought WR Brandon Marshall may have affected the chemistry of the team, which was quickly dismissed by a Broncos fan with a very valid point: The Broncos ranked 20th in league in rushing yards allowed per game.
The downfall of last year's campaign can't be blamed solely on Marshall. It doesn't matter how good your offense is if your defense can't stop the other team in most cases!
I still believe Marshall had an affect on the team's success, however I will acknowledge there were other factors involved.
I know they need to draft a linebacker to shore up the run game, but with the departure of Marshall, the Broncos need to find his replacement in the first round in the draft.
I believe they will select Oklahoma State WR Dez Bryant with the 11th overall pick.
Bryant brings that big WR mentality to the Broncos. He isn't the fastest guy at the position coming into the draft, but he has fantastic hands and would be a huge threat in the red zone on a fade route as he is fantastic at going after the ball in the air.
Since the Broncos need to draft a linebacker I'll dip into my prediction for the second round: TCU OLB Daryl Washington would be a good pickup and could be available in the second round.
2010 Draft needs: WR, LB, CB, DL, TE
Pittsburgh Steelers: 9-7, AFC North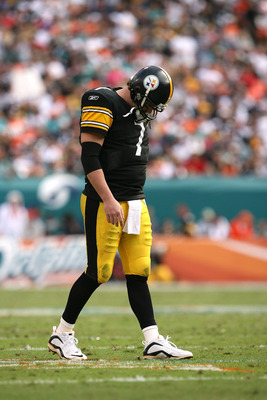 Yes, Big Ben's off-the-field issues are the headliner for the Steelers' 2010 offseason, and it is likely NFL Commissioner Roger Goodell will enforce a suspension, which is expected to be anywhere from two to four games.
There have been other noteworthy moves involving the Steelers during the offseason that I would like to mention.
Pro Bowl RB Willie Parker is now a member of the Washington Redskins after leaving as a free agent, and WR Santonio Holmes was traded to the New York Jets, further adding to the Steelers' list of questions.
The running back position isn't so much of a question with Rashard Mendenhall having replaced Parker for the better part of the 2009 season.
Rashard started 12 games and rushed for 1,108 yards (7 TD's) while adding 261 receiving yards (1 TD).
His biggest weakness was his lack of ball security. Rashard must work on protecting the ball when it is in his hands during this offseason and when the team reports for training camp.
He has already proved he can be a force in the backfield; now it is a matter of getting sticky hands!
The Steelers have also signed some players who could contribute nicely, adding WR Arnaz Battle, LB Larry Foote, and DB Will Allen and reuniting WR Antwaan Randle El with the franchise.
With the new additions, the Steelers' focus will be on the offensive line in the draft.
Oklahoma OT Trent Williams would be a nice addition to the Steelers' O-line if he is still available. If not, Maryland's Bruce Campbell, who is projected to be available with the 18th overall pick, could also be a potential pick!
2010 Draft needs: CB, DL, QB, OL, RB
Tennessee Titans: 8-8, AFC South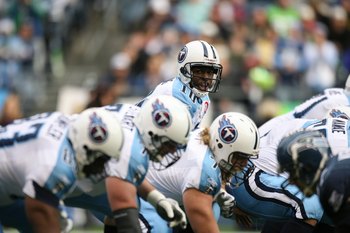 The Tennessee Titans have the new Adrian Peterson in RB Chris Johnson.
In 2009 Johnson surpassed the 2,000-yard rushing mark while accounting for 14 touchdowns.
He also notched 503 yards and two touchdowns in the receiving department.
Yeah, Johnson is the Titans' beast to say the least!
Coach Jeff Fisher is giving the reigns back to QB Vince Young as he moves forward with his youth movement.
In addition to Young needing to step up, the Titans also have needs on defense, mainly in the secondary, and also at the wide receiver position. A linebacker to replace Keith Bulluck and a defensive end, since they lost Kyle Vanden Bosch to the Detroit Lions, are other areas of need.
I've seen some mock drafts saying the Titans will take Florida DE Carlos Dunlap, but I think they would be better off with a CB in the first round to help shore up their secondary woes.
Two corners who would be good fits for the Titans defense are Rutgers' Devin McCourty (5'11", 193 pounds) and Alabama's Kareem Jackson (5'11", 196).
They could still draft a solid defensive end in the third round by selecting Wisconsin DE/OLB Schofield O'Brien, and get a double threat in one player, or UConn DE Lindsey Witten. Both are projected third-round picks.
2010 Draft needs: CB, DL, LB, S, WR
New York Jets: 9-7, AFC East, AFC Bonus Slide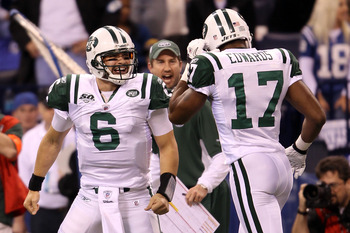 The New York Jets made some great strides in 2009 under rookie QB Mark Sanchez, and with the offseason moves they have made, they look to do much better in 2010.
The Jets, who just acquired 2008 Super Bowl WR standout Santonio Holmes and also signed two members of the San Diego Chargers in RB LaDainian Tomlinson and CB Antonio Cromartie, have given a nice boost to both sides of the ball.
The Jets have a good tandem at both WR spots, having Braylon Edwards, who really came back to life towards the end of the 2009 season, and now Holmes, who made the game-winning catch in the 2008 Super Bowl.
They now also have arguably one of the best combinations at CB in the NFL with the likes of Darrelle Revis and Cromartie.
They have five picks in the upcoming draft, missing their third- and fifth-round picks.
I believe they will try to strengthen their linebacker core in the first round.
If Texas OLB Sergio Kindle is still on the board when the Jets are on the clock, Jets fans should expect to hear his name called as he is one of the top-ranked OLBs coming into the draft.
If Kindle isn't there, the Jets will then look to either Brandon Graham out of Michigan or Missouri's Sean Weatherspoon.
2010 Draft needs: LB, DL, OL, S, WR
Dallas Cowboys: 11-5, Bonus NFC Team
Last season's playoff win ended a 13-season drought, something Cowboys fans had not been able to live down.
The offense was red hot for the better part of the season and it was as if the departure of WR Terrell Owens had a positive effect on yet a third NFL team, as everyone on offense began to click with one another.
Miles Austin simply stepped out of nowhere and seemingly became an elite wide receiver overnight. He took on the responsibility of being the No. 1 receiver after WR Roy Williams became a disappointment.
Austin's 2009 season consisted of a Pro Bowl trip after amassing 1,320 yards on 81 catches (16.3 YPC) and 11 touchdowns.
This after his 2008 season, in which he had 13 catches for a grand total of 278 yards—yep, right out of nowhere!
Something happened to the defense, which struggled at times in 2009, in the win over the New Orleans Saints. That game was a turning point and from that point on the Cowboys were considered the most relentless defense in the league.
Dallas fans felt that bitter taste left by the 44-6 loss they suffered from division rival Philadelphia as the Eagles beat them not once, not twice but three times. The third win was the final stamp for the Eagles' 2009 campaign and that "how's it feel" feeling emerged throughout the stadium.
The Cowboys are in good shape entering the draft, and a big reason for that is their roster is a solid one. That and the fact that a lot of the players who could have become free agents where not able to due to the uncapped year.
They have relatively few needs to resolve in the main event of the offseason. I would assume they will draft a LT in the first round to replace Flozell Adams, who left during free agency. They could also use an inside linebacker who can be groomed to one day replace Keith Brooking and also a safety.
Both of those positions can be drafted with their second- and third-round picks. The tackle position is key because QB Tony Romo needs to be on his feet in order to throw the ball.
Maryland's Bruce Campbell (8.1 grade) should be available to the Cowboys in the first round (27th overall), but is it possible for a player like Oklahoma OT Trent Williams (8.5) to slip in the draft?
Either way, I believe they should take the best available tackle on the board with their first pick!
2010 Draft needs: OL, LB, S, DL
Keep Reading