2010 NFL Mock Draft: New England Patriots Mock, 2.0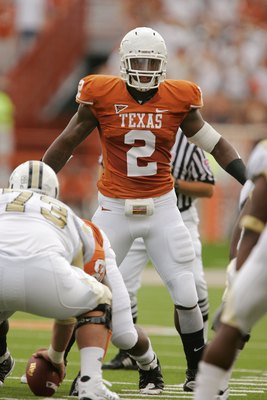 With free agency coming to a halt, the Patriots still have holes to fill before the season starts. OLB, TE, DE, ILB, WR, RB, CB are all areas that could use some youth and/or depth.
With the draft a little more than a week away, the Patriots have some options in this deep draft. With 12 total picks this year they should be able to fill some holes and add youth to their aging roster.
The breakdown of the picks: 22nd, 44th, 47th, 53rd, 119th, 190th, 205th, 229th, 231st, 247th, 248th, 250th. With four picks in the top 120 they need to go after talent but should try to fill one of the areas of need. With their two sixth round picks and five picks in round seven they should look to draft for depth and find players of value and as we all know they are good at getting the most out of their late round picks.
Round One, Pick 22: Target OLB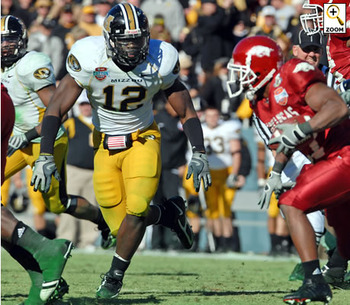 The Patriots will have three players that should be available that will fill the need for OLB. Brandon Graham is the highest rated OLB and will most likely be off the board by the time the Patriots pick at #22. Players ranked on overall scale.
Sergio Kindle, Texas: #20
Sean Witherspoon, Missouri: #25
Jerry Hughes, TCU: #29
Round Two, Pick 44: Target DE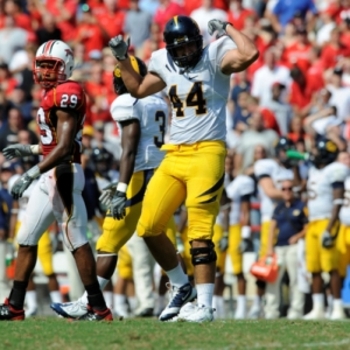 With the loss of Richard Seymour in a trade before last season and Jarvis Green heading to Denver, the Patriots are seriously lacking depth at this position. If they are able to sign Derrick Burgess to a deal before the draft they can afford to come back to this position later in the draft.
Carlos Dunlap, Florida: #41
Tyson Alualu, California: #44
Alex Carrington, Arkansas State: #61
Corey Wooton, Northwestern: #68
While Carrington and Wooton are not slotted to go near the 44th pick the Patriots could take them with a reach for trade down and grab a later round pick.
Round Two, Pick 47: Target TE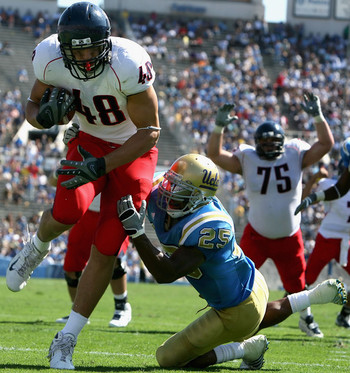 With Benjamin Watson and Chris Baker both leaving via free agency, the Patriots have a glaring hole at TE. If the Patriots look to address this position early in the draft there are two prospects that should be available after Jermaine Gresham.
Rob Gronkowski, Arizona: #46
Jimmy Graham, Miami: #50
Round Two, Pick 53: Target CB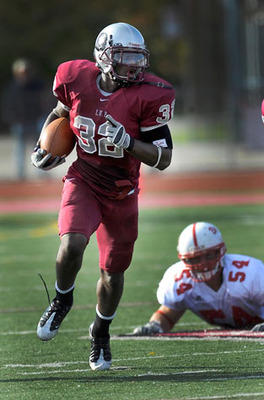 With the re-signing of Leigh Bodden the CB position doesn't need immediate help, but there are a few intersting prospects that should be available with the Patriots last pick in the second round.
Akwasi Owusu-Ansah, IUP: #69
Brandon Ghee, Wake Forest: #49
Chris Cook, Virginia: #47
Round Four, Pick 119: Target RB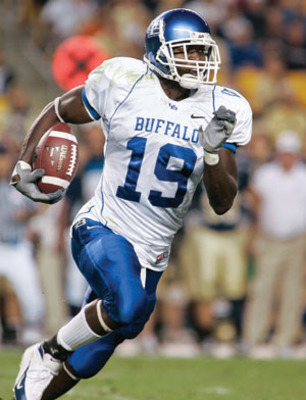 The running back position has been in limbo since the departure of Corey Dillon. While the Patriots don't need depth at this position, some youth would help the cause as Taylor, Morris, and Faulk are all well into their 30's.
Laurence Maroney, barring a career year, will most likely not be back with the team next year and that would leave BenJarvus Green-Ellis and the lone running back under 30 years-old next season. This may be a little high for the Patriots to take a running back since it isn't an immediate need, but there are some interesting prospects.
James Starks, Buffalo: #146
Anthony Dixon, Mississippi State: #102
Joe McKnight, USC: #120
Round Six, Pick 190: Target ILB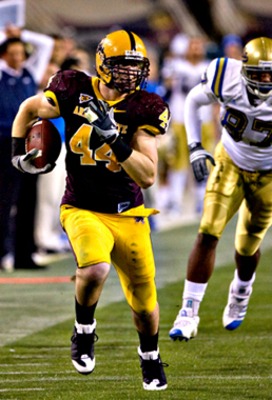 The Patriots don't necessarily need depth at ILB but picking up Travis Goethel could be a wise move. He started three years for the Sun Devils, has great hustle, instincts, and is a great tackler. Totaled 199 tackles and is a strong special teamer. Could fill a Larry Izzo-type role.
Round Six, Pick 205: Target OLB Depth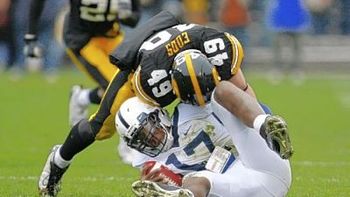 Just like Goethel, A.J. Edds is a smart player that uses his underrated athleticism to get the job done on the field. The depth in this draft pushed him down. Second All-Big Ten Selection after making 78 tackles last season for the Hawkeyes. Fits the Brushci/Vrabel/Izzo mold.
Round Seven, Pick 229: DE Depth
George Selvie gained a lot of publicity while at USF and was once thought to be a top 10 pick after his first two seasons when he gathered 123 tackles and 19 sacks. Injuries have slowed him down and most teams see him as a DE/LB "tweener".
One of the most decorated players in Big East history, and a two-time All-American. Finished with 206 tackles and 27 sacks. Might be gone by this pick but is slotted to go in round six or seven and is ranked at #219.
Round Seven, Pick 231: Target WR
Danario Alexander may be a project WR that the Patriots should look into drafting with the hopes of taking over for Randy Moss in the next two years. Danario has the height at 6'5'' to be a possession receiver in this offense and cause problems for opposing secondaries. He is projected to go in the fifth-to-sixth round but due to his recent knee injury he might not get drafted. Either way the team should give him a serious look.
Round Seven, Pick 247: Target WR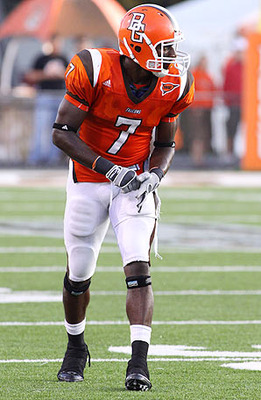 The label "sleeper" is confusing when you look at Freddie Barnes' stats last season. 155 catches and 19 TD's. This slot might be too low for him, but he is projected to go in seventh round and is the No. 242-ranked prospect. Not the fastest wideout in the draft but great hands and strong route running make him an interesting project.
Round Seven, Pick 248: Target QB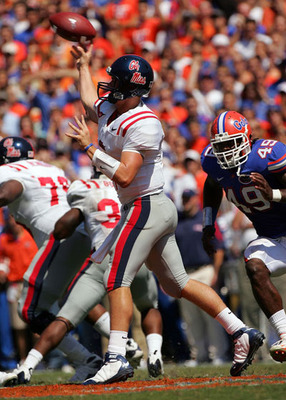 The Patriots have a backup for Brady in Brian Hoyer who looked good in spot duty last season. With there still some concern over Brady's knee and the lack of a backup behind Hoyer, the Patriots could look to take a late round project.
Jevan Snead, Ole Miss: #221
Mike Kafka, Northwestern: #245
Round Seven, Pick 250: Target ILB Depth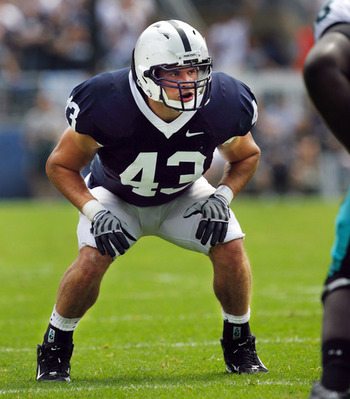 Again, the Patriots don't necessarily need depth at ILB but picking up this former Penn State standout would be a wise move. A Mike Vrabel-type player that would fit great into their linebacking corps. Posted 116 tackles in Happy Valley and was a Second Team All-Big Ten selection and had a 4.0 GPA.
Other Potential Draft Picks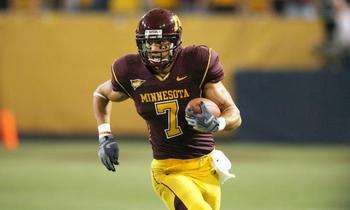 Here are some other prospects who would fit well on the Patriots.
Eric Decker, Minnesota, WR: #70
Mike Williams, Syracuse, WR: #160
Andre Dixon, Connecticut, RB: #204
LeGarrette Blount, Oregon, RB: #173
Dan LeFevour, Central Michigan, QB: #100
Eric Norwood, South Carolina, OLB: #73
Sean Lee, Penn State, ILB: #63
Brandon Spikes, Florida, ILB: #99
Sam Young, Notre Dame, OT: #179
Dennis Landolt, Penn State, OT: #198
Alex Parsons,USC, OG: #239
Jeff Byers, USC, C: #260
Keep Reading

New England Patriots: Like this team?