2010 NFL Draft: Arizona Wildcats Mock Draft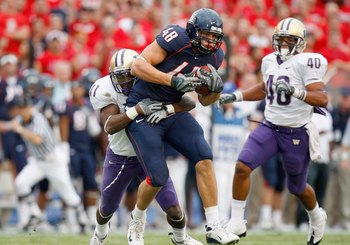 In past years Arizona Wildcats fans have not had to worry about whether or not one of their players were going to be drafted. They weren't, and if they were, it wasn't happening until the seventh round.
A lot has changed since Mike Stoops came into town. The Wildcats are winning and players are getting drafted.
From 2007-09, Arizona has had 10 players drafted, highlighted by first round pick Antoine Cason. In the previous three seasons before that (2004-06), Arizona had one player drafted.
So which five Wildcats have the best chance of hearing their name called April 22?
Let's take a look.
5. Chris Gronkowski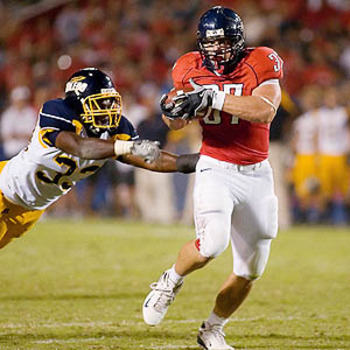 The older brother of star tight end Rob Gronkowski played fullback for the Wildcats and proved himself to be a capable blocker and receiver out of the backfield.
While Chris was never one to physically impress anyone with his athleticism, he was one of the grinders on the team. He was one of the hardest workers on the squad and always went 100 percent on every play.
In 2008, Gronkowski caught eight passes for 198 yards and three touchdowns. This season he only caught four passes but was asked to be more of a blocker as the 'Cats suffered numerous injuries at the running back position.
While Gronkowski might seem like a long shot to be drafted, he will definitely catch on with a team as an undrafted free agent and make a roster that way.
Projection: Undrafted
4. Fendi Onobun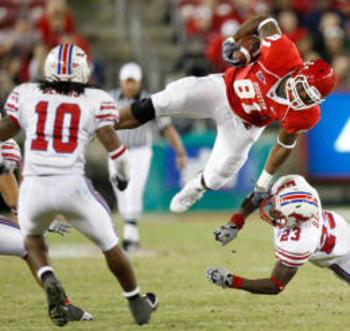 While this is a technicality, former UA basketball player Fendi Onobun's name keeps popping up for tight ends who will be drafted.
Fendi is a physical specimen (6'6", 250 lbs) and is not afraid to use his frame to initiate contact. While his basketball career never panned out like Arizona fans hoped, his size made him a perfect candidate for a basketball to football transfer (a la Antonio Gates)
After graduating from Arizona, Fendi went to the University of Houston where he caught two passes for 33 yards and blocked two PATs in one game. While the stats don't stand out, the raw talent does. This season was his first time playing football in 10 years.
Fendi is a likely late-round pick or undrafted free agent but will definitely be in an NFL training camp this fall.
Projection: Round Seven
3. Devin Ross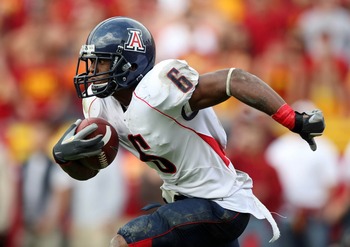 Devin Ross came into Arizona four years ago as the highest rated recruit in Wildcat history.
There was only one problem for the corner: He had Antoine Cason ahead of him.
After two years of sitting and learning from the Thorpe Award winner, Ross shined for Arizona.
While only racking up five interceptions while playing for Arizona, teams rarely threw to his side of the field because of his cover ability.
Ross helped form one of the more formidable cover duos in the Pac-10 this past season alongside Trevin Wade.
Ross will likely start as a backup in the NFL but could make the jump to starter in a few years
Projection: Round Five
2. Earl Mitchell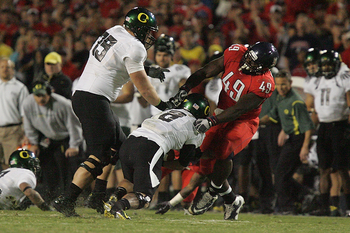 Earl Mitchell started out his career as a fullback. His bruising style and work ethic automatically made him a fan favorite.
After two seasons being underutilized as a fullback, the Wildcats moved Mitchell to defensive tackle. Big Earl shined after the move, immediately becoming a fixture in the middle of the defensive line.
His senior season, he racked up 6.5 sacks and 44 tackles. He impressed scouts at the East-West Shrine game and at the combine. Mitchell showed off his high motor, strength, and burst off the line, even knocking over offensive lineman on multiple occasions.
Mitchell improved his draft status greatly, going from a late-round pick to a mid-rounder, possibly moving up to the third round. No matter where he goes, Mitchell will impress fans with his endless motor and willingness to do whatever it takes to help the team.
Projection: Round Four
1. Rob Gronkowski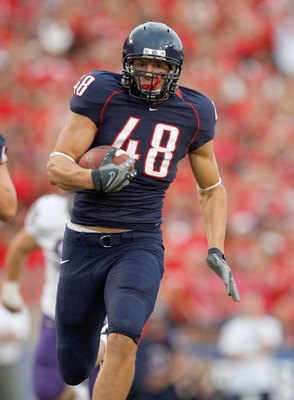 Rob Gronkowski could have ended up being the best offensive player in Arizona Wildcats history and cemented his status as a first-round pick had it not been for a back injury that kept him out for the season.
Despite playing less than two full seasons in college, Gronkowski made an impact on the record books in Arizona. Setting career records for most touchdowns (16), receptions (75), and receiving yards (1,197) by a tight end.
Big Rob could have gone down in the record books in Arizona history if he had been able to play this past season or elected to stay one more season. Gronk proved to be capable as a receiver and as a blocker in college.
He never completed a full college season and could have benefited greatly from coming back for another season to prove how durable he is.
There are rumblings in NFL circles that Gronk has not fully healed from surgery yet and this likely has dropped his status as the top tight end in the draft.
Projection: Round Two
Keep Reading