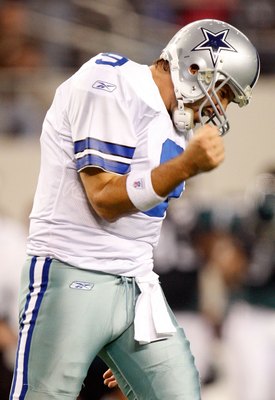 What makes a Quarterback great? Is it Yards? Touchdowns? Intangibles? Championships? I guess it would be a combination of all four. We all know there is no real scale for measuring how great a Quarterback is, but here is a look at the top ten Quarterbacks in the National Football League, through the eyes and words of Josh Truelove.
10. Carson Palmer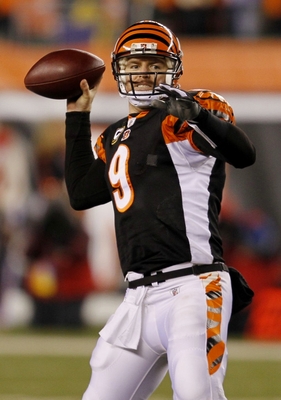 Three years ago, Palmer was considered a top 5 Quarterback. Some even said he was a top 3 Quarterback. Injuries have taken a toll on Palmer. But proved last year that he is still a top ten QB, and still throws arguably the best ball in the league.
9. Big Ben Roethlisberger
I know a lot of people love Big Ben and would put him as a top five Quarterback, but I do not. I know he's won two Superbowls, but he didn't win MVP in either and was awful in the game against Seattle. Roethlisberger is a great Quarterback, and has intangibles that can not be measured, but his numbers are not great enough to put him higher than 9 on my list. Let's face it, he was lucky to fall in the draft and land in Pittsburgh. A team where basically any QB could play. Arguably the most clutch QB in the NFL, Big Ben ranks as number 9 on my list.
8. Aaron Rodgers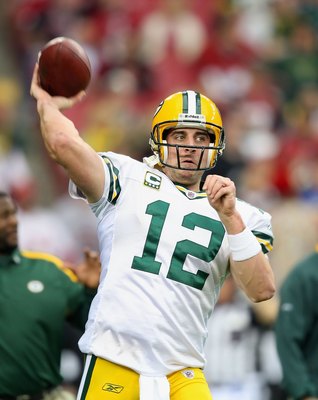 Aaron Rodgers has all of the right tools. Throws a lot of yards, a lot of touchdowns, very little interceptions, and does it all with a shaky offensive line. His performance at the end of games concerns me though, but other than that, Rodgers is going to be a great QB in the NFL.
7. Phillip Rivers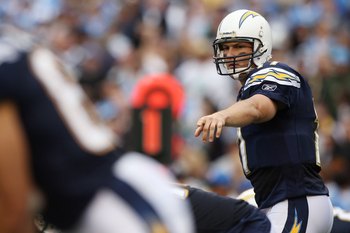 Funny, out of the big three QBs taken in the 2004 draft, the one without any rings is the best one. Rivers has proven to be a great player year after year. Also one of the most tough and competitive Quarterbacks in the NFL. He doesn't have the greatest arm, but he is extremely accurate. He is a still a very young QB, and there is no reason to believe he won't eventually win a championship.
6. Tony Romo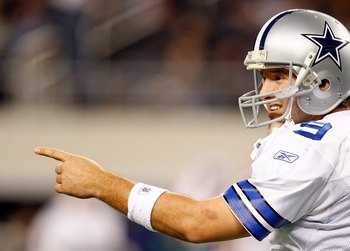 Almost made my top five, Romo is phenomenal. Week after week puts up the big numbers and plays great. Behind Brett Favre, Romo is the best play making QB in the NFL. One of the best QB's in the league at avoiding the blitz. He gets too much heat because he is the QB of the Dallas Cowboys.
5. Donovan McNabb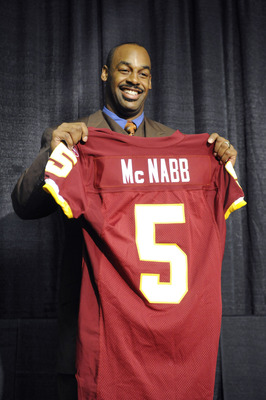 The most under appreciated QB in the NFL, Donovan McNabb. McNabb's been a top five QB for years and gets no love. The Eagles were a down and out franchise until McNabb got there. He carried them for years. They never gave him any WR's other than Terrell Owens, (we all know how that turned out), never gave him a good running game outside of Westbrook, and he always got the blame for everything. Now, I'll be the first to admit that he isn't great with the game on the line, but it wasn't always his fault. He will make the Redskins a contender this year. 5 NFC Title games and a Superbowl appearence? McNabb's a Hall of Famer in my eyes.
4. Tom Brady
I know, I know, 3 Superbowl rings and 4 appearances, but after Matt Cassell came in and won 11 games under the Belicheck system, Brady looks a little less like the 2nd best QB in the league. He is no doubt a Hall of Famer, but it doesn't take a genius to see that Brady isn't a naturally great QB, Belicheck turned him into a great QB. With that being said, Brady is still a top five QB, a three time Superbowl champ, and a future Hall of Famer.
3. Brett Favre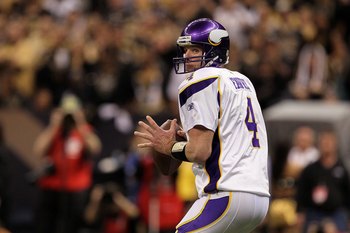 Now, this is assuming Brett comes back next year. Which I think he will. Favre proved once again that he is the man. Had his best year ever statistically at 40 years old! You can hate him all you want for waffling all off-season, but you can't hate to watch the man play. Still the most exciting QB in the NFL to watch, and still a top five QB at 40 years old, unbelievable.
2. Drew Brees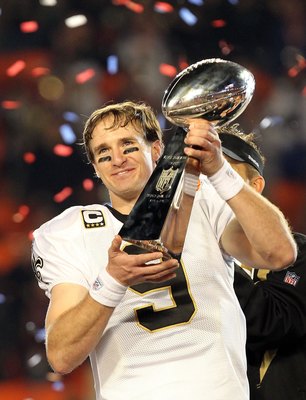 I've got to hand it to you Drew, you proved everyone wrong, including me. After that surgery, few teams even wanted to take a chance on Brees, lucky for New Orleans, the Saints did. Threw 5000 yards two years ago, and this year got what he needed, a Superbowl ring. Brees has proven to be the 2nd best QB in football.
1. Peyton Manning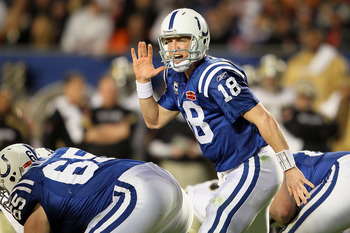 Hard to argue this one, actually, you CAN'T argue this one. Peyton Manning is without question the best Quarterback in the National Football League. 4 MVPs, 2 Superbowl appearances, and a Superbowl win. It's hard to argue the fact that Peyton is probably the best of all time, but that's for another day. As of right now, Peyton Manning is the best QB in the NFL.
Keep Reading