The Philadelphia Eagles' Top Five NFL Draft Picks of the Last 50 Years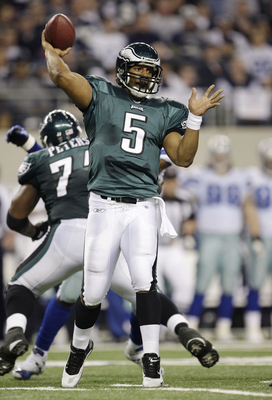 Donovan McNabb's 1999 first round selection from Syracuse did not make my "Top Five". It's hard to imagine that, but as a conciliation, he was definitely number six.
We could make a list that spans miles, but here are just a few more honorable mentions that I would like to make:
WR - Desean Jackson, Cal - second round, 2008
LB - Stewart Bradley, Nebraska - third round, 2007
TE - Brent Celek, Cincinnati - fifth round, 2007
OL - Todd Herremans, Saginaw - fourth round, 2005
DE - Trent Cole, Cincinnati - fifth round, 2005
OL - Shawn Andrews, Arkansas - first round, 2004
CB - Lito Sheppard, Florida - first round, 2002
SS - Michael Lewis, Colorado - second round, 2002
CB - Sheldon Brown, S. Carolina - third round, 2002
DT - Corey Simon, Florida State - first round, 2000
OL - William Thomas, Florida State, first round 1998
LB - Jeremiah Trotter, Steph. Austin, third round 1998
LB - Ike Reese, Michigan State, fifth round 1998
RB - Duce Staley, South Carolina, third round 1997
CB - Bobby Taylor, Notre Dame, second round 1995
RB - Charlie Garner, Tennessee, second round 1994
LB - William Thomas, Texas A & M, fourth round 1991
WR - Fred Barnett, Arkansas State, third round 1990
No. 5 | WR - Harold Carmichael, Southern - 1971, Seventh Round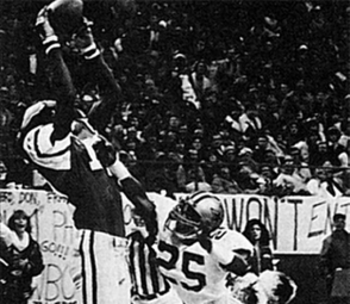 Harold Carmichael was a four-time pro-bowler, but at 6'8" and 225-pounds, he redefined the receiver position for the NFL. He was the original big red-zone target.
Carmichael is the Eagles' all-time leading receiver with 8978 yards, and 79 touchdowns.
The way Carmichael could go up for a ball made the Eagles offense a nearly unstoppable force in their 1980 championship run. In today's game, Carmichael could have been the most prolific scorer in the league.
No. 4 | CB - Eric Allen, Arizona State - 1988, Second Round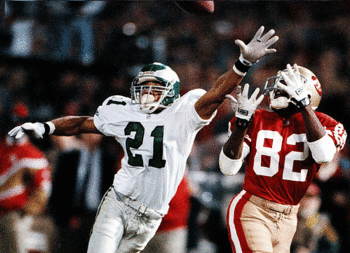 Eric Allen was one of the greatest cornerbacks to ever play the game. He earned five pro-bowls with the Eagles and one all-pro season.
Allen was one of the original lock-down cornerbacks and he would make you pay if you threw the ball his way. He picked-off 54 passes in his career and took 8 back to the house, scoring nine times all-tolled. He also accumulated 734 tackles, six forced fumbles and seven fumble recoveries.
At any moment, Eric Allen could change a game. His 95-yard interception return against the Jets capped off a four-score 1993 season.
No. 3 | RB - Brian Westbrook, Villanova - 2002, Third Round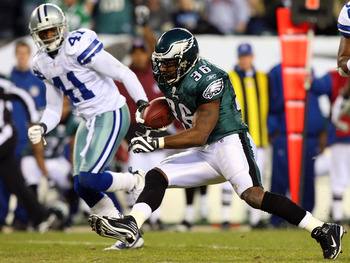 Brian Westbrook is the Eagles all-time leader in yards from scrimmage. He did it every way imaginable with the heart of a warrior. Its hard to say what his numbers would have looked like had he a longer, healthier career.
Westbrook could break a play on any given touch and he often did so in clutch situations. He earned two pro-bowl berths and one all-pro honor.
As an Eagle, he piled up 9785 yards in breathtaking fashion, scoring 66 times. Westbrook rarely put the ball on the ground and averaged over five yards per carry when at full health. He averaged 4.6 YPC over his career.
No. 2 | S - Brian Dawkins, Clemson - 1996, Second Round
Brian Dawkins still holds the heart of most modern Eagles' fans. He was certainly the epitome of what Eagles' fans look for in a ball player. "Weapon-X" has earned seven pro-bowls with the Eagles, four all-pro selections and a current total of eight pro-bowls overall—still counting.
Dawkins was a great ball-hawk for the Eagles, but his true contribution can never be measured by statistics alone. He simply added too many dimensions to the defense.
Dawkins has 36 interceptions and 818 tackles. He has recorded 21 sacks, forced 33 fumbles and recovered 19.
No. 1 | DE - Reggie White, Tennessee - 1984 Supplemental Draft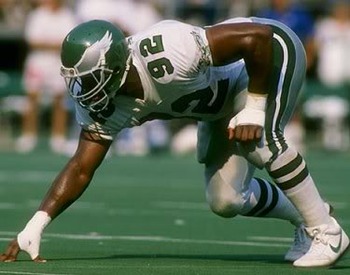 Reggie White is easily one of the greatest football players of all-time. He was a six-time all-pro with the Eagles and attended seven pro-bowls. In his career he amassed 13 pro-bowl berths and eight all-pro honors.
Reggie's statistic are mind boggling.
After a stint in the USFL, the "Minister of Defense" accrued 198 sacks and 1048 tackles. He forced 33 fumbles and recovered 20 along with three interceptions and a pair of touchdowns.
Every fan knew that Reggie White could change a game on any given down.
Keep Reading

Philadelphia Eagles: Like this team?