2010 NHL Playoffs: 25 Bold Predictions for the Playoffs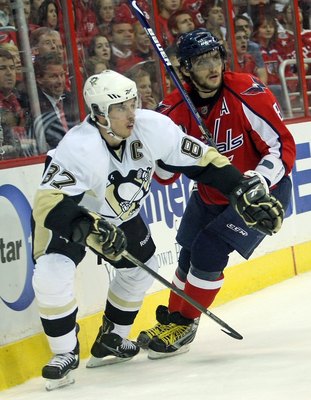 As fans get ready for the Stanley Cup playoffs to begin, it's time to look forward and consider some predictions.
It's easy to predict that Sidney Crosby will have an awful mustache in a week, or that fans in every city will drink too much. It's also easy to predict that Rangers fans will forever hate the shootout.
But what about some bold predictions? Let's think outside of the box and make offer up some projections that are a little further from every day consideration.
1. Playoff Beards Aren't Guaranteed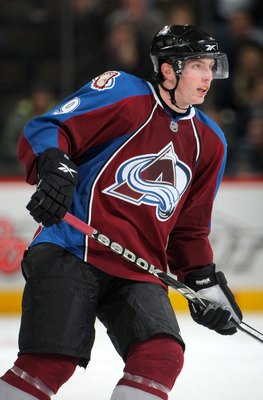 Not when you have baby-faced players like Matt Duchene and Drew Doughty making an impact in the second season.
Duchene is a leading candidate for the Calder Trophy this year, but won't be able to (legally) drink for two more years. Doughty won't turn 21 until December despite having an Olympic gold medal from this year on his resume.
Heck, even "seasoned playoff veterans" like 21-year-old Patrick Kane won't put together a very good collection of facial hair this spring.
2. A First Round Game Will Go Over Three OTs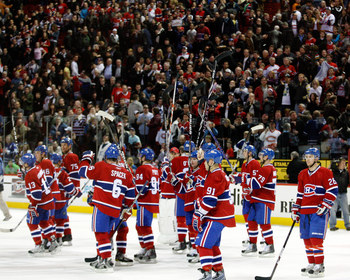 There are some matchups in the first round of this year's playoffs that could produce another all-night epic.
Ottawa and Pittsburgh could produce a great game or two, as could Nashville against Chicago. Phoenix and Detroit could also be a goaltending showcase that pushes the limit of free hockey.
But my money says the Canucks and Kings put together a good marathon game in the first round that ends as fans on the East Coast are sipping their morning coffee.
3. The Coyotes Will Take The Red Wings to Seven Games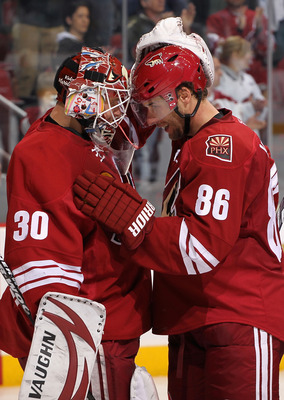 Everyone has Detroit penciled in as the team to beat in the Western Conference, but let's not be too quick to sell the Phoenix Coyotes.
Phoenix has the points to be a division champion in three of the six divisions this year, and Ilya Bryzgalov has the best numbers of any starting playoff netminder since the Olympics.
If there's a goalie that could steal a series, it's Bryzgalov, and the Coyotoes have a good enough blend of youth and experience to match up well with the veteran Red Wings.
4. Evgeni Nabokov Won't Flop In Round One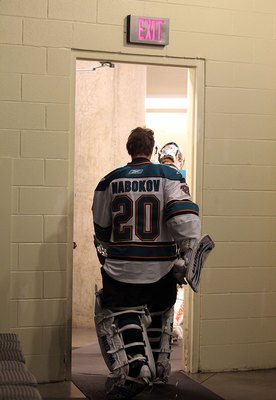 In his last few playoff appearances, including February's Olympics, Nabokov hasn't been his best. Despite racking up solid regular season numbers and playing on President's Trophy winning teams, he hasn't been able to make a deep run.
I'm not saying that he'll make a deep run into the playoffs this year, but Colorado is too banged up to get past the Sharks.
5. Mike Milbury Will Embarass Himself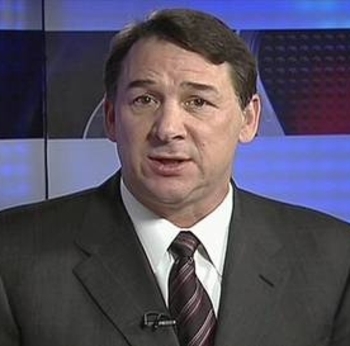 He's already thrown Russia under the bus at the Olympics and Jeremy Roenick has toyed with him for months, but now is when the world is watching. Let's see where Mike Milbury goes now!
Last week he said that San Jose's Joe Thornton takes too many "dumb penalties" to win in the playoffs...even though Thornton didn't take a minor in last year's playoffs.
Hopefully Milbury can stay away from anything that starts with "Euro" in this tournament.
6. Montreal Will Start More than One Goalie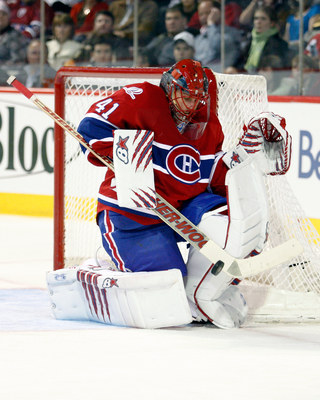 Of course, predicting that a team playing the Caps will have problems between the pipes isn't anything new, or bold.
But the Habs are facing an uncomfortable summer. Both Jaroslav Halak and Carey Price need new contracts, and neither is making the the decision easy on Montreal management.
If one goalie is pulled from a game, it could signal the end of his career in Montreal. If the Habs have to pull both...
7. Colorado Will Be In the Market for a Goalie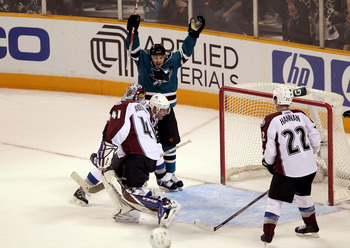 Despite early season success that launched him into early Vezina conversations, Colorado's Craig Anderson has been bad down the stretch. His post-Olympic numbers leave enough to be desired that, coupled with a rough first round exit, the Avs might have questions about their situation in goal.
This summer features a deep free agent class of netminders, so an ugly playoff performance could cost Anderson his job in Denver.
8. Sidney Crosby Will Not Lead Pittsburgh in Scoring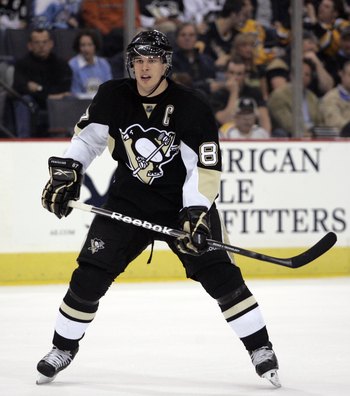 He might be one of the top scorers in the game, but I'm going to predict that Crosby doesn't lead the Penguins in scoring in the playoffs this year.
Last year, Evgeni Malkin stepped up his game in the playoffs and this year saw further maturation from Jordan Staal as well. Crosby has a knack for being in the right place at the right time even when he isn't filling the stat sheet (see the Vancouver Winter Olympics), so there's a good chance that his goals will matter the most.
9. Alex Ovechkin Will Not Lead Washington in Scoring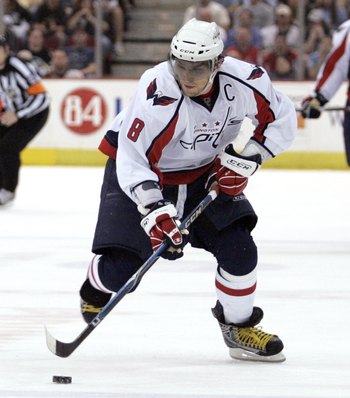 Like Crosby, Ovechkin is one of the best in the game, but he won't lead his team in these playoffs.
Of course, when you have a 101-point forward, a 40-goal scoring forward AND the top scoring defenseman in the league on your team, there are options to play with.
The Caps are at their best when their attack is balanced. If they're going to make a run deep into the spring, it will be because they're getting contributions from all over their roster.
10. The Best Playoff Series Will Be Flyers-Devils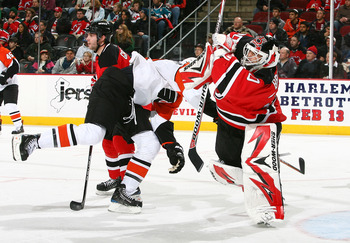 They're division rivals.
They hate each other.
They play in the first round.
The Flyers and Devils have played some close games already this year, and know each other too well for this series to be easy. This could be a physically exhausting series to watch, much less play in.
11. Brian Campbell Will Return for Round Two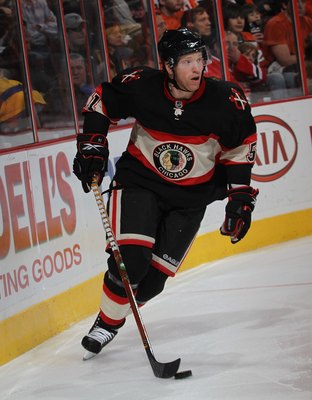 Chicago lost Brian Campbell, who was having a very good season, on March 14 to a broken collarbone and rib when he was "accidentally" thrown into the boards by Alexander Ovechkin. The prognosis wasn't good; Campbell's season appeared to be over.
But the Blackhawks have brought back Marian Hossa, Dave Bolland and Adam Burish all well before their medical timetable's predicted they would be ready this year, and Campbell has reportedly already started skating.
Thanks to the NHL pushing the start of the Hawks-Preds series back to Friday, the schedule might help Campbell make it back in time for a second round matchup.
12. Jimmy Howard is NOT the Next Cam Ward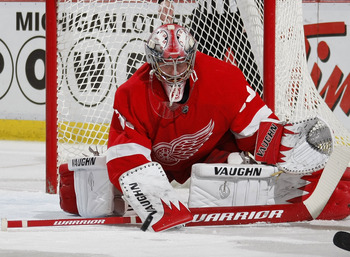 In a Western Conference playoff race with five playoff rookies, everyone wants to pick out "the New Cam Ward." Ward, of course, won the Stanley Cup as a rookie without any playoff experience.
The most frequent comparison is to Detroit's Jimmy Howard.
Howard has been exceptional this spring, finishing his Calder resume with a strong overtime win in Chicago on the final day of the regular season to earn the fifth seed for Detroit.
But all that glitters is not gold in the playoffs, and there is too much veteran scoring between today and the Finals to be kept down.
Detroit could be forced to go through Phoenix, San Jose, and Vancouver/Chicago, not an easy task to go through in single regular season games. But if you have to face each team as many as seven times?
13. The Penguins Will Eliminate the Capitals. Again.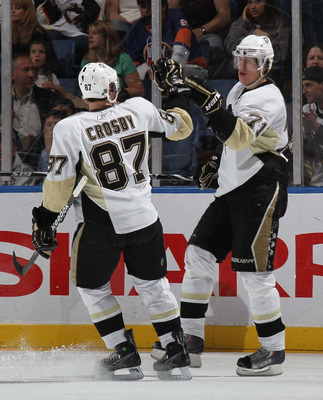 Despite winning the President's Trophy this year, the Washington Capitals could be forced to play the defending Champion Penguins in the second round this year.
Pittsburgh had Washington's number in a great playoff series last year, and could prove to have it again this year in the same scenario.
14. Andrew Ladd and Ryan Kesler Will Fight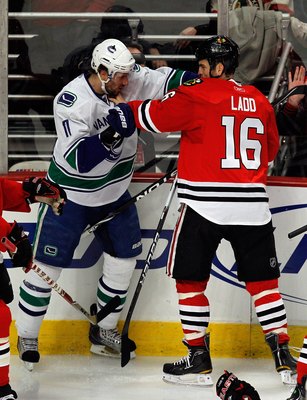 These two have a history of not liking each other, and have been at odds all year. Earlier in the season, Kesler claimed Ladd took a cheap shot in the playoffs, and then got his nose broken when the two fought.
Kesler had a fantastic season, including a solid run at the Olympics, and his confidence is high. Ladd's been a solid, contributing member of the Blackhawks all season. The two have dropped the gloves a couples times already this year.
Vancouver and Chicago could square off in the second round.
15. Neither Conference Finals Will Include Canada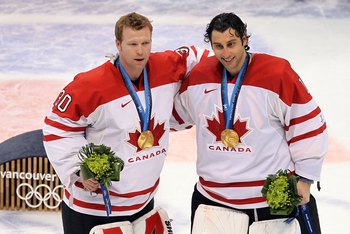 That's right folks. The birthplace of the game won't see a Conference Finals this year.
Granted, Canada only has three teams in the dance (Ottawa, Montreal and Vancouver), but I don't see any of them making it past round two.
16. The Calder Runner-Up Will go Further Than the Winner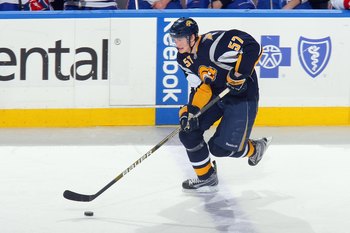 I'm going to go out on a limb and predict that Detroit's Jimmy Howard is going to win the Calder Trophy as the league's top rookie this year.
I'm also going to go out on a limb and say that Buffalo Sabres blue liner Tyler Myers will be the runner-up.
Now read the title of this slide.
Discuss.
17. Pittsburgh Will Not Repeat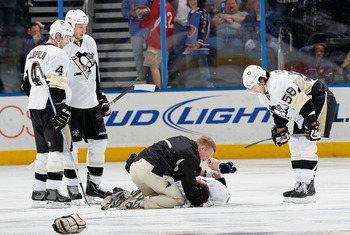 Sorry Penguins fans.
The Pens have the fire power to make a repeat happen, but I don't have confidence that Marc-Andre Fleury is the man. Goaltending is what will win the East this year, and I think there are a couple guys in the playoffs that are playing better than Fleury who could give Pittsburgh fits.
18. The Best Celebrity Sighting Will Be...
It's funny how many celebs show up no matter what sport is hosting a playoff game just to get on television. I wouldn't be shocked if Pat Sajak, a legit hockey fan, brought Vanna White to a Kings game.
But for my money, seeing Vince Vaughn double-fisting at regular season Blackhawks games is fantastic. If you've seen "Swingers," you know his love for the Hawks is older than the last two seasons, and he does it up like a champ whenever he's at the United Center.
19. A Number One Seed Will Not Win The Cup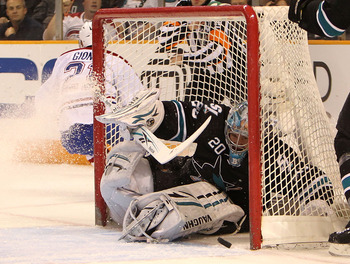 I've already predicted that the Pens would eliminate the Caps, and hinted that Nabokov didn't have the stuff to win it all.
So here I'll officially add it up. Neither number one seed will even get to their Conference Finals, much less play for or win the Stanley Cup this year.
In theory, San Jose could have to go through Colorado, Detroit/Phoenix and Chicago to get there.
Washington could be forced to go through Montreal, Pittsburgh and New Jersey.
Neither road is easy, but this is the playoffs. If you want easy, play basketball. Unfortunately for San Jose and Washington, the road has a dead end before the Finals.
20. An Olympic Goalie Will Not Win the Cup
This bold prediction eliminates the following netminders from consideration:
Marc-Andre Fleury - Pittsburgh
Martin Brodeur - New Jersey
Roberto Luongo - Vancouver
Evgeni Nabokov - San Jose
Ilya Bryzgalov - Phoenix
Tim Thomas - Boston
Ryan Miller - Buffalo
21. Fans Will Continue to Hate Pierre McGuire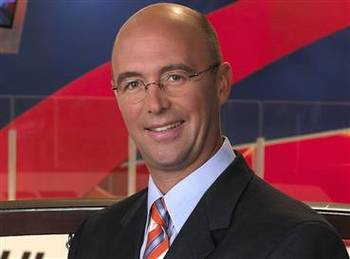 if you missed my rant at his expense during the Olympics, feel free to look it up. It appeared to be fairly well received.
McGuire has a bad habit of sitting between the benches and thinking that players are actually listening to him. During the Olympics, his commentary sounded more like he was trying to coach one of the two teams than be an objective journalist.
His "man-crushes" on Sidney Crosby and Alex Ovechkin are nauseating, and his love affair with the Red Wings is also ridiculous. He adds very little to a broadcast, and gets hung up on worthless points for entire periods at a time.
McGuire will make many NBC telecasts painful.
22. An Olympian Will Win the Conn Smythe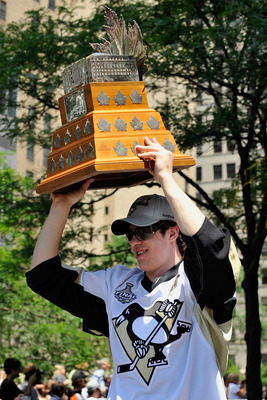 Last year, Evgeni Malkin won the award for the postseason's Most Valuable Player.
This year, someone who played in the Olympics will win it.
I'm not going to give away who, though. Not yet...
23. An Original Six Team Will Win the Cup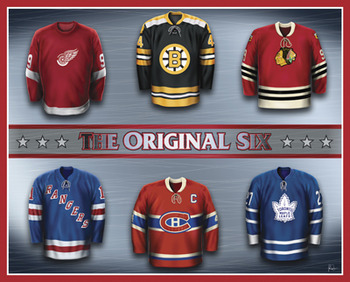 Only four are starting the playoffs with a chance, so sorry Toronto and New York.
One is an eight seed, so Montreal's chances don't look very good.
If my bold predictions are consistent at all, then reading through the first 22 would lead you to a couple deductions.
If Tyler Myers is going to advance further than Jimmy Howard, than that would imply that Detroit doesn't win the Cup. It would also eliminate Boston from contention because Buffalo plays them in the first round.
So...
24. The Blackhawks Will Beat the Sabres in the Finals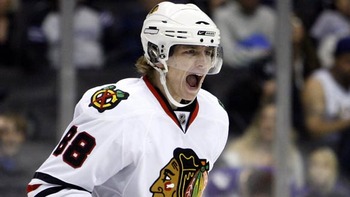 Ryan Miller will have to settle for another silver...
Not since 1961 has the Stanley Cup called Chicago home. This year, however, the Blackhawks will join the Bears, Bulls and White Sox in winning a championship before the Cubs.
Marian Hossa's "bad luck" will end, and Patrick Kane (unlike Miller) will get to the top.
The Conn Smythe? It will be in the possession of Jonathan Toews when the dust settles.
And the 22,000-plus might be deaf when they leave the United Center.
25. More Than 20 of These Predictions Will Be Correct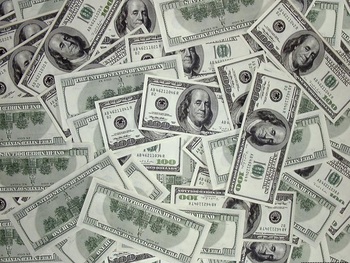 Any time predictions are made before a playoff tournament, most are way off. Heck, look at how many people picked Kansas to win the NCAA tournament!
But this spring, if you're headed to Vegas, remember these predictions.
Keep Reading