From Best To Worst: Power Ranking Every One of the MLB Stadiums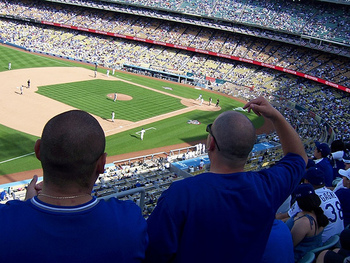 Baseball Parks are a part of the American fabric and the monumental castles that represent each MLB team. Whether you are a fan of the modern variety or classic design, each of these parks offers something different and unique for all fans. Let's take a look at where each stadium placed, and be sure to leave your comment below as to your thoughts on your favorite stadium(s).
30. Sun Life Stadium: Florida Marlins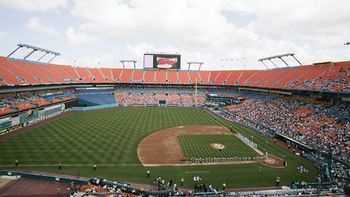 It may be last on the list, home to the Dolphins (more recognizable) and its relation to Jimmy Buffett, but this open-air designed stadium is the perfect venue to take the kids to for a day at the ballpark, or for a tailgating party like none you have experienced..
29. Tropicana Field: Tampa Bay Rays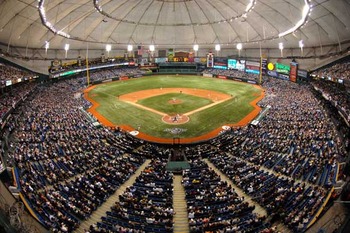 Four huge display boards, an all-artificial surface that has all dirt base baths and a tank featuring cownose rays that fans can come and touch before the game action. Just watch your head above for any high flying popups that may come crashing down on you.
28. Rogers Centre: Toronto Blue Jays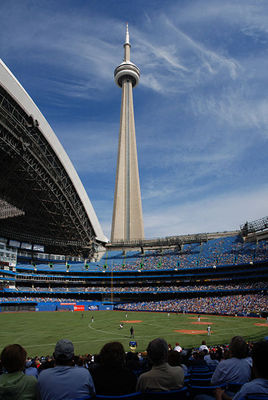 Originally titled the Sky Dome, Rogers Centre has recently undergone a ton of renovations to afford their fans a more pleasurable experience. One of the most notable features of the stadium is the ability to be transformed into another sporting venue in a matter of hours.
27. Chase Field: Arizona Diamondbacks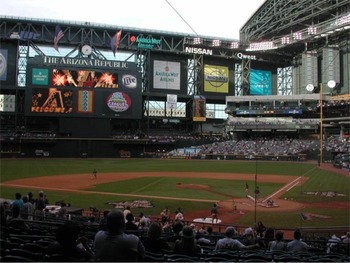 Don't worry about the oppressing heat that you will find in Arizona, Chase Field is not only equipped with a retractable roof, but also a one-of-a-kind air conditioning setup that is guaranteed to keep you nice and cozy as you watch the Diamondbacks. But if you are looking for a day in the sun, how about trying out their signature swimming pool; can't beat a MLB game poolside, now can ya?
26. Petco Park, San Diego Padres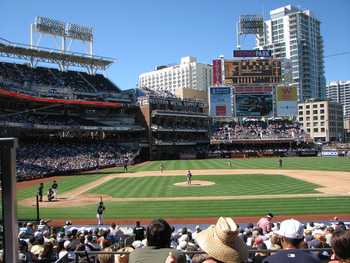 PETCO Park is spectacular in every way, combining the best sight lines in baseball with breathtaking views of San Diego. Architecturally outstanding, innovatively designed and features that bring to mind the timeless traditions of baseball in an intimate setting, with state-of-the-art fan facilities to suit every taste and budget.
25. Comerica Park, Detroit Tigers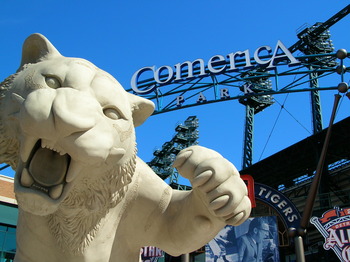 • A giant tiger heading up to the gates.
• A gigantic ferris wheel.
• A mammoth water feature in center field that can be choreographed to any music.
• A decade-by-decade pedestrian museum enveloping the main concourse.
Just some of the amenities you will find at Comerica Park.
24. Minute Maid Park, Houston Astros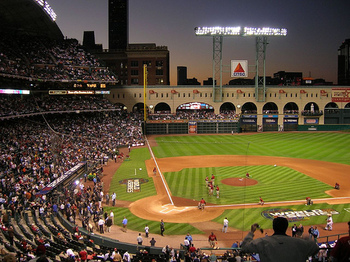 The first open-air stadium in Houston, a classic design that screams originality and nostalgia, and a state-of-the-art amenity blueprint that combines the two worlds of modernization and classic feel, to give Houston fans a little bit of everything.
23. U.S Cellular Field, Chicago White Sox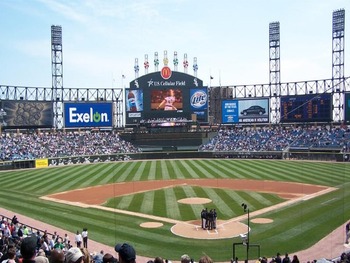 U.S.Cellular offers a low ground design to afford better, more intimate, viewing for fans. From the Party Deck to the Comcast Fundamentals area, to the Jim Beam Club and LG Skyline Club U.S. Cellular Field has a lot to offer Chicago fans.
22. Nationals Stadium, Washington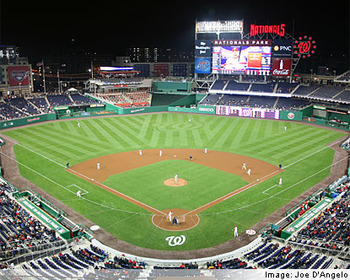 A park that is a bit similar in design to Citizens Bank Park, Nationals Park boasts its own set of amenities that include a wonderful view of the Naval Yard and Capitol Riverfront, state-of-the-art video and audio and 41,546 seating capacity.
21. Oakland-Alameda Coliseum, Oakland A's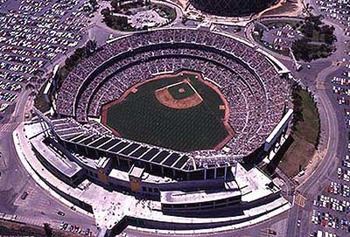 The name and aerial vantage point says it all for this newly renovated ballpark. A complete 360 degree view, a totally accessible park for all fans, and a wide open expanse gives fans nothing short of a memorable experience.
20. Great American Ballpark, Cincinnati Reds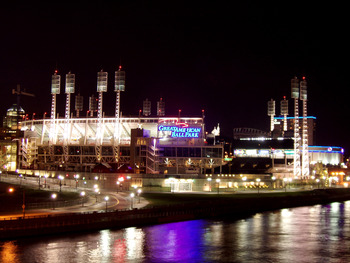 Sitting on the banks of the Ohio River in downtown Cincinnati, Great American Ballpark serves as the home of the Cincinnati Reds, baseball's first professional franchise. The ballpark officially opened for the 2003 season, and its wide open vantage point, and scenic views of the Ohio River, makes the Reds home field one of the better fields in all of baseball.
19. Progressive Field, Cleveland Indians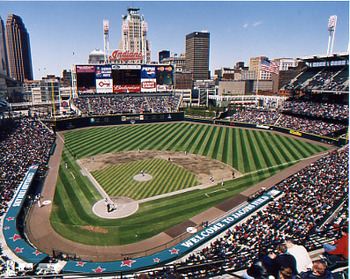 A serious upgrade from "The Mistake by the Lake", this ballpark was created specifically for baseball, exclusively for Cleveland. The urban style ballpark and Cleveland landmark offers a fan-friendly facility within an intimate environment.
18. Dodgers Stadium, Los Angles Dodgers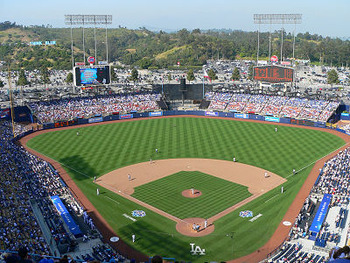 Dodger Stadium is one of Southern California's most treasured landmarks that began with team president Walter O'Malley's vision some five decades ago. More than 125 million fans have visited the ballpark since it opened in 1962 impressing fans with a breathtaking view of downtown Los Angeles to the south; green, tree-lined Elysian hills to the north and east; and the San Gabriel Mountains beyond. The 56,000-seat Dodger Stadium has parking for 16,000 automobiles on 21 terraced lots adjacent to the same elevations as the six different seating levels. More than 3,400 trees cover the 300 acres of beautiful landscape.
17. Rangers Ballpark in Arlington, Texas Rangers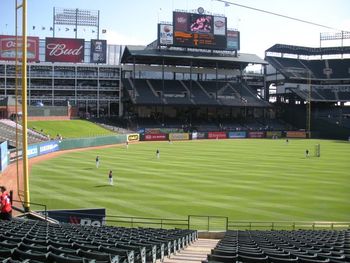 Rangers Ballpark in Arlington, completed in just 23 months, is a state-of-the-art building with the utmost in customer convenience. Yet, the 49,170-seat open-air ballpark was designed and built with tradition and intimacy in mind, containing features such as a granite and brick facade, exposed structural steel, an asymmetrical playing field, and a home run porch in right field. Texas architecture is featured throughout, from the outer facade to the Lone Stars in the concourses and on the seat aisles.
16. Busch Stadium, St. Louis Cardinals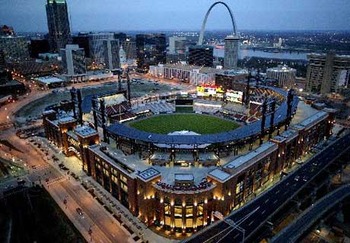 With a capacity of over 46,000 and a magnificent view of The Gateway Arch, Busch Stadium is the perfect blend of modest clean cut baseball at its best.
15. Kauffman Stadium, Kansas City Royals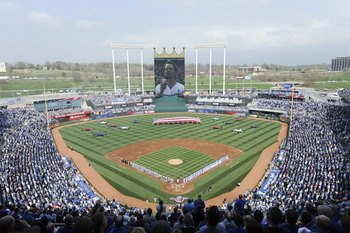 At first glance Kauffman Stadium doesn't seem like much, but it's the humble design, and eye-catching fountains that allow a fan to attend a game that is completely geared to America's pastime with just a touch of subtle class.
14. Miller Park, Milwaukee Brewers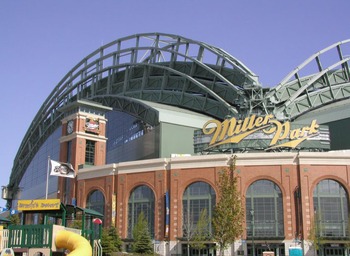 A unique retractable roof, a design rich in nostalgia, and who can't fall in love with Bernie the Brewer making his way down the slide whenever a member of the hometown nine hits a home run.
13. Turner Field, Atlanta Braves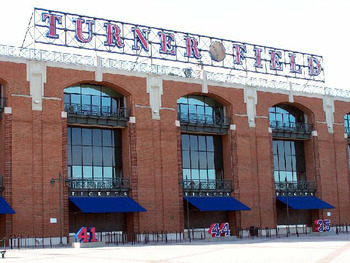 The Home of the Braves opened in 1997, and has quickly become an Atlanta landmark. Turner Field combines the nostalgia and the atmosphere of old-time baseball with state-of-the-art family entertainment unlike that of any other park.
Turner Field is unrivaled in its blend of technology and entertainment. At all times, fans are entertained and informed of Turner Field activities through superior sound systems, the BravesVision video board in center field, the PlazaVision board in the Fan Plaza and over 500 television monitors situated throughout Turner Field.
12. Coors Field, Colorado Rockies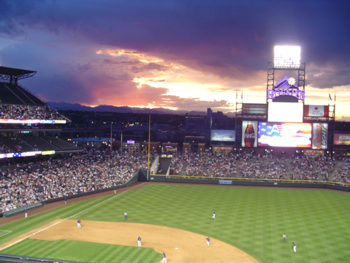 The 76-acre Coors Field affords fans sitting in the first-base and right-field areas, a spectacular view of the breathtaking Rocky Mountains. Every year since it opened in 1995, Coors has been a league leader in attendance. Another excellent quality to the ballpark is the very hitter friendly design that is always good for an exciting matchup no matter what day of night you attend.
11. Camden Yards, Baltimore Orioles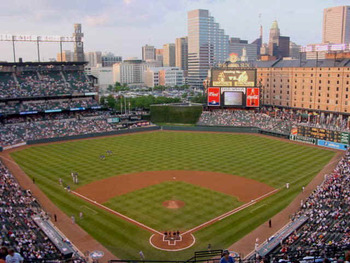 Oriole Park at Camden Yards is a beautiful baseball-only facility in downtown Baltimore which became the official home of the Orioles on April 6, 1992. The one-time railroad center is 12 minutes west by foot from the City's Inner Harbor and only 2 blocks from the birthplace of baseball's most legendary hero, George Herman "Babe" Ruth.
10. Yankee Stadium, New York Yankees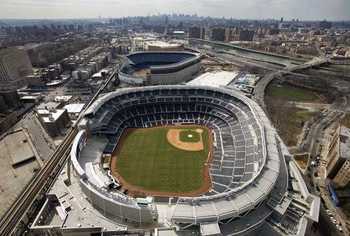 About the only complaint on the new Yankee Stadium is it's pricy tickets, but aside from that, this is as good as it gets. It's unique panoramic viewpoint, excellent accommodations for the disabled, and spacious seating arrangements, Yankee Stadium still remains of the ten best venues in all of MLB.
9. Target Field, Minnesota Twins
The Minnesota Twins new open-air stadium Target Field features one of the closest seating bowls to the playing field in all of Major League Baseball, and has approximately 18,500 infield seats, with a a 360-degree open main concourse giving fans an uninterrupted view of the playing field. Seats in Target Field are wider and feature more legroom than those in the Metrodome. In addition, the new Twins ballpark features more aisles with fewer seats per row. And in addition to all of these amenities is a bronze statue of the legendary Kirby Puckett.
8. Safeco Field, Seattle Mariners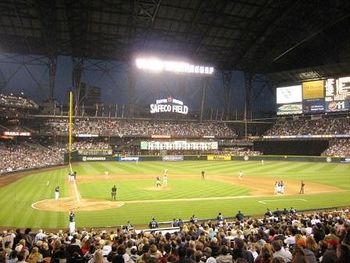 Safeco Field has gained a reputation locally, regionally and nationally as a marvelous setting for baseball, and a great place for baseball fans. Panoramic views of Seattle's downtown skyline, breathtaking sunsets over Puget Sound, combined with outstanding views of game's action from all angles give fans at Safeco Field an experience unequalled in Major League Baseball. As if that's not enough, Safeco also boast a retractable roof, and a hand-operated scoreboard in left field.
7. Citi Field, New York Mets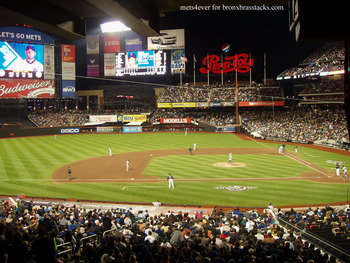 So long Shea, hello Citi Field. A bigger stadium, a more accessible stadium and a stadium that embraces the heart of New York Mets baseball, as well as, the amenities one would expect to find in the City of New York. For fans of the Mets, or just visiting fans to the Metropolitan area, Citi Filed offers more comfort and accessibility than the former Shea Stadium, and through that, more character and atmosphere that is sure to electrify any game you attend.
6. Angels Stadium, Los Angeles Angels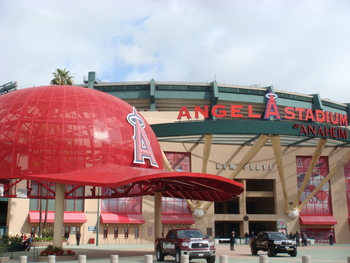 Angles Stadium (of Anaheim) is a classical baseball first style stadium that has been home to the Angels since 1965; a home that has undergone serous renovations and upgrades. Some of the unique features of the new Angel Stadium of Anaheim include terraced bullpens in the outfield, widened concourses, new restroom and concession areas, a spacious and modernized press box and broadcast booths, family-oriented seating sections, state-of-the-art club-level and dugout-level suites, the Pepsi Perfect Game Pavilion (a youth-oriented interactive game area) and landscaped courtyards (with a statue in remembrance of Gene Autry).
5. AT&T Park, San Francisco Giants
Dwarfed by the City of San Francisco, and flanked by the breathtaking setting of the San Francisco Bay, AT&T Park is a fan friendly, child accommodating classical ballpark that was also the winner of Sports Facility of the Year in 2008. Whether it's the passing paddle boats, the countless events, diverse child activities, or the inspirational classical design, AT&T Park offers a little something for everyone.
4. Wrigley Field, Chicago Cubs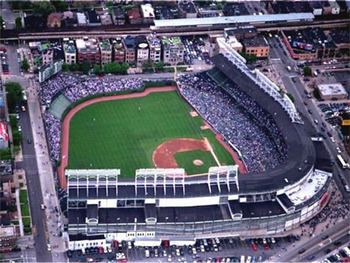 As the second oldest ballpark in MLB (Fenway is number one), Wrigley Field is another iconic cathedral of historic baseball since 1914. One of the traditions of Wrigley Field is the flying of a flag bearing a "W" or an "L" atop the scoreboard after a game ... a white flag with a blue "W" indicates a victory; a blue flag with a white "L" denotes a loss. The original vines that are as familiar as the echoes of Harry Carey himself, were purchased and planted by Bill Veeck in September 1937 ... Veeck strung bittersweet from the top of the wall to the bottom, then planted the ivy at the base of the wall.
3. Fenway Park, Boston Red Sox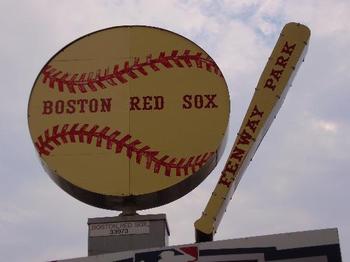 What more can you say about Fenway's nostalgic history, unwavering familiarity, and iconic presence in MLB since 1912? Every fan who steps foot into Fenway shares a piece of history and some common dirt with greats such as: Babe Ruth, Cy Young, Jimmy Collins, Duffy Lewis, Tris Speaker, Harry Hooper, Joe Cronin, Bobby Doerr, Johnny Pesky, Ted Williams, Jimmie Foxx, Carlton Fisk, Jim Rice and Carl Yastrzemski, to name just a few.
Fenway Park is actually the second home for the Sox. In 1901, the Boston Pilgrims became one of the charter members of the fledgling American League. The Pilgrims played ball at the Huntington Avenue Grounds, now a part of Northeastern University's campus.
2. PNC Park, Pittsburgh Pirates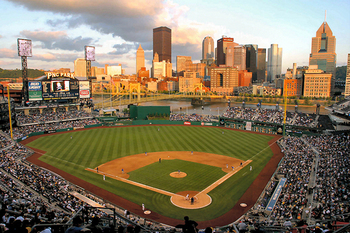 PNC Park opened in spring 2001 and features an intimate, classic-style ballpark while saluting the spirit of early ballpark designs. Located along the shore of the Allegheny River, PNC Park affords its fans with a breathtaking landscape of the downtown skyline and riverfront, that is sure to energize any fan of baseball. The City of Pittsburgh boast of a 115-year relationship with the same Major League ballclub which is something that is very noteworthy, as well as something that is reflected in its design.
1. Citizens Bank Park, Philadelphia Phillies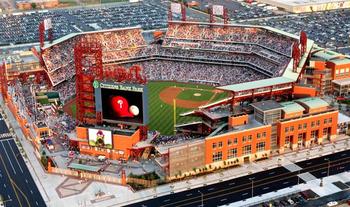 Citizen's Bank Park is an 21st Century style ballpark that is built with the echoes of the City of Philadelphia as its inspiration, as well as baseball fans as its main focus. With enough amenities to keep any child or family busy for hours, and an incredibly intimate setting that features the City of Brotherly Love as its backdrop, Philadelphia fans enjoy a moderately priced venue filled with more floors, food, beer and accessibility than your average stadium. Some features include Ashburn Alley, and the toning of the Liberty Bell when a homerun is hit.
Keep Reading