NBA Playoff Predictions:OKC Leads Thunderous Pack of Low Seeds out West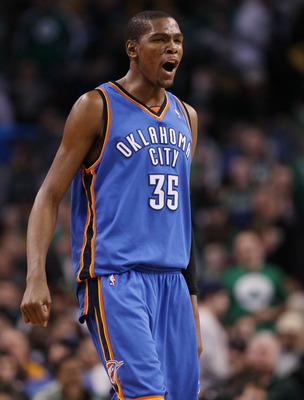 As the NBA enters its final week of regular season play, "A whole new level of competition" is around the corner—the playoffs.
While the Eastern Conference has a sub-.500 team (Chicago) in the playoffs at 21 and a half games back of first, the West is separated by a miniscule seven games overall.
The West is by far the best, through and through.
Not only has the depth of the West provided compelling competition night in, night out during the regular season, but it all leads up to the playoffs and the ultimate culmination of the NBA season—the crowning of a new World Champion.
But before we can get to a golden trophy and confetti, there are a multitude of magnificent matchups in the West—any one could end in an upset.
To note, only two Western playoff teams are on a winning streak currently, Dallas (4) and San Antonio (2). The defending champion Lakers are backing into the playoffs, at 4-6 in their last 10 games, and no team is exactly dominant just days before the playoffs begin.
The following is a break down of the four upcoming series (as the standings sit after 4/12) and how each "underdog" has a rare opportunity of upsetting the higher seed in this year's version of the wild, wild West.
No. 8 Oklahoma City vs. No. 1 Los Angeles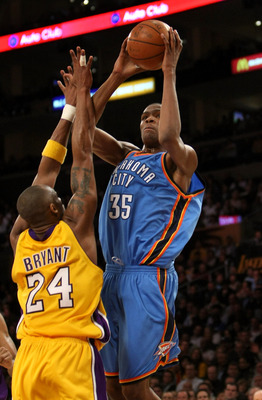 Only three times in the history of the NBA playoffs has the No. 8 team beaten the No. 1, and only once did it happen in a best of seven series.
Even with all that history, this matchup reeks of upset.
The Thunder, led by Kevin Durant, are a young, talented and hungry team.
In reality, Durant should be the NBA MVP, as his 30.1 points per game carry OKC to victories game after game. The Durantula has an extremely pure shot and his athleticism helps with easy buckets over helpless defenders.
But that's not to say that the supporting cast isn't solid in Oklahoma City.
Russell Westbrook has quickly developed into one of the most deft young point guards in the game (16.3 pts, 8.1 ast) and Jeff Green can play despite being undersized at the power forward position.
The Thunder are athletic and want to wear teams out while getting easy transition buckets.
Where OKC is the ying, LA is the yang.
The Lakers are noticeably aging, and have seemed disinterested down the stretch.
Sure, the Lakers and their Zen master can try to mindwash you into believing that these games mean nothing, that they will turn it on in the playoffs—don't be convinced so easily.
LA is a mediocre 14-11 since the All Star break, all but one of those losses have come against playoff-caliber opponents.
The Lakers aren't playing to their full potential, as they admit, but at what cost?
Is it possible for them to "turn it on" like a light switch? That seems unlikely at the least.
Kobe Bryant has lost a step recently and isn't nearly as deadly from behind the arc (32.9 percent) as he used to be. Andrew Bynum has been sat on the bench for almost a month and will have to shake off lots of rust in the first round. Plus, no one really knows what's going on inside the head of Ron Artest at any given time.
Season series: LA 3-1, 11.7 points per game difference.
No. 7 San Antonio vs. No. 2 Dallas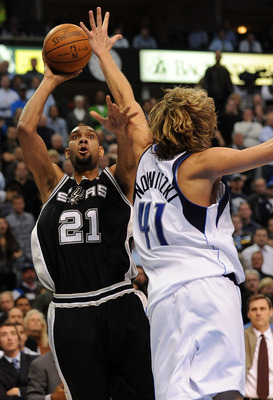 The Spurs have come alive lately, that's saying something for a team with an average age old enough to qualify for the AARP.
San Antonio has won 8-11 games heading into Wednesday's season finale against none other than Dallas. The Spurs have some notable wins during that stretch, beating Cleveland, Orlando, LA and Denver, the stiffest competition in the NBA, by an average of 11.1 points per.
Veteran Tim Duncan (17.9 pts) leads a group of five double-digit scorers that has a deep bench backing them up. That bench is headed by the venerable Gregg Poppovich who's defense-first mentality can give any team fits, especially in the half-court playoff game.
Dallas, land of the monster Dirk Nowitzki, doesn't have to rely on their mammoth star as much in 2010, making them extra dangerous.
The Mavericks sport five double-digit scorers as well, including Caron Butler (15 pts.) who was acquired from the Wizards in February. Center Brendon Haywood made the trip with Butler, who gave Dallas some much needed height.
Plus, the Mavs are the hottest team in the West, winning 8-10 and four straight to this point.
Make no qualms about it, Dallas is dynamic. They might be the biggest contender to the Lakers throne currently and are the least likely team on the list to be upset.
Still, stranger things have happened.
Season series: Dallas 2-1, 2.5 point per game difference.
No. 6 Portland vs. No. 3 Denver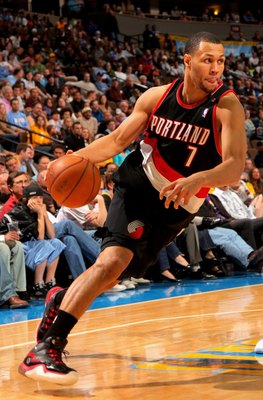 The Trail Blazers are the oddity of the NBA this year, with enough injuries to fill a hospital wing, they are still competitive.
Greg Oden sadly went down again with a patella fracture, Joel Pryzbilla ruptured a patella tendon and the list goes on. Travis Outlaw, Nicolas Batum, Rudy Fernandez and even coach Nate McMillan sustained severe injuries in 2009-10 and Portland still rolls along.
The additions of Steve Blake and Marcus Camby helped sure up the crumbling dam in Portland and the Blazers have fought the entire season to get into the seventh spot.
Brandon Roy is a special player with sub-par numbers but the team is boosted by his play in combination with LaMarcus Aldridge. Aldridge is a young beast (17.9 pts, 8.1 reb) that uses his size and athleticism to his advantage.
Andre Miller is getting older, but he's helped Portland in many ways and Camby is the defensive backbone of the team.
Those former Nuggets would love nothing more than beating their old team in a playoff series.
Denver however, has health issues all its own.
Head coach George Karl is still hopeful for a return from cancer treatments during the playoffs, but not even he can say for sure if his body will let him coach so soon after the exhausting treatments.
On top of that, Kenyon Martin missed a month of action before returning to the hardwood in the devastating loss to the Spurs Saturday night. Martin underwent Platelet Rich Plasma Therapy in March and seems close to full health just as the playoffs are about to tip off.
Chris "Birdman" Andersen (ankle), Ty Lawson (shoulder), Joey Graham (ankle) and even Carmelo Anthony (ankle) have all missed significant amounts of time during this season and all are playing through their injuries while fighting for victories.
Anthony is a deadly shooter, can take opponents off the dribble and has included pin-point passing into his arsenal this season. Chauncey Billups is scoring a career high (19.7 pts.) and is the glue that holds the Nuggets together on many nights, especially in Karl's absence.
JR Smith is the wildcard of the series, his play could determine which of these Northwest rivals move past the first round. Smith can be lethal from long range, but he can also be unconscious in his shot selection. If Smith can find a way to play under control he will be an asset to the Nuggets, if not he could shoot them out of games and eventually out of the playoffs.
Just in as of Midnight MT, Roy may miss the playoffs due to a torn meniscus. If he does, it greatly diminishes the Blazers' chances of winning a series, no matter who they play.

Season series: Denver 3-1, 5.25 points per game difference.
No. 5 Phoenix vs. No. 4 Utah
This matchup is the biggest crapshoot of them all.
Phoenix and Utah are tied in the standings (52-28) and the two play each other to finish their seasons on Wednesday night (10:30 p.m. ET, ESPN).
The Suns ran off a 10 game winning streak to finish off the month of March making them the most dangerous team in the West to some.
Phoenix is talented, from Steve Nash to Amar'e Stoudemire, this team can flat-out play.
Nash is playing so well (16.6 pts, 11 asts) he's doing better this year than he did when he won back to back MVPs almost five years ago. Stoudemire is a straight up beast and a long run in the playoffs is the best case scenario for Phoenix, maybe Amar'e will want to stay after all.
Phoenix likes to run and gun, which is always fun for fans.
Utah would much rather play grind-it-out, physical and fundamental basketball.
It's the clash of philosophies and styles.
That's not to say that Utah doesn't have a talented 1-4 punch as well—Derron Williams and Carlos Boozer are extremely talented as a duo.
Williams is a legit superstar (18.6 pts, 10.6 asts) and he can score in a variety of ways. Boozer is a constant low post threat, and the two run the pick and roll with ease.
In fact, even though their system is aging more quickly than head coach Jerry Sloan, it is even more effective in the half-court oriented playoffs.
This one will likely come down to seven games and it will be difficult to call an upset no matter which team wins.
Season series: Utah 2-1, 2.3 points per game difference.
And the winner is...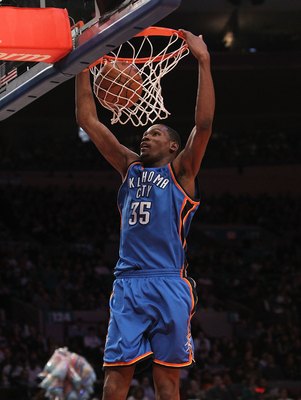 So there you have it hoops fans.
With the playoffs less than a week away, these series are sure to be entertaining and some may even be history-making.
Who will win? Who will lose?
Only heart, desire and time will tell.
Rich Kurtzman is a freelance journalist and a Colorado State University Alumnus. Along with being the acting Denver Nuggets Featured Columnist here on B/R, Kurtzman is the Denver Broncos FC for NFLTouchdown.com, the Colorado State Rams Examiner for examiner.com and a contributor for coloradosportsdesk.com.
You can follow Rich on twitter @ twitter.com/richkurt.
Keep Reading

Los Angeles Lakers: Like this team?