What Could Have Been of the Pittsburgh Pirates: 2000-2010
The Pittsburgh Pirates have not been good over the past couple of years but what they were good at were producing great young talent and trading other solid players. They had Nady, Bay, Sanchez, you know the rest. What if Pittsburgh did not have any money problems? What would have been of the Pirates lineup if they could afford these players? Here is the list of Pirates that would have changed this organization around.
RF: Garrett Jones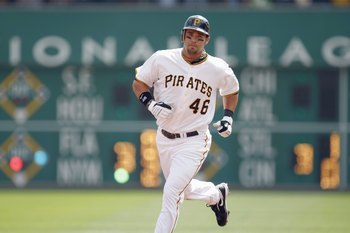 Current Status: Pittsburgh Pirates
How they left: N/A
He made plenty of noise for a team that isn't a contender. He came up in the middle of the season, and blasted 21 HRs as a 28 year old rookie. Jones gave something Pirates fans can cheer about. A power handed lefty bat, he is one of the best players in the Pirates organization from 2000-2010 to fit along with others such as Jason Bay. Jones signed as a free agent, as he had played for the Twins organization and played briefly in the Majors with them before being sent down. With the Pirates, he got that chance to play everyday and prove himself.
CF: Andrew McCutchen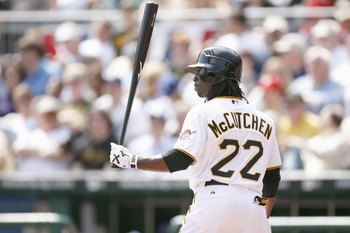 Current Status: Pittsburgh Pirates
How they left: N/A
Currently as a 23 year old, he is the starting CF for Pittsburgh. He came up in the 2009 season to replace Nate McLouth as he was shipped to Atlanta. Then in only 108 games, he stole 22 bags, hit 12 HRs, and hit 9 triples. Pretty impressive? Yes, as he went along with Garrett Jones perfectly. Speed and Power: represents Curtis Granderson? Maybe. He would have been the leadoff hitter, but slots in as the #2 hitter and will get more RBI opportunities as the Pirates will bat the pitcher #8 this year.
LF: Jason Bay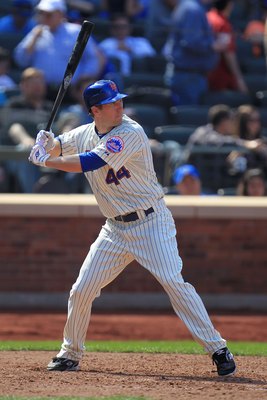 Current Status: New York Mets
How they left: Traded to Red Sox, Signed with the Mets this offseason
Jason Bay made the majors in 2001, and went to the Pirates in 2003. Then in 2004 he batted .282 with 26 HRs: his breakout year. From then on, things started rolling for Bay, as he patrolled LF for the Pirates until he was traded to the Red Sox in the 3 way deal that sent Manny Ramirez to LA. In 2009, he had a career high in HRs and RBIs with 36 and 119. Who wouldn't want this guy in the lineup? The Mets wanted him in their lineup, as he signed to a 4 year $66 million deal this offseason.
SS: Jack Wilson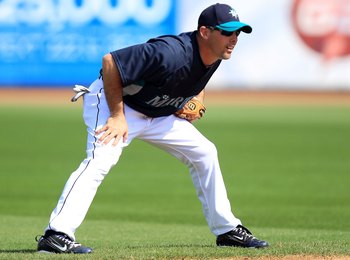 Current Status: Seattle Mariners
How they left: Traded to Mariners along with Ian Snell
He was never the brightest SS with a bat at the plate, but he sure did shine on the field. Jack Wilson started his Major League career with Pittsburgh, and played for them until his departure in 2009e when he was traded to the Mariners. He seems have a below average bat, but he can still surprise people with his power. Known for his fielding skills is the reason how he made the list.
3B: Andy LaRoche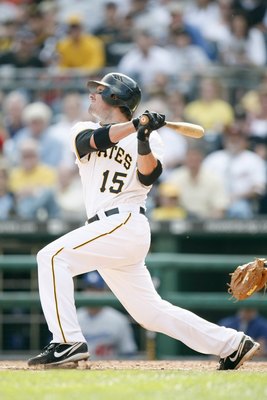 Current Status: Pittsburgh Pirates
How they left: N/A
He's not the best offensive player you can get a Third Base, but you can get the best arm and glove with him. And also he can provide some offense, as he led the Pirates in three different offense categories. LaRoche had his best year in his career so far last season, knocking out 12 balls out of the park and drove in 64 RBIs in a offense lacking Pirates lineup in 2009. It looks as if he will stay at PNC Field for a long time, as the Pirates like the status of this Third Baseman.
2B: Freddy Sanchez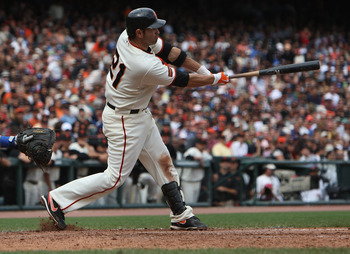 Current Status: San Francisco Giants
How they left: Traded to Giants
He was once known for being the NL batting leader. Getting 85 RBIs, 53 doubles, and a .344 batting average from your 2nd baseman is great. Even though he shows no signs of being that .340 hitter like in 2006, he shows signs of hitting .300 again as he hit .293. An above average fielder, too, the Giants made a good trade and was smart enough to sign him to a 2 year deal this past offseason.
1B: Adam LaRoche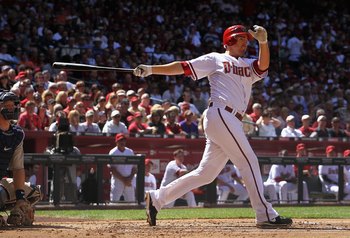 Current Status: Arizona Diamondbacks
How they left: Traded to Red Sox, traded to the Braves, then signed with the D-Backs
People would think Adam LaRoche is unwanted by teams, as he was moved around a lot in the 2009 season. He started the year as a Pirate, then got traded to the Red Sox, and ended the year where his career started: the Braves. He is wanted and is very consistent, as he had at least hit .270 and 20 HRs the last 5 years. He is also an average fielder. His only weakness seems to be his speed. LaRoche's best season as a Pirate came in 2007, when he hit 21 HRs and drove in 88 RBIs. Forty two doubles also add to the 2007 campaign.
C: Ryan Doumit
Current Status: Pittsburgh Pirates
How they left: N/A
Ryan Doumit made the Bigs in 2005, but he didn't make noise until the 2008 season where he hit .318 with 15 HRs and 69 runs driven in. Everyone expected more out of the 28 year old in 2009, but he had his down year, having only a .299 OBP. He looks for a rebounding year in 2010, but keep in mind he is a catcher.
Notable: Xavier Nady
Current Status: Chicago Cubs
How they left: Traded to Yankees, signed as free agent with the Chicago Cubs
He's another X-Pirate that was traded because of budget issues. Nady had been traded to the Yankees, as they needed an outfielder. As a result, he ended the year with 25 HRs and 97 RBIs, hitting .305. He only hit .268 with an American League team, as he returned to the National League Central but this time with the Cubbies. He has shown he can hit and be productive, but is questionable now due to Tommy John Surgery in 2009.
Notable: Nate McLouth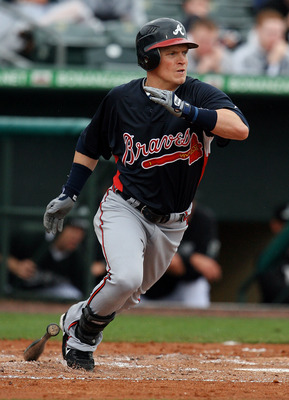 Current Status: Atlanta Braves
How they left: Traded to the Atlanta Braves
Nate McLouth: he has All-Star skills. In 2008, he hit 26 HRs and 94 RBIs as someone had to fill Jason Bay's shoes. He also stole 23 bags, and 19 bags in 2009. McLouth is a 20-20 guy, but has not made noise recently, as he has been struggling with the Braves. But when he was in Pittsburgh, he had an unbelievable year for a 27 year old player whose team was losing its fan base and also struggling.
Conclusion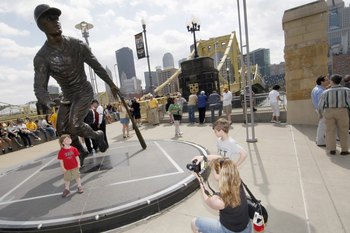 Pittsburgh was home to many great players: I'm not talking about their entire history such as Honus Wagner, but this millennium. But this is what could have beens. This would have been their lineup if it wasn't for their money troubles. This is the lineup that could have carried them to the playoffs.
Keep Reading

Pittsburgh Pirates: Like this team?