UNC-Davidson: Tar Heels Just Squeak By Wildcats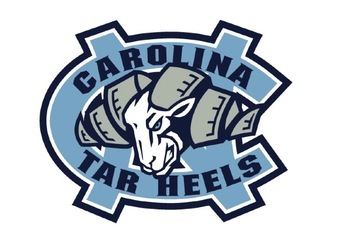 While some teams are busy playing cupcakes for the first week of their schedule, #1 North Carolina went on the road to visit a tough Davidson Wildcats team.
The game, held at Charlotte Bobcats Arena, was supposed to be a home game for the Wildcats. But if you know Carolina basketball, you know that that Charlotte has been very good to the Tar Heels.
Upset minded Davidson (1-1) won 29 games last year and brought back all five starters to a team that went to the NCAA tournament last year. The senior laden crew looked to knock off the top ranked Tar Heels, and for about 36 minutes it looked like they were.
UNC point guard Tywon Lawson sat almost all of the first half with three fouls and the penalties took their toll on the Heels. The only saving grace for the Heels in the first half was All-American Forward Tyler Hansbrough who earned a double double in the first half, pulling in 11 rebounds and scoring 12 points before halftime. That would be all we would hear from Hansbrough for the rest of the game, as the Tar Heels went into halftime with a 38-31 lead.
As the second half started, Carolina again came out sloppy and at the 17:07 mark frustration set in as Hansbrough was called for a foul, then a technical foul for bumping Davidson's Andrew Lovedale. Later in the half, Hansbrough was called for two more fouls, effectively ending his night as he only took one shot in the second half and missed it.
The Wildcats opened the second half with a 12-2 run, decimating the Heel's seven point lead. The lead was still in doubt with a few minutes left to play in the game until UNC guard Wayne Ellington hit a free throw to put the Heels up 66-65 and then came down with 1:18 left and hit a jumper to put the Heels up for good 66-68. A few more free thows later and the Heels won the game 72-68.
Carolina was led by Wayne Ellington who had a career high 20 points and made plenty of clutch shots down the stretch. Danny Green also played well for the Tar Heels, playing a career high 29 minutes and scoring 11 points. Davidson was led by shooting guard Stephen Curry with 22 and point guard Jason Richards who had 12 points and 8 assist.
Carolina didn't play like a number one team tonight, but the team should still be encouraged. They were taken out early in the game with foul trouble, but still managed to win and hit big shots when it counted. Carolina was able to get free and hit down some threes, which coming into the game was one of their weaknesses. They were also able to hold the Wildcats to just 38.8% shooting, and even limited Curry to shoot just 8-22 on the night.
Both Deon Thompson and Alex Stephenson were disappointing for the Heels last night as those were in charge of picking up the slack for loss of one of last year's lottery picks Brandon Wright. The two had a combined total of 4 points and 4 rebounds, not a good start for the season.
Carolina was lucky to get out of Charlotte with a win last night and by the look of things should be encouraged going into the season. Even though they didn't play well, they were still able to overcome the obstacles in their path to get a win, a thing they didn't do very well last season. North Carolina's next game is against Iona as part of the Findlay Toyota Las Vegas Invitational and the Wildcats will see Western Michigan in the upcoming week.
This article is
What is the duplicate article?
Why is this article offensive?
Where is this article plagiarized from?
Why is this article poorly edited?

UNC Basketball: Like this team?