A Pre Draft Look at The Packers 53 Man Roster: Wide Receiver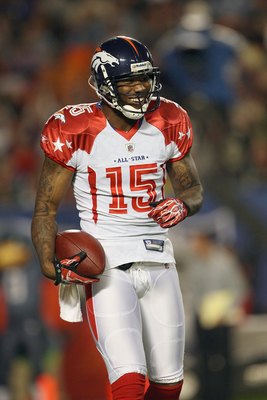 Could Packers GM Ted Thompson shock the world and make a deal for Pro Bowl receiver Brandon Marshall? I highly doubt it judging by Thompson's love for draft picks and his disdain for signing other teams free agents to lucrative deals. However you can't rule anything out and adding the 25 year old Marshall would transform one of the best offenses in the league in 2009 into potentially one of the best of all time.
The Packers are loaded at receiver with Greg Jennings, Donald Driver, James Jones, and Jordy Nelson. The Packers group rivals any in the league and depending on who they add to fill the number 5 spot could be the best in the NFL bar none. Marshall has to be mentioned but far more likely is a player like Brett Swain who beat out Ruevell Martin in 2009 mostly due to his special teams play. Charles Dillion an arena league standout with special athleticism and the ability to return kicks is also a possibility already on the roster.
Other options through the draft rage form players like Dez Bryant or Demaryius Thomas who could be heir apparent to Donald Driver but would cost a first round pick to players like Dexter McCluster and Jacoby Ford who would be impact players in the return game but likely not turn into more than a dangerous number three receiver due to their diminutive size.
1. Greg Jennings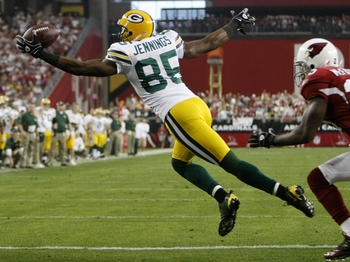 Jennings signed a big money deal prior to the 2009 season and he started off slow. But, as the season went on he began to make big plays with more frequency. He is the Packers number one wide receiver, he doesn't have great speed or size but gets the job done. Jennings is a threat to catch the deep ball or take a quick slant to the house. He had 68 catches for 1113 yards and 4 touchdowns in 2009 making numerous spectacular catches along the way. Seventy percent of his receptions went for first downs and he caught 22 passes of 20 or more yards. Jennings should be even better in 2010 which will be his third season with Aaron Rodgers at quarterback.
2. Donald Driver
Driver showed no signs of slowing down in 2009 at the age of 34 and there is no reason to expect a significant drop off in his play in 2010. At 35 years old Driver is ancient for an NFL receiver and the Packers, perennially one of the leagues youngest teams under Ted Thompson. However he keeps himself in world class condition and has the heart and drive you would expect out of a former 7th round pick who has never been handed anything during his NFL career. In 2009 he caught 70 passes for 1061 yards and 6 touchdowns he had 20 catches of 20 or more yards and 70 percent of his catches went for first downs. He and Jennings give the Packers perhaps the best and certainly one of the top 5 starting tandems in the NFL.
3. James Jones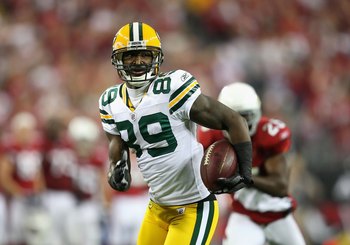 Jones has yet to reach the heights he did during his rookie year in 2007 with Brett Favre at quarterback. So perhaps the former third round pick is one of those players who Favre made look better than he really is. Although after suffering through an injury plagued and ineffective 2008 season Jones showed signs of encouragement in 2009. Catching 32 passes for 440 yards and 5 touchdowns with 9 catches of 20 yards or more. Jones also caught a touchdown pass in the wild card playoff game against the Arizona Cardinals. Look for him to return to the form he displayed in his rookie season in 2010 provided he can stay healthy.
4. Jordy Nelson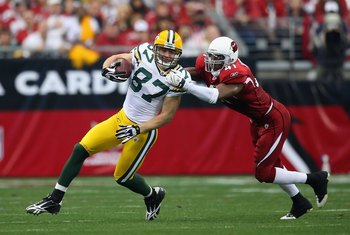 Nelson was Ted Thompson's first pick in 2008 when he traded out of the first round. He is a big receiver, 6-3, with the speed to get deep. He had a decent rookie season in 2008 and despite struggling with a knee injury in 2009 forcing him to miss four games. Nelson finished with 22 catches for 320 yards and 2 touchdowns catching 6 passes of 20 or more yards. Nelson is very good for a number four receiver, him and Jones give the Packers one of the best receiver groups in the NFL. As with Jones, I'm not sure he has the ability to become a bona fide number one receiver but certainly is good enough to start in the future.
5a. TBD (Dez Bryant pictured)
The fifth spot in the Packers receiving core is open for competition. It's unlikely Thompson will use a high draft pick on the position but in four of the five Packers drafts since Thompson took over in 2005 a receiver has been selected in the second or third round. In 2005 Thompson selected Terrance Murphy in the second round Murphy looked to have a promising career ahead of him until it was ended by a neck injury. The others Jennings (2nd) Jones (3rd) Nelson (2nd) were drafted in successive years and have proven to be good NFL receivers. Thompson has a track record of hitting on receivers fairly early and frequently in the draft.
Oklahoma State's Dez Bryant likely will be available when the Packers pick at 23 but considering Thompson passed on Michael Crabtree in 2009 I highly doubt he will take Bryant or any other receiver in the first round in 2010. Bryant would immediately be the heir apparent to Donald Driver and battle Jones and Nelson for the number three job. I would even be surprised if he took one in the second or third round but due to his track record one shouldn't be surprised at all if it happens. Likely candidates to be taken in the 2nd and 3rd round that fit what the Packers need are:
Dexter McCluster 5-09 172 Small in stature he makes big plays on the field and would help the Packers on special teams right away also potentially adding another dimension to the Packers offense as a receiver or a running back but is too small to be a starter in this offense making a 2nd round pick a bit steep.
Taylor Price 6-1 204 He has prototypical size for a starting receiver in the Packers version of the west coast offense. He also possess 4.4 speed which would make him the fastest receiver on the team giving the Packer the true straight line deep threat they have lacked since Don Beebe. He could return kicks as well making him a very likely possibility in the 3rd round he's a lot like James Jones but with much better speed.
Jacoby Ford 5-09 186 He was the fastest player at the combine, 4.22, and would instantly upgrade the packers return units and add a new dimension to the Packers already potent offense. He truly is the type of player who can score from anywhere on the field as a receiver, out of the backfield, or as a returner. Although like McCluster he has size limitations that would likely prevent him from ever being a starter, a likely 3rd round pick, he might be worth the risk because of his explosiveness.
5b. TBD (Charles Dillon Pictured)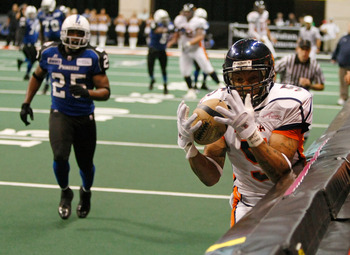 In house possiablities are Brett Swain who beat out Ruevell Martin in traing camp prior to the 2009 season mostly due to his play on special teams. He then blew out his knee midway through the season so depending on how he rehabs from teh injury he could regain his 5th spot. Although I'm not sure he offers much as a reciver or returner whether the knee is 100% or not.
Charles Dillon is a far more intruging prospect who is already on the roster. Dillon spent some time on the Colts roster in 2008 however he was cut ending up in Arena Legue Football. On the small stage Dillon 6-0 202 pounds was dynamic showing he has the athletic ability to be an electric player on the NFL level. He would certainly upgrade the return game if he can show enough as a reciever and on coverage units to make the roster.
5c. TBD (Emmanuel Sanders pictured)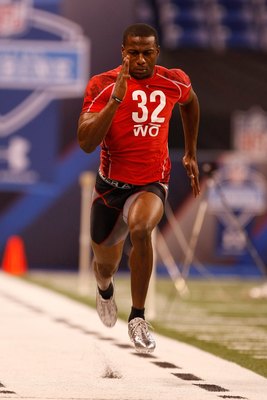 If Thompson uses a late round pick on a receiver to fill the open fifth spot on the roster likely candidates are:
Emmanuel Sanders 5-11 186 He is not that big but has great physical ability and is very fluid in and out of his cuts. Sanders will be available in the 5th round and has return ability as well. A few years learning from Driver and Jennings and this kid could become a starting NFL receiver.
Mike Williams 6-2 221 He is big, has good speed, 4.53 forty and has great upside potential. His stock has dropped of late and a player that was once talked about as a 2nd or 3rd round pick is now widely seen as a 5th or 6th round pick.
Marcus Easley 6-3 210 He is a tall fast receiver running the forty in 4.39 seconds a very impressive time especially for a man of his size. Easley has the potential to turn into a Javon Walker type player for the Packers, a big tall fast receiver who can go up and get the deep jump ball. He should be available in the 5th or 6th round.
David Gettis 6-3 217 He is another big tall receiver with great speed running the forty in 4.43 seconds. The Baylor product is a bit raw at this point but has the athletic potential to become a starting receiver in the NFL. He will likely be a 6th or 7th round pick making him a likely candidate to be a Packer.
Scott Long 6-2 216 He ran a 4.46 forty, posted a 41.5 inch vertical leap and his shuttle times were the best for any receiver declared for the draft at 4.09 and 6.45 respectively. Meaning Long has the physical tools to be a star at the NFL level. He has the speed to be a legitimate deep straight line deep threat, the leaping ability of an NBA player, and the quickness of a man much smaller than 6-2. Although he does not have the ability to return kicks he does have the potential to one day take over for starter Donald Driver.
Keep Reading

Green Bay Packers: Like this team?